College Football Odds, Picks, Predictions: Week 1's 5 Biggest Returning Production Edges
Credit:
John Fisher/Getty Images. Pictured: Wisconsin running back Braelon Allen.
Following the completion of post-spring TARP (Transferring Assets & Returning Production), we looked at Week 0 experience mismatches.
Now, it's time to dive into Week 1.
Utilizing experience numbers in yards gained, tackles and Havoc will identify where teams should start off in form. Other teams may have new coaches and schemes with a low number of starters in-house, generally making them a decent fade candidate in the early part of the season.
This article will focus on the first game for select teams in Week 1, specifying where experience is robust and where it may be deficient.
---
Kent State vs. UCF Odds
Kent State Odds
Spread
Total
Moneyline

+34.5

-110

60.5

-105o / -115u

+6500
UCF Odds
Spread
Total
Moneyline

-34.5

-110

60.5

-105o / -115u

-100000
Mismatch: UCF Defense 63% · Kent State Offense 14%
The biggest term thrown around when new head coaches and coordinators take over FBS programs is "Year 0." In the case of Kent State, the proper description for the 2023 season might be "Year Negative 1."
Like a Nintendo Entertainment System from the 1980s, everything with the Golden Flashes is a complete reset with no pause or carryover. The offense has the lowest recorded TARP in FBS this season, with no other program coming in below 25% from an experience perspective.
The transfer portal reads as a who's who of MAC stars we've become accustomed to betting during midweek games in November. With head coach Sean Lewis off to run Colorado's offense for Deion Sanders, the floodgates opened for player movement.
Quarterback Collin Schlee bolted to UCLA, while top third-down target, running back Marquez Cooper, made a lateral MAC move to Ball State. The Flash Fast receiving weapons of Dante Cephas and Devontez Walker made Power 5 moves to Penn State and North Carolina, respectively. The offensive line is just as much of a mess, as Elijah Lamptey has the most experience from 2022 with 107 total snaps.
UCF will be playing Kent State in its first game as a member of the Big 12, and Gus Malzahn brings back an average defensive TARP number.
The strength of the defense will come in a secondary that returns a high level of passes defensed via returning players and the portal. Corey Thornton returns at cornerback after leading the team in forced incompletions, and Brandon Adams will continue duties at right cornerback after logging 249 coverage snaps last season.
UCF netted Jireh Wilson and DeJordan Mask from Group of Five schools via the portal, and both are capable of playing the nickelback position or slot corner duties against opposing tight ends.
New defensive coordinator Addison Williams is expected to be as aggressive with the blitz as former coach Travis Williams.
Look for Kent State to struggle in not only scoring but in coming up with drives that cross the 40-yard line.
This will be a warmup game for UCF before it travels to Boise State. With two new coordinators in the Bounce House, look for the Knights to flex offensively and defensively against a hapless Golden Flashes squad.
Pick: UCF 1H -21 or Better
---
NC State vs. UConn Odds
NC State Odds
Spread
Total
Moneyline

-16.5

-110

48.5

-115o / -105u

-1100
UConn Odds
Spread
Total
Moneyline

+16.5

-110

48.5

-115o / -105u

+680
Mismatch: UConn Offense 90% · NC State Defense 41%
Sure, the logo on the helmets would lead an investor to think Tuffy rolls in the 2023 opener at Carter-Finley Stadium, but no team had more fight down the stretch in 2022 than the UConn Huskies.
The reunion of NC State quarterback Brennan Armstrong with offensive coordinator Robert Anae is sure to attract positive headlines, but there are plenty of question marks at the skill positions for the Wolfpack. The offensive line must also protect a quarterback who has logged 50 turnover-worthy throws and 17 fumbles since the 2020 pandemic season.
While the offensive side of the ball will be a discovery mission in the opener, one of the top defensive coordinators in the nation also has plenty of questions to answer. With his 3-3-5 scheme, Tony Gibson has created one of the most successful units in college football in terms of creating Havoc and limiting explosive plays.
The key to a stout 3-3-5 is hiding coverage while creating pressure from the defensive interior. However, Cory Durden has moved on to the NFL, leaving 14 hurries and 19 tackles on the interior. The losses of linebackers Isaiah Moore and Drake Thomas will certainly lower a pass rush grade that fell to 55th last season.
The Wolfpack entered last season as the most experienced defense in the nation, leading to the top overall Stuff Rate ranking in the nation. Now, Gibson must replace a few of the best interior linemen and linebackers in the college game.
There may have been no bigger surprise in 2022 than Jim Mora Jr. leading UConn to a bowl. The Huskies caught fire at the end of last season with outright wins over Liberty and Boston College.
UConn will have a quarterback competition to determine a starter for a stable full of returning weapons. Zion Turner took over starting duties for the injured Ta'Quan Roberson, who was previously expected to shine after committing to Penn State as a three-star dual-threat quarterback.
Wide receiver Aaron Turner moves on, but the Huskies return almost every other weapon that logged a third-down target. Look for tight end Justin Joly and his 1.75 yards per route run to be the perfect complement to the running game.
This number is inflated for the Wolfpack, per our Action Network Power Ratings.
As the season approaches, monitor the quarterback battle for the Huskies, specifically the passing news coming from Roberson. Any number at 17 or higher will certainly be open for investment.
Pick: UConn +17 or Better
---
Louisville vs. Georgia Tech Odds
Louisville Odds
Spread
Total
Moneyline

-8

-110

51.5

-110o / -110u

-315
Georgia Tech Odds
Spread
Total
Moneyline

+8

-110

51.5

-110o / -110u

+155

Mismatch: Louisville Offense 94% · Georgia Tech Defense 55%
There may not be enough love in the betting market for Louisville. Season win totals, conference futures and Game of the Year options have all seen action on the Cardinals.
The Jeff Brohm hire was the perfect situation after a number of years filled with apology letters authored by Scott Satterfield.
The Cardinals will be explosive and efficient on offense out of the gate, led by former Purdue quarterback Jack Plummer. A laundry list of new targets at Louisville come from Group of Five and FCS schools, all with the ability to be as explosive as any wide receiver corps in the ACC.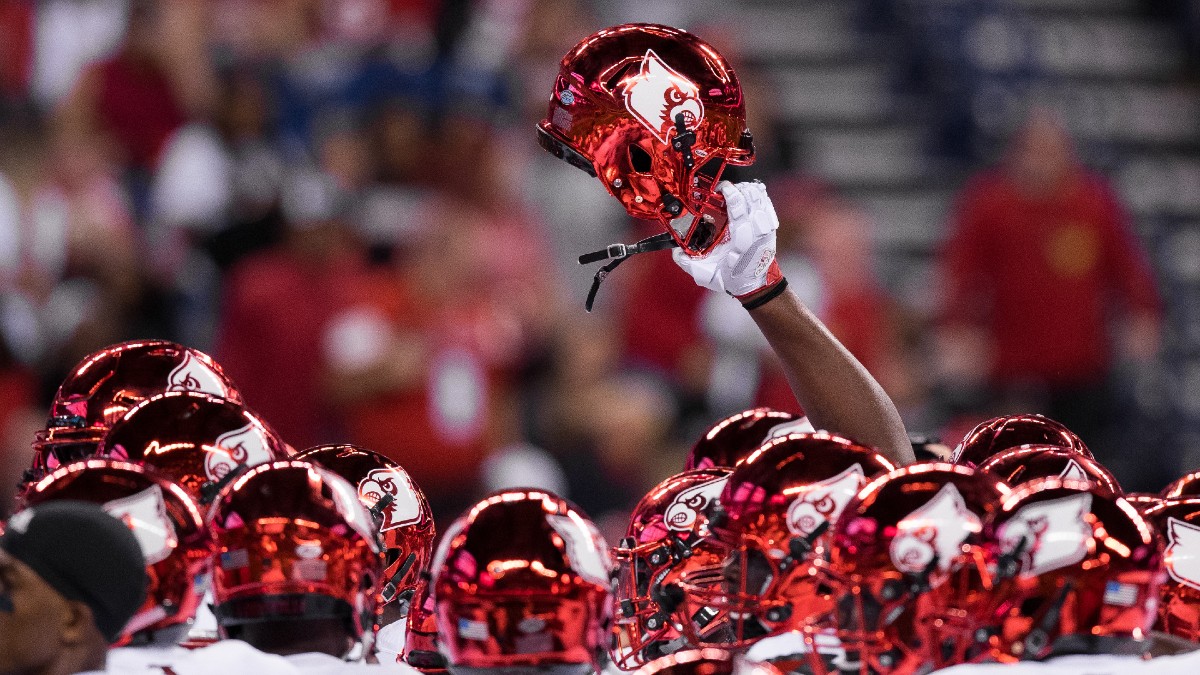 To complement the passing game, running back Jawhar Jordan returns after averaging 3.3 yards after contact on 142 rushing attempts in 2022.
Brohm's passing offense is expected to create trouble for an inexperienced Georgia Tech defense.
Tech defensive coordinator Andrew Thacker enters another season for the Ramblin' Wreck after losing the best defensive weapon on the team. Cornerback Zamari Walton led the team in forced incompletions but now enters the new season on Lane Kiffin's roster at Ole Miss.
The 4-2-5 defense ended the 2022 season outside the top 100 in pass rush and Defensive Stuff Rate. With less than half of Georgia Tech's tackles returning for the 2023 season, Louisville's offense should find itself in scoring position often in the opener.
Pick: Louisville -10 or Better
---
Buffalo vs. Wisconsin Odds
Buffalo Odds
Spread
Total
Moneyline

+24

-110

53.5

-105o / -115u

+1600
Wisconsin Odds
Spread
Total
Moneyline

-24

-110

53.5

-105o / -115u

-4500
Mismatch: Wisconsin Offense 97% · Buffalo Defense 50%
There are plenty of things in this world that go together — peanut butter and jelly, lamb and tuna fish, etc. If there's an antithesis in a college football relationship, it would be the marriage of a Phil Longo offense with the ground-and-pound nature of Wisconsin football.
The Badgers have long prided themselves on recruiting ball-carriers and offensive linemen who are physically bigger than any other team in FBS. In fact, Wisconsin has completed just 21 passes over 30 yards since the 2020 pandemic season.
A culture shock is coming to Camp Randall Stadium with a Longo scheme that completed 24 passes of 30 yards or more in 2022 alone.
Along with explosive passing plays, Wisconsin will see a drastic change in tempo. The Badgers finished 121st in pace last season, averaging 29.4 seconds per play. North Carolina had one of the slower seasons for Longo in 2022, ranking 26th in tempo at 24.3 seconds per play.
Early-morning Big Ten kickoffs will need an extra shot of expresso this fall, as the scoring is expected to pick up.
The efficiency of SMU transfer quarterback Tanner Mordecai and the new blocking schemes are sure to have hiccups, but there will still be a number of explosive plays in the opener against Buffalo.
Bulls head coach Maurice Linguist guided one of the biggest boom-or-bust rosters in college football last season. The Buffalo defense ranked dead last in standard downs explosives and rushing EPA. Defensive coordinator Robert Wright has a roster that finished 12th in Havoc, but successful plays at the line of scrimmage often come at the cost of long scoring plays.
Buffalo has consistency on offense, returning quarterback Cole Snyder along with familiar faces at the skill positions.
Wisconsin will continue to use Jim Leonhard's 3-3-5 scheme with Mike Tressel as the defensive coordinator, but the challenge is always running an efficient chain-stopping crew opposite of a Longo offense.
The one aspect of this game that cannot be denied is the explosive nature on both sides of the ball for Buffalo and the biggest tempo increase in college football with Wisconsin.
---
Texas State vs. Baylor Odds
Texas State Odds
Spread
Total
Moneyline

+26.5

-110

55.5

-115o / -105u

+1250
Baylor Odds
Spread
Total
Moneyline

-26.5

-110

55.5

-115o / -105u

-2800
Mismatch: Baylor Offense 94% · Texas State Defense 32%
Baylor offensive coordinator Jeff Grimes experienced a frustrating 2022 season. After finding success at multiple stops including LSU and BYU, the Bears fell outside the top 25 in Finishing Drives and Havoc Allowed.
Baylor entered the season with questions at the skill positions with limited experience surrounding quarterback Blake Shapen. Fast forward to the 2023 season, and this may be the best group of running backs in the Big 12.
This unit will be led by Richard Reese, who posted nearly 1,000 rushing yards while creating 35 missed tackles as a freshman in 2022. Depth is not an issue, as Qualan Jones's elusiveness will continue to be a factor in the backfield.
While the strength of Baylor is in the run game, the difference in 2023 is known quantities in the passing game. The Bears return their top three targets in Hal Presley, Monaray Baldwin and Josh Cameron. Familiarity and protection are needed for Shapen, who recorded twice as many turnover-worthy plays as big-time throws in 85 pressured dropbacks.
Grimes' offense will face off against a first-time FBS defensive coordinator in Jonathan Patke of Texas State.
After a number of years as an analyst under Manny Diaz, Patke received his first defensive coordinator role last year at Incarnate Word. Although the Cardinals made a deep run in the FCS Playoffs, it was an offensive-minded team. UIW finished 52nd in FCS total defense, allowing 42 touchdowns in 14 games.
Now, Patke is tasked with coaching a defense that returns less than 40% in tackles, pass breakups and pressures.
The great news for Texas State fans and alumni is the hire at head coach. There may be no other young head coach who's more offensively versed than GJ Kinne, a former quarterback under Gus Malzahn at Tulsa.
Kinne moved on to play in the Canadian Football League before starting a career as a coach, where he learned the Go-Go offense at Hawai'i and spent a season as offensive coordinator for Malzahn at UCF.
Kinne was also highly successful in calling the offense as the head coach at Incarnate Word, so there are plenty of expectations that Texas State will be involved in several high-scoring games.
Pick: Over 56.5 or Better
How would you rate this article?
This site contains commercial content. We may be compensated for the links provided on this page. The content on this page is for informational purposes only. Action Network makes no representation or warranty as to the accuracy of the information given or the outcome of any game or event.