2023 Big Ten Conference Preview, Odds, Picks: 9 Bets for Ohio State, Michigan, Wisconsin & More
Credit:
Getty Images. Pictured (left to right): Wisconsin running back Braelon Allen, Michigan running back Blake Corum and Ohio State wide receiver Marvin Harrison Jr.
The Big Ten Championship game has been wildly predictable since its inception in 2011.
Even with the division changes from Leaders and Legends to a less complicated East and West, the same programs continue to win the conference. Since the newly-branded divisions came about in 2014, the East has won every single Big Ten Championship game.
Michigan, Ohio State, Michigan State and Penn State have all raised the trophy in Lucas Oil Stadium. Those teams went on to compete in the Rose Bowl or the College Football Playoff.
Rutgers, Maryland and Indiana stand to gain the most when divisions are washed away after the induction of USC and UCLA in 2024.
The biggest question for the 2023 season concerns Michigan and Ohio State's continued dominance. Both the Wolverines and Buckeyes made the playoff last season, each losing in the national semifinals.
A number of challengers could rise to the occasion, with Penn State coming off a Rose Bowl victory and Wisconsin changing into a new identity. Three new head coaches — Wisconsin's Luke Fickell, Nebraska's Matt Rhule and Purdue's Ryan Walters — begin their journey in the conference this season, excluding the interim situation at Northwestern.
Change is abundant in the Big Ten, so this preview will focus on national title, conference, division and win total futures for all 14 members of the Big Ten Conference.
First, a snapshot of the projected conference and season-long win totals:
Northwestern is reeling from a hazing scandal that has seen multiple lawsuits get filed.
New defensive coordinator David Braun has since been named the interim head coach. Braun had been the North Dakota State defensive coordinator since 2019 with previous stints at FCS strongholds such as Northern Iowa and UC Davis.
The first-time FBS coach runs a defense similar to Mike Hankwitz, the defensive coordinator in Evanston from 2008-20. Expect Northwestern to run a 4-3 with plenty of Tampa 2 in hopes of limiting explosive plays.
The market has been negative on a Northwestern team that already had the lowest of expectations. Rumors of mass player portal entry circled the team if Braun wasn't promoted to interim coach. As of writing, the only projected starter to hit the transfer portal is cornerback Jeremiah Lewis.
Although severe issues remain in efficiency and Finishing Drives on both sides of the ball, the roster has stayed intact for Braun.
The firing of Pat Fitzgerald moved Northwestern's projection down slightly, but it still sits above the market number of 3 (-110). The Wildcats are a minimum touchdown favorite over UTEP and Howard, needing the coin-flip game against Rutgers in the opener.
As the market continues to trend negatively on the Wildcats, any number at Northwestern over 3 (-110) deserves consideration leading up to kickoff.
Another team in a rebuild is Nebraska after the five-year Scott Frost experiment ended without a single bowl trip.
Although 70% of the defensive stops, pressures and pass breakups return, this will be a rebuild for new head coach Matt Rhule. The former Temple and Baylor head coach found plenty of success in college football before making the jump to the NFL, but it hasn't happened in Year 1 at any stop.
Rhule collected a 3-21 record in his first season with the Owls and Bears. Nebraska Athletic Director Trev Alberts made the hiring decision based on a long-term projection for the Cornhuskers, not how many wins will come in 2023.
Linebacker Luke Reimer and cornerback Quinton Newsome are expected to keep opposing passing attacks down under defensive coordinator Tony White's nickel package. White ran a plethora of cover 1 with a high 31% blitz rate, concepts that may pay off for the Huskers while allowing plenty of explosives.
Offensively, quarterback Jeff Sims is a great fit for coordinator Marcus Satterfield, who prefers a high rate of RPO. Satterfield previously served under Rhule at Temple and Baylor.
With Satterfield and White in the fold, Nebraska football will be about establishing personnel and concepts through the first season.
Nebraska projects as a double-digit favorite over Colorado, Northern Illinois, Louisiana Tech and Northwestern. Purdue and Michigan State will be coin-flips, limiting the number of realistic attempts Rhule has to get over the market number.
Even with an Action Network projection squarely on 6, look to take the under at plus-money as this coaching staff looks to implement a new culture.
Purdue and Illinois share a common bond in the movement of Boilermakers head coach Ryan Walters. The former defensive coordinator for the Illini, Walters takes over with coordinator Kevin Kane to implement a 4-2-5 scheme with quarters coverage.
Walters built the Illinois defense into a powerhouse over the past couple of seasons. The Boilermakers return only 50% on both of the sides of the ball, per TARP, with Cam Allen bringing a team-leading six pass breakups from 2022.
The offense will undergo a change to the Air Raid, led by coordinator Graham Harrell. Texas transfer Hudson Card is expected to win the battle at quarterback, but Purdue loses 166 targets from Charlie Jones and Payne Durham.
Explosiveness will be an issue for the targets remaining, as neither TJ Sheffield nor Devin Mockobee averaged more than 1.2 yards per route run last season.
Bret Bielema has the task of maintaining one of the best defenses in the nation after finishing in the top five nationally in Success Rate, Finishing Drives and Havoc.
Aaron Henry has been on staff as the defensive backs coach and has now been promoted to defensive coordinator with no expected changes in scheme.
The biggest task will be replacing the secondary, which will be without 25 pass breakups from Jartavius Martin and Devon Witherspoon.
Bielema will need an assist from offensive skill players with a depleted trench on both sides of the ball.
Offensive coordinator Barry Lunney Jr. is in his second season, receiving quarterback Luke Altmyer from the transfer portal. The junior had a tepid stint at Ole Miss, totaling three touchdowns and three interceptions in 55 career passing attempts.
The offense will opt to lean on Reggie Love III and his 3.3 yards after contact at running back, but there are large shoes to fill with the departures of running back Chase Brown and quarterback Tommy DeVito.
Both Illinois and Purdue project a shade higher than the market win total, making both teams a pass in the futures market.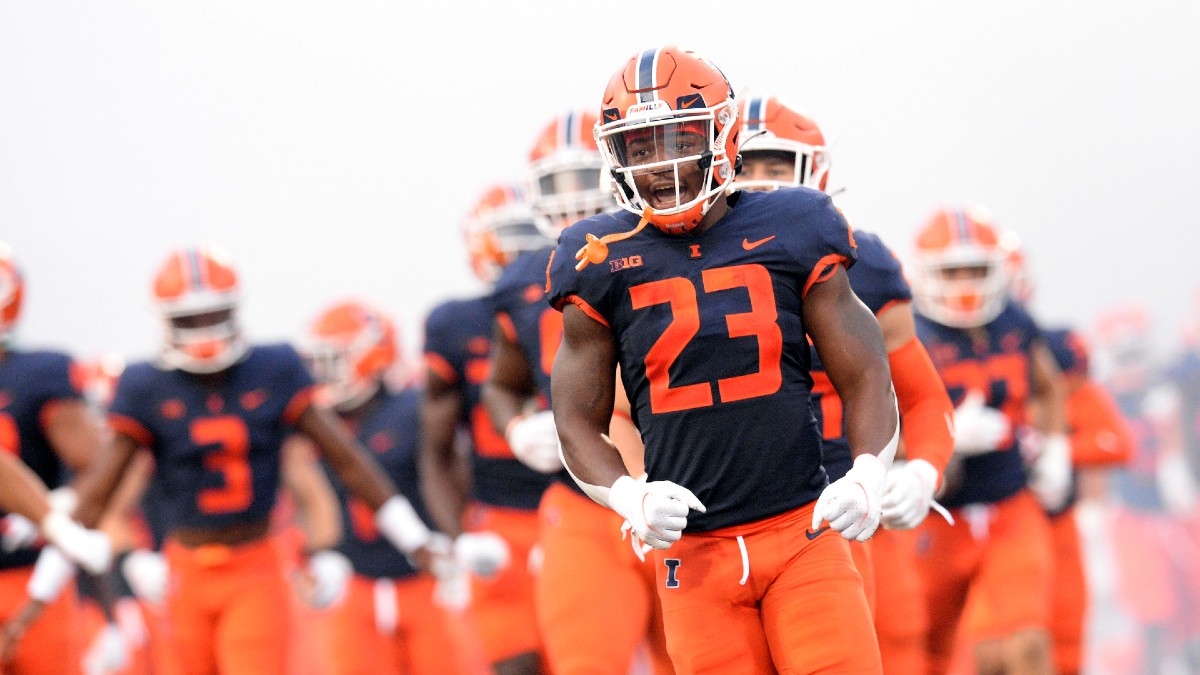 On the heels of hazing at Northwestern, head coach PJ Fleck has come under fire for similar issues at Minnesota.
Off-field issues aside, Fleck and defensive coordinator Joe Rossi must replace numerous parts of a defense that brings back just 41%, per TARP. Only 27% of pass breakups return against a schedule that includes cross-divisional play against Ohio State and Michigan.
Rossi has seen the Gophers trend downward in Havoc during his tenure, as his 4-2-5 scheme fell to 112th last season.
The offense is also going through a similar change with a new staff that will look to replace all three interior offensive linemen.
Despite an average depth of target at 13 yards, quarterback Athan Kaliakmanis logged more interceptions than touchdowns in 111 attempts last season.
The bread and butter of the offense has always been the ability to run the ball, doing so at a 67% clip while averaging a snail's pace of 31.3 seconds per play.
Minnesota has been one of the most successful play-action pass teams in the nation, but depleted depth at running back will get Daniel Jackson and Western Michigan transfer Corey Crooms plenty of targets. Tight end Brevyn Spann-Ford received preseason All-American awards and is sure to take advantage of any linebackers who struggle in coverage.
Fleck will have his plate full in his seventh season, as the culture surrounding the program is as much in question as the losses on the offensive line and the secondary.
With regression in terms of rushing production and the defense's inability to create Havoc, an under is the direction for a win total wager. Action Network projects 6.9 wins, just shy of a market that's heavily shaded with juice on the under 7.
There are four clear underdog spots on the schedule to North Carolina, Michigan, Ohio State and Wisconsin. The Gophers have to clear the remaining eight games to get over the posted win total.
Punting and defense have been the primary means of scoring for Iowa over the past few seasons.
All eyes are now on offensive coordinator Brian Ferentz as he looks to shake the nepotism tag while meeting contract obligations to average 25 points per game.
The transfer portal will provide assistance, as quarterback Cade McNamara and tight end Erick All make their way to Iowa City from Ann Arbor.
McNamara has nearly double as many big-time throws as turnover-worthy plays in three years at Michigan, racking up nine touchdowns to a single interception lifetime in play-action passing.
The Hawkeyes return a healthy 74% of snaps on the offensive line — great news for running back Kaleb Johnson, who averaged 3.3 yards after contact while creating 51 missed tackles.
The ingredients are there for Iowa to score points… if Ferentz can be a middling play-caller on Saturdays.
The defense will be typical Iowa even in the wake of losing two first-round NFL Draft picks in edge rusher Lukas Van Ness and linebacker Jack Campbell. Outside of Penn State, this might be the most formidable secondary in college football. Nickel Sebastian Castro, cornerback Cooper DeJean and safety Quinn Schulte combined for 19 pass breakups a season ago.
Combine those numbers with Logan Lee and Joe Evans' 41 pressures from the defensive line, and Iowa has a great chance of making a trip to Lucas Oil Stadium for the conference title game.
Iowa +250 to win the West is the wager because of a single hedge spot against Wisconsin at Camp Randall on Oct. 14.
No other team in FBS is going through more of an identity change than Wisconsin.
For decades, the Badgers have been identified by a rushing attack that included the thickest offensive line and running backs in the nation. Wisconsin generally ran the ball 61% each season, but the introduction of Phil Longo as offensive coordinator means a more balanced attack with tempo.
The heavy RPO with pace and downfield passing came at the delight of Braelon Allen, one of the best running backs in the nation.
Not gonna miss those 9 man boxes ✌🏾

— Braelon Allen (@BraelonAllen) January 12, 2023
The question is whether or not the offensive line can learn the blocking schemes while the portal pieces look for a fit.
Quarterback Tanner Mordecai arrives from SMU, entering his sixth season after posting 76 touchdowns to just 22 interceptions. New head coach Luke Fickell sought out Mordecai after building a Cincinnati defense to defend the Waco native for two straight years.
Wide receiver Chimere Dike remains on the roster after posting an explosive 2.3 yards per route run in 75 targets last season.
Wisconsin will continue to field one of the best defenses in college football, returning more than 70% of pressures and tackles. New coordinator Mike Tressel joins Fickell from Cincinnati, calling an aggressive 34% blitz rate.
The linebacker unit will be the best in the Big Ten, but new faces in the cover 3 secondary may lead to explosive plays by the opponents.
It's unknown whether or not Longo's uptempo offense can be complemented by a defense that can consistently defend the big play.
Drawing Rutgers and Indiana in cross-divisional play is a bonus, as the Action Network projection for the Badgers comes in at 9.1. The only underdog spot on the schedule comes when hosting Ohio State on Oct. 28. Wisconsin is projected as a double-digit favorite in seven games, making this an over 8.5 (-130) future ticket.
Once again, there's a clear partition between the top and bottom of the East Division. Michigan State has quickly moved from College Football Playoff contender to the wrong side of the partition in a matter of two seasons.
Michigan State took the heaviest losses in the conference on the offensive side of the ball. The Spartans lost quarterback Payton Throne to the portal after the spring game, leaving Noah Kim and a handful of freshmen on the depth chart.
Keon Coleman and Jayden Reed are no longer in East Lansing, removing over 100 catches from the roster.
The offensive line returns 42% of snaps from a season ago, forcing the Spartans to dip into the junior college ranks to fill out the starting five.
The story is much of the same on the defensive side after MSU lost three of its top four tacklers from a unit that ranked 115th on third downs.
Coverage was also an issue, as the unit fell to 122nd in PFF coverage grading. The effectiveness has declined each season for coordinator Scottie Hazelton, as the Spartans utilize a high 33% blitz rate with one of the lowest pressure rates at 43% success.
The program is moving backward, and the schedule is not conducive to reversing the Spartans' path. Michigan State will play just three conference games at Spartan Stadium in East Lansing. Iowa and Ohio State are just two of the five conference road games.
After Central Michigan, Richmond and Indiana, there are not many opportunities for victories. The under 5.5 (-150) is heavily juiced, but it's the only play in consideration for Michigan State.
Both Indiana and Rutgers are expected to place at the bottom of the East Division, each with a win total of 3.5 in the market. Neither team brings back experience above the FBS average on offense or defense, with each drawing five conference road games.
Walt Bell took over the offense for Indiana last season as coordinator, ranking near dead last in Line Yards and pass explosives. Wide receiver Cam Camper averaged a respectable 1.8 yards per route run, but ultimately, neither side of the ball is equipped to compete in the East.
Head coach Greg Schiano continues to improve the Scarlet Knights defense, improving to a top-25 tackling group and ranking 19th in Passing Downs Success Rate.
Cornerback Max Melton posted 10 pass breakups last season, good enough to place top-50 nationally.
Offensive coordinator Kirk Ciarrocca was hired to come in and mentor quarterback Gavin Wimsatt, as the junior has posted just three big-time throws to 11 turnover-worthy plays in his career.
Rutgers has won 12 games over the past three seasons, making it a decent bet to pull a surprise. Ultimately, both Indiana and Rutgers are a pass on win totals when the market is closely aligned with Action Network projections.
Maryland football will live up to the Terrapins' billing in 2023 — a highly-explosive offense looking for answers on the offensive line.
Quarterback Taulia Tagovailoa is the most experienced signal-caller in the conference, joined by dangerous wide receiver Jeshaun Jones and running back Roman Hemby.
Josh Gattis takes over as offensive coordinator, reuniting with head coach Mike Locksley after both spent time on the 2018 Alabama staff.
Expect more of the same with the Terps, as Tagovailoa has nearly a 1:1 distribution of big-time throws to turnover-worthy plays after four seasons.
The Terps were fantastic at stopping the explosive pass in 2023, ranking fourth in defensive pass EPA. The issues around the front seven will continue to persist this season after Maryland ranked of 120th in pass rush and 117th in Havoc.
Coordinator Brian Williams runs a 4-2-5 scheme with cover 3 to prevent chunk plays, relying on a solid Finishing Drives rank of 36th.
Maryland must maintain top-40 ranks in Finishing Drives after a season that was littered with 101 penalties.
The schedule screams a 5-0 start, with additional games projected as a favorite against Northwestern, Rutgers and Nebraska. Take Maryland over 7 (-120) despite playing in one of the toughest divisions in college football.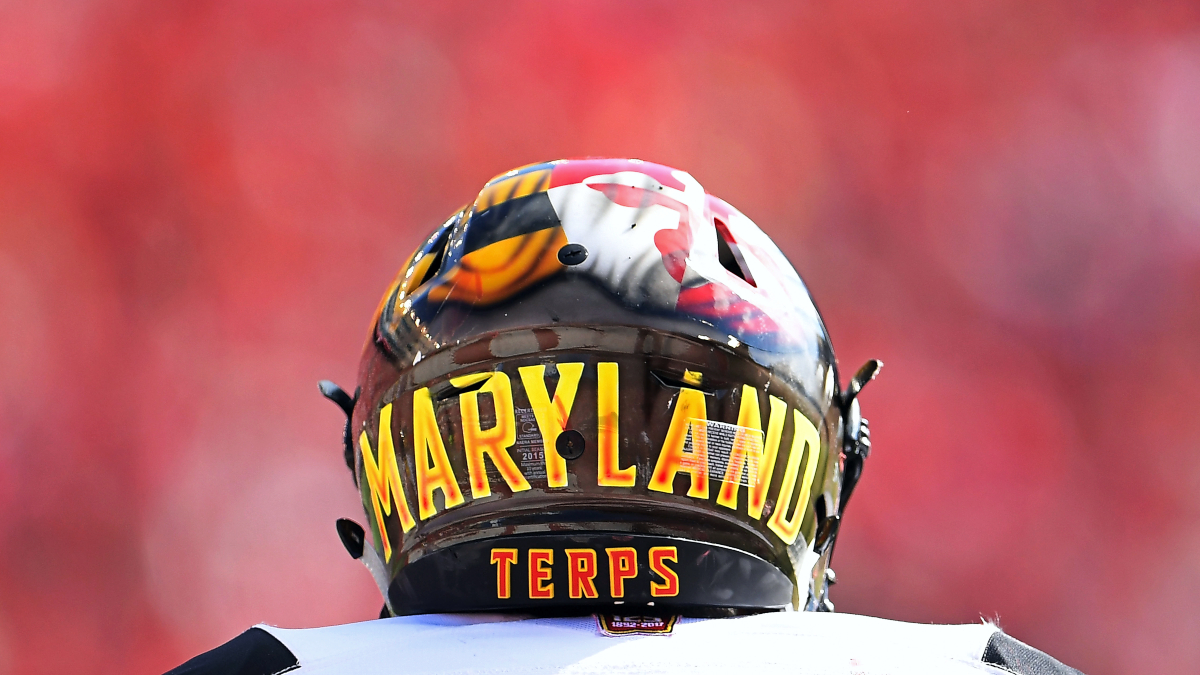 Will Michigan maintain its status after winning the Big Ten in each of the past two seasons? The question remains if the College Football Playoff national semifinal is the ceiling for head coach Jim Harbaugh.
The Wolverines pulled positive marks in experience on both sides of the ball, returning at least 73% to the offense and defense.
JJ McCarthy was electric at quarterback, posting 21 touchdowns with just five interceptions. The one criticism is the number of fumbles, as he totaled nine last season, including three in the Fiesta Bowl against TCU.
There will be plenty of help on offense, as Michigan replaces an All-American center with a four-year starter from Stanford in Drake Nugent.
The running back tandem of Blake Corum and Donovan Edwards is still the most dangerous in college football, while Cornelius Johnson returns at wideout after giving Ohio State nightmares.
The defense returns 70% of tackles and pressures, so no drop-off is expected in defensive coordinator Jesse Minter's second season.
After a revolving door surrounded the defensive coordinator position for years, Minter excelled in calling blitz on 32% of snaps with a high 55% success. Defensive lineman Kris Jenkins and linebacker Junior Colson will continue to terrorize opponents from the front seven.
The win total projection comes in at 10.9, just above the market number of a juiced over 10.5. Michigan is a pass in the win total market, as The Game game on Nov.25 may determine the win total and conference future.
Jim Knowles was asked to take the defensive coordinator position at Ohio State for one reason: to beat the Michigan offense.
The Buckeyes switched to a nickel package, running plenty of three- and four-man fronts with 61% success in creating pressure on blitzes. While spending the season primarily in cover 3, it was the decision by Knowles to go ultra-aggressive with cover 0 that cost Ohio State a win over the Wolverines in the Horseshoe.
The Buckeyes are loaded once again at all positions of the defense, led by linebacker Tommy Eichenberg.
More than 65% of the tackles and pass breakups return to the defensive side of the ball, a much-needed aspect against a schedule of offenses that includes Western Kentucky, Maryland, Michigan and a new-look Wisconsin.
The big question on offense is the readiness of quarterback Kyle McCord to take over an offense that was blessed to have CJ Stroud. McCord has 58 career passing attempts at Ohio State, generating just three touchdowns and an average depth of target at seven yards.
Ohio State has never had an issue under center, entering every season fully stocked with Heisman contenders. This season, freshman Devin Brown is expected to compete with McCord for starting duties.
The two quarterbacks are in a great situation, retuning the best wide receiver set in the nation, led by Marvin Harrison Jr. and Emeka Egbuka.
Ohio State projects at 10.1 with a tougher schedule than rival Michigan. The Buckeyes project as single-digit favorites over Notre Dame, Wisconsin and Penn State while possibly playing the role of underdog against Michigan.
The market number of 10 is spot on with the Action Network projection, but this is a schedule that can keep Ohio State from the College Football Playoff.
If there's a team ready to elevate to the next level, it's Penn State.
There's no shortage of checkboxes for the Nittany Lions, who return more than 80% of receiving and rushing yards to support new quarterback Drew Allar.
The offensive line contributed to a rank of 17th in Havoc Allowed, led by future NFL first-round pick in tackle Olu Fashanu.
Running back Nicholas Singleton is a stick of dynamite who recorded 4.6 yards after contact a season ago, which is the highest of any returning rusher in college football.
But Penn State's hopes may rest on Allar, who did not post a single interception or turnover-worthy play in 71 dropbacks last season.
Penn State has turned into the poster model for Pass Breakup University, logging more forced incompletions than any team in college football last season.
While the defensive line and linebackers are top-five units nationally, this is the best secondary in FBS. Cornerback Kalen King will be putting NFL wide receivers on an island in the near future, casting a shadow over teammate Johnny Dixon and his 10 pass breakups.
Head coach James Franklin may have assembled the two best coordinators in the conference, with Manny Diaz settling in as defensive coordinator after a failed head-coaching stint at Miami. The Nittany Lions were the top overall team in Defensive Havoc last season, a number that's not expected to change.
As for the offense, coordinator Mike Yurcich was tasked with improving quarterback Sean Clifford in his final two seasons. Clifford peaked under Yurcich, accumulating 45 touchdowns to just 15 interceptions in 2021 and 2022.
All of the ingredients are there for Penn State to dominate a soft nonconference schedule, pull out a win at the Horseshoe and take down Michigan on Nov. 11.
While Allar's ceiling is unknown, the defense is the best in the nation and certainly worth an investor's dollar. The best value on the board resides in two areas: to make the playoff and to win the national title.
The tiebreaker rule with Michigan and Ohio State is interesting, as Rule 5 states the team with the best cumulative conference winning percentage of non-divisional opponents will advance. That does not bode well for a schedule of Nebraska, Northwestern and Iowa.
A one-loss non-Big Ten champion making the College Football Playoff is a very realistic scenario.
Look for the best price when shopping, as Penn State to make the playoff at +400 and Penn State to win the National Championship at +2500 are the boundaries for investment.
Big Ten Win Totals & Futures
Penn State to Win National Championship (+2500)
Penn State to Make College Football Playoff (+400)
Maryland Over 7 (-120)
Michigan State Under 5.5 (-165)
Wisconsin Over 8.5 (-130)
Iowa to Win West Division (+250)
Minnesota Under 7 (-140)
Nebraska Under 6 (+110)
Northwestern Over 3 (-110)
How would you rate this article?
This site contains commercial content. We may be compensated for the links provided on this page. The content on this page is for informational purposes only. Action Network makes no representation or warranty as to the accuracy of the information given or the outcome of any game or event.