2023 Sun Belt Conference Preview, Odds, Predictions: Our Top Bets for Troy, Coastal Carolina & More
Credit:
Justin Ford/Getty Images and G Fiume/Getty Images. Pictured: Troy quarterback Gunnar Henderson (left) and Coastal Carolina quarterback Grayson McCall.
Throughout all of 2022, it was obvious Troy and South Alabama were neck-and-neck in the West Division, with the winner of their November meeting being the likely top dog in the conference. Troy came out on top and won the Sun Belt with its dominant defense.
Troy and South Alabama are once again priced as the two favorites in the conference in 2023. They return a lot of production on both sides of the ball, and their meeting may once again determine the conference winner.
Last season, surprising newcomer James Madison burst onto the scene with an 8-3 record, but a (stupid) NCAA rule prohibited it from competing in the conference championship game. The Duke will once again be ineligible to play in the Sun Belt Championship, leaving a gap in the East Division.
The Sun Belt is a very balanced conference with a large middle tier of teams. Nearly every team in this conference is capable of beating its league opponent if it has a good day. That makes the Sun Belt a very fun league to find betting value in.
Sun Belt East
Coastal Carolina (9-4, 6-2)
Win Total 8 · +1.5 Net TARP (+4.5 O / -3 D) · 60% Returning Line Starts
I understand that Jamey Chadwell is no longer at Coastal Carolina as he takes over at Liberty, but this win total is just downright disrespectful to Grayson McCall.
After briefly entering the portal, McCall is back for his fifth year in Teal. He has the highest QB efficiency in college football history and in three years as the starter, he's thrown 78 touchdowns to just eight interceptions, completing over 70% of his pass attempts.
He'll have plenty of weapons around him once again. Coastal Carolina returns its top three running backs in CJ Beasley, Reese White and Braydon Bennett. The Chants also return their top three receivers, Sam Pinckney, Jared Brown and Tyson Mobley.
The Chanticleers' offense should keep things rolling in 2023.
On defense, they lose edge rusher Josiah Stewart to Michigan, which is undoubtedly a massive loss. The defense should be solid against the run – as it was last year – but it struggled against the pass, and losing Stewart won't help that area improve.
In to replace Chadwell is former NC State offensive coordinator Tim Beck. Let me be clear, I hate Beck as a play caller. His offenses are incredibly frustrating to watch and rarely meet their full potential.
But what he does well might fit this team perfectly.
Beck runs an offense that wants to run the ball, scheme up high-percentage throws and just slowly dink-and-dunk down the field. What it lacks in excitement and explosiveness, it makes up for in efficiency. He also now has the most efficient quarterback in college football history.
The offense is also designed to control the tempo and dominate time of possession. This should really take pressure off of the defense as it makes adjustments and figures out questions early in the year.
When McCall has been under center for the last three seasons, Coastal Carolina has gone 10-1, 10-1 and 8-2. He's worth a lot more to a win total than Chadwell is.
The Chanticleers draw Arkansas State and Texas State from the West Division, two games they should win. Their toughest conference games will be against James Madison and Marshall, both of which come at home.
They'll likely start 3-1 in the non-conference play, as well.
Our Action Network Power Ratings have Coastal Carolina favored in 11 games. As long as McCall stays healthy, the Chants will sail over this win total.
-Mike Ianniello
---
Win Total 8 · -8.5 Net TARP (-7 Offense) · 100% Returning Line Starts
What a debut for Curt Cignetti. Despite leading JMU to a 33-5 record at the FCS level – complete with a 2019 national title – Cignetti's program entered the FBS with lukewarm expectations and a transfer/retread at quarterback.
Most pundits believed that the Dukes would be lucky to win six games in 2022. Instead, JMU took the SBC by storm and won eight games behind an electric offense.
Todd Centeio is gone at quarterback, but the same coordinators are back.
Kris Thornton was another breakout star for the Dukes, but he's moved on at receiver, as well as four of their five top pass-catchers.
It's likely that Jordan McCloud will get the first crack at leading the Dukes this season, but the journeyman quarterback has Alonza Barnett III – a dynamic dual-threat – nipping at his heels.
The Dukes' defense could be really good, thanks to all the production it returns. The Dukes also made some savvy additions in the transfer portal, including Trevell Mullen from Indiana.
Speaking of their defense, here's a wild stat: Bryant Haines' unit was first overall in FBS in defensive success rate allowed but dead last in explosive play rate allowed. Reducing those chunk plays is priority one this season.
Their schedule could really help them get on track offensively, especially in a home opener against Bucknell out of the Patriot League. Three straight road games follow that, but Virginia is in a rebuild, Troy lost some key pieces on defense and Utah State took heavy personnel losses in the offseason.
A 2-2 start is likely, but there are few gimmes awaiting them in October and November. They catch South Alabama in the crossover portion of their schedule and must travel to Marshall and Coastal Carolina.
Due to NCAA rules, JMU is ineligible to compete for a SBC title, but if there aren't enough bowl-eligible teams, it could slide into a bowl slot if it maintains a relatively high APR score.
If the Dukes exceed this win total, I would be surprised. My projections call for 7.1 wins, so this is a pass for me
-Mike Calabrese
---
Win Total 7 · -3 Net TARP (-2 Defense) · 70.8% Returning Line Starts
I believe the market is too low on the Thundering Herd. They have experienced bodies up front and a potential All-American carrying the rock in Rasheen Ali.
In 2021, Ali punched in 24 total touchdowns, including five games with three-plus scores. He's a problem for opposing defensive coordinators, and now he's healthy.
The Marshall defense lost pieces at every level, but it returns enough talent – plus some Power Five transfers of note out of Florida, Wake Forest and Texas A&M.
KeSean Brown, who's expected to star at linebacker from App State, is a name to remember.
I'm aware the Herd lost Lance Guidry as their defensive coordinator, but Charles Huff knows how to hire, and the buzz is that Jason Semore is a rising star in the coaching ranks. Semore did a phenomenal job at Valdosta State and Montana as a defensive coordinator.
While I'm expecting Ali to hit the ground running with four starters returning in front of him, Cam Fancher needs to improve a little bit as a passer to be a solid SBC quarterback.
In his final four starts – all Marshall wins – he accounted for nine total touchdowns against just one interception.
His receiving corps is experienced, but he needs someone like Kentucky transfer DeMarcus Harris to be special. As a former three-star kid, he was good enough to start eight games at Kentucky.
The schedule could easily translate to a 4-0 start. Home games against Albany, Virginia Tech and Old Dominion litter the September slate, with a trip to East Carolina mixed in as well.
The Sun Belt road schedule is no joke, with trips to Coastal, App State and South Alabama. But even with those chalked up as losses, an eight-win season is very doable.
Their in-conference home slate of ODU, JMU, Georgia Southern and Arkansas State gives them a chance to sweep. I believe they'll flirt with a trip to the SBC Title Game.
-Mike Calabrese
---
Win Total 6.5 · -10 Net TARP (-7 Offense) · 60% Returning Line Starts
App State has largely dominated the Sun Belt ever since it made its move up from the FCS. It has won four conference titles in just nine years in the FBS. Last season's 6-6 record snapped a seven-year bowl streak, as two of its wins came against FCS opponents.
It won't be easy to get back to postseason play, as the Mountaineers need to replace two-year starter Chase Brice. The quarterback battle to replace him will likely come down to JUCO transfer Joey Aguilar or redshirt freshman Ryan Burger.
App State should continue to run the ball well with leading rusher Nate Noel back. He'll handle more of the workhorse role this year with Camerun Peoples off to the NFL. Noel was more of a dynamic receiver than Peoples and should have a solid offensive line in front of him.
The issue will be on defense. The Mountaineers' defense was inconsistent throughout 2022; they allowed 63 points to North Carolina in the opener and then held Texas A&M to just 14 the next week.
They'll have a new defensive coordinator this year, and he gets just three returning starters to work with. Outside of linebacker Andrew Parker, they'll be young across most of the two-deep.
The schedule isn't horrible, as they get Coastal Carolina and Marshall at home and avoid the top dogs in the West. They'll have a chance to reach a bowl game, but there are too many questions on defense and at quarterback to expect anything more than that.
-Mike Ianniello
---
Georgia Southern (6-7, 3-5)
Win Total 6 · -9 Net TARP (-6 Offense) · 41.5% Returning Line Starts
It wouldn't be a Group of Five write-up without one of us issuing an apology.
It seemed like a foregone conclusion that the Eagles would rue the day they hired Clay Helton. He had planned a complete offensive makeover and tasked a former game manager from Buffalo to run his offense.
We predicted disaster. And then the Eagles' offense popped. They upset Nebraska in Lincoln and made a bowl game.
We got it really wrong, so I'm not going to take Georgia Southern lightly again this season.
The Eagles may have lost their quarterback, but they have playmakers at their disposal. Jalen White nearly went for 1,000 yards and 10 TDs last season at running back. Khaleb Hood nabbed 87 passes and returns to lead the Eagles' receiving corps. Four starters on the offensive line return to protect their new quarterback.
So, the question is: can Davis Brin be Kyle VanTrease 2.0? I'll go ahead and say yes.
Defensively, their brand-new secondary got rocked in 2022. Georgia Southern was buried in the 100s in every meaningful metric and was 128th in total defense. Helton may have pulled a rabbit out of his hat once again, this time in the form of his defensive coordinator hire.
Brandon Bailey returns to Statesboro after serving as a student assistant nearly a decade ago. The 28-year-old wunderkind helped Buffalo generate 26 turnovers last year, which was good for seventh nationally.
If Georgia Southern gets anywhere near that level, it could be a thorn in the side of every team it plays this season.
The Eagles have winnable games galore. Home tilts with The Citadel, UAB, UL Monroe and ODU are all contests they should be favored in by a touchdown-plus, at the very least.
Toss in road games at Ball State and Texas State, and I count six games they should win right away. That means they need one or two upsets from this grouping: vs. Coastal, at JMU, vs. Ga State, at Marshall, at App State.
Their offense, coaching hires and favorable schedule give them a very high floor in 2023, which is why I'm playing over six wins.
-Mike Calabrese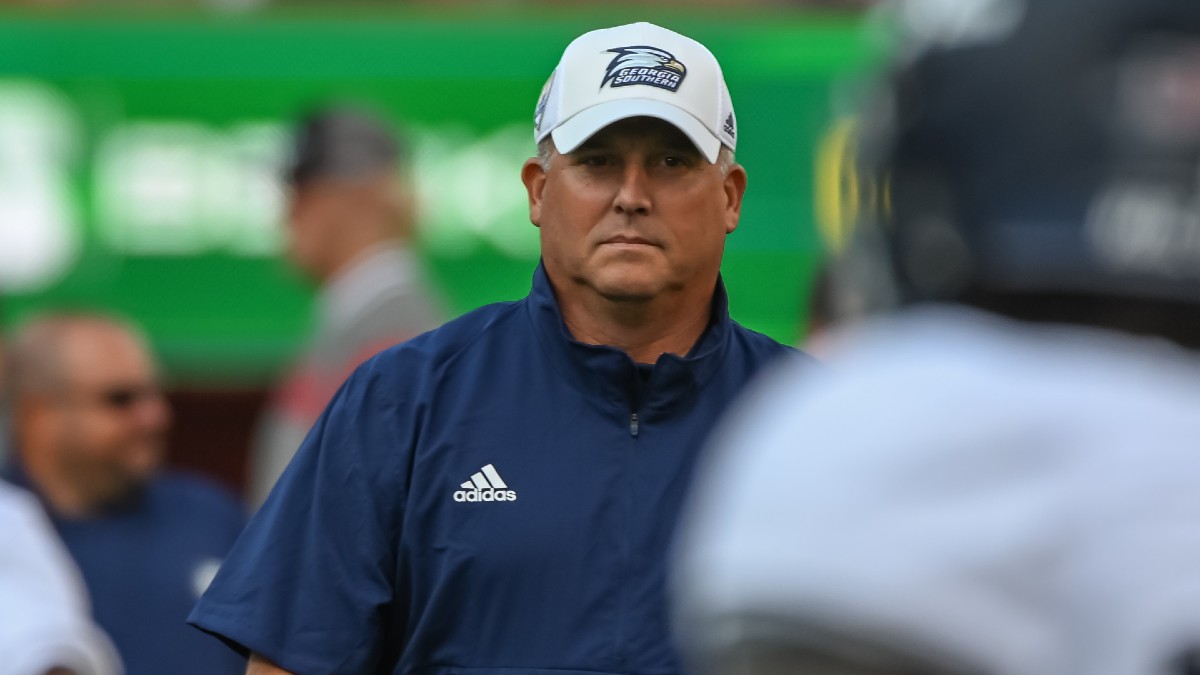 ---
Win Total 5.5 · -3.5 Net TARP (-5 Defense) · 38.3% Returning Line Starts
Georgia State will return do-it-all quarterback Darren Grainger, and it might need him to do even more this season. He threw for 18 touchdowns in 2022 and added six more rushing.
He lost his backfield mates in running back duo Tucker Gregg and Jamyest Williams. Leading receiver Jamari Thrash is also gone, as is more of the offensive line.
On defense, it's the same story. Key pieces Antavious Lane, Quavian White and Jeffery Clark have all moved on. Lane and White are especially massive losses for this secondary. The Panthers already weren't great at defending the run and now the pass defense could take a step back as well.
Close losses were the story for Georgia State last season. It lost to North Carolina by six, Charlotte by one, ULM by three, James Madison by two and Marshall by five. The Panthers were much better than a four-win team last season.
However, they lose a lot of important pieces on both sides of the ball, and the schedule gets much tougher. They trade ULM and Southern Miss from the West for Troy and Louisiana. They could start 3-0, but will most likely lose seven of their next eight games, including a random trip to LSU in late November.
Even if Georgia State can win their first three games and the toss-ups against Georgia State and Old Dominion, that's still only five wins.
It'll take an upset or two and a heroic season from Grainger to go over this win total.
-Mike Ianniello
---
Win Total 4 · -8.5 Net TARP (-7 Offense) · 43.3% Returning Line Starts
I think Ricky Rahne is an excellent coach, and as a Penn State alum, it pains me to say anything negative about him.
However, his third season at Old Dominion might be a rough one. After going 6-7 in his first campaign, the Monarchs slipped to 3-9 last year, losing their final six games.
Quarterback Hayden Wolff transferred to Western Michigan, running back Blake Watson went to Memphis and star wide receiver Ali Jennings is off to Virginia Tech. They also lost their tight end, starting tackle and a pair of defensive backs to the NFL.
Old Dominion hired Kevin Decker from Fordham as the new offensive coordinator, and he'll be implementing a full scheme change on offense. The Monarchs will run a more up-tempo offense with a four-wide shotgun spread scheme. Tennessee runs a similar style.
Decker brings Grant Wilson to Norfolk with him, his quarterback at Fordham who's likely to win the quarterback competition to replace Wolff.
The wide receiver room isn't totally empty, even without Jennings.
The defense has just as many questions as the offense. After ranking 117th in total defense, the Monarchs return just three starters. Jason Henderson and EJ Green give them a solid linebacker tandem, but this secondary has a ton of holes. Old Dominion will likely really struggle to defend the pass.
The Monarchs' schedule begins with a rematch with Virginia Tech followed by home games against Louisiana and Wake Forest. An 0-3 start is the most likely outcome.
Road trips to Marshall, Southern Miss, James Madison, Liberty and Georgia Southern are all challenging, and home games against Appalachian State, Coastal Carolina and Georgia State won't be any easier.
Outside of FCS Texas A&M-Commerce, the Monarchs won't be favored in any other game. I love Rahne, so it pains me to do this, but this should be a pretty strong under play, as four wins seems nearly impossible with this roster and schedule.
-Mike Ianniello
---
Sun Belt West
South Alabama (10-3, 7-1)
Win Total 8 · +8 Net TARP (+4.5 Offense) · 95.4% Returning Line Starts
The Jags are my pick to win the Sun Belt at +300. They're one of the few teams in the nation returning their head coach, both coordinators and starting quarterback.
This continuity extends throughout the roster, with experience at every position group.
Veteran quarterback Carter Bradley tossed 13 touchdowns in his final four starts. Star running back La'Damian Webb single-handedly took out Arkansas State and Georgia Southern last year by piling up 409 rushing yards and seven touchdowns in a two-game stretch. And the buzz out of the spring is they like their receiving corps, even with the loss of Jalen Wayne to the NFL.
The Jags' run defense was elite last year, and they bring back five of their six starters in the box. They hang their hat on a "Swarm Defense," and I believe in Kane Wommack and defensive coordinator Corey Batoon's system.
They just need a few new faces to play well in the secondary. They get Yam Banks and Marquise Robinson back at corner, which is encouraging.
Their toughest tests all come on the road. They travel to New Orleans to play Tulane in the opener, then head to Stillwater for a game with Oklahoma State two weeks later, before road trips to JMU and Troy in weeks five and nine, respectively.
They could win any of those games, but it's more likely they settle for a split. Avoiding Coastal in the crossover, and getting Marshall at home is ideal.
In the end, I think they make it to the SBC title game and finish the job after coming oh-so-close last fall.
-Mike Calabrese
---
Win Total 8 · +3.5 Net TARP (+3 Offense) · 40.9% Returning Line Starts
The Troy Trojans won the Sun Belt last year on the back of a dominant defense. They finished the year 18th in total defense and eighth in scoring defense and ranked seventh at defending explosiveness.
The unit lost their coordinator and stud linebacker Carlton Martial, but the Trojans should still field a terrific defense again in 2023.
The secondary returns cornerback Roddy Steward and safety Dell Pettus, and they still have depth at linebacker, even without Martial. Defensive end T.J. Jackson was an All-Sun Belt selection and anchors a strong defensive line.
Don't expect much of a drop-off on defense.
Even though the offense was mostly just along for the ride last season, returning Gunnar Watson at quarterback and Kimani Vidal at running back is certainly good news. However, they lost two massive pieces on the offensive line, with a pair of All-Conference selections going to the NFL, as well as leading receiver Tez Johnson transferring to Oregon.
Watson needs to cut down on the turnovers this season, though. He had 12 interceptions to just 14 touchdowns last season, and that definitely can't happen again if the Trojans want to repeat.
Despite a non-conference game at Kansas State, Troy's schedule is fairly easy. It gets Georgia State, Army, Texas State, ULM and Southern Miss as its other road games.
The Sun Belt West likely comes down to Troy and South Alabama once again, and that game will be at home for the Trojans.
Calabrese and I are both jumping on the South Alabama bandwagon for this season, so I will pass on Troy's win total. However, I do think this team should win nine games again.
-Mike Ianniello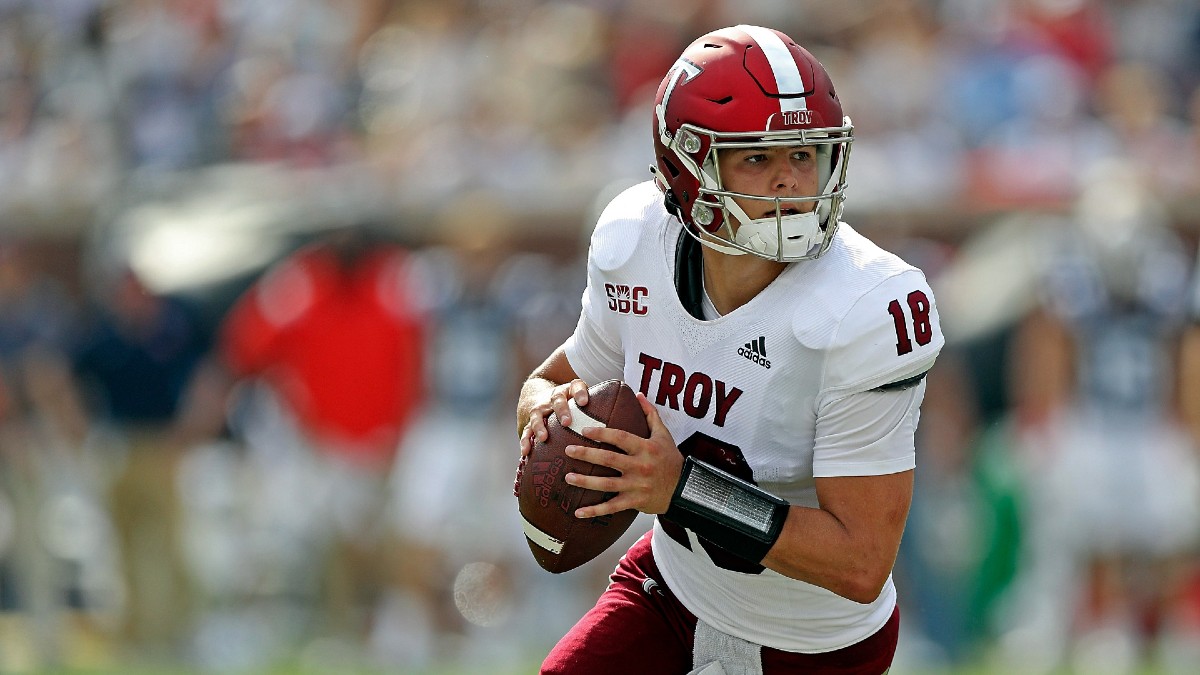 ---
Win Total 5 · +1 Net TARP (+2 Offense) · 73.9% Returning Line Starts
Let's start with the obvious question: "How in god's name is Frank Gore Jr. still eligible?" Just like his father, he apparently can play (college) football forever.
The Golden Eagles have a great G5 offensive line that averages 325 pounds. They added Dreke Clark in the portal from Memphis, and he looked good running in the spring. A Clark-Gore Jr. tandem could flirt with 2,000 yards if they both stay healthy.
If you're unfamiliar with Southern Miss football, just know that the Golden Eagles love to pound the rock and call their defense "The Nasty Bunch." They earned it last year, swarming opponents and shutting down opposing ground games.
They bring back their entire defensive line intact. Yes, Austin Armstrong, their talented defensive coordinator, got poached by Billy Napier at Florida. But Dan O'Brien is in at DC.
He has an incredible résumé from an apprenticeship perspective. He started as a low-level assistant/scout under Bill Belichick, then cut his teeth under Nick Saban and Kirby Smart as a grad assistant.
As a position coach at Navy (DB), the Mids had some of their best defenses in school history. He's widely viewed as a soon-to-be great coach.
The million-dollar question down in Hattiesburg is in regards to the revolving door at quarterback. They can't find steady play at the position, and they can't seem to keep them healthy.
Luckily they have some talented options this fall. Billy Wiles from Clemson and Holman Edwards from the JUCO ranks will start the season as their best options. Jason Brownlee is a big loss at wide receiver, evidenced by his breakout training camp with the New York Jets.
If they can find someone to step up at the position and keep defenses honest, this could be a top-four offense in the SBC.
I love their conference schedule because they get a lot of winnable games at home, including Texas State, ODU and UL Monroe. Even the Troy finale is on the table. They travel to Arkansas State, South Alabama, App State and Louisiana.
A 6-2 SBC record is within reason, which is why I'm playing them over five wins and taking a shot on them at 40:1 to win the whole thing.
-Mike Calabrese
---
Arkansas State (3-9, 1-7)
Win Total 4.5 · -3 Net TARP (-2.5 Offense) · 51.7% Returning Line Starts
People might forget that not too long ago Arkansas State won five conference titles in six years from 2011-16 with four different head coaches. It was viewed as the conference's premier program.
Despite the Red Wolves' struggles on the field, they've put together the conference's best recruiting class in each of the last two years. So, perhaps they're on their way back.
Who knows if Butch Jones will still be the coach for it, though. He's gone just 5-19 in two years at Arkansas State and has another daunting task in front of him. Jones brought in transfer J.T. Shrout to play quarterback, but after four years at Tennessee and Colorado, it remains to be seen if he's any good.
He should have decent wide receivers to work with after Corey Rucker transferred back from South Carolina. Home-run hitter Jeff Foreman is back, as well as Syracuse transfer Courtney Jackson. The Wolves were the worst rushing team in the conference last year, but they don't really try to run the ball that often anyway.
Defense is where Arkansas State has been the biggest mess. It ranks 131st in finishing drives on defense, meaning nearly every time its opponents got past the 40-yard line, they scored.
The Red Wolves also allow a ton of big plays, especially through the air. Arkansas State ranked 127th in passing explosiveness.
While the Red Wolves have had success recruiting and trying to work back to that conference dominance, they return just five starters from a defense that allowed over 31 points and 405 yards per game.
They start the year at Oklahoma and draw Coastal Carolina and Marshall from the East. Troy and South Alabama both come on the road.
Despite winnable games against Stony Brook and UMass, four wins seems a lot more likely than five.
-Mike Ianniello
---
Win Total 4.5 · -10 Net TARP (-5.5 Offense) · 26.7% Returning Line Starts
The highest variance team in the SBC is Texas State. It could go 1-11 or 6-6 while earning a trip to a bowl game for the first time in school history.
Either way, it promises to be exciting under new head coach GJ Kinne.
Incarnate Word was a moribund program before Eric Morris arrived in 2017. By the time Kinne got his hands on the Cardinals last season, he was able to parlay their recent success into an appearance in the FCS semifinals.
The Cardinals had the top-scoring offense in FCS with Kinne at the controls. His quarterback, Lindsey Scott Jr., accounted for 71 TDs and won the FCS Heisman (Walter Payton Award). It's hard to overstate how far they came as a program, going from a 1-10 laughing stock in 2017 to averaging over 51 points per game last fall.
With the Bobcats, Kinne will need to decide between Power-5 transfers Malik Hornsby (Arkansas) and TJ Finley (Auburn) at quarterback. Hornsby appears to have the inside track and could be a lethal dual threat right away.
Calvin Hill and Lincoln Pare offer upside at running back, but it's their receivers who should shine right out of the gate. Ashtyn Hawkins, UNC transfer Beau Corrales and Utah Tech transfer Joey Hobert could all push for big seasons.
Needless to say, the skill positions are well stocked.
Can the offensive line hold up? They added one five-star tackle from Oklahoma in Brey Walker and a slew of Incarnate Word linemen.
Will that be enough to open holes for the backs and keep their quarterbacks healthy? Time will tell.
I'm a big fan of Jonathan Patke at defensive coordinator. He's a Manny Diaz protege and really goes for havoc and disruption. If you can't beat teams with a bend-but-don't-break approach, pushing the envelope for those negative plays and turnovers is the way to go.
I don't have a season-long play on the Bobs, but I will be playing their overs early in the season, as their defense finds its sea legs and the offense attempts to push the pace.
-Mike Calabrese
---
Win Total 3.5 · -2 Net TARP (-7 Offense) · 80% Returning Line Starts
Poor Louisiana-Monroe. Any chance of the Warhawks taking a step forward went out the window through the transfer portal.
It might be quicker to list the guys they didn't lose, but the key names include quarterback Chandler Rogers, running backs Malik Jackson and Andrew Henry, tackle Victor Cutler, defensive linemen Quincy Ledet and Anthony Campbell, linebacker Quae Drake and safety Keydrain Calligan.
Senior Jiya Wright seems poised to win the starting quarterback job after being in the system for the last two years with limited action. He threw an interception on the first play of the spring game, but settled in nicely after that.
Ole Miss transfer Isaiah Woullard will take over the lead-back duties.
Leading receiver Tyrone Howell is back and could be the one bright spot in this offense.
The defense returns just three starters from a unit that allowed more than 34 points per game. They picked up two transfer additions that should make an impact in Adin Huntington from Kent State and Andrew Volmar from FIU.
Tristan Driggers should be the leader of this defense, as he returns in his rover position as linebacker and defensive back hybrid.
ULM has reached four wins in each of the last two years, but that might be a difficult mark to reach given all the personnel losses on both sides of the ball. Its non-conference schedule includes trips to Texas A&M and Ole Miss. It catches Army at home in the opener – as it transitions away from the option – and Lamar at home should be a win.
After that, Texas State and Arkansas State appear to be the only other winnable games, and the Warhawks would have to win them both.
ULM will likely need to win every game with a spread within a touchdown to go over this win total.
-Mike Ianniello
How would you rate this article?
This site contains commercial content. We may be compensated for the links provided on this page. The content on this page is for informational purposes only. Action Network makes no representation or warranty as to the accuracy of the information given or the outcome of any game or event.