MAC Conference Preview, Odds & Picks: Can Toledo, Ohio Make Some Noise in 2023?
Credit:
Megan Briggs/Getty Images and Gregory Fisher/Icon Sportswire via Getty Images. Pictured: Toledo quarterback Dequan Finn (left) and Ohio quarterback Kurtis Rourke (right).
As conference realignment, unfortunately, dominates all of the college football talk, America's favorite conference just keeps chugging along. The MAC is the one league that hasn't really popped up in any realignment rumors, so our Tuesday nights should remain intact.
The MAC is known for its chaos and unpredictability, and that's what makes gambling on this conference so much fun. We've seen a different winner emerge in this conference for 10 straight years, and 10 of the conference's 12 schools have won a conference championship in the last 20 years.
Toledo has been viewed as the league's most talented team for a few years now, and Jason Candle was finally able to break through in 2022 and capture the title.
But parity creates opportunity. So, in the conference where longshots tend to thrive, let's dive in and find the betting value.
---
MAC East
Win Total 7.5 · -0.5 Net TARP (+4.5 O / -5 D) · 75.2% Returning Line Starts
What a turnaround from Tim Albin and his staff last fall in Athens. After going 3-9 in year one, the Bobcats stormed back in 2022, winning 10 games and nearly taking the MAC.
Had it not been for an injury to the Maple Missile, Kurtis Rourke, they may have broken the program's title drought that has been alive since 1968.
Rourke is returning from a season-ending knee injury but appears to be on track to start in the opener. If he isn't, CJ Harris gained invaluable experience down the stretch last season and helped win Ohio its bowl game.
Whether it's Rourke or Harris out of the gate, the Bobcats will have playmakers at their disposal. Sieh Bangura is running behind a very strong offensive line. If he stays healthy, a 1,200-yard, 15-touchdown campaign isn't out of the question.
The former Ohio State walk-on Sam Wiglusz is their touchdown machine on the perimeter. The sure-handed wideout snagged 73 passes for 11 touchdowns last season.
The 2022 defense hung its hat on stopping the run (49th), but it loses a ton of experience in the front seven. The secondary could be much improved, but it's likely this defense takes a step back as Ohio embraces more shootouts in 2023.
Schedule-wise, the Bobs avoid Toledo and catch Miami (OH) at home. Additionally, they have winnable road games at San Diego State and Florida Atlantic, and host an Iowa State team in search of its offensive identity.
The ceiling is another nine or 10-win season, which is why I'm leaning over. Their conference title odds (+265) are too low to consider tying your money up all season long.
-Michael Calabrese
---
Win Total 6.5 · +4 Net TARP (+3.5 Defense) · 55.4% Returning Line Starts
Over the last three years, the question for the Miami (OH) RedHawks has been the same: can quarterback Brett Gabbert stay healthy?
When Gabbert is healthy, he's likely the best quarterback in the conference. He's played just 16 games over the last three seasons. But when he's played, he's thrown 45 touchdowns and 14 interceptions.
Miami (OH) loses leading receiver Mac Hippenhammer, but Miles Marshall is back and Joe Wilkins Jr. – a transfer from Notre Dame – is expected to make a difference.
Running back Keyon Mozee returns, as well as two versatile Swiss Army knives in Javon Tracy and Kevin Davis. They're both gadget running back / wide receiver hybrids capable of getting the ball in various ways.
Gabbert staying healthy is especially crucial to not waste another season of tremendous defense. The RedHawks had arguably the best defense in the MAC last year, leading the conference in scoring defense and rushing defense.
Expect another dominant defense that returns nine starters from last year's unit. Miami should be great against the run again with Austin Ertl and Kobe Hilton up front and linebacker Matthew Salopek in the middle.
Historically, the biggest easy for the Redhawks has been winning on the road. Ohio will be tough, but their other three conference road games come at Kent State, Western Michigan and Ball State.
Add in games against UMass, Delaware State, Bowling Green, Akron and Buffalo, and the schedule breaks nicely for a great season from Miami (OH).
With how good this defense should be, if Gabbert stays healthy, I like the RedHawks to win the East and be in a great position to win the MAC. +750 provides excellent value for a team that could have the best defense and quarterback in the conference.
-Mike Ianniello
---
Win Total 6 · -1 Net TARP (-1 Defense) · 61.5% Returning Line Starts
While the offensive line isn't perfect, it's loaded with experienced juniors and seniors. This raises the Bulls' offensive floor when you pair that unit with seniors at quarterback and running back.
The Bulls have yet to reach the kind of passing heights enjoyed during the Lance Leipold regime, but former Arizona wideout Boobie Curry could really help them improve as their Z-receiver. He has the size and athleticism to break out in the MAC.
The UB defense should be solid by MAC standards, despite a handful of new starters. Shaun Dolac and Marcus Fuqua (seven INTs last year) are MAC DPOY candidates.
Demetrius Harris was a big get out of the portal. He was a team captain at Cornell and stabilizes the Bulls' secondary.
If their front remains disruptive (4th in MAC in TFLs) and they continue to take the ball away (26 TOs, 7th), they could paper over some personnel losses and remain feisty on defense.
This schedule is littered with winnable games. Fordham in the home opener, at a rebuilding Louisiana team and a road outing against Akron all fall in September. Home games against CMU, BGSU and EMU in MAC play – as well as a trip to lowly Kent State – are all games they can win.
In lieu of playing this win total, I'm targeting them in back-to-back games early against Liberty and Louisiana. Both programs have won a ton of games in the past five years, but I think Buffalo plus the points will be the way to go.
-Michael Calabrese
---
Win Total 5 · +1.5 Net TARP (+1.5 Offense) · 66.2% Returning Line Starts
The often-inconsistent Matt McDonald is gone and Bowling Green has a three-way battle for his replacement.
Backup Camden Orth knows the system well, but a pair of Power Five transfers were brought in to compete for the job – Connor Bazelak from Indiana and Missouri, as well as Daelen Menard from Boston College.
Bazelak would seem like the most likely candidate to come away with the starting job. He's played in 34 games in the SEC and Big Ten, throwing for 7,370 yards with 36 touchdowns and 27 interceptions.
He'll have decent weapons at his disposal, as 2022 leading receiver Odieu Hilaire returns and 2021 leading receiver Austin Osborne is back after missing last season with an injury.
The leading rusher in 2021, Terion Stewart, is also back after not playing last season for personal reasons.
After a strong 2021 campaign, the Falcons' defense took a big step back last year. They allowed a ton of big plays and finished outside the top 90 in rushing and passing defense.
Now they must replace their defensive coordinator and seven starters on defense.
Bowling Green has a difficult non-conference slate, facing Liberty, Michigan and Georgia Tech. They face the two worst MAC teams on the road, making easy wins a little more difficult.
We saw another below-average Big Ten quarterback – Rocky Lombardi – drop down and win a MAC title, so maybe Bazelak does the same thing.
I just don't think that Bowling Green is a well-coached team, so I will pass on any win total play.
-Mike Ianniello
---
Win Total 3.5 · -1 Net TARP (-1.5 Defense) · 71.7% Returning Line Starts
As a podcast, we were too early on the JoMo bandwagon last year. Or were we? The Zips only scored two wins, but down the stretch, they were in the fight week in and week out.
First, a three-point loss to Bowling Green, then a seven-point setback to Central Michigan, and the close losses just kept coming.
A six-point defeat at the hands of Kent State was followed up with a six-point loss to Eastern Michigan. And just to put the icing on the cake, with a chance to cash the over for their believers (2.5 win total), they lost by one in the finale at Buffalo.
This time around, they have the running game to close out some of these opportunities.
DJ Irons is back at quarterback, and the big-bodied passer can post gaudy stat lines. Irons had three games with 300+ passing and ran for over 100 yards against BGSU.
But Joe Moorhead and his staff didn't sit on their hands this offseason. They added Lorenzo Lingard, and the major Power Five talent at RB (former Gatorade Player of the Year in Florida) will be running behind an experienced offensive line.
The Akron defense could make a jump up to the competitive ranks if its experienced secondary meets expectations.
At linebacker, Bubba Arslanian is an All-MAC centerpiece at linebacker. He has the restrictor board behind his neck and an impressive highlight reel. He finished fifth in the nation with 129 tackles last year.
To cash this over, Akron needs to pull four wins from this six-pack of games – roadies to Temple, Central Michigan and Bowling Green and home games against Morgan State, Buffalo and Kent State.
Two wins are all but guaranteed (Morgan State, Kent State), but it'll be another thrill ride for numbers three and four.
Count me in — one more time — for the JoMo experience.
-Michael Calabrese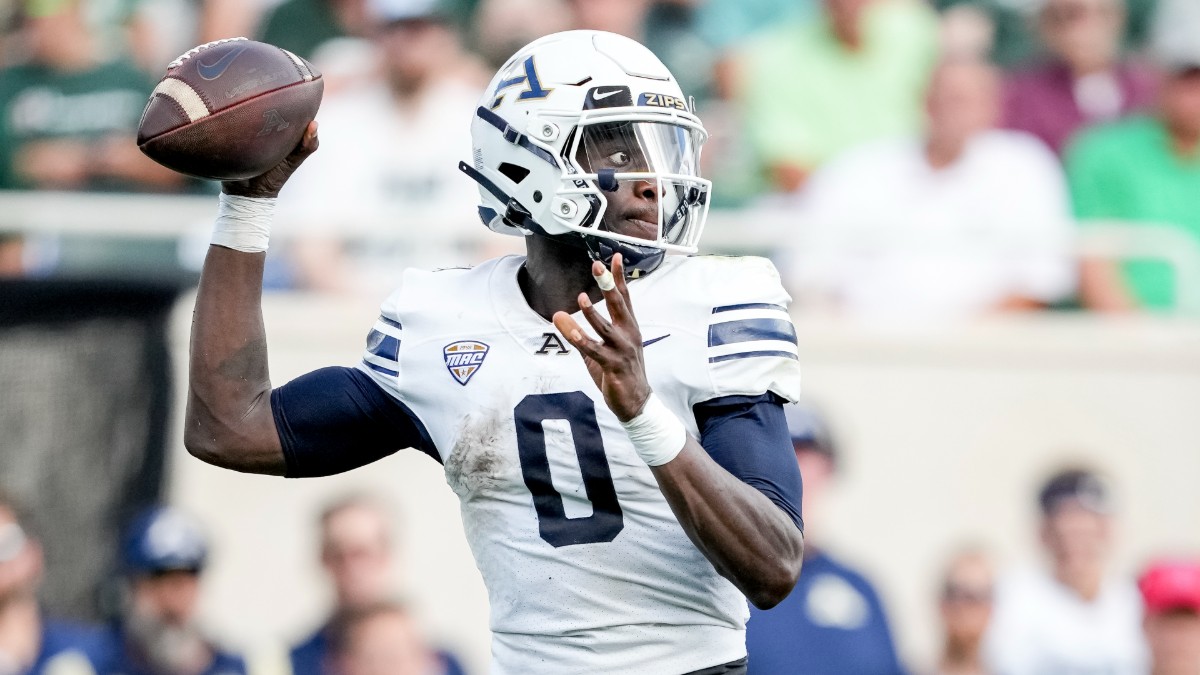 ---
Win Total 2.5 · -12 Net TARP (-7 Offense, T-Worse in FBS Overall & Offense) · 41.7% Returning Line Starts
In the transfer portal era, there are the teams that rebuild with de facto free agents (hello, Colorado) and those that get gutted.
Kent State was the latter, and it explains why it has zero – count 'em zero – returning starters on offense.
Let's not mince words here, this is the worst roster in America. In a pure restart on offense, it could struggle to hit 20+ points against most of this schedule (thankfully, Central Connecticut State comes calling).
The Flashes' run defense was the only thing that was halfway passable last season, but they lost three of four starters up front. Kenni Burns is hoping that this unit can embrace its #KentGrit mentality, but with so many new faces, you can't expect it to slow many teams down.
You look at some of the players that transferred in and schools like K-State, Mizzou, WVU and Iowa pop. But can they mesh with an opening bloodbath on tap? Trips to UCF in their Big 12 debut and then Arkansas spell big-time trouble and a loss of confidence.
Outside of the CCSU win, they'll be a dog in every other game this season. I'll play the under.
-Michael Calabrese
---
MAC West
Win Total 8.5 · +6 Net TARP (+3 Offense & Defense) · 85.3% Returning Line Starts
After four years of seemingly underachieving, Jason Candle and the Toledo Rockets finally broke through to win another MAC Championship. It wasn't the prettiest ride, losing their final two games of the season to bad teams, before beating Ohio without their quarterback in the title game.
But the Rockets are once again the MAC favorite and have the talent to be right back in the title game.
Quarterback Dequan Finn is back under center, as is his backup Tucker Gleason. Finn is a dual-threat weapon who's thrown for 41 touchdowns and rushed for 18 more over the last two seasons.
Jacquez Stuart is back at running back and leading receivers Jerjuan Newton and Devin Maddox both return, as well.
Four of their five offensive line starters are back to secure what should be another solid offense.
Toledo was elite on defense and should be once again. The Rockets finished the year ranked seventh in the country in defensive success rate. They were great in all areas, ranking eighth against the run and 14th against the pass.
Desjuan Johnson is gone, but this unit will return four first-team all-conference selections.
A secondary that ranked 12th in the nation in passing defense returns its entire backend, led by cornerback Quinyon Mitchell, who had five interceptions last season.
The defensive line is the only possible concern, but this team should be nasty again.
When you look at these teams on paper, I have a hard time imagining anybody else winning the West division.
The only real hesitation here is that this is MACtion. We haven't had a repeat MAC champ since Northern Illinois in 2011 and 2012 under Dave Doeren. The same team hasn't even reached the conference title game in consecutive seasons in seven years.
Toledo should be great again, but it's hard to back the favorite in a conference with so much chaos and uncertainty.
-Mike Ianniello
---
Eastern Michigan (9-4, 5-3)
Win Total 7.5 · -6.5 Net TARP (-7 Offense, T-Worst in FBS) · 44.6% Returning Line Starts
How much higher can the Eastern Michigan Eagles fly? EMU is the lone team currently in the conference that's never played in a MAC Championship game.
Last season was their best chance, as the Eagles tied for the MAC West title but lost the tiebreaker to Toledo due to a 27-24 head-to-head loss.
Chris Creighton is an excellent coach and last season's 9-4 record was the high point during his nine-year tenure at Eastern Michigan. With a win total of 7.5, that's expected to be the standard again.
Quarterback Taylor Powell is gone, but Austin Smith played in nine games last season, throwing for over 700 yards with six touchdowns and four interceptions.
Smith started four games, went 3-1 as the starter and helped lead Eastern Michigan to a win against Arizona State after coming off the bench. He'll have his leading receiver Tanner Knue back on the outside, but Sidy Sow is a massive loss on the offensive line.
Running back Samson Evans might be the best tail back in the conference. He had 1,166 yards and 15 touchdowns on the ground and scored nine touchdowns in the final five games of the season. The Eagles ranked 27th in rushing success rate last season.
Defensively, Eastern Michigan was solid against the pass in 2022 and returns most of its secondary.
But losing Jose Ramirez up front is massive. Ramirez was as important as one player can be to a defense, racking up 12 sacks and 19.5 tackles for loss.
The secondary should be good, but the pass rush and run defense are causes for concern.
I don't find much value in this win total in either direction. I'm a huge fan of Creighton, but replicating last season with a new quarterback and the questions on defense will be difficult.
-Mike Ianniello
---
Northern Illinois (3-9, 2-6)
Win Total 5.5 · +5.5 Net TARP (+4 Defense) · 93.4% Returning Line Starts
Oh, how I love the COVID bonus year. Rocky Lombardi is back after playing in just four games last year, and he gives this NIU team a chance to bounce back in a major way.
This team won every close game in 2021 and then lost five one-score games in 2022. But here's the thing, Thomas Hammock has already pulled this rabbit out of his hat before. The Huskies went 0-6 during COVID-19 and then won the MAC the following year.
To put it lightly, the NIU offensive line is a massive plus, and I'm buying stock in Antario Brown. The Huskies had to get creative when Lombardi went down last year, and Brown showed that he can get into the end zone when they go to the Wildcat with him.
Gavin Williams will team up with Brown for a solid 1-2 punch at running back. Trayvon Rudolph is a fantastic all-purpose piece on the perimeter and the premier return specialist in the conference.
When you put it all together, this offense has a clear identity: a veteran quarterback who's won a lot of close games and an offensive line that could be the very best in the MAC.
If Cam'Rom Dabney emerges as a difference-maker at cornerback, the defense should be really good by MAC standards. If he helps the Eagles climb from 101st in passing defense into the 70s, then I could be a buyer of this team at +1700 to win the MAC.
The schedule is filled with opportunities right from the get-go. Most people would look at the opener in Chestnut Hill as an automatic loss to Boston College, but I don't. The ACC Eagles have a lot of questions on offense and lost to UConn and Virginia Tech by double digits last year.
Home games against Southern Illinois and Tulsa should be wins as well.
If the Huskies start 3-1, the over is nearly assured, with home games against Eastern Michigan, Ball State and Western Michigan all decidedly winnable. Road tilts at Central Michigan and Kent State can be dubs for the Huskies as well.
I think they get to eight wins and crash the MAC title game.
-Michael Calabrese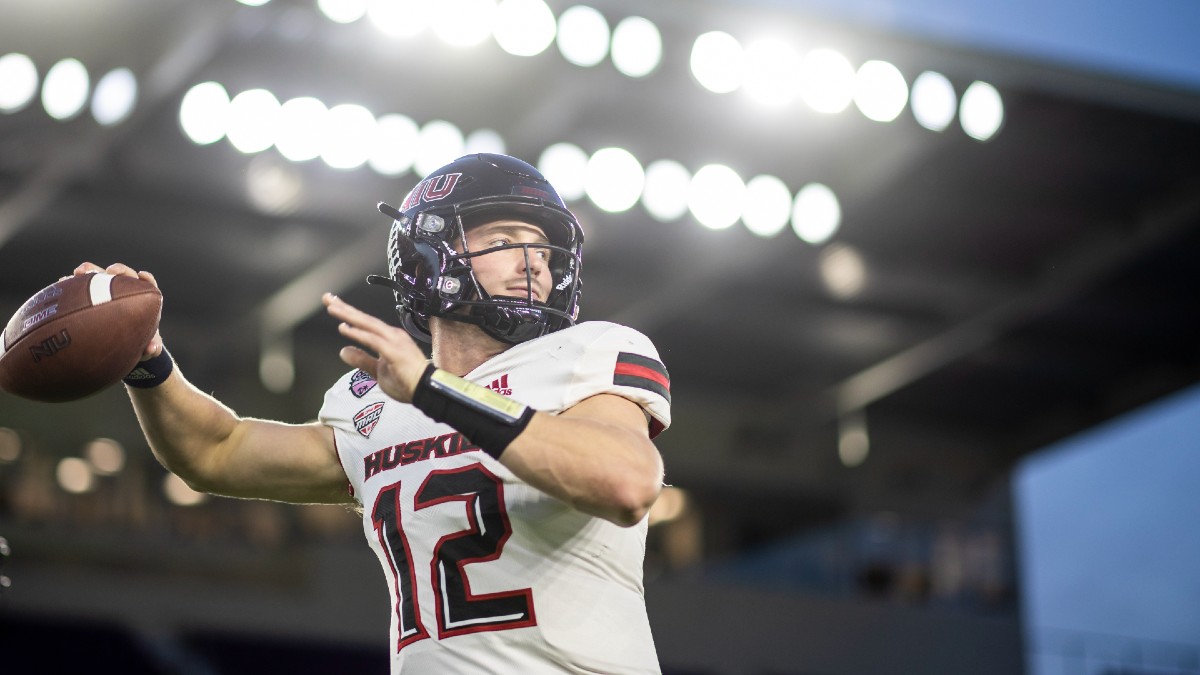 ---
Win Total 5 · -0.5 Net TARP (-1.5 Defense) · 83.3% Returning Line Starts
Ball State was hit hard by the transfer portal, losing quarterback John Paddock and running back Carson Steele to Power Five teams this offseason.
Even though it lost All-MAC running back Carson Steele, it replaced him with the other all-conference back in Marquez Cooper from Kent State. Cooper rushed for 1,331 yards with 13 touchdowns in 2022.
Layne Hatcher will likely get the nod to replace Paddock, and what he lacks in skill he makes up for in experience. Hatcher has four years of experience as a starter for Arkansas State and Texas State. In 44 career games, he's thrown for over 10,000 yards with 84 touchdowns and 35 interceptions.
The top two leading wide receivers are both gone, but the Cardinals have two stud tight ends in Brady Hunt and Tanner Koziol. They combined for 871 yards and 12 touchdowns in 2022. Expect to see Ball State run a lot more 12 personnel to get both tight ends on the field.
All four linebackers from this 3-4 defense return, but the Cardinals lose their entire secondary. Ball State couldn't stop the run at all last year, allowing over 182 yards per game on the ground, and now the pass defense has some questions too.
The start of this season is brutal, with games at Kentucky and at Georgia. Who knows if the Cardinals will even have anybody left standing when conference play starts.
Ball State has really struggled down the stretch each year. They've gone just 5-20 in November since 2015.
Ball State is one of those middle-tier MAC teams that has the ability to beat some of the upper-tier teams, but it could also lose to the lower-tier teams. 5.5 is a fair win total.
-Mike Ianniello
---
Central Michigan (4-8, 3-5)
Win Total 5 · -3.5 Net TARP (-7 Offense, T-Worst in FBS) · 60% Returning Line Starts
The biggest problem with my brain is that when I first see something and make an impression, it's hard to get it out of my head.
So, when Bert Emanuel entered the game at quarterback against Buffalo last season and rushed for 293 yards and three touchdowns, I decided he's the next Michael Vick.
Over the final three games, Emanuel rushed for 466 yards and seven touchdowns.
Jase Bauer is also back at quarterback. He was used more as the passing quarterback, but he is very mobile and can run well, too.
Both of these quarterbacks are electric with their feet. The question is, can either of them successfully throw the ball?
Running back Lew Nichols III is gone, but Marion Lukes and Myles Bailey will look to combine to replace Nichols' production.
The Chippewas' leading receiver is gone, but Jalen McGaughy will be asked to step up, and the offensive line returns three starters, including both tackles.
Defense was Central Michigan's strength last year, and it returns 10 starters to help keep things going.
Last season, it was better against the run, but that might change this year. This secondary should be nasty, with cornerback Donte Kent and safety De'Javion Stepney both returning.
Teams always get knocked when they force too many turnovers, pointing to negative regression. Well, this team forced no turnovers last year and should get a few more bounces in 2023. Jim McElwain said that the Chips were really emphasizing that during the Spring.
McElwain is a good coach and a veteran who's shown he can right the ship quickly. When he was hired, he took a 1-11 Central Michigan team and turned it into 8-6 division champions in his first year. It fell to 3-3 in 2020 but bounced back to 9-4 in 2021, with another division title.
Now after a 4-8 season, trust McElwain to bounce back again.
This defense should be really good, especially if the turnover margin balances out closer to the average. If somebody can step up as a passer and Emanuel continues to be the electric rusher we saw at the end of last season, the Chippewas should be a bowl team once again.
Play their win total to go over 5.5.
-Mike Ianniello
---
Western Michigan (5-7, 4-4)
Win Total 3.5 · -2.5 Net TARP (-5 Defense) · 75% Returning Line Starts
Lance Taylor is taking over in Kalamazoo, and it's only fair we give him some time to find his bearings. He's a first-time head coach, not just at the FBS level, but at any level. He was the offensive coordinator at Louisville last year and didn't exactly set the world on fire.
From the looks of it, this is a total rebuild on defense, which could be bad after the unit kept the Broncos afloat last year.
Five starters on the offensive line return with significant experience, but will it matter if their quarterbacks are underwhelming? Jack Salopek and Treyson Bourguet failed to hit 50% of their passes last fall.
Making matters worse is that top talents Sean Tyler and Corey Crooms transferred to Minnesota.
The cupboard is essentially bare for the Broncos.
Billy Cosh comes in from FCS Richmond and is installing his famed Air Raid offense. The Spiders cracked the top 25 of the FCS in total offense, passing offense and passing efficiency with Cosh pulling the strings.
This could be a fun offense in year two or three if they get the right quarterback on the roster.
Outside of Kent State, this is my big fade team in the MAC. Even their opener against St. Francis – an FCS playoff team last season – isn't a gimme.
Toss in a triple road trip in September taking them from Syracuse to Iowa to Toledo, and I'm all the way out on WMU. Under 3.5 is the play.
-Michael Calabrese
How would you rate this article?
This site contains commercial content. We may be compensated for the links provided on this page. The content on this page is for informational purposes only. Action Network makes no representation or warranty as to the accuracy of the information given or the outcome of any game or event.