AAC Odds, Picks, Conference Preview: How to Bet Tulane, UTSA & More in 2023
Credit:
Alika Jenner/Getty Images and Michael Allio/Icon Sportswire via Getty Images. Pictured: Tulane quarterback Michael Pratt (left) and UTSA quarterback Frank Harris (right).
The American Athletic Conference did what it could to replenish its ranks after the league was raided by the Big 12.
UCF, Cincinnati and Houston all left for greener (money-wise) pastures, and their contributions to the conference can't be overstated. The trio combined to win five of the conference's eight title games, and Cincy became the only Group of Five team to make the College Football Playoff in 2021.
Their replacements are a bit of a mixed bag. The Roadrunners of UTSA enter with a ton of momentum, having won back-to-back C-USA titles. Likewise, UAB has been on the rise, posting a 42-21 record since 2018.
If you wanted to lump North Texas in with those two, one could make a case. The Mean Green have appeared in a bowl game in six of their past seven seasons and attended the C-USA title game last December.
But the rest of the additions — Charlotte, FAU and Rice — appear to be bargain basement add-ons. In the past decade, all three have won fewer than 50% of their games, and both Rice (36.4%) and Charlotte (31.9%) have been downright uncompetitive.
What that means for the AAC this fall is that there's a clear separation between the contenders and the dregs.
Win Total 9 · +2 Net TARP (+1 Offense & Defense) · 70% Returning Line Starts
Willie Fritz led the Green Wave to one of the best bounce-back seasons in college football history last year. After a 2-10 bottoming out in 2021, Tulane rebounded to 12-2 last year, capped off by an AAC Championship win and Cotton Bowl victory over Caleb Williams and the USC Trojans.
The Green Wave bring back fourth-year starter Michael Pratt, who was able to secure an NIL package to remain in New Orleans after receiving Power Five interest.
Pratt threw for over 3,000 yards last season with 27 touchdowns and just five interceptions. He added 10 more scores with his legs, as well. Pratt is tough as nails and the heart and soul of this team.
Tulane did suffer some big losses this offseason, though. It lost both its offensive and defensive coordinators and stud running back Tyjae Spears. The electric Spears rushed for 1,581 yards and 19 touchdowns and carried this team down the stretch last year.
The offensive line is stacked though, with All-Conference selections Prince Pines at guard and Sincere Haynesworth at center.
The defense also takes a massive hit. Linebackers Dorian Williams and Nick Anderson, safeties Macon Clark and Larry Brooks and cornerback Jadon Canady are all excellent players that left for the NFL or entered the transfer portal.
In all, this Tulane defense that was terrific last season returns just three starters.
Tulane opens the year against South Alabama, Ole Miss and at Southern Miss, none of which will be easy games. It avoided SMU in conference play and gets UTSA at home to end the year in a game that could determine who goes to the conference championship.
The return of Pratt at quarterback provides this team with a safe floor and will prevent it from taking any significant step back.
However, I think Spears provided the ceiling that the Green Wave reached last season. He rushed for 181 yards and two touchdowns against Cincinnati to earn a spot in the conference title game, 199 yards and a score in the conference championship and 205 yards and four touchdowns in the bowl win against USC.
In their biggest games, he was the best player on the field, and he'll be sorely missed this season.
While I'm not directly fading Tulane, I will look to invest elsewhere in teams I believe have a higher ceiling this season, such as UTSA and SMU.
-Mike Ianniello
---
Win Total 8.5 · -5.5 Net TARP (-7 Offense, Tied for Worst in FBS) · 83.3% Returning Line Starts
If there's anybody poised to take advantage of NIL opportunities, it's SMU. It was doing NIL before it was cool (or legal). It has already used the new rules to its advantage, establishing a collective to pay $38,000 per year to the entire team.
This will help give SMU a ton of depth throughout its roster, as backups are able to make money it wouldn't at other schools.
The NIL programs have already helped SMU become ranked sixth in the transfer portal class rankings. It was able to bring in a bunch of transfers, highlighted by a half-dozen players coming in from Miami.
The prolific Tanner Mordecai left for Wisconsin, but Preston Stone takes over as the starting quarterback after serving as the backup for the last two years.
Besides having the perfect name for a quarterback in Texas, he's also a former four-star recruit who received offers from all of the top schools out of high school, including Alabama, Georgia, LSU, Ohio State, Penn State, Texas, USC and more.
Despite losing star Rashee Rice to the NFL, SMU has one of the best wide receiver rooms in the Group of Five. The Mustangs have a ton of depth, with Jordan Kerley, Moochie Dixon and Jake Bailey all returning, and they add Key'Shawn Smith from Miami and Jordan Hudson from TCU. Tight end RJ Maryland is back as well.
Normally the defense only returning four starters would be a big concern, but the Mustangs' defense was atrocious last year. A few of last year's starters actually returned but lost their starting jobs during the spring.
SMU did a good job bringing in transfer pieces to improve the defense. It was especially bad against the run last year, ranking 119th in rushing defense. The Mustangs bring in defensive end Elijah Roberts and defensive tackle Jordan Miller from Miami, who should both start right away.
The Mustangs also added a safety from Stanford, a defensive tackle from Oklahoma and cornerbacks from West Virginia, LSU and TCU who will all challenge for a starting spot and provide depth.
Four of SMU's six losses last year came by just one score. It should've beaten both Maryland and Cincinnati.
The offense should continue to flourish under Rhett Lashlee, and the defense can only improve from last year. The Mustangs brought in a ton of Power Five transfers that should help on both sides of the ball.
They have two difficult non-conference games on the road against Oklahoma and TCU, but the AAC schedule is a cakewalk. SMU doesn't play Tulane, UTSA or FAU. It'll be favored in every single conference game, with Memphis in late November likely standing as its toughest game.
If Stone is able to keep this offense humming, SMU has a great path to reach the conference championship game. I like the Mustangs at +350 to win the AAC title.
-Mike Ianniello
---
Win Total 8 · -6.5 Net TARP (-4 Offense) · 52.2% Returning Line Starts
The Roadrunners are one of the best G5 success stories. The start-up program has only been around since 2011. Larry Coker guided them from the FCS ranks to the FBS, and he was succeeded by Frank Wilson. The renowned recruiter led them to their first bowl game, but ultimately, he was unable to help them break through in C-USA.
Enter high school coaching legend Jeff Traylor. Despite never leading a college football program, he's turned the Roadrunners into a G5 juggernaut overnight.
Back-to-back C-USA crowns and a 23-5 record in the past two seasons is proof that he can coach his tail off. Traylor has UTSA rolling and he has the roster to compete for an AAC title this fall.
He also gets Frank Harris back for his seventh season in college. The crafty lefty has 98 career touchdowns (74 air, 24 ground) and has looked sharp against Power Five competition. He took the leap to superstardom last year (41 total TDs, over 4K passing) and thanks to some NIL cash, he opted to stay in San Antonio for one more ride.
Yes, UTSA lost starting wide receiver Zakhari Franklin to Ole Miss and Will Stein – the program's offensive coordinator – bolted for Oregon, but this coaching staff – as a whole – has continuity, and Justin Burke is ready to take over as a play-caller.
The Roadrunners' receiving corps remains a strength despite the loss of Franklin, as De'Corian Clark is on track to return from an ACL injury. Joshua Cephus is a terror in the slot, and his off-field issues stemming from a DWI charge have been resolved.
Willie McCoy could be their secret weapon this fall. The JUCO transfer was an All-American kick returner and has big-play ability.
Add in Kevorian Barnes at running back, and they're going to be fine offensively.
The UTSA defense has a chance to be special in the secondary, thanks to the return of Rashad Wisdom. The Roadrunners were middle of the pack in FBS in scoring and rushing defense last season. If their pass defense gets a little better, this will be one of the best AAC defenses.
I'm shying away from the win total because of their difficult road slate that includes trips to Houston, Tennessee, FAU and Tulane. But I love their value at +410 to win the AAC and make it a conference title three-peat.
-Michael Calabrese
---
Win Total 8 · -1.5 Net TARP (-3 Defense) · 61.5% Returning Line Starts
Memphis went 7-6 last season and has reached a bowl game in all three seasons under Ryan Silverfield. But it still feels like frustration is growing as the Tigers fail to reach the full potential they experienced under Mike Norvell.
While Memphis is disappointed it wasn't one of the three teams courted to move up to the Big 12, the loss of Cincinnati, Houston and UCF creates a void at the top of the conference that Memphis has a great opportunity to step into.
There's no reason the Tigers shouldn't be able to cement themselves as the class of the new AAC.
Quarterback Seth Henigan is back for his third year as the starter and is a very underrated signal-caller. In two seasons under center, he's thrown for 6,881 yards with 47 touchdowns and 16 interceptions. He does a great job protecting the football and improved his completion percentage to 64% last year.
Memphis loses its tight end and three leading receivers, but it has some solid options ready to step up. In particular, Toledo transfer DeMeer Blankumsee was turning heads during spring practice, and the Tigers believe he gives them a deep threat option on the outside that they haven't had in a while.
The running back room is loaded for the Tigers. Jevyon Ducker and Brandon Thomas both return after combining for 16 touchdowns on the ground, and Blake Watson transferred in from Old Dominion after rushing for over 1,100 yards with eight scores last year.
The offense ranked in the top 40 in both rushing and passing success and should once again be very efficient.
The defense was okay last year – especially against the run – but it had some blow-up games. The unit had a bad stretch against Houston, ECU, Tulane and UCF, as the Tigers went 0-4 and allowed over 33 points in all three games.
Despite losing their top two tacklers, the Tigers' defense should do a better job of getting after the QB, and it has two really good cornerbacks returning in the secondary.
The Tigers have lost eight of their last 10 one-score games over the last few years. The question is: are they due for positive regression? Or does their coaching hurt their ability to win close games?
Our Action Network Power Ratings have Memphis favored in 10 games this season. It avoids UTSA and gets Tulane and SMU both at home. The only games we have the Tigers as underdogs in is against Missouri and Tulane, both of which are winnable matchups.
With a strong running game and the reliable Henigan at quarterback, the Tigers should be able to eclipse eight wins if the defense can take a step forward and they can win a few close games.
-Mike Ianniello
---
Win Total 7.5 · +7 Net TARP (+5 Defense) · 60% Returning Line Starts
It's strange that there's a negative narrative surrounding Tom Herman. Generally, casual fans and bettors regard a coach's highest-profile job as the true litmus test of their quality.
Herman was fired from Texas, so he must be overrated, or at least that's how people viewed it. But the reality is that Herman was far from a failure at UT (32-18, 4-0 in bowls) and has been a massive success everywhere else in his career.
He was a star offensive coordinator at Texas State in the FCS ranks, took Rice to unprecedented offensive heights as the Owls' offensive coordinator, orchestrated one of the best upsets of the BCS era while at Iowa State ('11 upset of OK State) and then helped Ohio State win a national championship.
In short, he's a phenomenal offensive coach walking into a situation he could turn around overnight.
Oh, and did I mention he's a Mensa Member?
You don't have to be a rocket scientist to get big results from this FAU offense. Casey Thompson and Daniel Richardson will vie for the starting quarterback role, with it likely that Thompson wins the job.
Larry McCammon III and Lowkey Lewis (CMU) provide a dynamic one-two punch at running back. And LaJohntay Wester headlines an exciting receiving corp.
If the offensive line gels, this could be a top-three offense in the AAC.
Defensively, nearly the entire back-seven is back. Seven of the top eight tacklers are back.
Early tests at home against Ohio and then road trips to Power Five programs – Clemson and Illinois – may hide FAU's value in September.
I anticipate the Owls taking the league by storm in October and exceeding this win total on their way to the conference title game in December.
-Michael Calabrese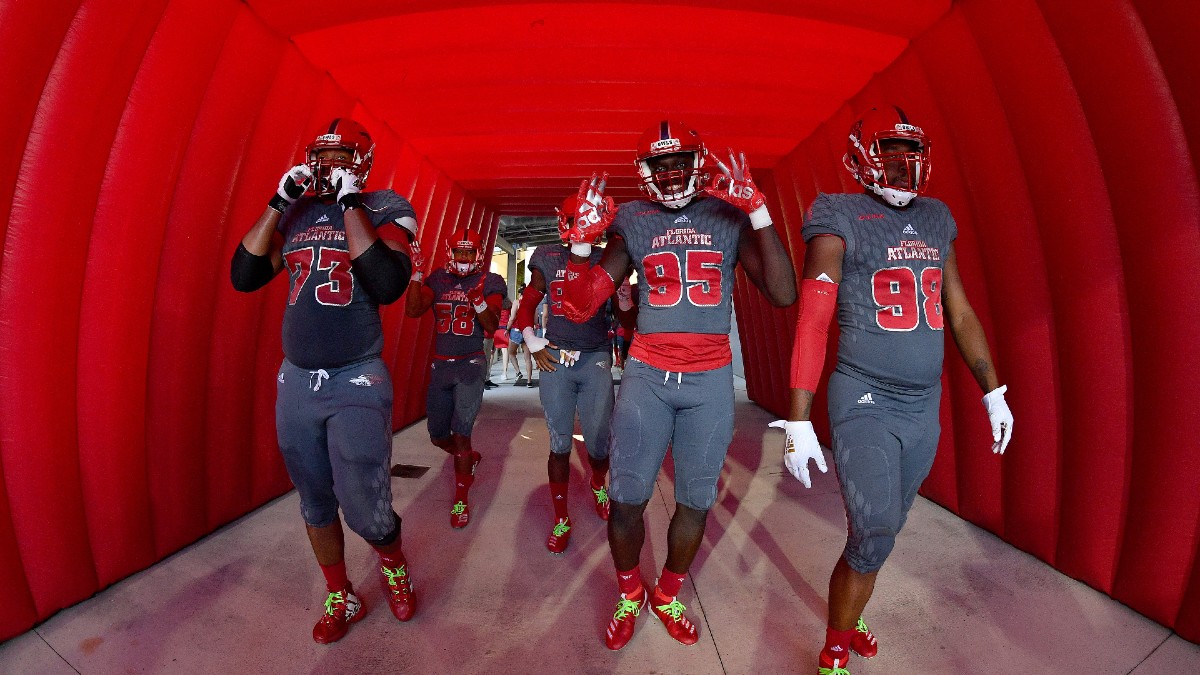 ---
Win Total 6 · +4.5 Net TARP (+3.5 Offense) · 80% Returning Line Starts
Here's a sleeper alert in the AAC.
The Mean Green reached the C-USA Title game last season, but still fired their long-tenured head coach Seth Littrell (44-44, 32-23). He never broke through and was winless in five bowl games.
What this would usually mean for a Group of Five program is that they're in a rebuilding mode. But the hiring of Eric Morris could bring about instant results in Denton.
Morris is an Air Raid disciple, having played under the late, great Mike Leach. He even coached under him at Washington State before returning to his alma mater – Texas Tech – for a five-year stint.
That experience helped him land the job at Incarnate Word as its head coach. Morris set the world on fire in his four years with that FCS program. IW made two trips to the FCS playoffs and his record-setting offenses made him a finalist for the Eddie Robinson Award National Coach of the Year award.
After a quick stop at Washington State last year as offensive coordinator, he's back to the head coaching ranks at UNT.
He went right to the portal and plucked UL Monroe's Chandler Rogers to lead his offense. Rogers is a perfect fit for Eric Morris' pass-happy scheme and could be a breakout star right away.
The Mean Green have experience at receiver – starting with Roderic Burns – and a super deep running back room. Running backs Ayo Adeyi, Ikaika Ragsdale and Oscar Adaway III could all start for the majority of G5 schools.
With an experienced line in front of them, Morris' Air Raid could have a bit more balance in Year 1.
Their new 3-3-5 defense will take time to gel, but they have some high-end talent – like cornerback Ridge Texada.
I have this team circled as an "over" squad, with the potential for a lot of shootouts this fall.
Their schedule is challenging enough that I'm passing on their win total. Roadies at Tulane and SMU will be very challenging, and they draw both Memphis and UTSA at home. That's the equivalent of losing the AAC scheduling lottery.
If you're looking for something actionable, they could sneak up on Cal in the opener as +300 ML underdogs.
-Michael Calabrese
---
Win Total 5.5 · -10.5 Net TARP (-7 Offense, Tied for Worst in FBS) · 41.5% Returning Line Starts
It's such a shame that we didn't get to see last year's ECU team play in this new AAC. With all the teams trying to step up into the vacant upper tier of the conference, the Pirates have a very poorly timed rebuild year.
After five seasons, Holton Ahlers finally leaves Greenville as the school's all-time leader in passing yards, completions and touchdowns.
The Pirates also lose All-AAC running back Keaton Mitchell, as well as wide receivers Isaiah Winstead and C.J. Johnson. They also lose tight end Ryan Jones.
The cupboard isn't completely empty, with Rahjai Harris returning at running back. He's coming off a torn ACL and may not be ready for the start of the season, but he was a first-team All-ACC selection in 2020 and scored six touchdowns in five games before getting hurt last year.
A deep running back room should allow Harris time to ease back in, but the passing game is a major concern.
Mason Garcia appears to have the lead for the starting quarterback spot heading into the season. He's served as Ahlers' backup for the last three seasons.
ECU's defense took a big step forward last year and was especially great at defending the run. Now the Pirates lose all their linebackers and cornerbacks, which are especially big losses for a team that plays a 4-2-5 defense.
They'll likely struggle to defend the pass again, which is a problem against the league's top teams.
Without Ahlers, expect the Pirates to take a big step back this season. They have to play Tulane, UTSA, SMU and FAU in conference play, as well as Michigan, Marshall and App State in the non-conference.
Six wins seem like this team's absolute ceiling, assuming it can pull off at least one upset. But five wins or fewer seem much more likely.
-Mike Ianniello
---
Win Total 6.5 · +6 Net TARP (+3.5 Defense) · 78.3% Returning Line Starts
Ken Niumatalolo deserved so much better at Navy. The winningest coach in school history was unceremoniously fired in the locker room following last season's loss to Army.
Simply put, that's not right, especially considering his track record (109 wins, 11 bowl trips).
Niumatalolo is out, and Brian Newberry is in this fall. The skilled defensive coach was promoted from within and tasked Kennesaw State's Grant Chesnut with spicing up the Midshipmen's option offense.
You'll still see triple option elements, but this offense will finally feature RPO elements and a lot more short-passing concepts.
Fabian France is the name to watch. The converted cornerback is now a starting slot back and garnered a lot of buzz in the spring.
I'm assuming they'll be successful running the ball, as Kennesaw finished 10th in rushing at the FCS level under Chesnut's tutelage in 2022.
I'm also counting on another great run defense (2nd in '22) from the Mids. They return six players in the front seven ,and they'll have Newberry's fingerprints all over them, despite it being P.J. Volker first season as the defensive coordinator.
They hit the scheduling lottery, as they avoid Tulane and UTSA at the top. Playing both Memphis and SMU on the road isn't great, but I would've chalked those up as losses even if they were played in Annapolis.
Wins over Wagner, South Florida, Charlotte, UAB and ECU seem likely, which means that this over will come down to coin flips against North Texas, Air Force, Temple and Army.
Two of those are at home (UNT, AF), one is on the road (Temple) and the Army-Navy game moves to Foxborough this December.
I think they get it done, so I'll play the over.
-Michael Calabrese
---
Win Total 5.5 · +2.5 Net TARP (+2 Offense) · 63.3% Returning Line Starts
Three wins might not show it, but Temple quietly took a step forward last season.
True freshman E.J. Warner – Kurt Warner's son – took over as the starting quarterback in Week 3 and earned AAC Rookie of the Year honors. He threw for over 3,000 yards and really improved down the stretch of the season. He had 10 touchdowns in the last four games and torched South Florida, Houston and ECU in three of the last four games.
Warner should only continue to improve heading into his sophomore year.
The Owls are a little thin at receiver after losing Jose Barbon, but Amad Anderson returns after leading the team in touchdown receptions. Former Georgia/Temple quarterback D'Wan Mathis is making the transition to wide receiver, and reports say he was impressive during spring practices.
Leading rusher Edward Saydee is back as well, and overall, this offense could be pretty good.
Defensively, Temple was improved, but still very consistent. It was terrific against the pass, but horrible at defending the run. The Owls finished the year ranked 24th in pass defense and 111th in rushing defense.
Defensive end Darian Varner transferred to Wisconsin and is a massive loss to the pass rush. Both corners are gone as well, but Temple still has some decent pieces on defense and a pair of strong linebackers in Jordan Magee and Layton Jordan.
After taking a big jump last season, this defense could improve even more this year.
The Owls start 2023 with Akron, Rutgers and Norfolk State, which should help them get to 2-1, although 3-0 isn't impossible.
Warner will be the best quarterback on the field against Rutgers.
Their toughest conference games – against UTSA, SMU and Memphis – should all be losses, but they all come at home. Their game against Tulsa to open conference play comes on a Thursday – just five days after facing Miami – so that's a difficult draw.
The Owls will likely be favorites – or small underdogs – against Akron, Norfolk State, Tulsa, North Texas, Navy, South Florida and UAB. They could easily go 6-1 during that stretch.
Looking at this schedule, they don't have a single game that isn't winnable. If Warner continues to improve, the Owls could be a bowl team this year.
-Mike Ianniello
---
Win Total 4.5 · -12 Net TARP (-7 Offense, Worst Overall & Offense in FBS) · 14.3% Returning Line Starts (Worst in FBS)
This is a grand experiment on par with the Deion Sanders hire out West. The only difference is that Prime Time actually built a college program into a winner and has a proven track record attracting blue chip talent. Meanwhile, Trent Dilfer has zero college coaching experience. (More on him in a minute.)
Personnel-wise the headline in Birmingham is that DeWayne McBride has moved onto the NFL. The seventh-round pick of the Minnesota Vikings is already getting more reps in training camp, but that's for another column.
Jermaine Brown Jr. is a good back and fully capable of giving the Blazers over 1,000 all-purpose yards this season, but he's sub-200 pounds at 5'8". He just doesn't project as a bellcow in the same way McBride did.
Just for good measure, he'll be running behind the least experienced offensive line in the nation.
I'm out on the Jacob Zeno experience at quarterback because of Dilfer. The former NFL journeyman and analyst is viewed as some kind of quarterback whisperer, but I simply don't buy it. Coaching up five-star kids at the Elite 11 camp doesn't impress me, given the fact that he doesn't even have a four-star passer on his roster.
And the former host of "Dilfer Dimes" knew nothing about accuracy during his playing days. Do you know how many seasons he completed more than 60% of his passes? Zero! In 14 NFL seasons, he threw more TDs than picks just three times. He had a .500 record as a starter.
This isn't Peyton Manning we're talking about here.
Yes, he found success at Lipscomb Academy, but that was a Double-A (out of 3 levels) high school program in Tennessee.
Even with an impressive record in his final two years, he courted controversy. He took his tight end Beau Dawson for a ride, shoving the high schooler down a sideline while screaming at him during a game. That's just a taste of how insufferable he can be as a coach.
While he isn't laying his hands on his players at UAB, he's making them clean up his dog's poop. Nala, his Rhodesian Ridgeback, gives players requiring "discipline" an opportunity to get out of the doghouse. You can't make this stuff up.
He's balanced out his lack of experience by assembling the least experienced coaching staff in the FBS. Of the 10 full-time assistants, only three have previously worked as an FBS position coach.
And, keep in mind, this roster was gutted – the worst personnel losses from a transfer/returning production standpoint in the entire country.
The schedule has just two gimmes: NC A&T and South Florida at home. That's it. Early road tilts against Georgia, Tulane and UTSA could break this team's spirit entirely.
I'm banking on that. Hammer the under.
-Michael Calabrese
---
South Florida (1-11, 0-8)
Win Total 4.5 · +2.5 Net TARP (+2 Defense) · 20% Returning Line Starts (Tied 2nd-Worst in FBS)
While programs like North Texas and FAU have new coaching staffs, their potential ceilings remain high.
That's not the case with South Florida.
This is a gut-job renovation. The bones are bad, the foundation is cracked, the lawn is a mess and there's probably black mold under the tiles in the kitchen. You get the picture.
New coach Alex Golesh built a dynamic passing game at Tennessee and could very well do the same in Year 2 or Year 3 with the Bulls.
But as it stands, they have Gerry Bohanon at quarterback. He's not known for his accuracy.
Oh, and this unit absolutely can't pass block. They return just 20% of their line starts, which is tied for second-worst in the nation.
As of today, there are zero established game breakers on the roster.
The defense returns a ton, but it was buried in the deep 120s in almost every metric. Teams could run or pass at will, so the Bulls are starting from scratch even with an experienced roster.
This is essentially an auto-win on everyone's AAC schedule.
You could talk me into two wins, one over FCS Florida A&M and the other over Charlotte. Both are at home and Charlotte is in the finale, which gives them time to build an offense throughout the year.
Duck and cover early on against WKU and Alabama. Those could be a pair of 50+ point losses.
Play the under on the Bulls.
-Michael Calabrese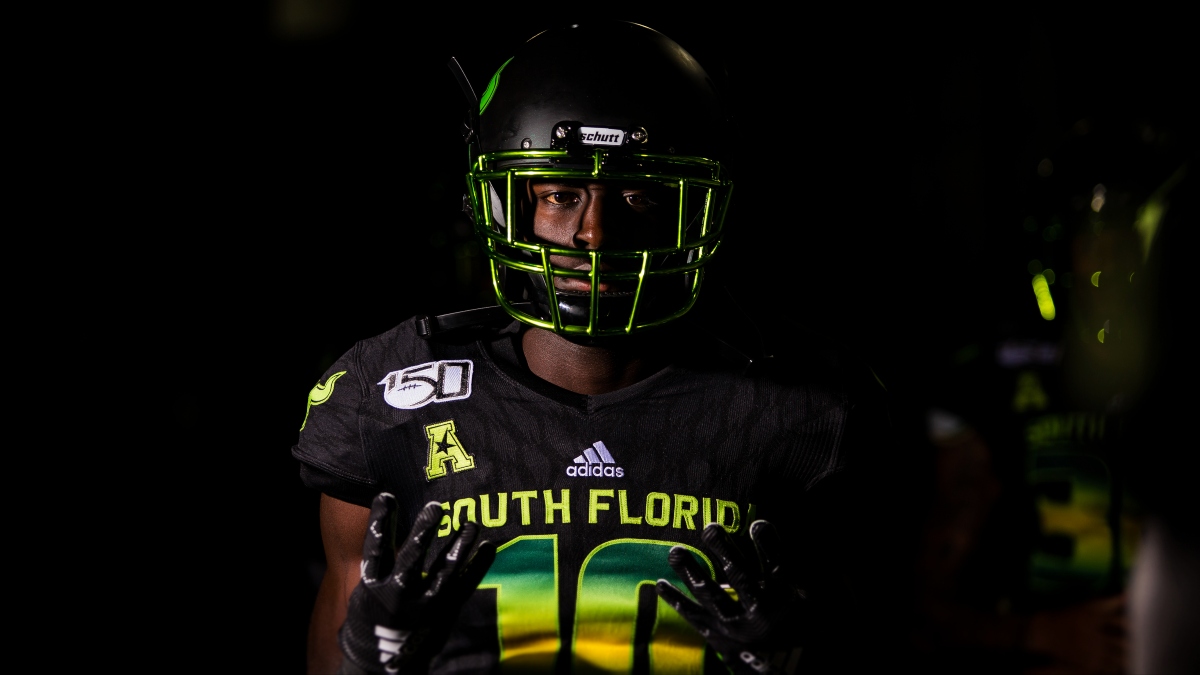 ---
Win Total 4.5 · -12 Net TARP (-7 Offense, Worst Overall & Offense in FBS) · 80% Returning Line Starts
Tulsa pulled the plug on Philip Montgomery after he went 43-53 in his eight years at the helm. The Golden Hurricane went 5-8 last season and Montgomery was fired.
In comes Kevin Wilson, who's served as Ohio State's offensive coordinator since 2017. Prior to that, he was the head coach at Indiana from 2011-2016, going 26-47 in his six years in Bloomington.
Wilson might be known for his offense, but he'll have a difficult task with the Hurricane. Tulsa lost its starting quarterback, top two running backs and top two wide receivers.
With Davis Brin off to Georgia Southern, Braylon Braxton takes over as the starter.
Braxton played in nine games last season after Brin got hurt and struggled with consistency. He showed promise in his appearances, throwing 10 touchdowns with two interceptions. He's also good with his legs, adding five touchdowns on the ground. Braxton's dual-threat ability can help make up for the lack of weapons on offense.
Tulsa's defense took a big step back after losing defensive coordinator Joe Gillespie. The Golden Hurricane weren't bad against the pass, and the secondary should once again be their strength.
However, they were torched on the ground, ranking 121st in rushing defense.
Now they lose two stud linebackers in Justin Wright and Anthony Goodlow. This run defense is likely to have some serious problems again.
Tulsa wasn't even able to hire a defensive coordinator until after spring practice ended. It'll have to implement an entirely new defensive scheme during the fall training camp.
The Golden Hurricane have very little depth across the board, and this will be a true year zero for Wilson.
After an opening game against Arkansas-Pine Bluff, Tulsa will take on Washington and Oklahoma. While it avoids UTSA, it has road games against Tulane, SMU and FAU.
I have a very hard time seeing how Tulsa will win five games again. Our Power Ratings only have it favored in two games, and it's only an underdog of less than a touchdown in one game.
I'm going under 4.5 with the Golden Hurricane.
-Mike Ianniello
---
Win Total 4.5 · +7 Net TARP (+4.5 Offense) · 80.3% Returning Line Starts
Thanks to its APR score, a five-win Rice team got to go bowling last year. That was really helpful for a squad that needed more practice time during December. The staff has done a serviceable job turning Rice from a doormat into a tough-out capable of reaching bowl eligibility.
Want more good news? The Owls are a serious turnover regression candidate. They turned it over 32 times last fall. That was the worst in FBS.
A few more fumbles bounce their way, and they're even more competitive, despite a jump up in competition from C-USA to the AAC.
They have one of the highest NET TARP ratings in the conference and added JT Daniels at QB in the portal. He was good enough to play at both USC and Georgia, and could be special at the G5 level if he stays healthy.
His receiving corps is fantastic, headlined by Bradley Rozner and Luke McCaffrey. Rozner was Mr. Big Play (19.9 YPC), and the tandem scored 16 TDs last season.
Another reason for optimism, there's lots of experience on the line.
If the defense keeps progressing, they could be top-100 in scoring, which may not sound all that impressive, but it could be the difference in swing games against UConn and FAU at home.
A few more stops could turn Ls into Ws for a team primed to score some points this fall.
They have a great stretch from mid-September to mid-October, featuring a home game against Texas Southern, at USF, vs. East Carolina, vs. UConn and at Tulsa. Win four of those games and they're blowing past their win total of 4.5.
They'll need that stretch because their closing schedule is a horror show by AAC standards. Tulane, SMU, UTSA and FAU are all lurking late, although they're all at home, save for a road trip to UTSA.
I lean over, and I would play them in the opener against Texas if that line bubbles up to +35.
-Michael Calabrese
---
Win Total 3.5 · -12 Net TARP (-7 Offense, Worst Overall & Offense in FBS) · 47.5% Returning Line Starts
Last season was a sad year in Charlotte, as Club Lit was officially shut down, boarded up and condemned.
Instead, it's been turned into a financial institution. The 49ers made a very unconventional move by hiring the largely unknown Biff Poggi to replace Will Healy.
Poggi spent the past two years on Michigan's staff as an off-field analyst. Prior to that, he spent nearly 30 years as a high school coach in Maryland while working as an investment manager.
Because he was able to make a fortune in the financial industry, he decided to return half of his salary to help increase the assistant salary pool for his staff.
He'll have a difficult road turning around the 49ers quickly. Chris Reynolds is gone after five years, and we saw what this team was without him at times over the last two years.
On top of that, backups Xavier Williams and James Foster both hit the transfer portal.
It appears Jalen Jones will be the starter after he transferred in from Bethune-Cookman. Jones played for Poggi in high school.
The offense will move from a pass-first scheme to a power running game with Shadrick Byrd returning.
Charlotte lost all of its wide receivers, and they were all pretty good. Elijah Spencer, Grant DuBose and Victor Tucker are all gone, so the offense should really struggle this year.
The defense was hot garbage last season. It allowed over 483 yards in 2022 (127th) and 39.4 points per game (128th).
Unfortunately for Charlotte, this defense will likely be very bad once again.
Poggi is a fantastic sound bite and a lot of fun, but I don't think he's going to win many games this year. The 49ers brought in about 40 transfers to help improve the roster, but outside of South Carolina State, they'll likely be a double-digit underdog in every other game.
-Mike Ianniello
How would you rate this article?
This site contains commercial content. We may be compensated for the links provided on this page. The content on this page is for informational purposes only. Action Network makes no representation or warranty as to the accuracy of the information given or the outcome of any game or event.