College Football Odds & Picks: Collin Wilson's 5 Favorite Games to Bet on Saturday (Oct. 10)
Credit:
UA Athletics/Collegiate Images/Getty Images. Pictured: John Metchie III #8, Jaylen Waddle #17, and Miller Forristall #87.
Collin Wilson breaks down his top 5 favorite betting picks for Saturday's college football slate.
The Week 6 college football betting card is loaded with juicy matchups from top to bottom, from Texas vs. Oklahoma to Miami vs. Clemson
Read on for a full breakdown on each of Collin's top 5 favorite Saturday betting positions below, including his picks for some of the slate's most highly-bet games.
The College Football Playoff picture is starting to take shape. Clemson, Alabama and Georgia are odds-on favorites to make the semifinals. The Crimson Tide and Bulldogs will get sorted in Week 7, but are there outside contenders that could slip into the Rose Bowl or Sugar Bowl scheduled for New Years Day?
The Pac-12 has yet to play a game, but the new schedule makes USC and Oregon heavy favorites to meet in the championship game as undefeated teams. Both the Ducks and Trojans can be found at 100/1 in various places to win the national title. The Big 12 has all but cannibalized itself, leaving the door wide open for Ohio State to make the Playoff even with a conference loss. While the Buckeyes may not hold much value in that case, there are other teams still peaking in from the outside.
Can a top-25 Iowa State team sweep the Big 12 and still make the Playoff with a loss to Louisiana? Will Virginia Tech be even better after fully recovering from COVID-19 and the return of quarterback Hendon Hooker? Will an undefeated Group of Five team sweep into the spot if the Power Five conferences finish with two-loss champions?
Week 6 will help answer a few of those questions. But with each new upset, the odds for teams that haven't played will only continue to lose value.
---
Check out the Action Network Power Ratings for all Week 6 games and follow me on the Action App for the latest updates.
My College Football Week 6 Betting Card
Here's a quick rundown of my five favorite betting spots on Saturday's slate of games:
---
All odds listed below are as of Friday and via DraftKings. Specific bet recommendations at the end of each matchup breakdown come from the sportsbook offering preferred odds as of writing. Always shop for the best price using our NCAAF Odds page, which automatically surfaces the best lines for every game.
---
---

(4) Florida at (21) Texas A&M Odds
| | |
| --- | --- |
| Florida Odds | -6.5 [BET NOW] |
| Texas A&M Odds | +6.5 [BET NOW] |
| Over/Under | 58.5 [BET NOW] |
| Time | 12:00 p.m. ET |
| TV | ESPN |
Texas A&M could ill afford mistakes against Alabama in Week 5, as the Aggies have never been built with the offensive explosiveness to keep stride. Missed field goals, a turnover on downs and a pick-six before halftime all but guaranteed Texas A&M would not be able to come back against one of college football's best teams.
While the debate lingers on whether or not Kellen Mond's time as the Aggies starter may be coming to an end, the defense is not without blame. Texas A&M ranks 68th in defensive passing success rate and 64th in defensive finishing drives. In other words, teams can move the ball through the air and score in the red zone against Jimbo Fisher's team.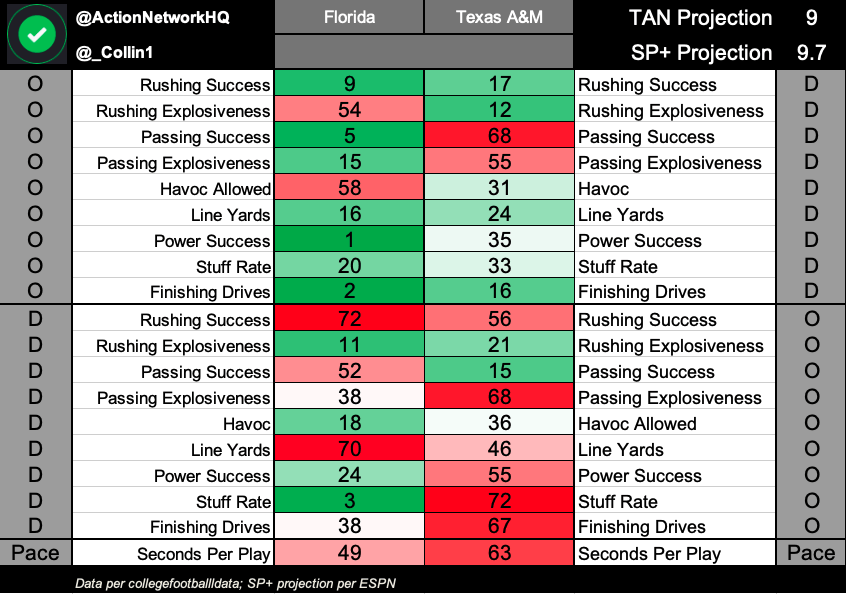 The Florida Gators travel to College Station with one of the best pass-catch duos in the country in quarterback Kyle Trask and tight end Kyle Pitts. Trask has targeted Pitts 18 times through two games, resulting in 12 receptions for six touchdowns. Pitts has added 72 yards after the catch and has been found on six play-action passes.
Texas A&M has not shown the ability to cover receivers in games against Vanderbilt and Alabama. The Aggies' rush defense has held steady, but Florida throws the ball 63% of the time out of 11 and 21 personnel.
If there's an area of weakness for the Gators, it's their rush defense. Currently sitting at 72nd in success rate against the run, Florida may be a victim on the analytics side to an Ole Miss offense that threw up 29 first downs in Week 4. This Texas A&M offense does not have the offensive firepower of Ole Miss.
There's just two weeks of data for SEC play, but the biggest discrepancy between these teams is finishing drives. Specifically, Florida is averaging 5.76 points per trip past the opponent's 40-yard line. That's good enough to rank second in the country with the limited data. Texas A&M is on the opposite end of the spectrum, ranking 67th and averaging 2.42 points per trip inside the 40.
The Bet: Florida -6.5
[Bet Florida-Texas A&M now at PointsBet risk-free up to $250]
---
---

(19) Virginia Tech vs. (8) North Carolina
| | |
| --- | --- |
| Virginia Tech Odds | +4 [BET NOW] |
| North Carolina Odds | -4 [BET NOW] |
| Over/Under | 59 [BET NOW] |
| Time | 12:00 p.m. ET |
| TV | ABC |
Under the tutelage of Braxton Burmeister and Quincy Patterson at quarterback, Virginia Tech has fielded a 2-0 record to start the season. Hendon Hooker had one of the best touchdown-to-interception ratios in 2019 and won the starting job before missing the past few weeks due to COVID-19 and conditioning. That changes this week, as head coach Justin Fuente says Hooker is a "full go" for the clash with North Carolina.
The biggest news from the Hokies' first two weeks of play is Kansas transfer Khalil Herbert. The running back is averaging 276.5 all-purpose yards through two games between rushing, receiving and returning kickoffs. Herbert has been deadly on runs in the middle, with 10 carries for 181 yards and two touchdowns.
North Carolina's rush defense presents the toughest challenge to date for the Hokies. The Heels rank in the top five in defensive rushing success rate but have struggled in short-yardage situations. Specifically, a rank of 49th or lower in power success and stuff rate suggests North Carolina may have an issue getting Virginia Tech's offense off the field.

After two games against Syracuse and Boston College, the North Carolina offense may not be clicking on all cylinders. The early numbers in success rate suggest the Tar Heels are moving the ball at will, but a lack of finishing drives combined with no deep passes by Sam Howell leave question marks. Howell has yet to complete a pass over 20 yards, per Sport Source Analytics.

Virginia Tech played without 23 players against NC State and missed 21 players against Duke. The Hokies are expected to be at full strength defensively and welcome the return of Hooker. Of the 250-plus snaps between the offensive linemen, only six run disruptions have been recorded. Considering North Carolina's struggles in the trenches on short rushing situations, Virginia Tech and the Khalil Herbert show are looking to upset the Heels.
The Bet: Virginia Tech +5
[Bet North Carolina-Virginia Tech now at BetMGM and get a $500 INSTANT deposit match]
---
---

(2) Alabama at Ole Miss
| | |
| --- | --- |
| Alabama Odds | -23.5 [BET NOW] |
| Ole Miss Odds | +23.5 [BET NOW] |
| Over/Under | 69.5 [BET NOW] |
| Time | 7:30 p.m. ET |
| TV | ESPN |
There are too many narratives for this game, which should win honors as the most entertaining of Week 6. Lane Kiffin faces his former boss, Nick Saban, in Oxford, where Hurricane Delta is scheduled to pass through. There's so much to unpack with that statement. Nick Saban hates trips to Oxford ever since an embarrassing 2014 loss. That Ole Miss squad came to Tuscaloosa in 2015 and produced the same result. Since 2017, Nick Saban has gone full scorched Earth on Ole Miss, tallying a combined score of 187-41.
Lane Kiffin was a rebuilding project after falling short of expectations as a head coach at Tennessee and USC. As Alabama offensive coordinator, Kiffin took on the RPO to change the way the Crimson Tide schemed offense. After multiple trips to the College Football Playoff, Kiffin and Saban are close on a personal level. Kiffin is now reborn after a wildly successful stint at Florida Atlantic and a now-rejuvenated Ole Miss offense.
Just because Saban and Kiffin have a close personal relationship doesn't mean they're not going to try and show each other up on Saturday. By all indications, this game should fly over the total. Ole Miss ranks fourth in seconds per play, while Alabama may have a collection of skill positions that are the most talented in the country. As the world sees Jerry Jeudy depart for the Denver Broncos, the Crimson Tide introduce John Metchie III to college football consumers.
Both Ole Miss and Alabama are 2-0 to the over in their respective games. The Crimson Tide scored 52 against Texas A&M in a game with a total set at 54, while the Rebels allowed 51 to Florida in a game with a total of 59.5. The ultimate equalizer is Hurricane Delta, as remnants of the center of the eye will be over the state of Mississippi on Saturday.
This storm will affect numerous games, as The Action Network's Danny Donahue explains. Winds are variable right now, estimated anywhere from 10 to 35 mph with precipitation.
Alabama has gone pass in 65% of plays from 11 personnel, while Ole Miss has been 56% pass. The more the weather deteriorates, this becomes more favorable for a ground game and the team with the better defense.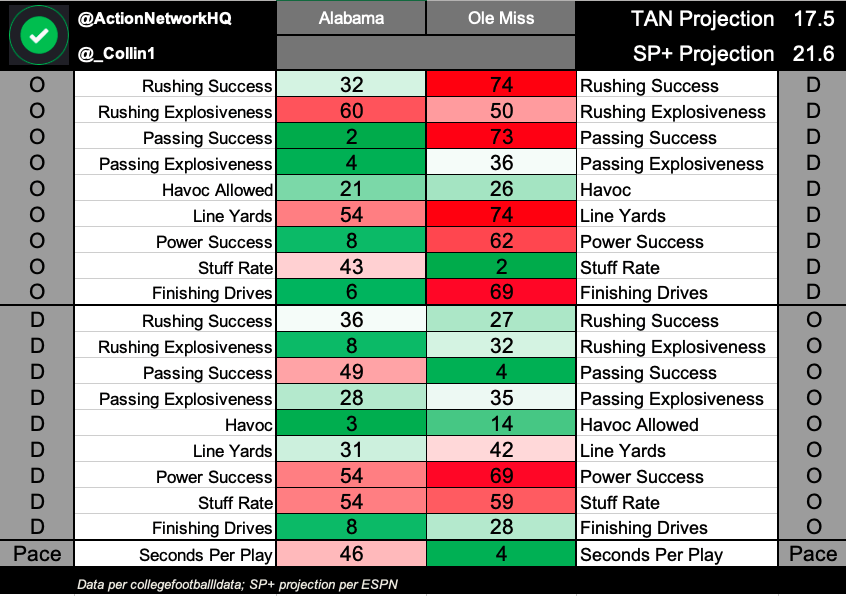 Ole Miss is having historic issues on the defensive side of the ball, but the Alabama pace and method of attack must be questioned. Monitor the weather, specifically the amount of wind and precipitation that could limit both passing attacks. In a slower paced game reliant on the rush, Ole Miss has plenty of value on the spread. A first-half under bet may be warranted as well, based upon pace, weather and the Alabama defense thriving in wet turf conditions.
The Bet: Ole Miss +24; First Half Under 37
[Bet Alabama-Ole Miss at FanDuel completely risk-free up to $1,000]
---
---

(7) Miami at (1) Clemson Odds
The Hurricanes have looked as stellar as possible heading into their biggest game of the season. Rhett Lashlee has rebuilt the Miami offense into an up-tempo and explosive unit. D'Eriq King has helped propel the U to the best rushing offense from an expected points perspective while sustaining drives. Miami has scored on 100% of trips to the red zone, with 10 touchdowns in 13 attempts.

Since the 1980s, the strength of the Miami defense has always been Havoc. Currently ranked second, the Hurricanes have generated 31 tackles for loss and four forced fumbles. Defensive end Quincy Roche already has eight quarterback hurries on the season.
Considering all the good Miami has done to this point, it's no surprise it's a popular underdog this week against a Clemson team that's in cruise control. Dabo Swinney has yet to play a full second half, leading Wake Forest 72-0, The Citadel 49-0 and Virginia 24-10. Despite the limited first-string playing time, Clemson sits sixth in defensive rushing success rate. The Tigers have allowed just one rush of 20-plus yards. This may be one of the few defenses that can contain King.
Meanwhile, Clemson's offense is humming better than ever. Trevor Lawrence has yet to throw an interception and holds a completion rate of 73%, currently 8% higher than his career average at the FBS level. The offensive line has played at max protection, with only Jackson Carman giving up a sack through 414 combined pass blocking snaps between the starters.
In games against UAB and Florida State, the Miami secondary didn't break a sweat. In the Hurricanes' matchup against Louisville, there may have been results that should have Clemson fans salivating. Malik Cunningham threw for over 300 yards, with seven different receivers hauling in a pass over 10 yards. On top of the holes in the passing defense, missed tackles are starting to pile up. Bubba Bolden, Zach McCloud and Bradley Jennings Jr. have combined for 13 missed tackles so far this season.
Miami does great things on both sides of the ball, as King can bust runs in broken plays, and the defense can cause havoc. Clemson's defensive front seven may be one of the best in the nation at tackling in open space, as no defender on the roster has missed more than two tackles.
On the offensive side, Lawerence and Travis Etienne are playing at the highest level of college football behind a dominant offensive line. As of writing, the best available point spread is Clemson -13.5, but I expect the public underdog to continue to rake tickets and present an even better number for Clemson.
The Bet: Clemson -13.5 or better
[Bet Miami-Clemson now at PointsBet risk-free up to $250]
---
---

Mississippi State at Kentucky Odds
| | |
| --- | --- |
| Mississippi State Odds | +1.5 [BET NOW] |
| Kentucky Odds | -1.5 [BET NOW] |
| Over/Under | 57.5 [BET NOW] |
| Time | 7:30 p.m. ET |
| TV | SEC Network |
As stated in last week's triumphant call of Arkansas to win outright against Mississippi State, defending the air raid is not rocket science. The goal is to run a 3-3-5, dropping eight into coverage and generating pressure with defensive ends. Kentucky has the 3-3-5 part licked, running primarily out of that formation, along with the 3-4-4 for the 2020 season. The issue with the Wildcat defense has been a lack of execution.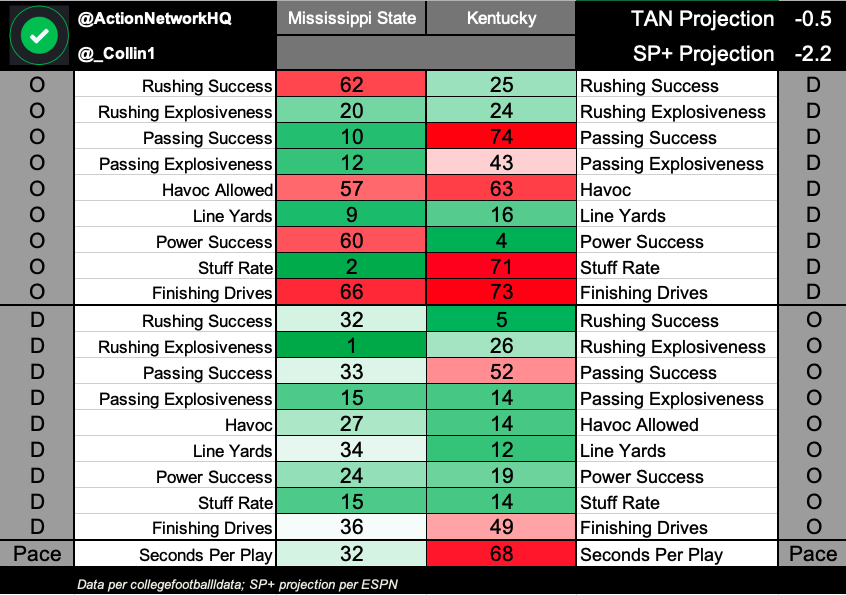 Kentucky has been at the bottom of the FBS ranks in most defensive categories. Ranking 74th in defensive passing success rate isn't a formula for success against a Mike Leach offense. With a rank of 73rd in finishing drives, it seems everyone receives a score in Kentucky territory. The Wildcats have had 10 opponent trips to the red zone, with eight resulting in a touchdown.
Kentucky stayed in the game against Ole Miss because of the rushing game. Running for 408 yards at 7.3 yards per rush is a monstrous day that ended in defeat for the Wildcats. Mississippi State presents a tougher challenge for Kentucky, as the Bulldogs have allowed just four runs over 10 yards this season. If the Kentucky ground attack is negated on offense, this could be a long evening for the Wildcats as Mike Leach attempts to regroup after his first SEC loss.
The Bet: Mississippi State +2
[Bet Mississippi State-Kentucky now at BetMGM and get a $500 INSTANT deposit match]
College Football Betting Related Links
How would you rate this article?