Our Staff's 7 Favorite College Football Bets & Picks for Week 2
Credit:
Matthew Emmons-USA TODAY Sports. Pictured: Eli Stove and Bo Nix
Texas A&M vs. Clemson? LSU vs. Texas?
You may not be in the right place. We've got those covered here and here.
Our staff digs deep every week to find their favorite plays of the week, often on games you might not have even known were happening. Whether that's a good or bad thing, well, we'll find out when the results come in on Saturday.
Our Staff's College Football Best Bets for Week 2
All odds from PointsBet as of Friday morning.
Stuckey
Game: Army at Michigan
Spread: Michigan -22
Over/Under: 47
Time: 12 p.m. ET, FOX
I generally hate fading service academy schools as big underdogs, since their triple option offenses bleed clock and limit possessions, making it very difficult to cover large spreads.
Just ask Oklahoma, which had to hold on in overtime last year against Army after the Black Knights had two second-half possessions that took up a combined 20 minutes of game clock. The Black Knights finished the season averaging a NCAA-leading 38 minutes of possession per game.
However, this just isn't the same Army offense we've seen the past couple years, especially up the middle. The Black Knights lost their two staples at fullback over the past three seasons in Darnell Woolfolk and Andy Davidson, and two veteran offensive linemen. The fullback dive is the most important play in the triple option offense, used to pick up big chunks on first down, convert in short yardage situations and most importantly, keeps the defense off balance.
If the fullback dive isn't effective, opposing linebackers don't have to respect the dive fake as much, which also takes away the effectiveness of the option when the quarterback keeps the ball. We saw that last week against Rice, as the Owls completely shut down the Army rushing attack. Averaging 4.4 yards per play against Rice is a bad omen ahead of a trip to the Big House.
Michigan also could get back Donovan Jeter and Michael Dwumfour for this one, which will give them a significant boost along the defensive line.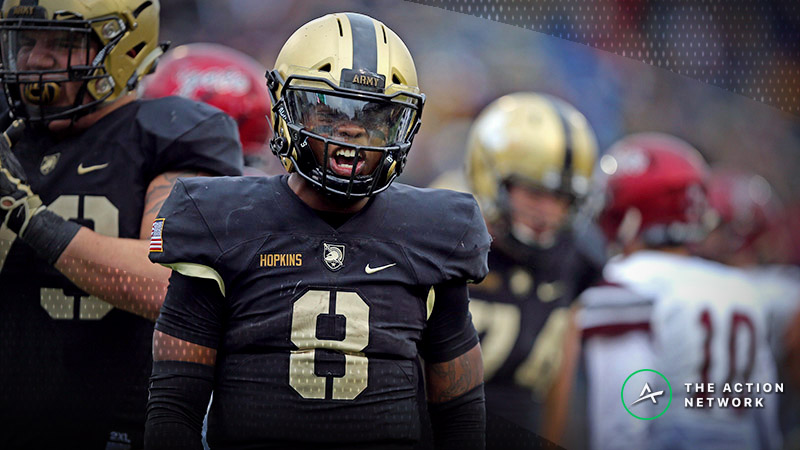 With Army not having the same efficient option attack, it won't sustain as many of those patented long drives that have made the Black Knights so successful as an underdog. And that will in turn hurt a defense that has benefited from being on the field for fewer minutes than any team in the country.
As a result, Michigan should have plenty of chances on offense in the second week of its new spread offense. On that side of the ball, the athletic disparity on the outside should give the Wolverines a significant edge.
I'd take them up to -24.
Pick: Michigan -22
John Ewing
Game: Vanderbilt at Purdue
Spread: Purdue -7
Over/Under: 56
Time: 12 p.m. ET, Big Ten Network
Vandy lost its first game of the season 30-6. Not great! However, context is important. The Commodores lost to No. 3 Georgia as a 22-point dog, and was expected to lose by that much.
The betting market is down on Vanderbilt after the lopsided defeat, but this is a good time to buy-low. Since 2005, in the first three weeks of the season teams that lost their previous game to a Top 10 opponent have gone 104-88-2 (54%) ATS in their next game according to Bet Labs.
The larger the margin of the defeat the better the team performed in the next game:
Lost by 7 or more points: 94-78-2 (55%) ATS
Lost by 14 or more points: 82-63-2 (57%) ATS
Lost by 21 or more points: 70-47-1 (60%) ATS
The betting market can sometimes overreact to poor performances, which creates contrarian value.
History suggests Vandy will bounce back on Saturday and so does SP+. According to Bill Connelly's tempo and opponent adjusted efficiency metrics, the Commodores would be favored over the 'Makers on a neutral field and are only 1.3 point dogs on the road Saturday.
Pick: Vandy +7
Kyle Miller
Game: San Diego State at UCLA
Spread: UCLA -8
Over/Under: 46
Time: 4:15 p.m. ET, Pac-12 Network
Almost no FBS team had a worse offensive performance than San Diego State in Week 1. The Aztecs managed just 238 yards and six points against FCS Weber State. Quarterback Ryan Agnew was awful and star running back Juwan Washington had just 55 yards on 22 carries. The only scoring came on two field goals. On the positive side, the defense was salty as ever, shutting out Weber State on their way to a 6-0 victory.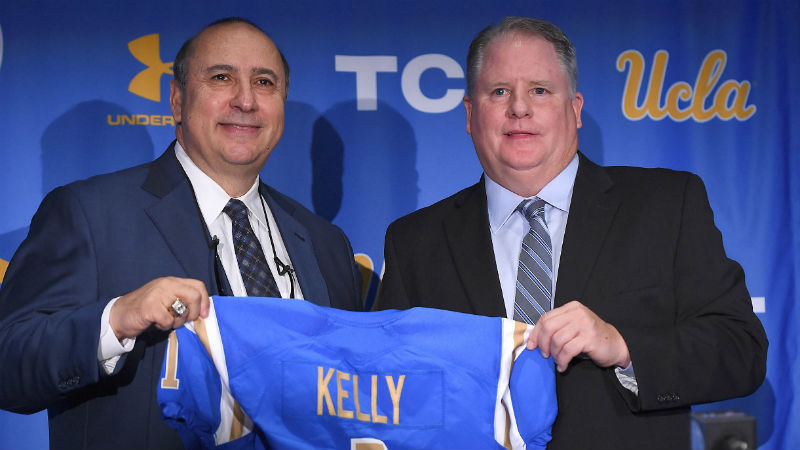 San Diego State heads north to play UCLA this week and the Bruins didn't fare a whole lot better in week one on offense. They managed just 218 yards and 14 points against a good Cincinnati defense.
Quarterback Dorian Thompson-Robinson had one of the worst games I've ever seen. He threw two picks and fumbled twice, a couple of the only scoring chances UCLA had all game. Running back Joshua Kelley missed last week's game but should be good to go this week.
Both of these teams want to establish the run game, but aren't very good at running. There's a reason this total is so low, but I feel that the game will still go well under the number.
Pick: Under 46
Steve Petrella
Game: Tulane at Auburn
Spread: Auburn -18
Over/Under: 51.5
Time: 7:30 p.m. ET, ESPN2
Some folks around here were pretty high on Tulane this preseason and got rewarded in a Week 1 blowout of FIU.
Willie Fritz really has this program trending in the right direction, and its offense is difficult to prepare for given its option influences. The Green Wave are also playing with some more pace this season, which suits quarterback Justin McMillan. The LSU transfer has now won six of his last seven games after taking the job mid-season in 2018.
I don't feel too strongly one way or the other about Auburn, which needed a miracle to beat Oregon and struggled for most of the game on offense. The Tigers have also had letdowns in the past as a big favorite — Gus Malzahn is just 14-20-3 against the spread when laying double digits.
The last time Auburn faced a team with inferior talent it won by 1,000, but this is a sneaky-good Tulane team that could cause problems at Jordan-Hare on Saturday.
Pick: Tulane +18
Collin Wilson
Game: Miami at UNC
Spread: Miami -5
Over/Under: 47.5
Time: 8 p.m. ET, ACC Network
How good is North Carolina football? A victory over South Carolina ended with multiple interceptions against Jake Bentley, while freshman quarterback Sam Howell threw two touchdowns in the fourth quarter.
Offensive coordinator Phil Longo, previously of Ole Miss, is no stranger to the explosive play, as the Rebels ranked No. 7 in IsoPPP last season with Longo calling the plays. North Carolina is the benefit of a new offensive coordinator, as the Heels had three different running backs and four different receivers combine for explosive plays.
The Tar Heels also brought Jay Bateman as defensive coordinator, the same role held at Army. The Gamecocks had just 270 total yards and went 3 for 13 on third down. While the coordinators have already made a difference, it's the unspoken rivalry between Mack Brown and Manny Diaz that deserves attention.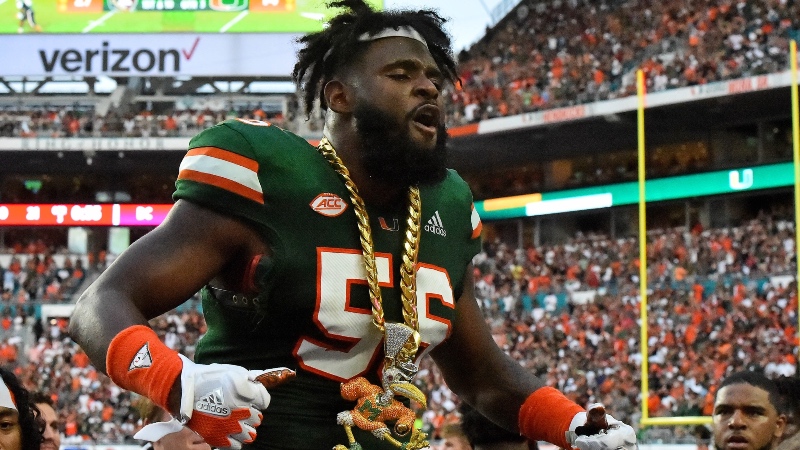 Brown, serving as the Texas head coach in 2013, fired Diaz as his defensive coordinator after the second game of the season. While the coaches have said nothing but good things this week, Diaz will look for revenge in Chapel Hill.
The Miami defense held Florida in check during Week 0, but all the post game chatter centered around freshman quarterback Jarren Williams. Offensive coordinator Dan Enos critiqued Williams' performance, but the conservative play selection did not help the Hurricanes get a victory.
Longo has spent a career scheming around top defenses after service time in the SEC, so the Tar Heels should be able to get points on the Canes defense, while play calling will continue to be a problem with Dan Enos as offensive coordinator.
Take the Heels and the points and save a little extra for the moneyline.
Pick: UNC +5
Danny Donahue
Game: Cal at Washington
Spread: Cal +14
Over/Under: 43.5
Time: 10:30 p.m. ET, FS1
Home dogs tend to get the "beware" treatment in college football, but that really shouldn't be the case … at least as far as betting is concerned. Instead, it's the road dog — especially in-conference — that bettors should target.
In low-total games (48 or less), visiting conference underdogs of at least a touchdown have gone 336-229-13 (59.5%) against the spread since 2005.
As for the chance of an actual upset, road conference dogs in this range (+300 to +500) have been quite the moneymakers.
Such teams with a winning record — granted, Week 2 is a tough time to be judging teams off their records — have won 26.2% of the time, good for 104.1 units and a 27% ROI since 2005.
I'll happily take a small piece of the +475 in addition to the spread.
Pick: Cal +14
Collin Wilson
Game: Oregon State at Hawaii
Spread: Oregon State +6.5
Over/Under: 77
Time: 12 a.m. ET, Facebook
This point spread was an eye opener once it reached a touchdown. Two weeks ago, Hawaii was listed as an 11-point underdog hosting Arizona.
Currently, the Rainbow Warriors are favored by 6.5 points hosting Oregon State. And no respected power rating has a 17.5-point gap between Oregon State and Arizona.
There's spread Beavers, who ran into one of the most offensive efficient teams in the nation against Oklahoma State in Week 1.
The key to this game is the Beavers ground attack. Arizona averaged 5.6 yards per rush, with both Khalil Tate and JJ Taylor busting big plays on Hawaii. Oregon State will be led by Jermar Jefferson and Artavis Pierce. Both options ran for 5 yards per carry against the Cowboys, and led a rushing attack that was 20th in rushing IsoPPP in 2018.
Hawaii QB Cole McDonald will get the start after being benched against Arizona. The quarterback had four touchdowns along with four interceptions before Chevan Cordeiro came in to close the victory. Keep tabs on Oregon State safety Jalen Moore, who missed Week 1 with a hamstring injury. Moore was the secondary top tackler and produced 6% of the Beavers havoc in 2018.
I'll be riding the spread and moneyline action with the Beavers into the early morning hours.
Pick: Oregon State +6.5 and Moneyline (+200)
How would you rate this article?