College Football Best Bets: Our Top 8 Saturday Picks, Featuring Kentucky vs. Iowa, CFP Semis & Kansas State vs. Alabama
Credit:
Kevin C. Cox/Getty Images. Pictured: Alabama quarterback Bryce Young.
Saturday's college football slate may not be as big as what we're used to, but it's certainly one of the most important slates of the year.
However, the College Football Playoff semifinal games — TCU vs. Michigan and Ohio State vs. Georgia — aren't the only matchups taking place on Saturday.
We also have two bowl games that serve as appetizers to the main course: Kansas State vs. Alabama in the Sugar Bowl and Kentucky vs. Iowa in the Music City Bowl.
Our college football staff came through with eight best bets for Saturday's games — four for the early bowl games and four for the College Football Playoff showdowns.
There's value to be had in all four games on Saturday, so let's dive in.
---
Saturday College Football Best Bets
The team logos in the table below represent each of the matchups that our college football staff is targeting from Saturday's slate of bowl games. Click the team logos for one of the matchups below to navigate to a specific bet discussed in this article.
---
Kansas State vs. Alabama
This season was an unmitigated disaster for Alabama after over a decade of unprecedented success. At the conclusion of the 2022 season, Alabama was left with just 10 wins after losing two road games by a combined four points.
How could anyone have any faith in the Crimson Tide after that travesty of a regular season? Well, aside from the tongue-in-cheek remarks, No. 5 Alabama will have one more shot to prove it should, in fact, have been included in the College Football Playoff prior to two of their All-Americans departing for the NFL.
Alabama got excellent news when presumptive first-round NFL Draft picks Bryce Young and Will Anderson Jr. did not opt-out of the Sugar Bowl. Both Young and Anderson will be suiting up to take on a Kansas State team that ended the year hot.
Young, the 2021 Heisman Trophy winner, has alluded to unfinished business in the lead-up to the Sugar Bowl. After dealing with a shoulder injury for a large part of the season and missing out on a trip to New York for Heisman festivities this year, I expect Young to be extremely motivated to leave one last mark on his Alabama legacy.
As for Anderson and the rest of the Alabama defense, they have unfinished business after dropping a couple of very tight contests. Look for a rejuvenated Alabama rush defense to stifle the Wildcats.
This may have been a down season by Alabama standards, but with the key pieces in place, Young and Anderson will depart for the NFL on a high note. Lay the chalk at -7 or better in New Orleans.
Pick: Alabama -6.5 (Play to -7)
---
Kansas State vs. Alabama
Bowl game unders have the upper hand so far, but we could be in for fireworks Saturday in the Sugar Bowl.
This doesn't feel like a particularly high total for two offenses ranking top-25 in yards per play this season. And I'd argue that Alabama might go bonkers against a stout Chris Klieman unit after seeing SEC defenses on a weekly basis.
Alabama's 6.6 yards per play will be the second-most of any opponent for Kansas State this season behind only Kansas (6.7). The Wildcats and Jayhawks combined for 74 points in an easy over earlier this season.
Kansas State always had the stigma of being a slow team under Bill Snyder and in the early years of the Klieman era, but the Wildcats have, for lack of a better word, dogs on offense.
The Crimson Tide aren't as intimidating defensively as years past, and I don't see any resistance from either side.
Nick Saban in a neutral-site game? Points, baby.
Pick: Over 56 (Play to 57)
---
Kansas State vs. Alabama
Alabama got a massive bowl game boost when future first-round picks Will Anderson Jr. and Bryce Young decided not to opt-out of the Sugar Bowl.
Kansas State will also be fielding its roster at full strength in New Orleans, so both of these teams will be matching up best-on-best.
Kansas State's inability to create Havoc on defense will be the issue here, as the Wildcats rank 95th in the country. Young will have plenty of time in the pocket to pick this defense apart, and his offensive line will certainly be looking to keep him upright in what will likely be his final college game.
Outside of that one discrepancy, this matchup may be closer than the names of the schools suggest. Take a look at both these teams' advanced statistics entering the bowl game:
Looking at the right spider chart, I see a mismatch in the aforementioned Havoc statistic.
But one thing Alabama has excelled at all season is finishing its drives with touchdowns. The Crimson Tide are coming into this game ranked sixth in Points per Opportunity on offense. Couple that with one of the most successful offenses in the country (22nd in Success Rate), and you have a great recipe for a team total over.
Pick: Alabama TT Over 31
---
---
Kentucky vs. Iowa
The Music City Bowl has a total that sits at 31, the lowest in the history of college football. This low total is a result of two offenses that have struggled all season being matched up against two premier defensive units.
In addition to the poor matchup, both offenses will be without their most significant contributors.
Kentucky will be missing starting quarterback Will Levis and leading rusher Chris Rodriguez Jr. The Hawkeyes are down to their third-string quarterback after Spencer Petras suffered a shoulder injury in the season finale against Nebraska and backup Alex Padilla hit the transfer portal.
Given these depleted offenses, there will be an emphasis on special teams in order to play the field position game. This is an area in which the Hawkeyes have a major advantage.
Iowa ranks fourth nationally in SP+ special teams. Kicker Drew Stevens has converted 88.9% of his field goal attempts this season, and punter Tory Taylor ranks 15th nationally in average punt yards (45.1).
On the other side, Kentucky has struggled on special teams all season, ranking 73rd nationally. Kicker Matt Ruffalo has missed eight field goal attempts, and starting punter Colin Goodfellow was lost for the season after breaking his leg against Missouri.
In what is shaping up to be a field goal battle, I trust the Hawkeyes' superior kicking unit to do enough to come away with a victory.
---
---
TCU vs. Michigan
By Stuckey
I show value in this number for TCU, per my most recent power ratings, which is always the most important factor and starting point for any handicap.
I truly believe the market (perception matters in these extremely high-profile games) has given way too much credit to Michigan for its 22-point win over Ohio State. That has in turn inflated the number on both favorites on Saturday.
First, the final score was very misleading. Ohio State trailed just 24-20 at the start of the fourth quarter before a pass interference call on third-and-10 led to a Michigan touchdown.
The Wolverines then added two more touchdowns (with an Ohio State red-zone interception sandwiched in between) on a pair of long, broken runs by Donovan Edwards (75 and 85 yards) when Ohio State was selling out to get a stop.
Long story short, the final score was very misleading in a game where Ohio State had a significantly better Success Rate (47%-37%). That edge was even more pronounced on Standard Downs (59%-45%), which are much more predictive.
Now, let's get to why I like TCU outside of pure line value.
I expect the Horned Frogs to unleash quarterback Max Duggan's legs, which could give Michigan problems. The Wolverines really faced only one mobile quarterback all season in Penn State's Sean Clifford, who ran for 76 yards on just five carries.
Duggan also gets rid of the ball very fast, which will negate Michigan's pressure.
Then it comes down to TCU's excellent skill position players getting it done in space. I think it will have success in that department — even on the ground with the criminally underrated Kendre Miller.
The speed of the Horned Frogs should be on full display in this game, especially on a fast track. I'd imagine Michigan would prefer to play this game outdoors on grass with weather conditions.
On the other side of the ball, Michigan should have success on the ground against a vulnerable TCU run defense — although Blake Corum will be sorely missed from a depth perspective. The Wolverines boast one of the nation's best rushing attacks in large part due to a dominant offensive line.
However, I trust TCU defensive coordinator Joseph Gillespie to come up with a game plan to slow down Edwards — similar to the Horned Frogs' victory over Texas in which they held Bijan Robinson (the best back in the country for my money) to just 29 yards on 12 carries.
I assume TCU will dedicate some more resources to the box since it can trust its tremendous cornerbacks — Tre'Vius Hodges-Tomlinson and Josh Newton — on the outside to man up Michigan's wide receivers.
In that victory over Texas, the Horned Frogs dared Quinn Ewers to beat them deep, and he simply couldn't. I expect that same approach here, and I still don't fully trust McCarthy and the Michigan receivers to take full advantage, especially against a scheme they haven't seen all season.
---
TCU vs. Michigan
By Dan Keegan
One of my favorite plays of this weekend is the under in the first half of the first national semifinal between Michigan and TCU, which sits at 29.5 at DraftKings.
Both teams are stronger in the second half. Michigan averaged 40.1 points per game, 18.5 of which came in the first half of games. This trend is even more drastic if we throw out its games against cupcakes; as an illustration, Michigan beat UConn, 59-0, after leading by a score of 38-0 at the halftime break.
In all six of their most critical conference games — Maryland, Illinois, Michigan State, Penn State, Ohio State and Purdue in the title game — the Wolverines averaged only 14 points in the first half compared to 21.2 in the second frame.
The Wolverines will be looking to play this game close to the vest and keep it on the ground, relying on their physical offensive line instead of testing the excellent TCU secondary. This will lead to a faster clock in the first half, and more second-half scoring as Michigan's physicality will be met in the first half but wear down TCU in the second.
Also, Michigan will be facing a 3-3-5 TCU defense that is popular in the Big 12 but more of a novelty to a Big Ten team. It seems likely that it might take a few possessions, some poking and prodding, and halftime adjustments for Michigan to fully crack an unfamiliar scheme.
TCU is also a strong second-half team, averaging 18.5 of their 38.8 in the first half. Offensive coordinator Garrett Riley and defensive coordinator Joe Gillespie are known for their strong second-half adjustments. TCU also won a number of games thanks to big second-half efforts against Kansas State, Oklahoma State, Texas and Colorado.
Michigan played in a semifinal last season, but this is uncharted territory for TCU's coaches and players. It wouldn't surprise me to see nerves and an adjustment period early in the game for TCU — the kind of thing that can cause some timing and rhythm issues for an offense.
Both offenses will come out of the gate feeling out the defense. TCU will be looking to match Michigan's physicality, keep it close until the break, and create big plays in the second half with adjustments.
Michigan will look to establish the run with eyes on wearing TCU down in the second half.
I'll take the first-half under 29.5 and play it to 28.5.
Pick: 1H Under 29.5 (Play to 28.5)
---
---
Ohio State vs. Georgia
By Cody Goggin
For much of the season, Ohio State and Georgia were seen as the two favorites to win the College Football Playoff national Championship. Now, we will see these two behemoths of the sport face off in the semifinals, with the winner having a great shot at the sport's biggest prize.
However, the last time we saw Ohio State was in its brutal beatdown of a loss to Michigan, taking away much of its luster. The line now reflects that perceived gap between the teams, as it's a six-point underdog against the Bulldogs.
Despite the lopsided final score, I think this year's rendition of "The Game" was closer than it appears. Many forget that Ohio State led this game at halftime and trailed by just four points heading into the final quarter.
That last quarter is when everything unraveled for the Buckeyes. After Ohio State kicked a field goal to make it a one-possession game again with just over seven minutes left, the game ended with two long Michigan runs and two Ohio State interceptions, skewing the final result.
Ohio State actually had a better Offensive Success Rate than Michigan, posting a mark in the 86th percentile compared to the Wolverines' 29th percentile.
Because of these turnovers and explosive plays, Michigan led the way in yards per play and EPA per Play, but it was still tighter than this final score would suggest. If these two teams played again, I think we would see Ohio State as a small favorite.
With all of that being said, Ohio State is without a doubt one of the best teams in the nation. It ranked ninth in Success Rate and first in Finishing Drives offensively.
Georgia will be able to put up some points of its own, as it showed in its 50-point performance against LSU in the SEC Championship.
However, this Georgia defense is not as good as the one it fielded last season, and I think CJ Stroud will be able to have some success against it.
The over is a tempting play for me as well, but I think this matchup will come down to the final possession. In a game between two teams of this caliber, I like taking the six points that Ohio State is getting and backing the underdog.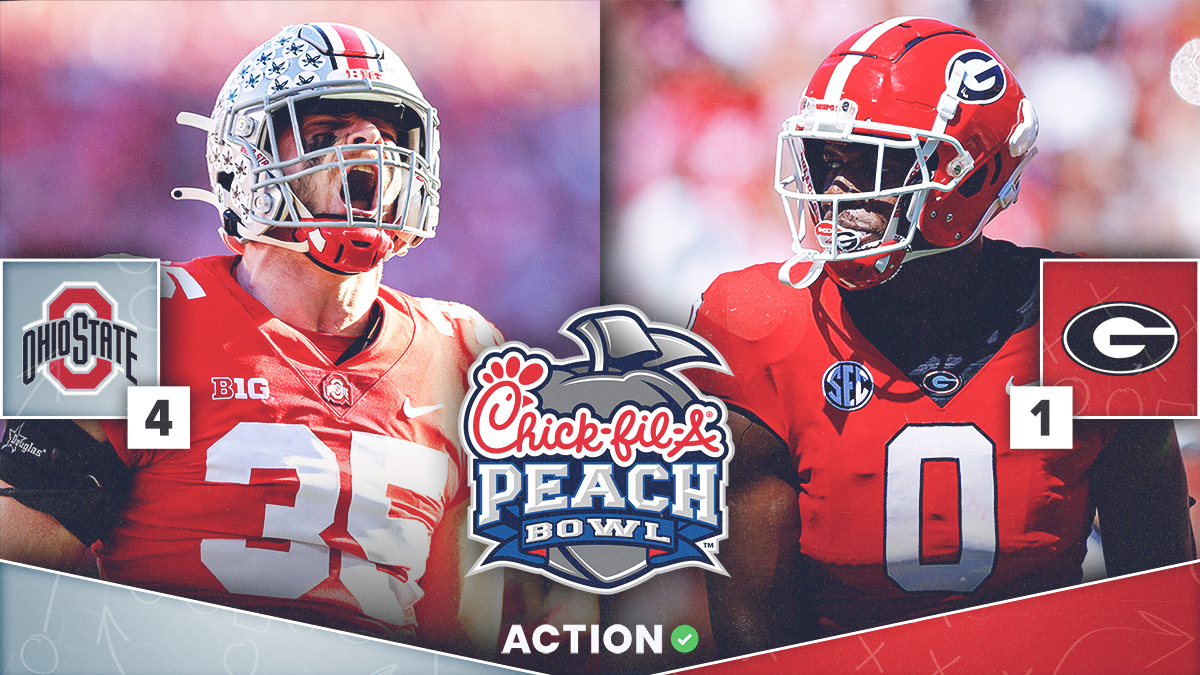 Collin Wilson's Top Bets for OSU vs. UGA
---
Ohio State vs. Georgia
We know what this Ohio State offense is capable of. It's second in the country in scoring, second in yards per play and best in the country at Finishing Drives.
The Buckeyes are loaded with talent with quarterback C.J. Stroud, and star receivers Marvin Harrison Jr. and Emeka Egbuka on the outside.
Not having running back TreVeyon Henderson is a bummer, but Miyan Williams has gotten the majority of carries this season and is averaging 6.5 yards per carry with 13 touchdowns. He forced 47 missed tackles on just 125 attempts; no player in the country has more missed tackles on fewer touches.
This Georgia defense is elite. It ranks sixth in the country in Success Rate and has allowed more than 22 points just once all season. But let's face it — it faced just three even remotely competent offenses all season.
Georgia faced Oregon in the season opener with a new coach and quarterback, Tennessee in a rainstorm and LSU. The Tigers put up 549 yards in the SEC Championship with Jayden Daniels and freshman Garrett Nussmeier combining for 502 yards through the air. Georgia allowed multiple 50-yard completions and six receptions of at least 20 yards.
While known mostly for their defense, it's actually the Bulldogs offense that ranks higher in Success Rate. Georgia ranks third in the country, and this offense earned Stetson Bennett a Heisman finalist nod.
The Dawgs have the best tight end in the country in Brock Bowers, big-play weapon Ladd McConkey and the nearly-unstoppable Darnell Washington.
Ohio State's defense ranks 115th at defending explosiveness, and we just saw it get torched for big play after big play by a Michigan offense that's outside of the top 100 in explosiveness. Georgia should create plenty of chunk plays against the Buckeyes defense.
This will be Georgia's third game in Atlanta this season. It put up at least 49 and 50 points in the first two trips to the state capital. The two previous college football games at Mercedes-Benz Stadium both went over the total.
With two offenses capable of putting up points in a hurry and creating big plays, back the over and except some early fireworks on New Year's Eve.
Pick: Over 62.5 (Play to 63)
How would you rate this article?
This site contains commercial content. We may be compensated for the links provided on this page. The content on this page is for informational purposes only. Action Network makes no representation or warranty as to the accuracy of the information given or the outcome of any game or event.