BYU vs. Cincinnati Odds & Prediction: Bettors Debate Which Side to Bet
Credit:
Matt Roembke/Action Network.
The BYU Cougars meet the Cincinnati Bearcats as both teams look to pick up their first Big 12 win on Friday night.
The Bearcats enter as short favorites in Provo at -1.
Tanner McGrath and Mike Ianniello debate which side of the spread to bet in BYU vs. Cincinnati below.
BYU vs. Cincinnati Odds
Cincinnati Odds
Spread
Total
Moneyline

-1

-110

49

-110o / -110u

-115
BYU Odds
Spread
Total
Moneyline

+1

-110

49

-110o / -110u

-105
Why You Should Bet Cincinnati
My case for Cincinnati here is simple: The Bearcats are tremendously undervalued entering Week 5.
Cincinnati enters this game off back-to-back losses against Miami (OH) and Oklahoma. Those are two of the most misleading box scores of the season.
In Week 3, Cincinnati outgained Miami (OH) 538 to 358 in yards, generating 14 more first downs (30 to 16) and three more scoring opportunities (7 to 4). The Bearcats generated a higher EPA per Play (0.09 to 0.01) and a much higher Success Rate (46% to 35%).
In Week 4, Cincinnati generated six points off six scoring opportunities (!). The Bearcats scored three points in their final four trips inside the red zone (!).
That's impossible. That can't happen again. I'm betting it won't happen again.
The Scott Satterfield offense looks fine. It's a top-50 unit, using a balanced attack spearheaded by dual-threat quarterback in Emory Jones. Given the tremendous turnover on that side of the ball (only three returning starters from last year's team), the unit could continue to improve as the season progresses.
The defense looks fine, too, ranking top-30 nationally in Success Rate Allowed.
Despite being 2-2, the Bearcats have a +8% Net Success Rate.
Cincinnati has been handicapped by late-down efficiency, as it's 2-for-7 on fourth down over the past two weeks. Late-down efficiency tends to trend towards early-down efficiency.
Also, Cincinnati has been handicapped in the field position battle, ranking 131st nationally in average starting field position (own 13) and 130th in average starting field position allowed (opposing 36). For a generally strong special teams and punting unit (headlined by Mason Fletcher), I don't expect that trend to continue.
So, all of this positive regression the Bearcats are due for should come crashing down upon BYU – the Bearcats are playing much better than their record indicates – and I don't expect the Cougars to keep up.
Literally. I don't expect them to keep up, literally. BYU's offense ranks 126th in Success Rate. The Cougars can't run the ball behind a revamped offensive line (125th in Line Yards), and Kedon Slovis offers only so much upside at quarterback.
Plus, this aerial attack may really be missing Puka Nacua. He's tearing up NFL defenses.
We're buying Cincinnati cheap here as road favorites.
---
In the year of our Lord and Savior 2023, Jones is still a starting quarterback for a Power Five football team.
However Tanner is about to try and spin this, don't listen to him. Jones stinks.
Through six seasons at Florida, Arizona State and Cincinnati, Jones has thrown 40 touchdown passes to 23 interceptions. He's completed just 63% of his passes and has 31 turnover-worthy plays to just 21 big-time throws in his career.
Meanwhile, Slovis transferred to Mormonism, apparently, and has looked like his old self at BYU this season.
Slovis started his career at USC, throwing for over 7,500 yards and 58 touchdowns in three seasons. He was the 2019 Pac-12 Freshman of the Year and was a 2020 All-Pac-12 First Teamer.
Slovis then made the mistake of transferring to Pitt, where Pat Narduzzi was mad that his last quarterback was a Heisman finalist (the Panthers were throwing the ball too much). I won't hold the fact that Narduzzi is a clown against Slovis.
Through four games at BYU, Slovis has the Cougars at 3-1 and has thrown eight touchdowns to three interceptions. He just threw for 357 yards on the road against Kansas last week.
BYU has a deep receiver room with three players averaging over 50 yards per game. Isaac Rex, Chase Roberts and Darius Lassiter each have at least 17 catches and 200 yards already, and give the Cougars a ton of weapons.
That doesn't even include Keanu Hill, who led the team in touchdown catches last season, but is still easing back from an early injury. Last game was his first with a normal snap count, so he should be nearly 100%.
So far this season, the Cougars have been elite at generating big plays. They rank 16th in the country in Explosiveness, and go ahead and guess what Cincinnati's biggest weakness is? That's right. Giving up big plays.
The Bearcats rank 124th at defending Explosiveness and have been burned by big plays through the air and on the ground, ranking outside of the top 110 in both.
Cincinnati gave up five explosive plays to FCS Eastern Kentucky, eight to Pitt — one of the country's least explosive teams — five to Miami (OH) and four to Oklahoma.
BYU will create big play after big play against this Bearcats defense in its Big 12 home opener.
---
McGrath: You are wildly overrating this BYU aerial attack situation.
None of BYU's big plays are coming through the air. The Cougars rank just 80th in Passing Explosiveness. Sure, they generated plenty of explosive plays against Kansas, but who doesn't generate explosive plays against the Jayhawks?
(As an aside: BYU lost that game against Kansas. It lost by double digits.)
Slovis has three interceptions but six turnover-worthy plays. His adjusted completion percentage is hanging around 68%, sub-100th nationally.
Let's combine the two: Slovis' adjusted completion percentage on deep passes (20 or more yards) is 31.8%, which ranks 111th among 148 qualified FBS quarterbacks.
When he's not completing the big pass, he's headlining a passing attack that ranks 74th in Success Rate and 76th in EPA per Pass.
Sure, Slovis and Co. piled up 348 passing yards against Southern Utah and 357 against Kansas (again, who can't put up 350 passing yards on Kansas?), but they also compiled 145 against Sam Houston State and 167 against Arkansas.
Speaking of the Arkansas game, talk about a misleading box score. The Cougars somehow beat the Hogs 38-31 despite generating only 281 total yards and allowing 424. Arkansas had a 96% post-game win expectancy, while BYU had a 30% Success Rate.
Ultimately, BYU was bailed out by 14 Arkansas penalties for 125 yards.
While we're getting Cincinnati cheap, BYU could be overvalued.
Anyways, I'm not saying Jones is much better than Slovis, but the Bearcats' offense ranks top-40 in Passing Success Rate, and it has a rushing game to fall back on (one averaging almost five yards per carry).
The BYU attack is one-dimensional and overrated. Satterfield and Bryan Brown can scheme against that.
The Cincinnati attack is balanced and underrated. Jones might not be great, but he fits the Satterfield system fine. The Bearcats moved the ball against Oklahoma after generating plenty of offense against Miami (OH), and they'll move the ball better than BYU in Week 5.

How to Practice Responsible Gaming Habits
---
Ianniello: Sure the Cougars have struggled to run the ball on a consistent basis, but they don't really try to run the ball that often. They rank just 120th in Rushing Rate, so I don't really care that they're bad at something they don't try to do.
And while they don't run the ball often, they're able to pick up big plays.
BYU ranks 13th in country in Rushing Explosiveness. Aidan Robbins is banged up and while LJ Martin hasn't ran the ball consistently, he's a home run hitter. He's also just a freshman. He managed to rush for 77 yards and two touchdowns on the road against Arkansas in his first game as the starter.
Slovis might have six turnover-worthy plays this season, but he's paired that with a 5.3% big-time throw rate, the best mark of his career. He has the most big-time throws in the Big 12, so he's taking more chances and pushing the ball down field.
Your boy Jones has five turnover-worthy plays to just three big-time throws, tied for the fewest in the conference.
Jones also lit up Eastern Kentucky, but has just two touchdowns and five interceptions against everybody else. He has just one big-time throw against teams that aren't getting paid to try and give your team a confidence boost.
Tanner is over here talking about Satterfield scheming up an offense like he's Kyle Shanahan. This is a guy that was just 25-24 at Louisville and was basically ran out of town.
BYU's defense has taken a massive step forward from the debacle that was last season. It has been especially strong against the run, ranking 39th in the nation in Success Rate while allowing just three scores on the ground.
If Cincinnati isn't able to establish the run, it's in trouble. The Cougars rank 36th in the country in Success Rate on passing downs.
Meanwhile, the Bearcats' Success Rate drops from 31st on standard downs to 71st on passing downs.
That's the key for this game. If BYU can force Cincinnati into passing downs and make Jones throw the ball, the Cougars have a big advantage.
---
McGrath: Okay, but how do the Cougars rank when they're doing the thing they're trying to do?
Try 74th in Passing Success Rate and 59th in EPA per Pass. Half of Slovis' eight big-time throws and half of his eight touchdowns came against Southern Utah. He had 10.9 YPA against Southern Utah, and has 6.3 YPA against his other three opponents.
So, is BYU pushing the ball downfield more? Can the Cougars be successful with a one-dimensional passing attack?
Meanwhile, you're telling me that if BYU forces Cincinnati into passing downs, this game is over. Well, what does that mean for BYU? The Cougars rank 100th in standard downs Success Rate and 127th in passing downs Success Rate.
With those numbers, Kalani Sitake makes Satterfield look like Shanahan.
I'm not particularly high on Cincinnati's offense, but I'm especially low on BYU's.
I think that's the actual key for this game. Cincinnati hasn't been excellent in any one area, but I'm seriously concerned about BYU's offense.
I'm unsure how Cincinnati generates offense – on the ground, through the air, passing downs, standard downs, whatever – but I feel much better backing the Bearcats' mediocre balanced attack than BYU's pass-heavy disaster.
---
Ianniello: I just don't believe in this Cincinnati offense at all. It's averaging just 19 points per game against FBS opponents.
Slovis is an above-average college quarterback and should only continue to improve in this BYU offense.
The Cougars are going to pray on the young cats on this one. As expected, BYU has one of the most experienced rosters in the country. It ranks 11th in returning production and has a massive advantage against a young Cincinnati squad that's 123rd in returning production.
Even if the Bearcats are able to move the ball, they have struggled to finish drives and score touchdowns once they enter the red zone. This offense ranks 109th in red zone conversion rate.
Even if Cincinnati outgains BYU, the Bearcats can't be trusted to outscore the Cougars.
The veteran Cougars also have a big advantage on special teams. They have already blocked a kick and punt this season and rank 40 teams higher in SP+ on special teams.
BYU is better coached, has more experience and has more depth than Cincinnati.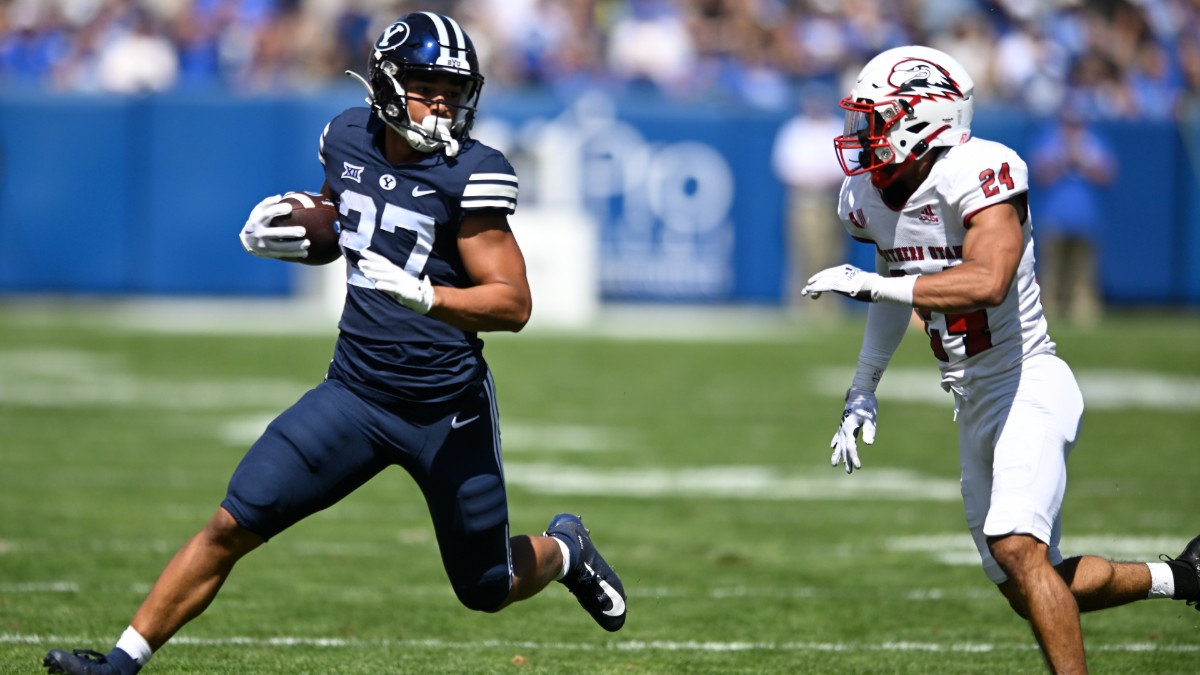 ---
McGrath: Bet Cincinnati -1.5
As I mentioned, Cincinnati is undervalued. The Bearcats have played better than a .500 team, and they're due for some positive regression that should come against BYU.
Cincinnati has avenues to offense that it showed by producing over 900 yards against Miami (OH) and Oklahoma.
BYU's offense generated 250 yards against Sam Houston and 280 yards against Oklahoma, yet found a way to win two games.
Every game incurs a debt to the regression monster in some shape or form. That monster owes Cincinnati a win and it owes BYU a loss.
I expect Cincinnati to continue producing yards while BYU flails. Whoever scores more points wins the game, and the Bearcats are set up to do just that.
---
Since 2010, BYU is 63-19 (76.8%) at home. It's 9-6 (60%) against the spread as a home underdog over the span. The Cougars won their last three games outright as a home underdog.
Our Action Network Pro Projects make this game BYU -4.4 and SP+ makes this game BYU -2.8. I will end this argument the way I started it: In the year of our Lord and Savior 2023, do you really want to bet your hard-earned money on Jones as a road favorite in Provo?
This veteran BYU team is going to bully Cincinnati in its Big 12 home opener. The only soaking going on for Cincinnati after this game is going to be the Bearcats soaking in the ice bath.
How would you rate this article?
This site contains commercial content. We may be compensated for the links provided on this page. The content on this page is for informational purposes only. Action Network makes no representation or warranty as to the accuracy of the information given or the outcome of any game or event.