College Football Odds, Picks: Collin Wilson's Championship Week Bets, Featuring TCU vs. Kansas State, Michigan vs. Purdue
Credit:
Zach Bolinger/Icon Sportswire via Getty Images. Pictured: Big Ten Championship trophy.
College football conference championship is here, and Collin Wilson wasted no time diving into his top bets.
Wilson is betting three conference title games on Saturday: TCU vs. Kansas State in the Big 12, Tulane vs. UCF in the AAC and Michigan vs. Purdue in the Big Ten.
Check out all three of Wilson's top conference championship bets for Saturday below.
The college football postseason is upon us.
While Friday night kicked off Conference Championship Weekend, the wall-to-wall action begins with the Big 12 and MAC Championships at noon ET.
I'm betting the Big 12 title game, as TCU looks to punch its ticket to the College Football Playoff as short favorites over a Kansas State team it struggled against once this season.
Then, we'll turn our attention to the AAC. In a rematch of a previous conference game, Tulane and UCF hope to secure a spot in a New Year's Six Bowl in what is expected to be an offense-heavy showdown.
To wrap it all up, we'll head to Lucas Oil Stadium in Indianapolis, where Michigan is heavily favored to win its second consecutive Big Ten title and make its second consecutive College Football Playoff.
So, read on to see how I'm betting all three of these conference championships — and be sure to check out how the Action Network staff is betting every conference title game.
---
College Football Conference Championship Best Bets
The team logos in the table below represent each of the matchups that senior writer Collin Wilson is targeting from Saturday's slate of championship games. Click the team logos for one of the matchups below to navigate to a specific bet discussed in this article.
Game

Time

Pick

12 p.m. ET

Under 62

4 p.m. ET

Tulane TT Over 30.5

8 p.m. ET

1H Under 27

Specific bet recommendations come from the sportsbook offering preferred odds as of writing. Always shop for the best price using our NCAAF Odds page, which automatically surfaces the best lines for every game.
---
Kansas State vs. TCU
While Texas and Oklahoma get invites to the SEC, TCU and Kansas State will make the journey to Arlington to compete for the Big 12 Championship.
Both teams had double-digit odds to win the conference in the preseason, as the Wildcats have not won the Big 12 since 2012.
Winning in the postseason is nothing new for head coach Chris Klieman, who racked up four FCS national titles at North Dakota State.
The Horned Frogs last won the conference championship in 2014 in a co-championship with Baylor. TCU dominated the Mountain West before transitioning to the Big 12 in the 2012 season, making this game a chance to secure a solo Power Five conference title.
First-year head coach Sonny Dykes exceeded all expectations by becoming bowl eligible, as the Horned Frogs are now playing for a conference and national title with house money.
---
The Wildcats survived a muck of Big 12 teams all sandwiched for second place to secure a spot in the conference championship.
Kansas State escaped a late Texas rally in the standings, thanks in part to a key TCU victory in Austin. Klieman's work to get Kansas State to the title game is remarkable.
Transfer quarterback Adrian Martinez had a career season from a turnover-worthy play perspective, throwing only a single interception. Injury struck the quarterback and allowed third-year Wildcat Will Howard to resume duties under center.
While the dual-threat playbook is limited without Martinez, Kansas State is in the Big 12 title game because Howard threw 13 touchdowns and just two interceptions in key situations this season.
All-purpose back Deuce Vaughn and wide receiver Malik Knowles anchor the offense. At 2.2 yards per route run, Knowles has been the most explosive weapon on the Wildcats offense.
Defensive coordinator Joe Klanderman abandoned the four-man front for a 3-3-5 this preseason.
The results have not panned out from a Success Rate or Havoc perspective, but Kansas State has morphed into a stingy defense when opponents get into scoring position. The Wildcats allow 3.3 points to opposing offenses that cross the 40-yard line.
Kansas State has become elite in eliminating explosiveness in passing downs thanks to the cornerback play of Josh Hayes and Ekow Boye-Doe, who lead the team in pass breakups.
---
No team since 2016 has run the gauntlet of the Big 12 round-robin schedule with an undefeated record. TCU has been the best comeback story of the season but must face all the pressure with a national semifinal berth in the balance.
The Horned Frogs continue to be one of the most explosive offensive units in FBS, ranking one-two with Tennessee in long plays from scrimmage.
Quarterback Max Duggan continues to put up a season worthy of the Heisman, shaving his turnover-worthy play rate in half from 2021.
A number of explosive playmakers give TCU a chance to score from any down and distance.
Kendre Miller has led the ground game, posting 3.7 yards after contact and 19 explosive runs on the season. Wide receivers Quentin Johnston and Taye Barber have been hot reads for Duggan, but both nursed injuries against Iowa State.
In the case of Johnston, Dykes revealed the wide receiver is looking healthier.
The unsung hero down the conference stretch has been the defense. The Horned Frogs have allowed 30 points just once since Oct. 15, limiting Texas and Iowa State to 24 points combined.
Defensive coordinator Joe Gillespie's 3-3-5 scheme has not been a leader in Havoc, but the Horned Frogs' ability to stop opponents on third down and in the red zone has been a prominent factor in the Big 12 Championship run.
---
Kansas State vs TCU Betting Pick
There are plenty of checkboxes when teams play a second time in a season for a conference championship.
The primary question is how the original game played out in terms of Success Rate — the most reliable factor to repeat. Next is mid-game and post-game adjustments, pointing to whether the team bettered themselves after the original matchup.
With those checkpoints above, TCU is the team that has greatly benefitted since its victory over Kansas State.
After racing out to an 18-point lead at halftime, Kansas State didn't score in the second half after Gillespie put adjustments in place on the defensive side of the ball. The Wildcats posted a dud of a half, missing two field goals and throwing a pair of interceptions.
Since that halftime, the TCU defense has allowed just six touchdowns in seven second halves. The season-long numbers don't paint an accurate picture of a defense that kept Texas from scoring an offensive touchdown and held Texas Tech to 139 passing yards.
The play for this game comes on the under, as the TCU defense contributed to three consecutive unders before the offense put up 62 points against Iowa State in Week 13.
Kansas State has the propensity to limit explosive plays, which may result in more punts than expected. Once Gillespie makes adjustments to the scheme and personnel wrinkles from Howard, points will be at a premium.
Investors that are looking to hedge large tickets greater than 12-1 have the option to buy the other side.
A Kansas State wager on the spread gives TCU futures tickets a chance to double. As for futures on the Wildcats, there are shops posting -130 or better to lock in profit.
---
---
Tulane vs. UCF
The AAC has been nothing more than the most entertaining carnival ride when it comes to the attendees and location of the championship game.
Cincinnati and Houston both failed to finish strong in the month of November, allowing Central Florida and Tulane to rise in conference standings.
The Knights secured a crucial victory over the Green Wave in Week 11, only to lose home-field advantage in a subsequent loss to Navy. Yulman Stadium will once again serve as a backdrop for these teams looking to earn the title of conference champion with a probable New Years' Six bowl berth.
UCF head coach Gus Malzahn is seeking his first-ever AAC Championship in his second year at Central Florida. With an SEC and Sun Belt Championship already in the hardware cabinet, Malzahn is looking to make his first trip back to a New Year's Six game since Auburn competed in the 2018 Peach Bowl, ultimately losing to his current team.
Tulane head coach Willie Fritz looks to bring a conference title for Tulane, the first since a 1998 crown in Conference USA. Famous for expanding the triple option at Georgia Southern, Fritz had never been a head coach at the Power Five level before his stop in New Orleans.
There may not be a better candidate for Coach of the Year, as Fritz leads FBS with a 10-2 mark against the spread this season.
---
There's no reason to think Central Florida will not execute the same plan that won this very game less than a month ago.
Quarterback John Rhys Plumlee missed the second half of the South Florida game with a hamstring injury, putting his status for the championship game in question.
Plumlee's performance on the ground was essential in the win over Tulane, as he provided 169 rushing yards and two touchdowns. Of the 18 rushing attempts, only one was a scramble.
A healthy Plumlee is paramount to Central Florida's offensive success in the AAC Championship.
While the offensive explosiveness has come all on the ground, Central Florida is successful on long down and distances. The Knights rank 20th in Passing Downs Success Rate that's juxtaposed next to a rank of 10th in third-down conversion rate.
The offensive line is graded as the second-best nationally by PFF in pass blocking — an element that will become an important factor when backup quarterback Mikey Keene is under center.
Defensive coordinator Travis Williams has been a staple on Malzahn's staff. The former Auburn linebacker and graduate assistant for the 2010 national title team runs a 3-3-5 scheme with a varying number of players standing at the line of scrimmage.
The scheme has allowed UCF to place top-25 against the explosive pass but outside the top 100 against the explosive run.
A mid-FBS Havoc rating covers up the lack of interceptions this season, as just five of the Knights' 50 passes defensed have been hauled in for a turnover.
UCF has found strengths in Defensive Finishing Drives and red-zone defense, but Tulane exposed scoring situations with three touchdown passes within six yards of the goal line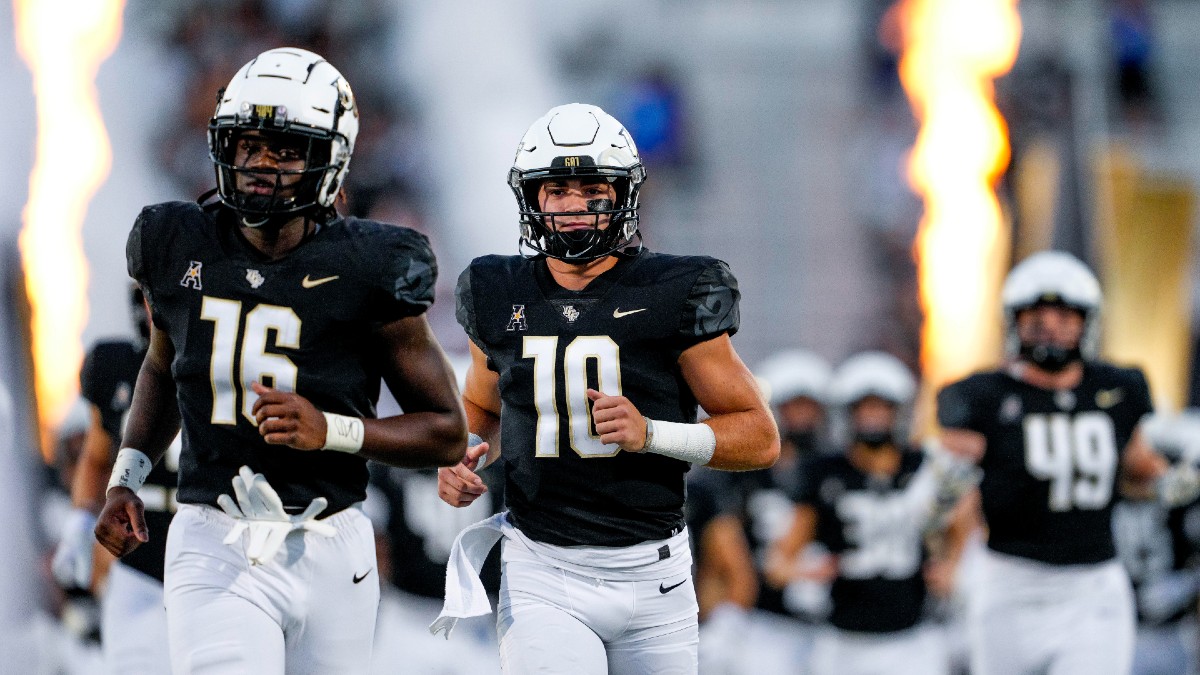 ---
In the first season under offensive coordinator Jim Svoboda, the Green Wave have been efficient in scoring opportunities. In 72 drives that crossed the opponents' 40-yard line, Tulane has averaged 4.5 points for a rank of 19th in Finishing Drives.
The Green Wave scored 31 total points in five scoring opportunities against this UCF defense, nearly maxing out against one of college football's best red-zone stop units.
Quarterback Michael Pratt is having his best season to date, cutting his turnover-worthy play rate by more than half from 2021.
The bread-and-butter of Tulane's offense has been the ground attack, with a split ratio of zone and gap rush attempts. Tyjae Spears has been a force on the ground, averaging 3.8 yards after contact while accumulating nearly 1,200 yards on the ground.
Spears and Pratt have combined for 25 rushing touchdowns this season, giving every defense a reason to lock down the rush when defending Tulane.
The Tulane defense continues to contrast in different areas. The Green Wave secondary ranks fifth in coverage nationally, allowing just 2.5 passes per game to exceed 20 yards. Cornerback Jarius Monroe has twice as many pass breakups as any other player on the defense.
The ability to stop the explosive pass in any down and distance has worked well for a defense that has consistent issues stopping the run.
Tulane sits outside the top 100 in Defensive Line Yards and Stuff Rate. The Green Wave play a healthy amount of defensive snaps in standard downs after allowing more than 100 first downs to opposing rushing this season.
Linebacker play is crucial for the defense, as both Nick Anderson and Dorian Williams rank top-60 individually in stops, per PFF.
---
UCF vs Tulane Betting Pick
The biggest question heading into the game is Plumlee's health. Malzahn said after the USF game that his quarterback's hamstring has been a chronic issue through the end of the season.
Only Plumlee and Malzahn know if there will be a limited snap count or a modified playbook to take out designed rushing attempts.
The handicap for this game comes down to the difference between Central Florida's two quarterbacks.
Plumlee was the biggest factor for UCF's victory over Tulane a month ago, averaging nearly 10 yards a carry. Increased snaps for Keene is an advantage for Tulane, as the Central Florida backup has posted just 10 rushing yards this season.
Tulane battled UCF to the end because of its success in scoring opportunities. Spears averaged a massive 16.3 yards per carry on eight rushing attempts, busting a 70-yard scamper to put the Green Wave inside the 10-yard line for their first touchdown.
Once Tulane fell down, 24-7, Spears' rushing attempts were traded out for Pratt's passing attempts. The Tulane offense is most comfortable methodically going downfield at 27 seconds per play, leaning on the dual ground attack in scoring opportunities.
Both the point spread and total are linked to Plumlee's mobility. If Plumlee's hamstring were fully healthy, it would drive plenty of tickets on the Knights and an over. Meanwhile, increased snaps for Keene would favor Tulane and the under.
Both of these offenses had a field day in scoring position when they played each other, and more of the same can be expected in the AAC Championship.
With Plumlee's health in question, look for Tulane to find similar offensive success. If the Green Wave can match the 6.2 points per scoring opportunity from a month ago, this number will go over the total.
Pick: Tulane TT Over 30.5 or Better
---
---
Purdue vs. Michigan
The summer takeaway from Big Ten Media Days centered around 12 teams orbiting Ohio State and Michigan.
The Buckeyes were heavy preseason favorites to win the conference, with Michigan at +350 and a dozen other teams at 20-1 or higher. Oddsmakers were flush with Ohio State money — investments that would never be seen again after Michigan's second-half domination of the Buckeyes.
Head coach Jim Harbaugh had the college football world convinced Michigan entered "The Game" without a passing attack. This perception made Ohio State send an aggressive blitz to stop the rush, playing into the Wolverines' heavy play-action game plan.
The early deep shots by Michigan opened the running lanes in the second half, showing everyone that the Wolverines are a legitimate national title contender.
In the tightest of division races, Purdue needed to win its final three games and get plenty of help to make the conference championship. The Boilermakers pulled off the feat under sixth-year head coach Jeff Brohm.
Despite losing a top defensive coordinator in the offseason, Purdue finished the season with a third-down stop unit ranked in the top 20. Now, Brohm must overtake a Michigan team that's sandwiched between a win over its biggest rival and a potential College Football Playoff spot.
---
Prayers are in line for the family of starting quarterback Aidan O'Connell, who was visibly upset in a 290-yard passing effort against Indiana. The senior will be away from the team for the bulk of the week, limiting preparations for the Big Ten Championship.
O'Connell has regressed from an explosive 2021 campaign, throwing fewer touchdowns and the most turnover-worthy plays of his career. It's not all O'Connell's fault, though, as the Boilermakers have dropped nearly double the number of passes versus from last season.
One bright spot has been Iowa transfer wide receiver Charlie Jones, who has hauled in the third-most receptions in the country to go along with 12 touchdowns.
Brohm prefers a heavy dose of pass, going to the air on 56% of snaps this season. Thanks to Jones, the efficiency shines brightest in early downs passing, as the Boilers rank 31st nationally in Standard Downs Success Rate.
More importantly, this Purdue offense is one of the best in the nation in ball protection. Its national rank of sixth in Havoc Allowed is driven by the best numbers in tackles for loss allowed and fumbles.
Defensive coordinator Brad Lambert's successful tenure in West Lafayette came to an end with his move to Wake Forest. The play-calling duties moved to co-coordinator Ron English, who had not called a defense since 2016 at San Jose State.
The 4-2-5 scheme has been competent in the wake of losing key talent on the defensive line. The Boilermakers' ranks in Success Rate and tackling haven't tailed off, but they have fallen to mid-FBS in Havoc after a dominant 2021.
After recording just four tackles last season, Sanoussi Kane now leads the team in that area and has 23 stops, defined as a complete failure of the offense by PFF.
---
The injuries piled up for Michigan before traveling to Ohio State.
Star running back Blake Corum nursed a heavily-wrapped knee, logging just two carries against the Buckeyes. He's now expected to have knee surgery and miss the rest of the season.
Edge rusher Mike Morris has seven sacks on the season but was limited to a single snap in Week 13 because of an injury. Preseason Heisman sleeper Donovan Edwards was also wrapped heavily after recording two touches against Nebraska and no snaps against Illinois.
The Wolverines' late Week 12 victory over the Fighting Illini was pivotal for the win over Ohio State, as Harbaugh populated game film with 40 rushing attempts and a weak 7.5 average depth of target for JJ McCarthy passing attempts.
Michigan played possum with its air explosiveness in the near loss to Illinois to hide its game plan against Ohio State. The master plan worked, as McCarthy hit explosives to Cornelius Johnson in the air to open up the ground game for Edwards.
Michigan's defense also changed up its game plan. It blitzed less than usual with minimal rushers in order to defend the pass. Cornerbacks Rod Moore and Mike Sainristil both recorded a pair of pass breakups.
The defensive line recorded only a single sack with just nine pressures in 50 snaps, a testament to how tight Michigan covered targets downfield.
---
Purdue vs Michigan Betting Pick
Harbaugh and Brohm have not locked up head-to-head since Brohm's inaugural season in 2017.
Dubbed "The Spoilermakers," Purdue won outright over top-25 competition in Illinois and Minnesota this season. Brohm won both of his previous conference championship games while at Western Kentucky.
Harbaugh knows Purdue is a dangerous team playing with house money, but the Wolverines were in a similar spot just a season ago after they beat the Buckeyes. They went on to blow out Iowa, 42-3, forcing seven of the Hawkeyes' eight possessions to end in a punt after their first-quarter field goal.
This Michigan team has been dominant in the second half of games, outscoring opponents by a net of 116 points over the past six contests. More than half of the Wolverines' opponents have failed to score a touchdown in the second half.
Harbaugh has high praise for co-offensive coordinator Sherrone Moore and defensive coordinator Jesse Minter for their in-game adjustments. If the Wolverines are in a tight battle with ownership of the "Middle 8," its certainly worth a live investment on Michigan.
The market was hit early in favor of Michigan, pushing an early point spread of -14.5 to -17. Purdue will see support at +17.5 or higher, with plenty of tickets written on Michigan at -16.5.
Brohm acknowledged that Purdue must do everything to eliminate the explosive plays, indicating that the Cover 0 and heavy blitz Ohio State played will not be in the cards for the Boilermakers.
Purdue has been a top-35 team against rush explosives, but the defense has struggled to stop the deep pass. Maryland was the most dynamic offense on the Boilermakers' schedule, and Purdue allowed four different receivers to log downfield catches that led to scoring drives.
In last year's Big Ten Championship, only 17 points were on the board at halftime. The Wolverines are not the only team that operates after the half, as Purdue has scored more in the second half during three of its past four games.
Look for explosives and points to come after the scripted series come to an end. Expect each team to make adjustments depending on the opposing defense's coverage.
How would you rate this article?
This site contains commercial content. We may be compensated for the links provided on this page. The content on this page is for informational purposes only. Action Network makes no representation or warranty as to the accuracy of the information given or the outcome of any game or event.