College Football Odds & Picks: Collin Wilson's Week 13 Bets for Ohio State vs. Michigan & Alabama vs. Auburn
Credit:
Michael Chang/Getty Images. Pictured: The Auburn Tigers.
Rivalry Week always brings some of the best matchups of the college football season, and the 2022 edition is no exception.
As usual, it all starts with a Thanksgiving night Egg Bowl matchup between Ole Miss and Mississippi State, which has become one of the best rivalries in the sport over the years.
We then have a huge 13-game slate on Black Friday that includes a number of key rivalries, including Florida vs. Florida State, Nebraska vs. Iowa, Baylor vs. Texas and Tulane vs. Cincinnati.
Plus, I'll be covering the Battle Line Rivalry between Arkansas and Missouri that has gained more prominence since Eli Drinkwitz took over for the Tigers.
On Saturday, we have the matchup the college football world has been waiting for all season.
Undefeated No. 2 Ohio State hosts undefeated No. 3 Michigan in what will undoubtedly be an intense edition of "The Game." The winner will represent the Big Ten East in the conference championship and makes their path to the College Football Playoff significantly easier.
To wrap it all up, we have another historic rivalry, as Auburn heads to Tuscaloosa to take on Alabama in the Iron Bowl. This rivalry already features a number of memorable chapters, but interim Auburn head coach Cadillac Williams and the Tigers will be looking to add another.
Read on to see how I'm betting three of Week 13's biggest rivalry games — and check out the rest of Action Network's college football betting coverage.
---
Week 13 College Football Best Bets
The team logos in the table below represent each of the matchups that senior writer Collin Wilson is targeting for Rivalry Week. Click the team logos for one of the matchups below to navigate to a specific bet discussed in this article.
Game

Time

Pick

12 p.m. ET

Ohio State -7.5

3:30 p.m. ET

Over 49.5 · Auburn +22

Friday, 3:30 p.m. ET

Over 56

Specific bet recommendations come from the sportsbook offering preferred odds as of writing. Always shop for the best price using our NCAAF Odds page, which automatically surfaces the best lines for every game.
---
Michigan vs. Ohio State
The message from Jim Harbaugh at Big Ten Media days was clear. Fresh off an appearance in the College Football Playoff, the Michigan head coach stated his three goals: Beat Michigan State, beat Ohio State, win the Big Ten and win the national title.
The Wolverines were successful in their quest to avenge Michigan State, but they now find familiar territory as touchdown underdogs to Ohio State at the Horseshoe. This comes one year after they beat Ohio State for the first time in the College Football Playoff era.
The Buckeyes have put together the quietest undefeated season in recent history, as only four games have been decided within two touchdowns. Ohio State has never trailed in the fourth quarter of any game, as the wins have been piled on with points.
Head coach Ryan Day has directed an offense that has scored 40 points in all but two games.
With a Heisman contender at quarterback and a retooled defense, the Buckeyes are looking to seal their spot in the Big Ten Championship and national semifinals.
---
There's no guesswork as to what Michigan wants to do offensively in this game.
Harbaugh set out to build the greatest rushing attack in college football, and new co-offensive coordinator Sherrone Moore has built an offensive line that creates wide holes.
Star running back Blake Corum has 88 rushing attempts in zone blocking and 157 in gap, where there's a defined point of attack. Corum has found himself in the Heisman conversation, averaging 3.4 yards after contact and creating 73 missed tackles.
However, he was injured against Illinois before returning to the field for one snap and getting the rest of the day off. Corum has stated he will be fine for the game against the team up north.
In five possessions without Corum, the Wolverines never scored a touchdown.
CJ Stokes and Isaiah Gash were serviceable at running back, but quarterback JJ McCarthy's issues in the passing game continue to stall the Wolverine offense.
Despite Harbaugh's desire to run from every down and distance, there will be passing downs where McCarthy must get production from his arm. Not all of the blame should fall on McCarthy, as the sophomore has logged just one turnover-worthy play in the last month compared to nine drops.
The health of Donovan Edwards is of utmost importance to the Wolverines, as the dynamic back has put up 2.6 yards per route run in limited play this season.
A change at defensive coordinator has not affected the production of the Michigan defense. The Wolverines rank top-five in numerous categories such as tackling, Success Rate and coverage.
Interior linemen Kris Jenkins and Mazi Smith are two of the highest-graded Power Five players in pass-rush productivity, per PFF.
Both DJ Turner and Will Johnson have thrived in zone coverage, which is Michigan's preferred look on more than 65% of opponent passing attempts. No other player on either team has forced more incompletions in any coverage scheme than Turner in zone.
---
When Michigan beat Ohio State last season, Day took the chance to alleviate concerns that stuck with the defense all season. The Buckeyes looked to implement a 4-2-5 scheme with a "bullet" hybrid position last season, but a lack of pressure and inefficient coverage kept Ohio State out of the playoff.
Jim Knowles was targeted as the defensive new coordinator after elevating Oklahoma State's defense to one of the best in the nation. Now, the vaunted 4-2-5 scheme has prepared all season for one single game against Michigan.
The Buckeyes have improved in every facet, as top-20 ranks in tackling and Havoc has supplied the offense with extra possessions.
Like Michigan, Knowles' defense ranks top-10 in Success Rate, generating plenty of punts from opponents. The biggest difference is that Ohio State is rarely caught off guard in defending the run despite Iowa, Penn State and numerous other Big Ten offenses using motion and pistol.
Safety Ronnie Hickman is the best run-stopper of all defensive backs on either side of the ball. The key to beating Michigan is having the discipline to keep contain on the edge and for safeties to fill holes at the point of attack against the run.
If Stroud loses the Heisman to Caleb Williams, a subset of numbers from the Iowa and Penn State game likely will have contributed.
The sophomore has been nearly mistake-free in his past two games with no interceptions and just two turnover-worthy plays. However, in consecutive games against the Hawkeyes and Nittany Lions, the Heisman contender committed six turnover-worthy plays while seeing 17 total pressures.
The biggest difference in Stroud's game this year is a falloff in adjusted completion percentage in dropbacks with pressure.
Stroud has dropped from a 71% adjusted completion percentage in pressured passing attempts from last season to 47% this year despite a small uptick in pressure-to-sack ratio.
The mission objective is clear for the Michigan defense: Generate pressure on Stroud to force Havoc plays.
Health is also a concern for Ohio State's skill position players, specifically in the backfield.
Miyan Williams missed the Maryland game, while TreVeyon Henderson tallied just 10 rushing attempts. The attempts for Henderson were beggarly, as he failed to create a missed tackle while averaging just 1.4 yards after contact.
Dallan Hayden filled in admirably with 146 yards rushing against the Terrapins, but there's no element of elusiveness with the senior running back.
The emergence of Marvin Harrison Jr. at wide receiver has been a shining light since Jaxon Smith-Njigba suffered an injury in Game 1 against Notre Dame. With 99 targets on the year, Harrison is a Biletnikoff finalist who averages 3.3 yards per route run.
Any number over two yards per route run is considered explosive. Ohio State has both Harrison and Emeka Egbuka posting those numbers, with Egbuka averaging 3.1 yards per route run from the slot.
This is the most explosive wide receiver duo in college football with the ability to beat man coverage on the outside and zone coverage on crossing routes.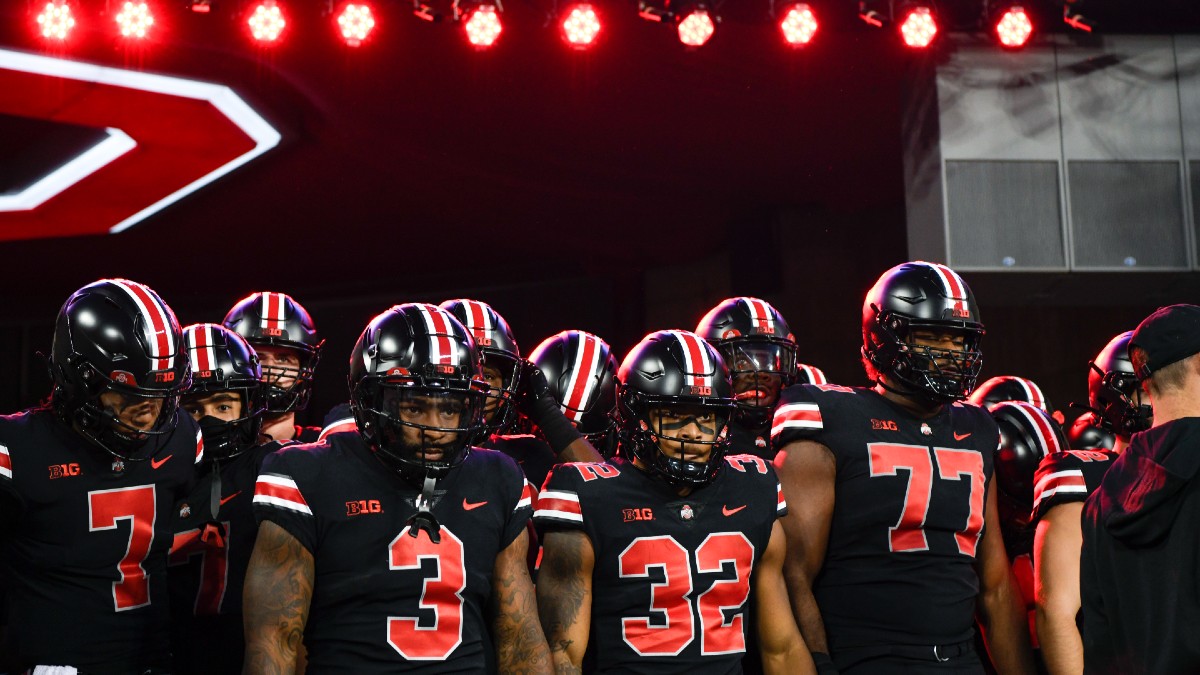 ---
Michigan vs Ohio State Betting Pick
Michigan's offense is a fascinating watch with an offensive line that can pull all five players in space, led by center Olu Oluwatimi. McCarthy has been the perfect quarterback for a system that uses heavy motion, play action and run-pass options with a moving pocket.
One item that has been left off tape for numerous weeks is designed runs for McCarthy. The quarterback has 153 yards on designed calls this season but has tallied a net of just six yards over the past four games.
No matter how you slice the Buckeyes defense, Knowles has built a tremendous run-stopping group. Ohio State is one of the best defenses in the nation in allowing long rushing plays from scrimmage.
If McCarthy is unable to put together competent passing attempts, Ohio State may elect to bump its safeties closer to the line of scrimmage in an effort to take away the run.
McCarthy's average depth of target of 9.6 has been boosted by facing Rutgers and Nebraska, as seven other games have been well below the season average. Michigan hasn't added the deep ball to its repertoire, with a quarter of McCarthy's 36 passing attempts beyond 20 yards resulting in a target drop.
Because there's no vertical pass threat, McCarthy is seeing an increase in pressures. In a near upset, Illinois posted 10 pressures — the most the Michigan offensive line has allowed all season.
The bigger issue may be Michigan's defense in zone coverage. Outside of Turner, there has been a severe lack of interruption, as Gemon Green has posted the only other forced incompletion in zone coverage. This opens the door for Ohio State to exploit the back end of Michigan's defense.
Michigan is primarily a zone-coverage defense, with sagging ranks in man coverage.
Harrison enters as the third highest-graded wide receiver in all of college football against man coverage. If the Wolverines elect to stay in the familiar zone concept, Ohio State will hit plenty of explosive plays. Harrison also grades out as the fourth-best wide receiver against zone, while Egbuka enters the conversation as a top-20 target versus zone coverage.
The big difference in this game compared to last season is Ohio State's ability to defend the run. Knowles has implemented fundamentals so motion and pistol offenses don't confuse the front seven.
Improvement from the Buckeyes' safeties in terms of tackling at the line of scrimmage is the key on this side of the ball.
As for the Michigan defense, putting pressure on Stroud is the top priority. However, outside of Turner at cornerback, the Wolverines have no answers for Harrison and Egbuka.
---
---
Auburn vs. Alabama
There may not be a rivalry that delivers more drama on the national stage than the Iron Bowl between Auburn and Alabama.
Alabama leads the series, 48-37-1, with plenty of memorable games in the past.
The Crimson Tide won the first battle of undefeated teams in this series in 1971 before Bo Jackson broke a 10-year Alabama streak by leading Auburn to victory in 1982.
While "The Fumble" of 1997 and the Cam Newton comeback of 2010 are notable, the greatest play in college football history will always be the "Kick Six"
For all of the greatness in this rivalry, change is on the horizon for both programs.
Alabama is fighting to remain in a New Year's Six bowl, as the Crimson Tide are set to miss the College Football Playoff for the second time since its inception in 2014.
Rumors persist of Lane Kiffin accepting the head-coaching position at Auburn despite interim coach Cadillac Williams pushing for a bowl appearance.
With Bryce Young and Will Anderson set to enter the 2023 NFL Draft, this version of the Iron Bowl will be a memorable bookmark in the series.
---
After a post-bye week loss to Arkansas, the Tigers moved on from Bryan Harsin as head coach. The firing has been profitable for investors, as Auburn has covered all three games against Mississippi State, Texas A&M and Western Kentucky since.
Williams has gotten the most out of a rush-based offense led by quarterback Robby Ashford. The freshman has an even balance of rushing yards from designed runs and scramble opportunities, racking up 26 attempts longer than 10 yards.
The ability to create explosive plays next to running back Tank Bigsby has forced opposing defenses to load the box, giving Ashford the chance to show off his cannon of an arm.
The Auburn defense has improved over the past two games, allowing 27 combined points and just 600 total yards. The Tigers have shut down passing attacks, ranking 15th in coverage grading, per PFF.
Auburn has been terrible against the rush with a Defensive Stuff Rate and Havoc rank inside the bottom 15 of FBS.
Defensive coordinator Jeff Schmedding is focused on reaching a bowl despite coming with Harsin from Boise State. However, getting opposing offenses behind schedule has been the primary struggle.
---
This will be the first time in the playoff era that Alabama heads into the Iron Bowl with no path to the national semifinals.
In 2019, the Crimson Tide entered the pivotal rivalry game with a single loss to eventual national champion LSU. Alabama suffered a three-point loss to lock up a trip to the Citrus Bowl, underperforming preseason expectations.
With no high-profile bowl coming to Alabama in the postseason, head coach Nick Saban must motivate a team suffering from injuries.
Running back Jahmyr Gibbs returned to practice, along with cornerback Eli Ricks. The bigger injury may be left tackle Tyler Steen, as freshman Elijah Pritchett will log his first start with the task of protecting the 2021 Heisman Trophy winner's blind side.
Young is once again expected to put on another clinic in avoiding pressure.
The Alabama defense has been chewed up over the past few weeks, surrendering 56 combined points to Ole Miss and LSU. The season-long numbers provide insight into the dip, as the Tide's numbers in Havoc, Line Yards and Finishing Drives have fallen outside the top 30.
Alabama has been a menace in limiting explosive plays and enters this game as the 12th-best defense in third-down stops. However, offenses that have high marks in Success Rate have found ways to drive down the field and put up points.
---
Auburn vs Alabama Betting Pick
The biggest issue with Alabama in 2022 has been penalties. The Crimson Tide rank 120th in penalties this season, averaging more than 67 yards on eight flags per game.
The handicap in this game comes down to stopping Auburn's zone read with Ashford and Bigsby. Alabama has struggled to stop quarterbacks who excel in zone read and play action, most recently taking a loss to Jayden Daniels and LSU.
The Tide's Finishing Drives rank has been on the downtick in recent games. Both LSU and Ole Miss converted six scoring opportunities into 24 points.
The Tigers were electric in passing downs, posting a Success Tate 17% greater than the Alabama offense in Week 10. Meanwhile, Ole Miss' Quinshon Judkins and Jonathan Mingo posted a Standard Downs Success Rate 11% better than Alabama in a loss.
Auburn will move the ball with Ashford and Bigsby, as Alabama's defense has been content to allow points in opponents' scoring opportunities.
The Action Network projection makes Alabama a 19.5-point favorite with a total of 56.
There's small value in a motivated Tigers team looking to score enough points to make this rivalry game competitive. Look for Auburn to ignore the APR rankings and challenge Alabama for a sixth win.
---
Arkansas vs. Missouri
The Battle Line Rivalry never had any real bite as a trophy game until last season.
The name was given to the Arkansas-Missouri kickoff as a throwback to the Civil War, as the Mason-Dixon Line once separated the Union and Confederate states. However, the rivalry was a non-event for the fan bases of the Tigers and Razorbacks.
While Arkansas longs for old Southwest Conference realignment, the Missouri fan base would much rather have Kansas on the schedule. Geographically, the schools sit 300 miles apart with most of the five-hour drive taking place on a state highway.
This was an uncomfortable rivalry until Arkansas native Eli Drinkwitz commented on the current dynamics.
Drinkwitz was completely correct in his assessment of the rivalry, as Missouri won 6-of-7 leading into last year's game. Head coach Sam Pittman used those comments as fuel in the Razorbacks' quest to secure every rivalry trophy during the 2021 season.
Arkansas dominated Missouri last year in this spot, allowing just a single offensive touchdown on the last drive of the game. With Missouri sitting on five wins, this rivalry has plenty of juice to end the regular season.
---
After the pummeling of Ole Miss, the Razorbacks can now find relief in qualifying for bowl season. The return of KJ Jefferson saw three touchdowns through the air on 17-of-22 passing, but the biggest boost may have been to the ground game.
After two consecutive subpar games, running back Raheim Sanders returned with a statement. The sophomore running back piled on a season-high 232 yards and three touchdowns against the Rebels defense.
Jefferson and Sanders were complemented by a healthy offensive line that welcomed back right tackle Dalton Wagner.
While the offense is firing on all cylinders, the Razorback defense has put up its best production since the bye week. Arkansas limited LSU to less than 300 total yards, while Liberty didn't score a point in the second half. Although Ole Miss put up 703 total yards, the Rebels averaged just 2.5 points on eight trips past the 40-yard line.
One item to monitor is the health of linebacker Bumper Pool. The senior ranks second on the team in tackles.
---
No team has had as much bad luck in one-possession games as Missouri. The Tigers are 1-4 in games decided by less than a touchdown this season. Now, Drinkwitz must win as an underdog to not only reclaim the Battle Line Trophy but make his way to a postseason bowl game.
Missouri has been one of the best defensive teams in college football, ranking top-10 in the trenches and in Havoc.
The front seven is loaded with chaos makers. Edge Isaiah McGuire has created more pressures than any defender, while linebacker Ty'Ron Hopper leads in quarterback hurries.
The defense has been fantastic in posting quality drives, but explosive plays have been the Tigers' downfall in 2022. Missouri ranks near dead last in defense rush expected points with a better rank against the pass at 113th.
The chunk plays have come on early downs, as the Tigers sit 130th in standard downs explosiveness.
On the other side of the ball, quarterback Brady Cook comes in on a heater after posting six touchdowns against New Mexico State and Tennessee.
The sophomore has as many big-time throws as turnover-worthy plays, targeting Dominic Lovett more than any other skill position.
Lovett has been explosive this season at 2.6 yards per route run, but the burner had just one target in last week's game against New Mexico State. Drinkwitz had his star wide receiver on the field for 20 snaps, leaving no reason why the sophomore shouldn't be a big part of Arkansas' game plan.
---
Arkansas vs Missouri Betting Pick
The market opened with plenty of wagers on Missouri to move the spread to a field goal after opening Arkansas -5.
The spot certainly dictates a maximum effort from Missouri, which needs a single victory over an Arkansas team coming off a prime-time knockout of Ole Miss to reach a bowl.
The Razorbacks will find ways to score points with the ground game. Missouri has one of the best defenses in the nation but some of the nation's worst numbers in standard downs explosiveness and rush expected points. That means Arkansas will march up and down the field in these areas.
There are reasons to believe that Missouri will have success on offense. Lovett and fellow receiver Luther Burden III will be problematic for a Razorback secondary that ranks 111th in coverage.
Arkansas has been horrific when backing teams up, ranking outside the top 100 in Passing Downs Success Rate and explosiveness. The Razorbacks are 117th in third-down defense, an indicator that Missouri will have scoring opportunities.
The point spread and total are on par with Action Network's projection.
The best bet comes on the over, with each defense struggling to stop explosive plays. Look for poor tackling and defensive depth issues for the Razorbacks to keep Missouri in the game. On the flip side, any Sanders rushing props have value on the over.
---
How would you rate this article?
This site contains commercial content. We may be compensated for the links provided on this page. The content on this page is for informational purposes only. Action Network makes no representation or warranty as to the accuracy of the information given or the outcome of any game or event.