NCAAF Odds & Predictions: Stuckey's Top Week 3 NCAAF Betting Picks for Florida vs Tennessee, Western Michigan vs Iowa, More
Credit:
Getty Images. Design by Matt Roembke/Action Network. Pictured (clockwise from top-left): Iowa's Cade McNamara, Florida's Graham Mertz, Georgia Tech's Haynes King and Colorado State's Tory Horton.
Another week of college football is upon us, and Stuckey has another set of situational betting spots.
His top picks for the week include Florida vs Tennessee, Iowa vs Western Michigan and more.
Check out all seven of Stuckey's betting spots for college football Week 3 below.
Despite losing Texas Tech in horrifying fashion, last Saturday's spots finished 5-2. Now, we'll try to build on that.
For Week 3, I have highlighted my seven favorite betting spots for Saturday's college football slate, starting with a noon kick in northern New York.
For reference, last year's spots finished a ridiculously unsustainable 45-20-1 (69.2%). I don't think I'll ever repeat that level of success in a season, but hopefully we can avoid the regression monster and have another profitable season.
Although, there will always be rough weeks in this gig, so please wager responsibly. Plus, my primary goal is to simply share a few key angles, notable matchups and injury situations for each particular game that hopefully make you a better bettor.
Keep in mind the actual spread value still reigns supreme. No matter how great a situational spot appears on paper, I still have to factor in how much value the number holds compared to my projections. A good or bad spot may sway me one way or the other on a bet I'm on the fence for, but it's certainly more art than science.
All lines referenced are current as of the time of writing, so I also included what I'd play each down to for your convenience.
2022: 45-20-1 +22.82 units (69.2%)
2023:

5-2-0 +2.75 units (71.4%)

Overall: 50-22-1 +25.57 units (69.4%)
---
This game sets up as a perfect buy-low/sell-high spot after Buffalo lost at home to FCS Fordham to fall to 0-2 on the season, while Liberty secured a second straight cover to move to 2-0.
It's not the first (or likely last) time Buffalo has lost to an FCS school at home, but those defeats tend to sway the market the following week more than warranted.
Meanwhile, I bet Liberty last week, but the Flames have beaten a pair of teams I'm significantly lower than the market on in Bowling Green and New Mexico State. I'm not really swayed by home wins over a pair of terrible teams with the help of eight combined takeaways.
Those early-season results are likely getting us over a field goal here, which I'm happy to take with the desperate Bulls at home based on my updated power ratings.
---
---
---
From a betting perspective, this game features an extremely rare spread and total combination: a four-touchdown favorite with a total of 43, which we haven't seen in 15 years.
I've probably lost my mind (again), but I actually like the heavily favored Hawkeyes here, so I'd like to apologize in advance to anybody who follows along. Hopefully, it doesn't take as long as the seven hours (due to multiple weather delays) the Hawkeyes needed to barely cover as 24-point favorites for us against Nevada last season.
In that particular game, Nevada had no chance of ever really scoring, averaging 2.9 and 1.9 yards per pass and rush, respectively. When the final whistle blew, the Wolf Pack had amassed a meager 151 total yards. I'm expecting a similar output for a similarly inept Western Michigan offense.
The Broncos have one of the worst quarterback rooms in the country and also lost all of their best skill-position players in the offseason. Last week, the Broncos lost to Syracuse, 48-7, but that could have been much worse if the Orange didn't pack it in after leading 45-7 at the half.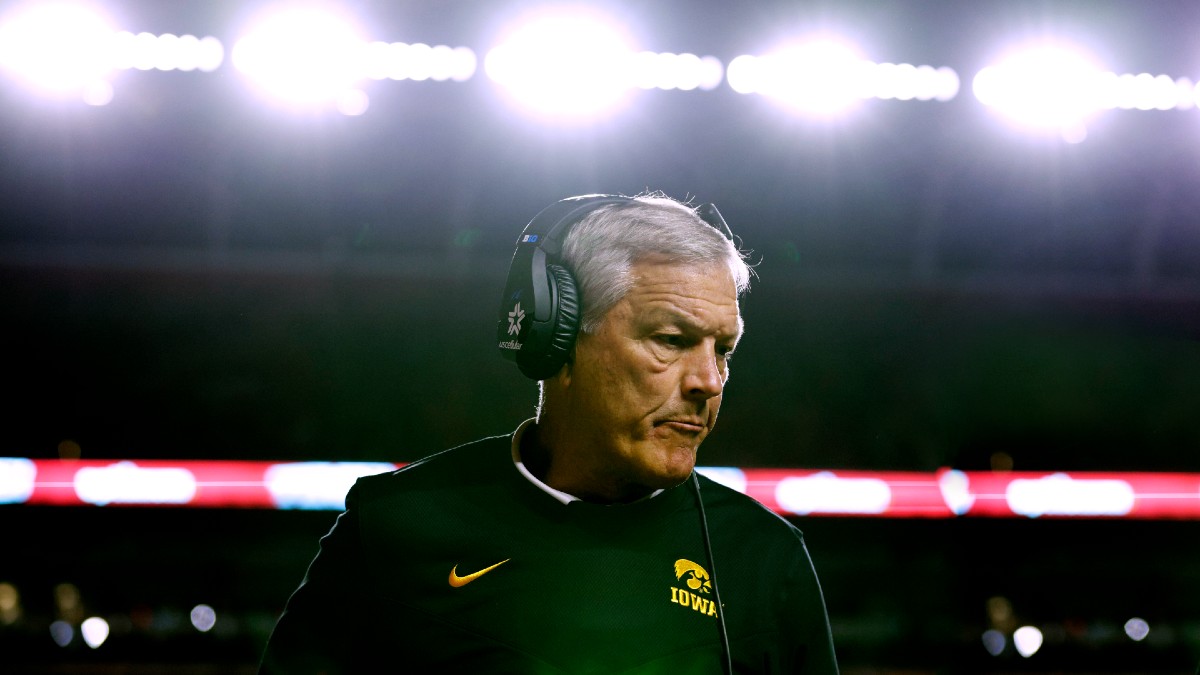 Admittedly, the Iowa offense still has its limitations, but Cade McNamara — who now looks fully healthy — gives the Hawkeyes the highest ceiling at quarterback they've had in quite some time.
In a game where I expect WMU to potentially get a shut out, I'll trust this Iowa offense to open it up a bit more to get into the 30s against a bad MAC defense.
Plus, with the Big Ten slate starting next week, offensive coordinator Brian Ferentz could really use an offensive explosion for his contract's scoring-based incentives.
Lastly, I wouldn't be surprised to see Iowa score on defense or even special teams, where it will have a massive advantage across the board.
---
---
---
The Vols head into the weekend looking to do something they haven't done since 2003: win in the Swamp, where they have lost 10 straight since their last win way back in 2003.
While they're favored by the biggest margin ever on the road in this series, that task may be a bit tougher than some may think.
The Tennessee offense just can't seem to find any rhythm under new quarterback Joe Milton, who I've never truly believed in.
I expected this offense to take a major step back after losing four starters in the first three rounds of the NFL Draft, but I didn't expect to see this level of inconsistency against the likes of Virginia and Austin Peay.
I expect the Gators to take away Tennessee's ground game, forcing Milton to beat them through the air, which I don't trust him to do in a hostile environment based on what I've seen from the offense to date.
Expect Milton to make a few key mistakes that will allow Florida to control the game flow and clock even more by leaning on the excellent running back duo of Montrell Johnson Jr. and Trevor Etienne against a vulnerable Vols stop unit.
It's worth noting that both teams have not had the services of very veteran centers through two games. However, while Billy Napier has confirmed that Florida's medical staff has cleared Kingsley Eguakun to return this week, Josh Heupel has yet to confirm the status of preseason All-SEC center Cooper Mays — even if he did hint at the senior's return after dressing last week.
Both players' absences have caused quite a bit of shuffling up front, so Mays would certainly be a welcome addition, especially since he has so much familiarity coordinating the line calls in Heupel's uptempo system.
---
---
---
The latest battle for the Victory Bell will take place on Saturday night in Nippert Stadium in the longest continuously played rivalry — and oldest nonconference rivalry — in the country with the first meeting coming all the way back in 1888.
Thanks to a current 16-game winning streak, Cincy has taken a one-game lead in the head-to-head series.
I believe this is a good spot to back the underdog RedHawks, who are just getting too many points against a Cincinnati team I expected to take a major step back after major offseason coaching and roster turnover.
Yes, the Bearcats looked good last week at Pitt, and new quarterback Emory Jones certainly fits well in Scott Satterfield's scheme, but I think last week's upset said more about Pitt than Cincy.
Plus, rewind to two weeks ago when Miami (OH) caught a similar price (between 14 and 17) at Miami, which I have 10 points better than Cincy. The Hurricanes did dominate that game, but we also saw how dominant they looked against Texas A&M.
Lastly, one of my biggest questions coming into the season pertaining to Miami (OH) was who would step up as the alpha receiver in place of the departed Mac Hippenhammer in an offense that relies on someone in that role.
Well, SELA transfer Gage Larvadain has answered those questions with authority through two games with eight receptions in each, including an absurd 273-yard, three-touchdown outburst at UMass last Saturday.
I trust fifth-year starting quarterback Brett Gabbert to do enough in a hostile environment to stay within two touchdowns against a Bearcat bunch in a classic sandwich spot. After upsetting Pittsburgh on the road, they host a MAC team before their Big 12 home debut against Oklahoma. They may get caught peaking ahead a bit and likely won't have much interest in running the score up late or showing anything they don't have to, which should leave the backdoor wide open if necessary.
---
---
---
Speaking of sandwich spots, Ole Miss finds itself in one on Saturday after pulling out a late road victory over ranked Tulane with dates against Alabama and LSU looming on deck.
Lane Kiffin likely doesn't want to show much here and will highly value rest and health of key players if the game is in hand. Expect a heavy rush attack from the Rebels, which should keep the clock on the move, benefiting the sizable dog.
I also don't trust this Ole Miss defense to lay a big number against a competent opponent, especially after seeing it struggle to pull away against Tulane's backup quarterback.
Meanwhile, after a laugher against an FCS opponent, Georgia Tech should come into this game fully rested and have enough weapons to stay within this number, especially with new offensive coordinator Buster Faulkner calling the shots. He's a name you'll be hearing a lot of in the near future.
I'm waiting to see if this gets back up to +20 before betting but would play Tech down to +18.5.
---
---
---
Sorry if I sound like a broken record, but we are fading New Mexico State for a third time this season.
I've talked endlessly about how I believed the Aggies came into the season with an artificially high market rating due to a mostly fraudulent late-season run to get to a bowl, which they won against an awful Bowling Green squad.
Look no further than the seven opponents they defeated:
Hawaii
New Mexico
UMass
Lamar
Liberty
Valparaiso
Bowling Green
That has to be the saddest group of wins I've ever seen for a bowl team. Plus, Liberty never got off the bus after the Hugh Freeze rumors broke, and we all saw how that matchup played out last week. As a result, the Aggies added a game with lowly Valpo to reach bowl eligibility.
Well, nothing has changed my tune this season so far, and I don't think the market has corrected enough yet.
New Mexico State failed to cover against UMass and Liberty while putting up big numbers against an FCS school.
That should sound familiar; over the past two seasons against FCS teams and the corpse of Liberty, NMSU quarterback Diego Pavia has totaled 11 touchdowns and no interceptions. In all other games, those numbers drop to eight touchdowns and 10 interceptions.
This offense remains extremely limited, especially from a passing perspective. Meanwhile, the defense has taken a step back after losing key pieces on the back end.
While I'm not fond of New Mexico State's quarterback play, I do love New Mexico quarterback Dylan Hopkins, who I always have been higher on than the market.
After arriving in Albuquerque in the offseason, along with his former offensive coordinator at UAB, I'm expecting an improvement from the Lobos offense, which has received almost nothing from that side of the ball in recent seasons.
Lastly, it's worth mentioning that New Mexico State head coach Jerry Kill might not be on the sidelines for this game due to a medical issue. That certainly throws a wrench into the preparation in a week when the Aggies will travel back across the country. It may also take away from some of the attention offensive coordinator Tim Beck can give to the game plan on that side of the ball since he'll be running the day-to-day operations.
Look, these are two of the worst teams in the country, but I have New Mexico power-rated higher and remain lower than the market on New Mexico State.
So, give me the Lobos in the Battle of I-25 — a rivalry that dates back to before New Mexico even became a state.
---
---
---
I haven't bet either Colorado game so far this season, as I had no idea what to expect with this brand-new roster and coaching staff.
Well, after two data points against Power 5 schools, I feel much more comfortable pricing the Buffaloes, who have obviously exceeded almost everyone's expectations — except for Deion's.
I'm going to trust my numbers and take a stance that we have reached inflation in the market with everyone's favorite cover machine over the past two weeks.
While Shedeur Sanders has filled up the stat sheet with two electrifying performances, there are still obvious holes on this roster, primarily along the offensive line and across the defense.
It's also a great spot for Colorado State. After an early-season bye, the Rams have had two weeks to rest and prepare for this rivalry after stewing over an embarrassing opening-season loss at the hands of Washington State — which, by the way, exceeded market expectations again last week against Wisconsin.
That extra time is also critical since head coach Jay Norvell named a new starting quarterback in Brayden Fowler-Nicolosi, who had some success moving the ball in the opener.
I expected Colorado State to be one of the most improved teams in the country in the second year under Norvell, who took Nevada from three to eight wins in his second season in Reno. While the first game certainly didn't inspire much confidence, it was only one game against a much more talented opponent.
Meanwhile, Colorado has two impressive wins on paper, but I'm lower than the market on TCU, and Nebraska literally fumbled any chance of competing away.
Lastly, don't forget Colorado has heard praise all week after another hyped marquee win with Oregon and USC on deck, so it wouldn't shock me if they come out a bit sloppy with a major look-ahead spot here.
For what it's worth, I'm waiting to see if the market gets to +24 or even higher. If not, I'd play down to +23.
---
How would you rate this article?
This site contains commercial content. We may be compensated for the links provided on this page. The content on this page is for informational purposes only. Action Network makes no representation or warranty as to the accuracy of the information given or the outcome of any game or event.