NCAAF Odds & Prediction for Duke vs Clemson: Our Writers Debate the Spread Bet to Make
Credit:
Ryan Collinsworth/Action Network.
Duke vs Clemson Odds
Duke Odds
Spread
Total
Moneyline

+12.5

-115

54.5

-115o / -105u

+330
Clemson Odds
Spread
Total
Moneyline

-12.5

-105

54.5

-115o / -105u

-430
Why You Should Bet Clemson
Clemson is undervalued.
Florida State is getting all of the ACC hype. The Seminoles dominated the transfer portal and returned a ton of experience.
Sure, Dabo doesn't love the transfer portal, and the Tigers will always be dealing with roster turnover. But look at what the 2023 Tigers have.
There is so much talent on this defense.
While it lost contributors in the front seven, I still expect it to generate plenty of pressure. The Tigers returned three defensive linemen in Ruke Orhorhoro, Tyler Davis and Xavier Thomas and have 16 highly-touted recruits on that unit. Barrett Carter and Jeremiah Trotter are potential All-ACC contributors at linebacker.
All four starters return in the secondary. The whole defense can only improve in Wes Goodwin's second season as defensive coordinator.
On offense, the Tigers will still run the ball well. Clemson was top-25 in Rush EPA per play and Rush Success Rate, and it returns four offensive line starters (99 career FBS starts) and Will Shipley (1,100 yards, 15 TDs, 3.4 yards after contact per carry).
The one replacement on the line is at left tackle, where the Tigers bring in former five-star recruit Tristan Leigh, who posted an 84.5 PFF pass-blocking grade on 50 snaps last season.
The Tigers were good at everything last year, especially run blocking (12th in Line Yards, fifth in Stuff Rate), pass defense (eighth in EPA per pass play allowed) and run defense (10th in EPA per rush play allowed).
Well, they were good at everything except one thing: explosiveness.
So, Dabo made a slam-dunk hire by bringing in Garrett Riley, the architect of the TCU offense who went to a National Championship and turned Max Duggan into a Heisman contender.
Riley is going to transform this offense, and he'll develop quarterback Cade Klubnik.
Remember, Klubnik was the top overall quarterback recruit in the 2022 class, so he has all the talent in the world. He completed 83% of his passes for 274 yards and a tuddy in the ACC title game last year, so I'm betting he's ready for the bright lights.
Riley is exactly what the Tigers need.
Pair a better passing attack with a solid rush game, and the Clemson offense will open up. The Tigers should boast a balanced, dangerous attack.
Clemson is about to fix its one problem, and I'm betting that results in an undefeated record, an ACC title and a College Football Playoff appearance.
That starts with a cover against Duke in Week 1.
While Clemson is undervalued, Duke is severely overvalued.
It was +16 in turnover differential last season, ranking 11th nationally in fumble recovery rate (24-of-36, 67%). The opponents defended 57 passes against Duke last season and intercepted only five.
Duke was gifted about seven touchdowns of turnover luck, per Jacob Wayne of Lineups last year. Only USC was the beneficiary of more.
Yes, Duke is a highly experienced team that returned much production. But the 2022 Blue Devils played worse than their record, so I project the 2023 team to drop off. Plus, Duke can't compete on a pure talent level with Clemson.
If anything, we're getting Clemson cheap because of how overvalued the Blue Devils are.
---
It's Labor Day, and if you work hard all day at your 9-5 job, then you deserve to enjoy a day off, drink a few beers and bet on college football. What could be better than Monday Night Football on ESPN? I hope Joe Buck and Troy Aikman are calling this game.
The Duke Blue Devils were one of the most improved teams in the country last season going from 3-9 to 9-4 in their first season under Mike Elko. In his previous stops, Elko had great success as a defensive coordinator for Notre Dame and Texas A&M, among others.
After taking over a defense that was essentially just random bags of leaves on the field, he quickly improved the Devils from allowing 39.8 points per game in 2021 to just 22.1 last year. The defense implored a bend-don't-break strategy, keeping teams in front of them and preventing big plays.
The Blue Devils ranked 17th at creating Havoc and return their entire defensive line, led by DeWayne Carter, who racked up 11 tackles for loss and 5.5 sacks at over 300 pounds. After finishing top 25 in sacks, this defense should once again wreak havoc on opposing backfields.
Defending the pass was their weakness and they have questions in the secondary, but Elko brought in a couple of experienced transfers with cornerbacks Myles Jones from Texas A&M (29 starts) and Al Blades Jr. from Miami (17 starts) to help shore up the back end).
The offense is where Duke is most dangerous though. Riley Leonard was one of the nation's most effective dual-threat quarterback. At 6-foot-4 and 212 pounds, Leonard was essentially what Clemson fans hoped DJU would be.
Leonard finished the year with 2,967 yards passing with 20 touchdowns and just six interceptions and added 700 yards and 13 touchdowns on the ground. He averaged the same number of yards per carry as Will Shipley.
He will have his three leading rushers back with Jordan Waters, Jaquez Moore and Jaylen Coleman all returning after averaging over 40 yards per game last year. As a team, the Blue Devils put up 184.2 yards per game on the ground.
Every single player who had at least five catches for the Blue Devils last season is back. Jalon Calhoun, Jordan Moore and Sahmir Hagans were the top three receivers, and both tight ends who saw action return as well.
Duke ranks third in the country in returning production on offense. It has an extremely experienced group ready to take a big step in its second year with Leonard under center in Kevin Johns' RPO system.
The Blue Devils have a big advantage facing Clemson in the season opener, as the Tigers ranked 78th in the country in returning production on offense and have a new starting quarterback and a new offensive coordinator.
While it should be a positive change in the long run, they are more likely to have early kinks to be worked out than this experienced Blue Devils team.
---
McGrath: If I were Riley implementing a new offensive system, I'd be fine opening up ACC play against Duke.
The Blue Devils were extremely weak at defending the pass last season, ranking 105th in EPA per Pass Play Allowed and 80th in PFF's coverage grades. They also failed to produce a pass rush, finishing 81st in Passing Down Sack Rate and 80th in average Line Yards.
Riley wants to implement a pass-happy offense, and the Tigers can do that against Duke. It's easy to iron out passing game kinks against a weak pass defense.
Mike's so bullish on these transfers bumping Elko's secondary, but who's to say they also won't need a few weeks to settle in? I don't think the Blue Devils have an advantage here.
And while Duke can generate Havoc, Clemson has an experienced offensive line that finished top-40 in preventing Havoc last season. Klubnik will have a clean pocket, and Shipley will have lanes to cruise through.
Meanwhile, Clemson's defensive line will be all over Leonard for 60 minutes. The Tigers can get to anybody, and Leonard is not immune to pressure — he was sub-50 in PFF's passing grades and adjusted completion percentage (61.3%) among 144 qualified quarterbacks with at least 50 dropbacks last season.
If anybody has the offensive advantage here, it's Clemson. That'll be huge in covering a moderate-sized spread.
---
Ianniello: Clemson is undervalued? It's the favorite in the ACC, has a win total of 10 and has the sixth-best odds to win the National Championship. I think the Tigers are valued just fine, thank you.
I agree with Tanner that the Clemson linebackers are nasty, but I'm not as sold the defensive line will easily replace Myles Murphy and KJ Henry right away. Xavier Thomas has talent, but he played just three games last season. He's a big name but has 15 sacks in five years.
And what about the offensive line? Clemson graded out 57th in pass blocking last season and 51st in run blocking. Duke, meanwhile, allowed just 17 sacks all last season, the fewest in the ACC. It also allowed the fewest tackles for loss.
Sure, it's hard to say anything negative about the Riley hire. It was a slam dunk move. And Shipley should be able to run the ball fine.
But Clemson severely lacks weapons on the outside. It doesn't have a Quentin Johnston or Taye Barber. Antonio Williams had just 600 yards and four touchdowns last year.
By the way, Drew Allar was the No. 1 quarterback recruit in 2022. Everybody with a brain knows that 247 is the most trusted recruiting ranking source. And really, we're posting highlight reels against a North Carolina defense that ranked 128th in Success Rate?
I'll admit the Blue Devils have questions with their pass defense, but saying they failed to produce a pass rush is just wrong. They ranked 23rd in the country with 36 sacks and ranked 31st in the country in pressure rate.
Carter had 50 quarterback pressures last year, more than any player on Clemson. R.J. Oben had 35, more than any player returning for the Tigers. Duke had three starters with a pressure win rate above 12% last year, and all three return. Clemson had one, and he's in the NFL.
Duke will have no problem putting pressure on Klubnik. And while Tanner is so confident Clemson will be all over Leonard, at least he won't be on the ground. Only 11.3% of Leonard's pressures were turned into sacks last season, the lowest rate in the ACC. Meanwhile, Klubnik was sacked on 22.2% of his pressures.
I'm not saying the Duke offense is better than Clemson's. But it's certainly a lot closer than Tanner — and this number — is making it seem.
---
McGrath: I don't know why you're so hard on the Clemson offensive line. I think this is a deep unit that combines experience with talent and features a potential All-American center in Will Putnam.
Meanwhile, you're using inconsistent metrics to differentiate these two offensive lines. Duke's offensive line was 51st in PFF's pass-blocking grades and 36th in their run-blocking grades.
These two offenses had similar rankings in Havoc Allowed. Both offensive lines ranked top-25 nationally in Line Yards and Stuff Rate.
Duke had the advantage in Sack Rate allowed, but we know that quarterbacks can have a huge effect on that metric, and we know DJU wasn't a statue in the pocket (he had a 45.8 PFF passing grade over 106 dropbacks under pressure last season).
The offense lacks weapons, but an alpha should emerge with better quarterback play and better play-calling. Maybe tight end Jake Briningstool can capitalize on his potential after being the No. 3 tight end recruit in the class of 2021. Redshirt freshman Cole Turner flashed potential late last season as well.
Hey, Johnston wasn't a superstar before Riley came to Fort Worth.
And that's the thing about Clemson. Talk all you want about last year's results, but the ceiling for this Clemson offense is massive now that Riley is in town — much higher than Duke's.
The ceiling for the defensive line is high, too, when you factor in the stellar freshman class. Dabo recruited four four- and five-star recruits on the line, headlined by Peter Woods, Stephiylan Green and Vic Burley.
Meanwhile, Duke didn't recruit a single four- or five-Star guy in the offseason.
That gets to a more general point: Duke boasts an experienced roster filled with returning production, but the Blue Devils can't hold a candle to Clemson regarding raw talent. Clemson is fifth overall in 247Sports' team talent composite; Duke is 66th.
And I think the whole picture comes together this season underneath Dabo, Riley, Klubnik and company, starting with a dominant season-opening victory (and cover) at Duke.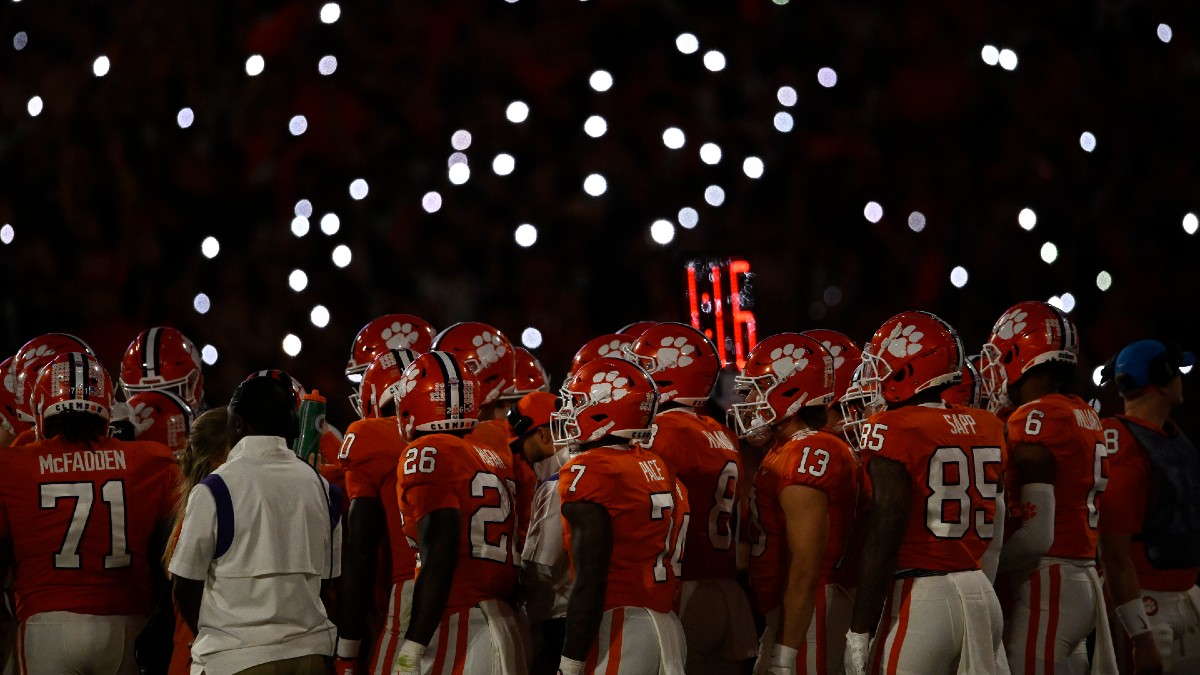 ---
Ianniello: Klubnik was highly touted and clearly has a high ceiling, but we still haven't seen that yet. As bad as DJU was last year, Dabo kept going back to him instead of Klubnik. When he did get on the field, the results were pretty mixed.
In 100 pass attempts last year, Klubnik threw two touchdowns and three interceptions. He completed just 61% of his passes. He had five turnover-worthy plays compared to just three big-time throws. In his start against Tennessee in the bowl game, Klubnik had no touchdowns, two interceptions and completed just 55% of his passes against a weak Vols defense.
The fact is, we don't actually know if Klubnik is a good quarterback yet. We can project, but we haven't seen it. We know Leonard is good. We know he protects the football. We know he can pick apart a defense with his arm and his legs.
Duke was one of the best teams in the country at creating Havoc. It will put pressure on Klubnik and this new offense right away. If the Tigers aren't firing on all cylinders out of the gate, the Blue Devils are terrific at forcing turnovers and will take advantage of any mistakes Klubnik and this offense make.
Clemson is obviously the more talented team. But we see in college football all the time that talent doesn't always win — and it certainly doesn't always cover.
Elko and the Blue Devils went 9-4 against the spread last season, including a 5-1 against-the-spread record as an underdog. Clemson is usually more talented than its opponent. That's why the Tigers are 13-point favorites. However, they were 7-7 ATS last season. As a favorite of 10 or more, Clemson was just 3-4 ATS.
---
Clemson should've been a College Football Playoff team last season. All it needed was a competent quarterback and a good offensive coordinator.
Imagine if Clemson had made that CFB appearance last season. We might be talking about the program in a different light, as a potential national title favorite this season behind a reloaded blue-chip roster built by Dabo.
The defense isn't going to waver. Clemson fielded a top-10 defense last year, which was supposed to be a rebuilding year behind a new defensive coordinator.
Meanwhile, at minimum, the offense will be better off than last year with Riley and Klubnik running the show. Best-case scenario, this unit could shine.
I like Elko and the Blue Devils, but they're overvalued and undermanned compared to the new-look Clemson Tigers. I expect that to play out on the field Monday Night, and I expect a double-digit Dabo victory.
Take Clemson -13.
---
We saw the massive step forward this defense took in its first season under Elko, and I expect them to continue trending upward. I think we see a massive improvement from the Blue Devils, especially in this secondary.
The offense was already strong last year, with Leonard proving himself as one of the country's most dangerous dual-threat quarterbacks. Duke has the third-highest TARP rating on offense in the country, and this experienced unit should only continue to grow.
Clemson has talent. Clemson has upside. Clemson has big names and flashy pieces. But it's all currently unknown. We don't know how Riley will gel with Dabo. We don't know how Klubnik will perform. Especially in Week 1.
This is a Duke team that won nine games last season and has everything in place to build on that success. Give me the experience, give me the known commodity, and give me the 13 points.
Take Duke +13.
How would you rate this article?
This site contains commercial content. We may be compensated for the links provided on this page. The content on this page is for informational purposes only. Action Network makes no representation or warranty as to the accuracy of the information given or the outcome of any game or event.