NCAAF Odds, Predictions: Our Friday Picks for UTSA vs. Army, Maryland vs. Virginia & Air Force vs. Utah State
Credit:
Matt Roembke/Action Network.
Friday's college football slate features three games: UTSA vs. Army, Maryland vs. Virginia and Air Force vs. Utah State.
Our college football staff broke down all three games and shared their favorite betting picks and predictions for each.
Check out our top college football picks for Friday's games below.
Friday. Night. Lights.
There's something special about football being played under the lights on a fall Friday evening — and that's exactly what we have here tonight.
Friday's college football slate features three games, with action starting at 7 p.m. ET: Army vs. UTSA, Virginia vs. Maryland and Utah State vs. Air Force.
Our writers broke down all three games and came through with their top picks for each.
So, let's start the weekend off on a high note — because there's plenty more action coming tomorrow.
---
How We're Betting Friday's NCAAF Games
The team logos in the table below represent each of the matchups that our college football betting staff is targeting from Friday's slate of games. Click on the team logos for any of the matchups below to navigate to a specific bet discussed in this article.
Game
Time

(ET)

Pick
7 p.m.
7 p.m.
8 p.m.

Specific betting recommendations come from the sportsbook offering preferred odds as of writing. Always shop for the best price using our NCAAF Odds page, which automatically surfaces the best lines for every game.
---
By Cody Goggin
On Friday night, the Army Black Knights will travel to Texas to take on the UTSA Roadrunners.
Last year, these two teams battled all the way to overtime before UTSA pulled off a 41-38 win behind 359 yards and three touchdowns from quarterback Frank Harris.
This year, I think the game will look much different, however. Let's dive into my thoughts on Army vs. UTSA and find a pick for Friday night's showdown.
---
Army made a huge change to its offense ahead of the season. After running the triple option for years, Jeff Monken decided to adapt to modern times and switch things up. Now, the Black Knights are running a shotgun-based zone-read offense where they attempt to throw the ball more.
However, they haven't shown that aspect much on the field yet. In 2022, Army passed on just 17.2% of plays as it boasted the third-highest rush rate in the country. This year, the Black Knights have thrown the ball 20.6% of the time, which still leaves them with the third-highest rush rate in the nation by a good margin.
While they're still running at a very high rate, the offense has been relatively solid in some aspects to begin the season. Army ranks 47th in Rushing Success Rate but just 92nd in Finishing Drives and 100th in explosiveness.
In Week 1, Army demolished Delaware State by a score of 57-0. However, Delaware State finished last year ranked as the 122nd-best FCS team by SP+, so that victory wasn't overly impressive.
The Week 2 game against UL Monroe is a better indication of where Army is as a team, and it was not pretty. The Black Knights put up a Success Rate in the 11th percentile and an EPA per Play mark in the sixth percentile against the Warhawks in a 17-13 loss.
Keep in mind that ULM ranked 117th in SP+ last year overall and had the 121st-best defense, so that was a concerning performance.
Army's defense did rank 44th in SP+ last season and has been solid thus far in 2023, ranking fifth in Finishing Drives and 50th in Success Rate.
With eight returning starters, I would expect this unit to be just as strong as it was last year.
---
With a lot of expectations coming into the year, the UTSA offense has been fairly disappointing through the first two weeks of the season. The passing attack struggled against Houston as the Roadrunners scored just 14 points, but this was chalked up to Frank Harris coming off of an injury.
This continued in Week 2, however. Against a Texas State defense that allowed 7.11 yards per play to Baylor (81st percentile), UTSA put up just 3.92 yards per play (seventh percentile). The Roadrunners had a 29th-percentile Success Rate and 35th-percentile EPA per Play in that matchup and scored just 20 points.
UTSA ranks 104th in FBS in Success Rate and 103rd in Finishing Drives heading into Week 3.
Many of the Roadrunners' issues are coming from the offensive line, which ranks 120th in PFF pass-blocking grade and 108th in run-blocking grade.
The good news for the Roadrunners is that their defense has held up. After ranking 88th in SP+ last year, the defense now ranks 58th in success rate and 48th in finishing drives through two weeks.
Rushing defense was the strength of this unit last year, and it is once again. The Roadrunners rank 36th in Defensive Success Rate against the run and ninth in Rushing PPA Allowed. This will continue to show up as this veteran defense takes on an Army that prides itself on running the ball.
---
UTSA's offensive struggles have been pronounced, but the defense has kept it on track. Army has shown a similar profile, carrying over its 2022 characteristics to this season.
I think we see these teams play a slow game in which each side grinds out yardage. Ultimately, I think UTSA will come out victorious and possibly cover this spread as well, but my favorite bet is on the total.
With the number at 45.5, I would take the under. UTSA's defense matches up well with what Army will want to do on the ground, and the Black Knights defense will be able to take advantage of the Roadrunners' offensive struggles.
---
---
By Doug Ziefel
It's Friday night, so we're heading to College Park, where the Maryland Terrapins will host the Virginia Cavaliers.
The Maryland faithful are hoping that Taulia Tagovailoa can channel some of his big brother's magic after we saw Tua rack up 466 yards for the Miami Dolphins this past Sunday.
Now, his little brother will have the chance to shine under the Friday night lights with the chance to keep the Terrapins undefeated heading into the conference schedule.
As for his opposition in this matchup, the Cavaliers put up a good showing against James Madison after being rolled by Tennessee in Week 1. They came to life offensively in the second half and will need to do so again if they want to
So, what's the best way to bet this matchup? Let's take a closer look at the Virginia vs. Maryland odds and make a betting pick and prediction.
---
This will be the third time we'll see the Hoos offense, and this matchup will show what they want their offensive identity to be.
Overall, they've rushed the ball at the 32nd-highest rate in the country, but they found loads of success through the air against JMU.
So, what version of the Cavaliers will we see?
Well, from a matchup perspective and a potential game script perspective, they'll fare better through the air. Maryland's secondary has had a rough go of it thus far, ranking 114th in yards per pass allowed and 84th in opponent completion percentage.
It's given up more than its share of explosive plays as well. The key for Virginia will be to protect the quarterback, as the Cavs are 124th in Sack Rate Allowed.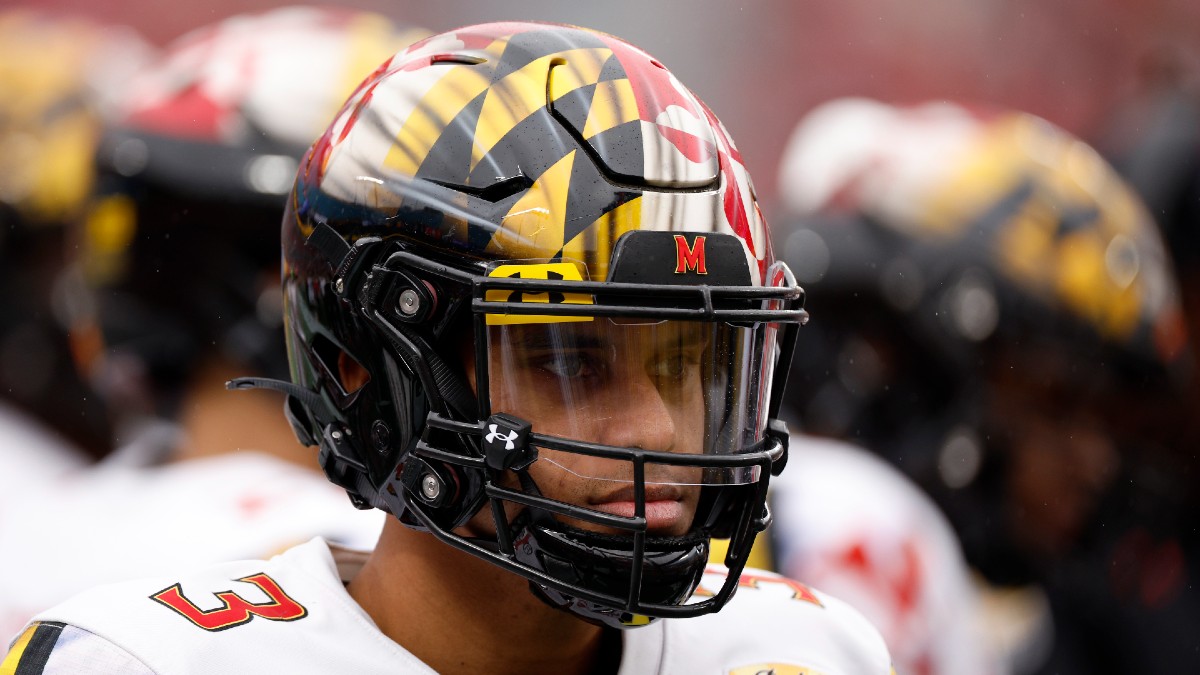 ---
I touched briefly on Tua's little brother in the intro, but Taulia Tagovailoa has made a name for himself by running this Maryland offense. The Terrapins have put up 76 points in their first two games of the season and have done it in a variety of ways.
While they do throw the ball nearly 52% of the time, Maryland has had great success on the ground with Roman Hemby. The 6-foot-2 sophomore is an imposing force on the ground, as he's racked up 220 yards on 31 carries already for an average of 7.1 yards per tote.
Hemby should be able to keep rumbling in this matchup, as the Cavaliers rank 111th in yards per rush allowed.
The bruising rushing attack has put Tagovailoa in a great spot when dropping back to pass, as he's free to push the ball down the field. He's done so with great success, as he's averaging eight yards per completion and completing passes at a 68% clip.
Regardless of how the Terrapins decide to attack, they should not face much resistance from Virginia in this one.
---
Maryland should be squarely in control of this matchup with its drastic edge on the offensive side of the ball. However, that doesn't mean the Cavaliers won't try to fight back.
Virginia found great success last week in the passing game after going down early against JMU. With a similar game script expected for this matchup, it won't be surprising to see the Hoos get it going through the air once again.
Take the over, as it sits just below a key number.
---
---
We're back for another Friday Night Lights matchup.
This week features the Utah State Aggies traveling to Falcon Stadium to battle an undefeated Air Force team.
This matchup features a fun contrast in styles between a Utah State offense that wants to push the pace (20th nationally in seconds per play) and an Air Force triple option that will look to dominate possession (132nd nationally in seconds per play).
To determine which style will prevail, let's look at the odds and make a prediction for the Air Force Falcons vs. the Utah State Aggies on Friday, Sept. 15.
---
Blake Anderson enters his third season at the helm for the Aggies with question marks on both sides of the ball. Utah State ranks 123rd nationally in net TARP with only four returning starters on offense and five on defense.
This lack of returning production is particularly concerning for a defense that allowed 31.2 points per game in 2022 and is ranked 87th nationally in Defensive Success Rate through this season's first few weeks.
Offensively, the Aggies are led by junior quarterback Cooper Legas, who returns after a 2022 season where he posted a 53.9 average QBR.
Legas will try to improve his numbers despite losing his top two skill-position weapons in running back Calvin Tyler and wide receiver Brian Cobbs. That running back-wide receiver duo amassed 2,045 yards of total offense alongside 12 touchdowns.
Unfortunately for Utah State, they'll have to improve quickly, as they match up against an Air Force defense that returns eight starters.
Their experienced personnel is primarily why the Falcons rank 10th nationally in Success Rate Allowed. The Falcons held Sam Houston State and Robert Morris to only seven combined points.
Air Force's defense ranks second nationally in Passing Down Success Rate allowed, which will be critical against a Utah State offense that ranks 31st nationally in passing play rate.
Look for Air Force to utilize its experience on the defensive side, making life difficult for Legas and a Utah State offense that wants to find consistent success through the air.
---
It's no secret that Air Force team wants to establish the run with its triple-option attack.
Head coach Troy Calhoun has to like his team's chances, given that Air Force will run behind an offensive line that boasts six returning players with starting experience.
Air Force has the highest rushing play rate in the country with the 40th-highest Rush Success Rate.
That's big, given Utah State's defense has been weakest against the rush, ranking 66th nationally in Rush Success Rate allowed. The Aggies also rank 66th nationally in tackling, and they'll have to tackle better if they hope to prevent the Falcons from creating explosive plays on the ground.
Although Air Force will lean heavily on its rushing attack, the Falcons surprisingly have the highest passing explosiveness in the country (3.28). They make teams pay for selling out against the run.
I expect Air Force's triple option ground attack to produce against a Utah State defense with significant turnover and a history of inconsistency. Also, don't be shocked if the ground attack sets up deep shots through the air.
---
It's not always sharp to back a service academy favored by over a touchdown, but I think it's the smart play here.
Air Force will gash this inexperienced Utah State defense on the ground early and often behind one of the most talented offensive lines that Calhoun has had in his tenure.
On the other side of the ball, I love the Air Force defense. The Falcons limited production in their first two matchups with inferior opponents, and I believe this success will translate against a Utah State offense looking to replace a significant amount of production.
How would you rate this article?
This site contains commercial content. We may be compensated for the links provided on this page. The content on this page is for informational purposes only. Action Network makes no representation or warranty as to the accuracy of the information given or the outcome of any game or event.