College Football Pace Report: Using Advanced Metrics to Target Week 6 Over/Under Value
Credit:
UA Athletics/Collegiate Images/Getty Images. Pictured: Alabama Crimson Tide running back Jaylen Waddle.
Various college football totals hit the board and immediately moved for Week 6, mostly in the game sites of Louisiana to the panhandle of Florida. Ole Miss and Auburn host Alabama and Arkansas, respectively, as both meetings have had sharp action Under the total since opening. In the case of Arkansas-Auburn, there is reasonable question where the scoring will originate.
Fresh off a victory against Mississippi State, the Razorbacks now rank second to last in offensive finishing drives. That is good news for an Auburn defense that was torched by Georgia. Bo Nix will look to get on track, but it must be noted that Arkansas ranks first in the nation against pass explosiveness.
Finishing drives is the calculation of points per scoring opportunity. An opportunity is defined as an offensive team crossing the 40-yard line. This Pace Report will look at seconds per play by offensive success rate with a touch of finishing drives.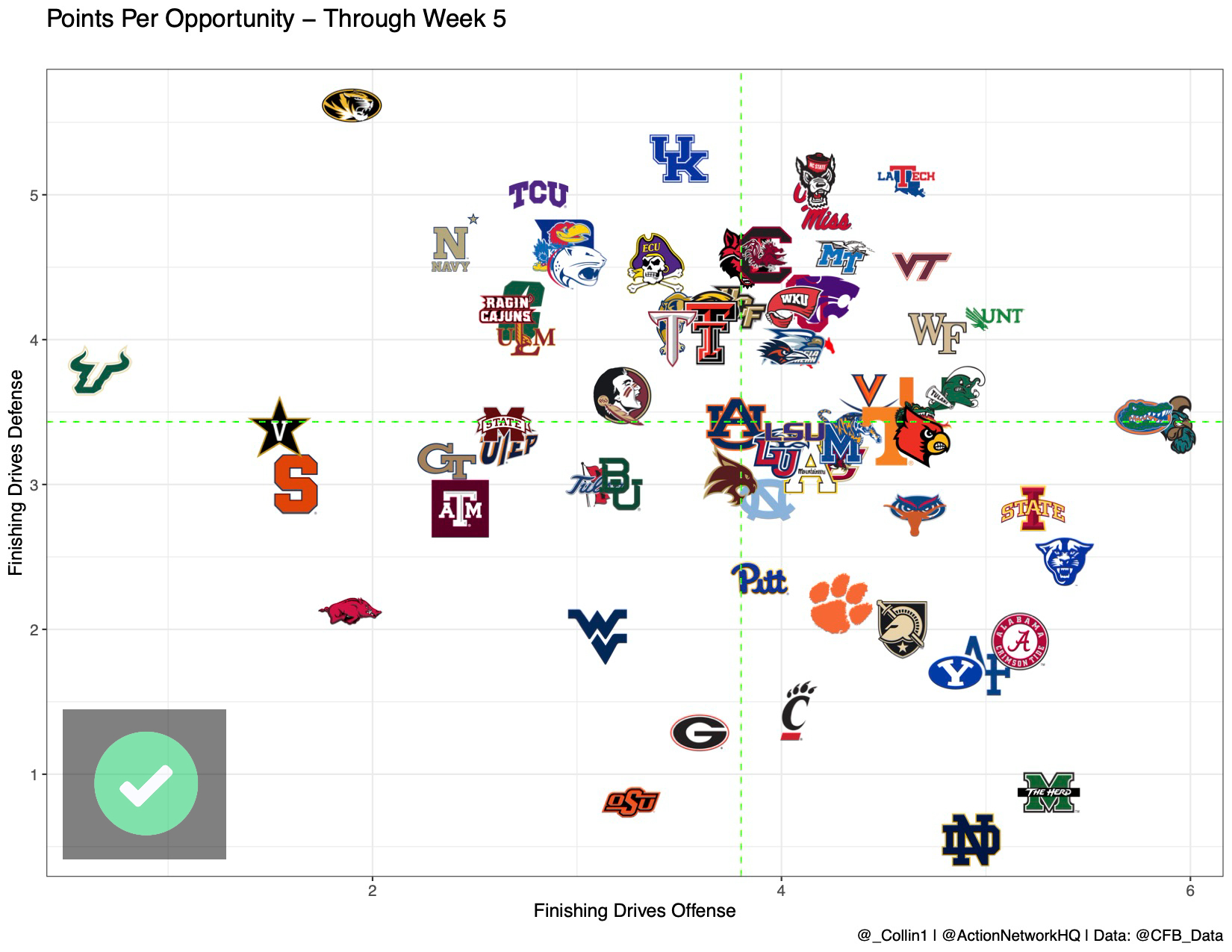 When oddsmakers across the nation set totals, it is based on expected team total output. This is generally compiled by an offensive and defensive rating. Those overall team totals are combined and released to the betting market. What is not taken into account is pace, success rate and finishing drives. In the case of Week 6, there is also a hurricane at play for many games in the South.
BREAKING: Tropical Storm #Delta is now forecast to become a Category 3 hurricane.

It is rapidly strengthening, with wind speeds at 70 mph, just 4 mph shy of hurricane status. pic.twitter.com/nKBmx129tK

— The Weather Channel (@weatherchannel) October 5, 2020
Delta will bring substantial winds when it hits shore late Friday. This may result in game-changing weather conditions anywhere from Central Arkansas-Arkansas State, Arkansas-Auburn, Coastal Carolina-Louisiana, UTEP-Louisiana Tech, Missouri-LSU, Texas State-Troy, Florida Atlantic-Southern Miss and Alabama-Ole Miss. Most of the schools mentioned above play a fast tempo, but keep an eye on the weather in Lafayette, La.
Coastal Carolina is 69th in plays per second, controlling the clock and rated as the best passing team in the nation per success rate.
Shreveport, La., is tentatively scheduled to get some rain and precipitation. UTEP makes the trip ranked as one of the slowest in seconds per play, while Louisiana Tech is 71st in defensive rushing success rate. The Miners have been 70% rush out of 21 personnel, which could chew plenty of clock. Here is the latest Seconds per Play by Offensive Success Rate through Week 5: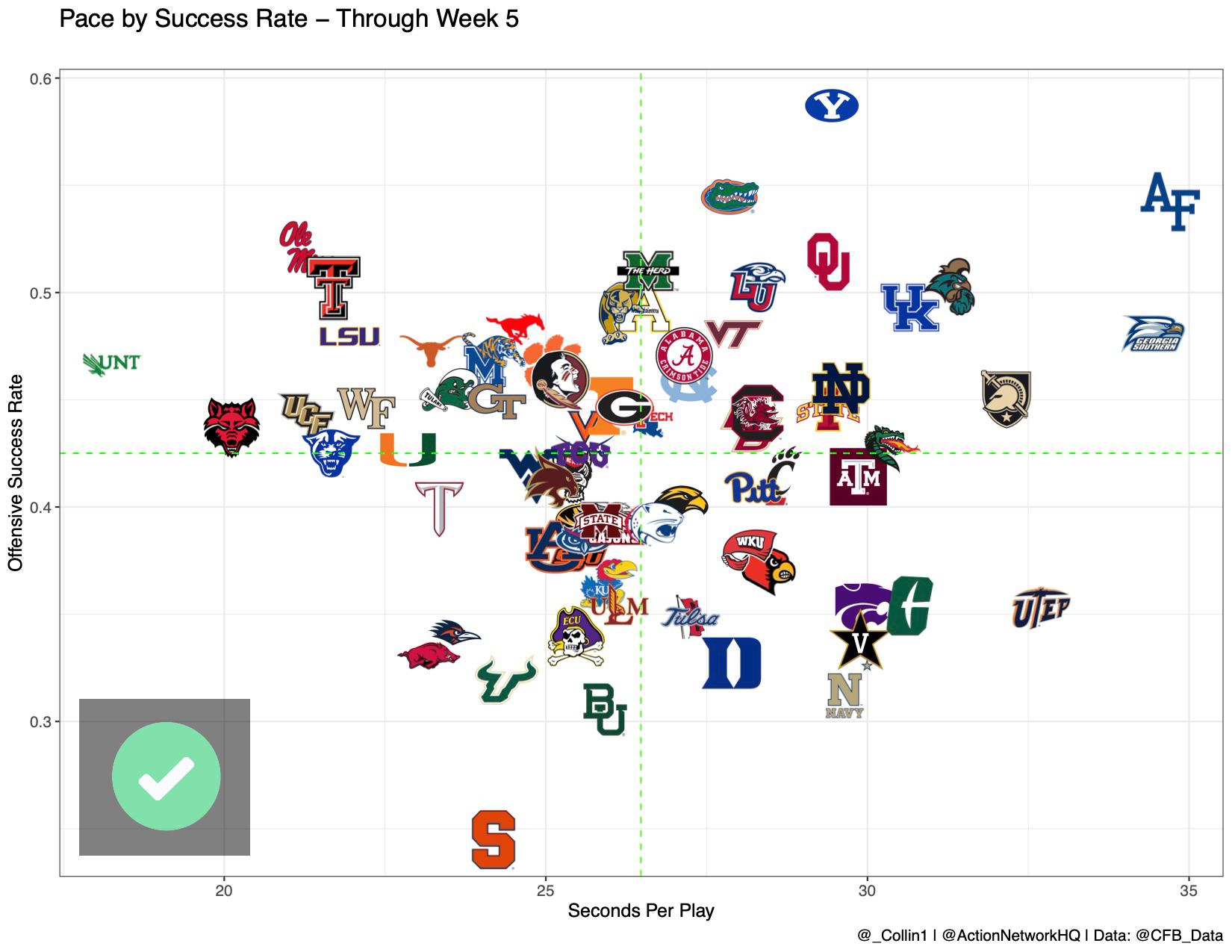 Ole Miss comes into Week 6 as one of the most efficient and fastest offenses in the nation, but Mother Nature and the Alabama defense might have a different forecast for Rebels points. Syracuse and Duke were mentioned in the Week 5 Havoc Ratings, as neither team will be up for an award in offensive success rate. Miami will look to its rank of ninth in seconds per play against Clemson, as the Tigers rank a lowly 53rd in defensive finishing drives.
Here are the full projections for Totals on Week 6:
Team Notes on Total Wagers
The Arkansas-Auburn total is a mathematical projection based upon yards per play, defensive success rate and finishing drives. Hurricane Delta is aimed dead center at the state of Alabama, which makes this Under worth an early week bet.
The total in Provo comes in just shy of nine touchdowns. BYU runs one of the slower tempo's in college football,  but Top-10 rankings in rush and passing success rate, combined with the overall best havoc allowed offense, make for efficient scoring. One area to watch is UTSA defensively in the red zone, where they rank fifth in the nation in defensive finishing drives.
One sneaky Under could come in the Big 12 of all places. Skylar Thompson remains questionable for a Wildcats squad that is 65th in seconds per play. Both TCU and Kansas State are Top 15 in defensive finishing drives.
When Notre Dame takes the field in Week 6, there will have been a three-week gap since a 52-0 blowout against South Florida. The Irish were dominant on defense, allowing the Bulls to convert just two of 15 third downs. Now, this elite defense gets a Florida State offense that ranks 54th in finishing drives. Meanwhile, Notre Dame ranks 61st in seconds per play, electing to run more than 66% out of 12 and 13 personnel groupings. Taking a First Half Under on a run-heavy Irish offense and elite defense is worth an investment.
---
---
Check out our new NCAAF PRO Report, where we highlight factors that provide betting edges — like large wagers, historically profitable betting systems, model projections and expert picks — that when combined with sharp money can powerfully detail the smartest bets on a given slate.
---
Terms to Know
Postgame Win Expectancy is a calculation of all variables in a box score that dictate who would win the game if it was played a high number of times. Turnover luck, success rate and yards per play are notable components of this calculation and can influence a single game. But over a large sample, the team that moved the ball better would win more often than not.
There have been plenty of box scores in which a team wins as an underdog, but a negative value is applied to that team's power rating because the result was fluky rather than systematic.
Coach scheme changes can adjust a power rating quickly. For example, Oregon will undergo a change from Marcus Arroyo's conservative play-calling to new offensive coordinator Joe Moorhead's system. Moorhead's offense features a heavy dose of 11 personnel, West Coast spread concepts and modern RPOs.
That offensive philosophy has led to more explosiveness and higher rates of success on standard downs at each of Moorhead's previous stops at Penn State and Mississippi State. In a situation like this, a power rating can be useful to quickly adjust a team's forecast for future games. In the case of Mike Leach, an adjustment of totals is coming with an increase in plays per game.
Success Rate and Explosiveness were first defined in Bill Connelly's Five Factors and are strong indicators for future box scores. While EPA (Expected Points Added) and IsoPPP (Isolated Points Per Play) can be highly variable from season to season, Success Rate is a stable data point for handicappers to use for projections.
Simply put, if a team consistently achieves the desired amount of yards — determined by down and distance — then this is a "play-on" team with your bankroll. Texas A&M ranked 17th in offensive success rate last season and returns 80% of its offensive production for 2020; that combination makes the Aggies a play-on team.
As Week 6 approaches, we'll be keeping track of all these variables in and out of the box score. Be sure to bookmark our power ratings for the latest update on all FBS and FCS teams playing this fall.
How would you rate this article?