Who is the Real "DBU?": Assessing Which College Football Programs Put the Best Defensive Backs In the NFL
Credit:
Sean Gardner/Getty Images. Pictured: Patrick Peterson.
Arguing about the real "DBU" is a debate that can get pretty heated in the college football Twitter world.
There are a lot of fan bases that feel very strongly about their claim to DBU, so I personally can't wait to anger a few of them with these rankings.
This topic has been covered plenty in the past, and each ranking seems to have different criteria. Some include every player that has attended the school, and some only focus on the past few years. Some pay attention strictly to draft position.
Here, I'm looking mostly at NFL success from players that have been drafted in the last decade. I think that's the best indicator of how these teams are currently producing defensive back prospects.
No offense, but I don't think schools like Michigan and Florida State should get any credit in 2021 for producing Charles Woodson and Deion Sanders. This approach is more relevant to the current state of each program and how they're producing defensive backs now.
Honorable mentions: Utah, Auburn, Boston College.
#10, Colorado Buffaloes
NFL Contributors: Jimmy Smith, Chidobe Awuzie, Isaiah Oliver, Ahkello Witherspoon, Tedric Thompson, Ken Crawley
I wanted to get this list to 10, so I started researching who was deserving of this last spot. I didn't expect to land on Colorado, but I was surprised to see how many players in the secondary the Buffaloes have put in the league.
It came down to them and Utah here, but Colorado got it in the end.
Jimmy Smith is the headliner after an impressive decade-long career with the Ravens. He's had two top-12 finishes in PFF grade at cornerback and allowed only 3.3 yards per target as a 32-year-old last year. 
Colorado's 2016 secondary produced three cornerbacks that ended up being top-70 draft picks. Chidobe Awuzie and Ahkello Witherspoon both went in 2017, and Isaiah Oliver became a second-round pick a year later. Safety Tedric Thompson was also in that group, and he was a fourth-round pick in 2017.
All of these guys have had up-and-down careers, but the three corners have all played relatively significant roles in their respective careers. 
Awuzie just signed a three-year, $21 million contract with the Bengals after playing his early career in Dallas. Oliver has been a starter in Atlanta for the past two years, and Witherspoon actually graded out as the No. 6 corner in the league for PFF. He struggled in San Francisco but may have found his stride in Seattle.
#9, Texas Longhorns
The Studs: Earl Thomas
NFL Contributors: Adrian Phillips, Quandre Diggs, Kenny Vaccaro, DeShon Elliott, Brandon Jones, PJ Locke, Kris Boyd
This Year's Prospects: Caden Sterns
Remember when Texas wore those DBU shirts in warmups before the LSU game, right before Joe Burrow threw for a zillion yards on them? I think we can all agree that this list above doesn't scream "DBU."
Texas produced a potential Hall-of-Famer in Earl Thomas, but you can see that it's pretty weak outside of that. There are some decent safeties but no starting-caliber cornerbacks anywhere on this list.
Thomas has a long resume: three first-team All-Pros, seven Pro Bowls, three seasons in the top 10 in interceptions, and a Super Bowl ring. He was the NFL's best safety in his prime. Things haven't gone great for Thomas recently, but there's no denying how awesome he was for the Seahawks. He has a very good case for being the best safety of the past decade.
Adrian Phillips, Quandre Diggs, and Kenny Vaccaro have all had pretty decent careers in the league.
Phillips was actually a first-team All-Pro in 2018 and made the Pro Bowl that year. Vaccaro has been a starter every year since entering the league and was named to the All-Rookie Team in 2013. Diggs made the Pro Bowl this season and has three seasons in which he graded as a top-35 safety for PFF. 
Outside of that, it's pretty mediocre for former Longhorn defensive backs.
#8, South Carolina Gamecocks
The Studs: Stephon Gilmore
NFL Contributors: Johnathan Joseph, Rashad Fenton, DJ Swearinger
This Year's Prospects: Jaycee Horn, Israel Mukuamu
The Gamecocks haven't produced a ton of NFL talent in the back end, but they did produce the only cornerback to win Defensive Player of the Year in the past decade.
Since joining the Patriots, nobody has done it better than Stephon Gilmore. He led the league in both interceptions and passes defended in 2019 and allowed a passer rating of only 44.1 into his coverage that year. The season before his DPOY selection, he was PFF's highest-graded corner. He's one of the most valuable defensive players in the entire league with the role he plays in that defense. 
Johnathan Joseph has played over 200 games in his NFL career. He's 37 years old now and has put together a really impressive resume over the past 15 years, breaking up 200 passes in his career, good for second all-time.
Joseph has also been a top-10 corner in terms of PFF grade in four different seasons. He should live comfortably whenever he decides to call it a career since he ranks sixth among cornerbacks all-time in career earnings. 
The Gamecocks also just produced the highest-drafted defensive player with Jaycee Horn, who went eighth overall to the Panthers after an impressive college career.
Horn's incredibly physical and profiles as a really solid press-man corner at the next level. His vertical jump and broad jump were both in the 96th percentile at the cornerback position, and his arm length is in the 93rd percentile.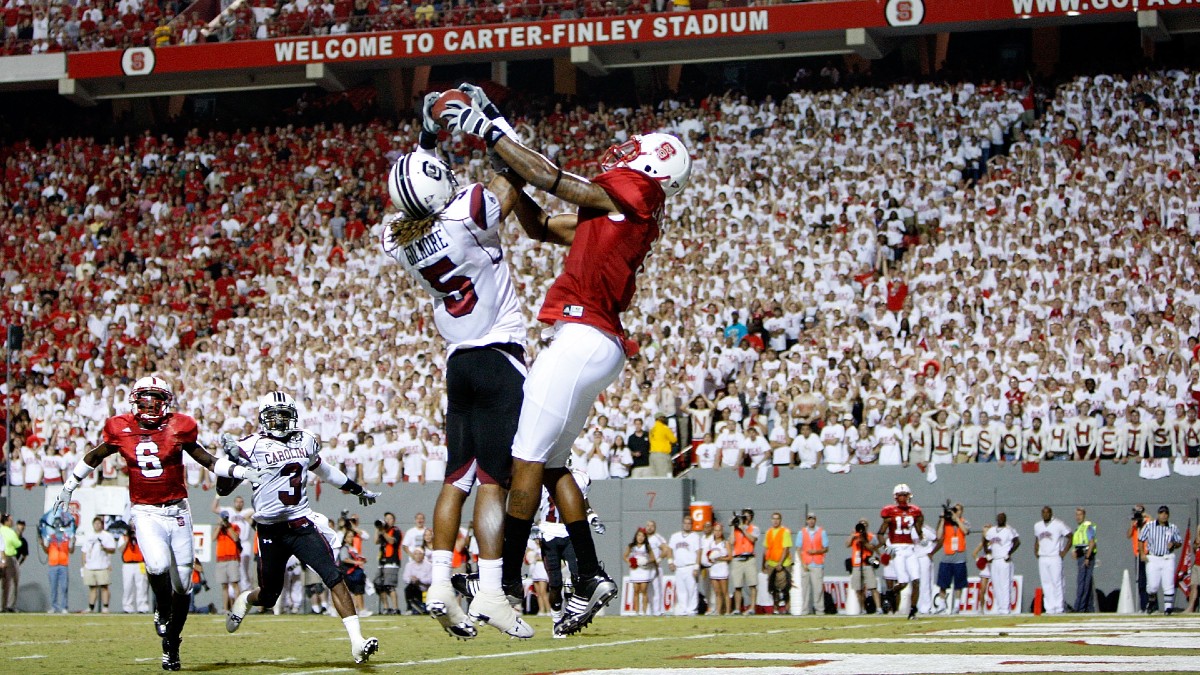 #7, Clemson Tigers
NFL Contributors: AJ Terrell, Bashaud Breeland, Trayvon Mullen, Mack Alexander, K'Von Wallace, Jayron Kearse, Marcus Gilchrist, Byron Maxwell
Up-and-Coming: Andrew Booth
Clemson has a surprising lack of DB talent when you consider how awesome its defense is every year.
AJ Terrell had the second-most snaps of any rookie corner last year, and his PFF grade ranked fourth among rookies at that position. It looks like he'll be CB1 in Atlanta this year.
Bashaud Breeland isn't a household name, but he's carved out a pretty decent seven-year career and was a starter on the Kansas City Super Bowl team. Trayvon Mullen is just 23 years old and was CB1 on the Raiders last year. Mack Alexander has had a pretty decent career in the slot, and K'Von Wallace could have a bigger role with the Eagles in his second season in the league.
Byron Maxwell also came from Clemson and was a starter in one of the best secondaries of all time in Seattle. He played only seven seasons in the NFL but was very good at his peak. Marcus Gilchrist, meanwhile, is on the back end of his career but has appeared in 128 games with 98 starts.
Clemson currently has an athletic freak in its secondary in Andrew Booth. He'll be the top cornerback on one of college football's best defenses this year, and he has a knack for making crazy interceptions.
Go search "Andrew Booth" on YouTube if you want to be entertained. He could join Terrell as another first-round corner out of Clemson.
#6, Washington Huskies
The studs: Marcus Peters, Budda Baker
NFL Contributors: Sidney Jones, Byron Murphy, Desmond Trufant, Kevin King, Taylor Rapp
This Year's Prospects: Elijah Molden
Washington has an underrated resume when it comes to producing NFL defensive backs.
Marcus Peters came into the league as a rookie in 2015 and picked off eight passes, which led the NFL. He's only been in the league for six years but has already racked up 31 interceptions. That ranks fourth among all active players, and there's a decent chance he makes his way to first after this coming season. He's one of only two cornerbacks to win Defensive Rookie of the Year in the 21st century and has been named a first-team All-Pro twice. 
Budda Baker is currently the NFL's second-highest paid safety. He's flown under the radar a little bit in Arizona but has two first-team All-Pro selections and three Pro Bowl appearances in his four-year career. He also led the NFL in solo tackles in 2019. 
Desmond Trufant had a rough year in Detroit in 2020 but was very good earlier in his career in Atlanta. In his first two seasons in the league, he was top-10 at cornerback in PFF grade in both years. From 2013-19, he graded outside the top 35 at the position only once. 
Sidney Jones and Kevin King were both drafted highly in 2017 and… uh… they're both still in the league, I guess.
King, who plays in Green Bay, had a rough go of it in the NFC Championship against the Buccaneers, but if we're looking for something positive, he did rank fourth in the NFL in interceptions in 2019. It looks like the Packers just drafted his replacement in Georgia's Eric Stokes, but who knows?
Jones could have a decent role with the Jaguars if he's able to stay healthy.
Byron Murphy is another former Washington second-round pick who hasn't lived up to expectations yet, but he's still only going to be 23 years old when the 2021 season starts.
Elijah Molden slid to the third round this year unexpectedly but could be a really good value pick for the Titans.
#5, Florida State Seminoles
The Studs: Jalen Ramsey, Derwin James, Xavier Rhodes
NFL Contributors: Ronald Darby, Lamarcus Joyner, Patrick Robinson, PJ Williams
This Year's Prospects: Asante Samuel Jr., Hamsah Nasirildeen
Florida State's ranking is anchored by Jalen Ramsey, who has as good a case as anyone for best defensive back in the NFL. Love him or hate him, there's no denying how incredible this guy is at what he does.
This past season, he was the second-most valuable defensive player in the league,  according to Pro Football Reference's Approximate Value metric. He was also named a first-team All-Pro for the second time in his career and made his fourth straight Pro Bowl. Despite being tasked with taking the opponent's best receiver every week, he allowed only 4.9 yards per target into his coverage. 
We might be talking about FSU producing the NFL's best cornerback and safety if Derwin James could stay healthy. He's played only 299 snaps in the past two seasons, but he's a problem when he's on the field.
James was named a first team All-Pro as a rookie and did it all. That year, he posted 418 snaps in the box, 216 as a deep safety, 205 as an edge rusher, 166 in the slot, and even 22 as an outside corner, according to PFF. He racked up three interceptions, 13 passes defended, 3.5 sacks, eleven pressures, and 105 tackles that year.
Football fans need a healthy James going forward because he's one of the best defensive players in the league when he's not injured.
It looked like Xavier Rhodes' career was declining rapidly in 2019, but he definitely turned it around after going from the Vikings to the Colts. In his eighth season, he ranked ninth at cornerback in PFF grade in 2020. He's been a really good player throughout most of his career, going to three Pro Bowls and adding an All-Pro selection in 2017. 
It drops off pretty quickly for the Seminoles after those top three DBs, however. Ronald Darby has had an up-and-down career but played well for the Redskins last year. He should be a solid contributor in 2021 for a deep Broncos secondary.
Lamarcus Joyner had an awesome year for the Rams in 2017, but his play fell off after signing with the Raiders. 
The future looks bleak for the FSU secondary, but it did produce a stud this year in Asante Samuel Jr. He was just taken in the second round by the Chargers and has a chance to be a key contributor right away in Brandon Staley's defense. His PFF coverage grade ranked first in the ACC last year.
#4, Florida Gators
The Studs: Joe Haden
NFL Contributors: Keanu Neal, Chauncey Gardner-Johnson, Janoris Jenkins, Marcus Maye, Brian Poole, CJ Henderson, Quinton Dunbar, Vernon Hargreaves III, Marcell Harris
This Year's Prospects: Marco Wilson, Shawn Davis
Up-and-Coming: Kaiir Elam
It's a shame that Joe Haden spent his prime on a terrible Browns team because he's put together a fantastic career in the NFL.
After being selected seventh overall in 2010, he finished tied for third in the league with six interceptions as a rookie. He was also the fifth-highest graded corner in the league for PFF that year. In the next four years after, his worst ranking in PFF grade among corners was 29th. He's third among all active players in career passes defended and ranks top-10 all-time.
My man has also racked up over $114 million in career earnings, which is second all-time among corners. He's only about $10 million behind Darrelle Revis, so there's a chance he finishes his career with the top spot. Haden was one of the top cornerbacks of the past decade in his prime.
Florida hasn't produced any big-time studs outside of Haden, but there are a lot of good former Gators playing DB in the league.
Keanu Neal made the All-Rookie team in 2016 and followed it up with a Pro Bowl selection in 2017. He's battled injuries, but he has been a big difference-maker when on the field.
You also have the chirp king of the league in Chauncey Gardner-Johnson, who gets under opponents' skin better than anyone. He made the All-Rookie team in 2019 and allowed only 4.7 yards per target into his coverage this season. That actually ranked first in the league among defensive backs with at least 90 targets. He's become a really valuable part of the New Orleans defense in just two years in the league.
CJ Henderson could become the next great cornerback out of Florida. He didn't play great in 2020, but he was also tasked with being the team's top corner as a rookie with a shortened offseason. He has freaky athleticism and should improve significantly with a year under his belt. 
Marcus Maye doesn't get the recognition he deserves, but he has been awesome for the Jets. He had the fourth-highest coverage grade among all safeties this season for PFF. He was also a top-20 graded safety in his two prior seasons. He's probably the best defensive player on the team, and I'm excited to see what he does with Robert Saleh, and more importantly, without Gregg Williams.
There are a few more guys who have made impacts out of Florida.
Janoris Jenkins has been a quality starter for nine years. He's actually first among all active players in career pick-sixes. I bet you'd also be surprised to learn that he is ninth all-time among cornerbacks in career earnings. He's had a very underrated career.
Brian Poole has been one of the best slot corners in the league since going undrafted in 2016, and Quinton Dunbar was PFF's second-highest graded corner in the league in 2019 despite playing wide receiver in college.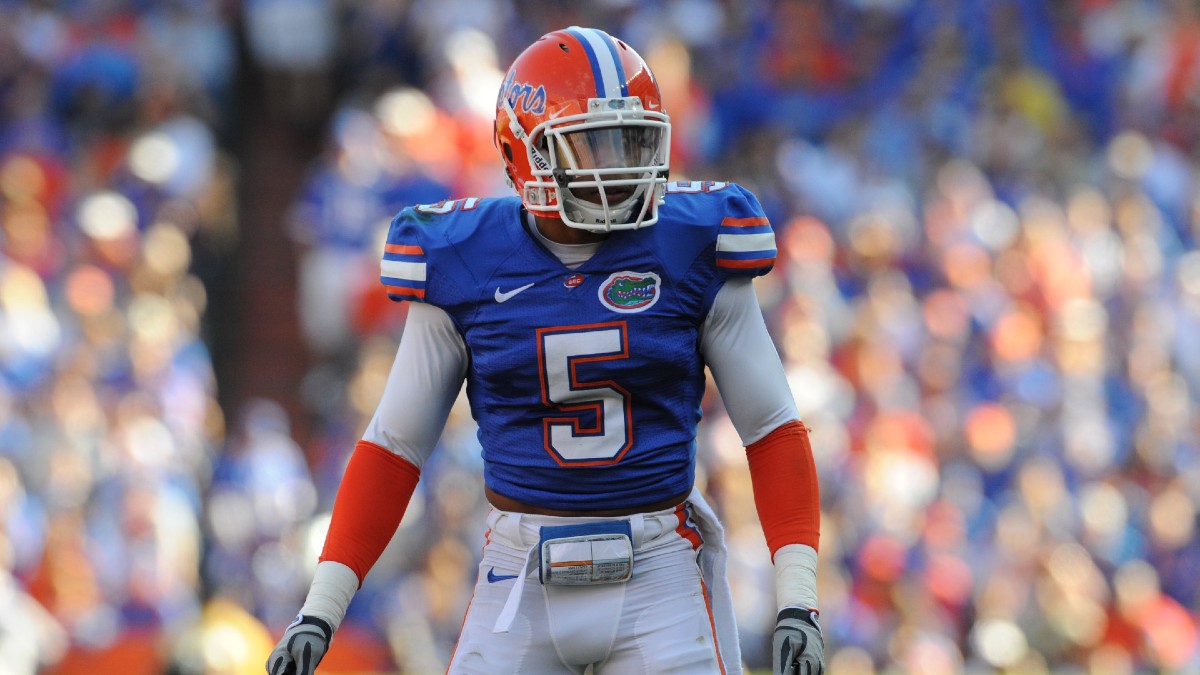 I can't go without mentioning all of the recent busts from Florida, however. Vernon Hargreaves was the most notable after going 11th overall in 2016. You also have second-rounders Quincy Wilson and Teez Tabor from 2017, both of whom are both on practice squads.
I will say that those three guys combined with Marcus Maye, Keanu Neal and Brian Poole made for an unreal secondary back in 2015 for Florida, though.
Florida has a stud in the pipeline in rising junior Kaiir Elam.
As a true freshman last year, he came in and carved out a role right away in a talented cornerback room that included a top-10 pick in CJ Henderson and fourth-round pick Marco Wilson. He stepped into the CB1 role this year, and I don't think any Florida fan would argue with me if I said he was the best player on the defense.
Elam led the SEC with 11 passes defended in 2020. His PFF coverage grade was also top-five in the conference at the position, ahead of players like Jaycee Horn, Eric Stokes, and Tyson Campbell, who all just went high in the draft. They don't make many guys who can move like him at 6-foot-2, so he should be highly coveted in next year's draft.
Florida hasn't produced as many big-name studs as the teams ahead of them on this list, but they've produced a ton of quality starters at DB.
#3, Ohio State Buckeyes
The Studs: Marshon Lattimore, Denzel Ward, Malcolm Jenkins
NFL Contributors: Jeff Okudah, Bradley Roby, Malik Hooker, Jordan Fuller, Damon Arnette, Gareon Conley, Vonn Bell, Eli Apple, Kendall Sheffield
This Year's Prospects: Shaun Wade
Up-and-Coming: Sevyn Banks
Two of the NFL's top corners once played in the same secondary at Ohio State.
After Marshon Lattimore went 11th overall in 2017, Denzel Ward stepped into his role the next year and played his way to being the fourth overall selection in 2018. Both players have lived up to the expectations that come with being a top-15 pick.
Lattimore has had the most success so far, with a Defensive Rookie of the Year award under his belt, along with three trips to the Pro Bowl in just four seasons. Don't overlook that DROY award, because it's really hard to win it at that position. He and Marcus Peters are the only two corners to win it since Charles Woodson. Lattimore has proved to be one of the league's best corners already, and he's still only 24 years old.
Ward has struggled with injuries here and there, but there's no denying that he is a top-tier corner when he's on the field. He made the All-Rookie team and the Pro Bowl in his first year and has allowed fewer than six yards per target in two of his three seasons in the league. That's really impressive when considering he's been tasked with covering the opponent's top receiver game in and game out.
He's been a top-25 graded corner for PFF in two of his three seasons, and the worst ranking of his career was 36th out of 115 in 2019. Ward has a very impressive resume for someone who is only going into his fourth season in the league.
Malcolm Jenkins is no longer the player he once was, but he's put together a great career over the past 12 seasons. He's appeared in three Pro Bowls and has six seasons in which he graded in the top 25 at his position for PFF. He ranks fifth among all active players in career tackles and third among active players in career pick-sixes. He's also a certified bag getter, with over $70 million in career earnings.
Outside of the three bigger names, the Buckeyes have produced quite a few NFL contributors on the back end.
Bradley Roby is probably the best of the bunch at this point. He's had an up-and-down career to some degree but has had some really impressive seasons. Despite playing in a terrible Texans secondary this year, he allowed only five yards per target into his coverage and was PFF's 19th-graded corner. 
Jeff Okudah was selected with the third overall pick last year but struggled as a rookie. We should be willing to give him the benefit of the doubt, in my opinion, because every rookie cornerback struggled due to the limited offseason.
It's a very hard position to transition to from college to the NFL, especially with a COVID-shortened offseason. He was as shutdown as they come in college and still has all the tools to eventually join players like Lattimore and Ward at the top of this list. 
After Okudah, there are a lot of high draft picks who haven't quite lived up to their potential.
Hooker has flashed but has battled injuries frequently. Damon Arnette was one of the worst corners in the NFL last year. Eli Apple has been a major disappointment after being taken in the top 10 in 2016, and Gareon Conley has a similar story after going 24th overall in 2017.
However, Jordan Fuller flashed as a sixth-round rookie for the Rams last year, and Vonn Bell has carved out a decent career.
#2, LSU Tigers
The Studs: Tyrann Mathieu, Patrick Peterson, Tre'Davious White, Jamal Adams
NFL Contributors: Greedy Williams, Grant Delpit, Kristian Fulton, Jalen Mills, Donte Jackson
This Year's Prospects: Kary Vincent, JaCoby Stevens
Up-and-Coming: Derek Stingley, Eli Ricks, Cordale Flott
It's pretty crazy to think that Tyrann Mathieu and Patrick Peterson were playing in the same secondary at LSU.
Peterson has probably been the best of the former LSU DBs after being drafted fifth overall in 2011. His resume gives him a strong argument as being one of the best corners of the 21st century.
He has been a first-team All-Pro three times, has made eight Pro Bowls, and was selected to the 2010s All-Decade team. In his prime, he was one of the rare players who would follow the opposing teams' top receiver every single week and make them a non-factor. There aren't many who have done it better than Pat P. at the cornerback position.
You know you've put some studs in the league when the Honey Badger isn't even the first name brought up. Mathieu, like Peterson, is one of the best defensive backs of the decade. He was a major contributor in Kansas City's 2019 Super Bowl run. During that season, he allowed only 5.1 yards per target into his coverage. That ranked first in the league among safeties with at least 50 targets.
Since arriving in Kansas City two years ago, he has played almost every defensive snap possible and has allowed only four total touchdowns. He has been a first-team All-Pro in both seasons with the Chiefs and has another one under his belt from 2015 with the Cardinals. No other school can say they've produced two better defensive backs than Peterson and Mathieu in this timeframe. 
In 2017, LSU produced both Jamal Adams and Tre'Davious White in the first round. In just four seasons, the two have combined for five Pro Bowls and two first-team All-Pro selections. Adams set an NFL record last year for sacks by a safety with 9.5 and has racked up 21.5 sacks in his career.
White has snagged 15 interceptions in four seasons and led the league with six in 2019. All of those accolades and they're still on their rookie contracts. They're going to be two of the best defensive backs in the league for a while.
If you just looked at each school's top four, LSU would win in a landslide. But the drop-off from the top four guys to everyone else is pretty steep. That was the deciding factor for the top spot.
Greedy Williams was a high draft pick in 2018 but has battled injuries so far in his career. Delpit went 44th overall last year but tore his Achilles before the season started. Fulton has a lot of talent but played only 18% of defensive snaps for the Titans last year. All three players have a ton of potential, but as of now, you have to treat them as unknowns. If a couple of these three pan out, LSU should move up to No. 1 in this debate.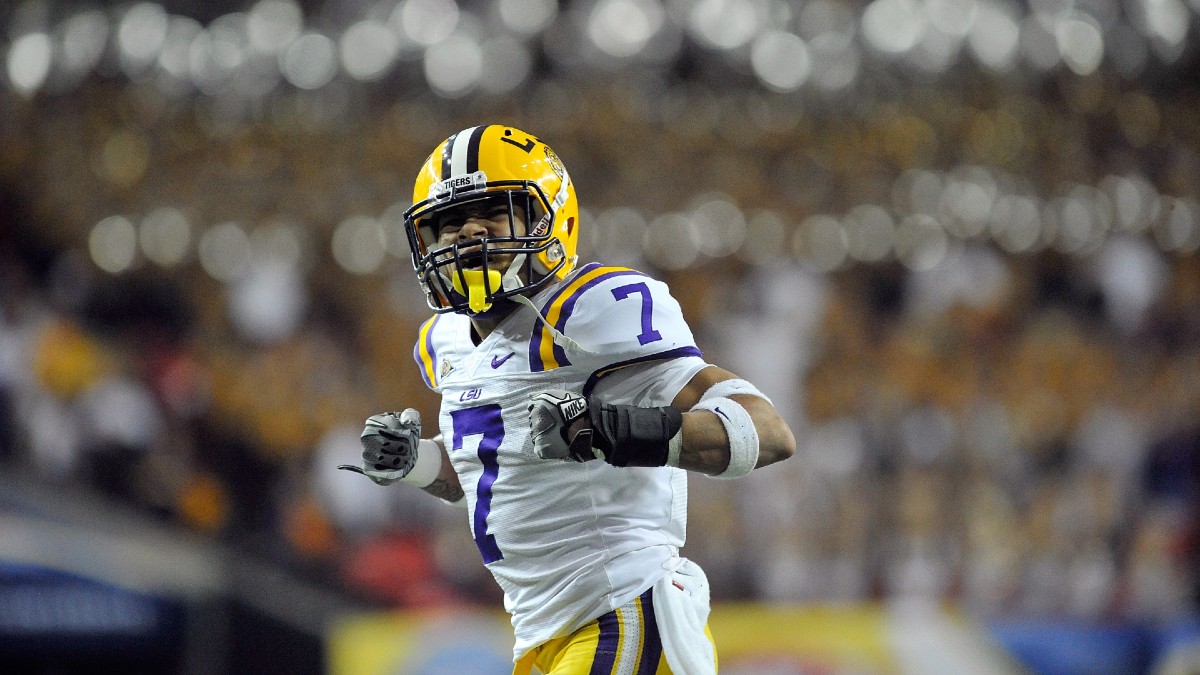 Mills and Jackson have played quite a bit, but the production hasn't always been great.
Mills had an up-and-down stint in Philadelphia and will be a rotational player in the New England secondary this year. Jackson struggled, to an extent, for his first two years in the league but improved last season. He'll have more competition in the Panthers' secondary this year, with Carolina taking cornerback Jaycee Horn eighth overall.
LSU had a couple of prospects this year, but the guy everyone is really excited about is Derek Stingley. He's been billed as a future top-five pick ever since his first snap at LSU. He started from Day 1 as an 18-year-old on an undefeated National Championship team. He was also an All-American and made first-team All-SEC that year.
Again, all at 18 years old. Injuries slowed him down a bit in 2020, but he should be one of the best players in all of college football this fall.
Oh, and there's Eli Ricks. All he did was start every single game as a true freshman this past season and earn a PFF grade that ranked second among all SEC cornerbacks behind only Alabama's Patrick Surtain.
He still has two years until he hears his name called in the draft, but he should join the list of first-round LSU DBs when his time comes.
It's going to be a nightmare trying to throw on Stingley and Ricks this year.
#1, Alabama Crimson Tide
The Studs: Marlon Humphrey, Minkah Fitzpatrick, Eddie Jackson, Kareem Jackson
NFL Contributors: Levi Wallace, Ronnie Harrison, Dre Kirkpatrick, Landon Collins, Xavier McKinney, HaHa Clinton-Dix, Trevon Diggs, Deionte Thompson, Anthony Averett, Tony Brown
This Year's Prospects: Patrick Surtain II
Up-and-Coming: Josh Jobe, Malachi Moore, Jordan Battle
Alabama has a strong case for "Position U" at a lot of spots, and it takes the top spot in the DBU conversation for me.
Nick Saban loves secondary play, and it shows with the amount of talent Alabama puts into the league. The Tide have a solid mix of quality and quantity when it comes to the defensive back position. It was a tough call on which program would take the top spot here, but Alabama earned it in the end.
At the top, you have a guy in Marlon Humphrey who is easily one of the top cornerbacks in the game today.
In his four-year career, he has already made two Pro Bowls and was a first-team All-Pro in 2019. He's one of the few corners in the NFL who can follow an opposing receiver around all game long and shut them down. He's also able to play inside and outside, which is another reason why he is one of the most valuable defenders in the league.
Outside of Humphrey, Alabama has also produced Minkah Fitzpatrick, who has finished in the top 10 in interceptions in each of the past two seasons. He has been one of the best safeties in the NFL since being acquired by Pittsburgh. You also have his former teammate, Eddie Jackson, who was a first-team All-Pro in 2018 and has been selected to two Pro Bowls in his own right after only four years in the league.
Humphrey, Fitzpatrick, and Jackson were all in the same secondary in college at one point, which is pretty crazy to think about.
Kareem Jackson is still balling after a decade in the league. He has been incredibly durable, playing more than 60% of his team's snaps every year since 2012. He's showed no signs of slowing down, earning a PFF grade of 80+ every year for the past three seasons.
Jackson is also a rare example of someone who has played really well at both outside corner and safety in the league. He was a great corner throughout his time in Houston and has since switched to safety after moving to the Broncos. He's one of the major reasons why Denver is expected to have one the best secondaries in the league in 2021.
Alabama also has a ton of contributors who may not be household names.
You have several quality starters on this list, as well as some young players who could have bright futures in Xavier McKinney and Trevon Diggs.
Dre Kirkpatrick has been a starter every year since being drafted in the first round in 2012. Landon Collins' level of play has dropped off to a degree recently, but he is a three-time Pro Bowler and a former first-team All-Pro. Levi Wallace has been a starter in Buffalo for the last two seasons, proving that the league is littered with former Alabama DB's. 
If that wasn't enough, Alabama just produced another top-10 pick from the cornerback position in Patrick Surtain II.
Surtain has checked every box since committing to Alabama as one of the highest-rated prospects in his class. He should be a major contributor on the Broncos right away and could be the next stud out of this loaded group.
Behind him, Alabama has some DBs on its roster who could all hear their names in the first-round conversation in coming years.
Josh Jobe came back for his senior season after starting alongside Surtain this past year and should be one of the top cornerbacks in college football this season.
Malachi Moore played the slot for Alabama last year as a true freshman and was a top-five corner in the SEC in terms of PFF grade.
Finally, you have safety Jordan Battle. He was PFF's highest-graded SEC safety as a sophomore and is someone I expect to go nuts at the combine whenever he declares.
Alabama could definitely have the best secondary in college football again this season, which shouldn't come as a surprise.
How would you rate this article?
This site contains commercial content. We may be compensated for the links provided on this page. The content on this page is for informational purposes only. Action Network makes no representation or warranty as to the accuracy of the information given or the outcome of any game or event.