Miller: My 4 Favorite Under-the-Radar College Football Bets for Week 11
Credit:
Jennifer Buchanan-USA TODAY Sports. Pictured: Melquise Stovall
Everyone will have their eyes on LSU-Alabama and Penn State-Minnesota this weekend, but don't forget that there's plenty of value in some less heralded games.
The lines often aren't as sharp and there aren't as many eyes on the games. If you know personnel mismatches, coaching staffs and advanced stats for Group of Five teams, you can position yourself well to make some money.
Every Saturday, I'll be putting out a few of my favorite bets in some under-the-radar games.
This week I've got four, so let's jump in.
---
Odds as of Thursday at 7 p.m. ET. Check out PointsBet, where Action Network users can access an exclusive promotion to get a 200% deposit match (deposit $50, bet with $150).
---
Week 11 College Football Bets
Georgia Southern at Troy
Odds: Georgia Southern -3
Total: 56
Time: Saturday, 3:30 p.m. ET
TV: ESPN+
The Troy Trojans were the lone team from last week's piece to not get us to the window. This week, we're back on the men of Troy catching a field goal against Georgia Southern. Let's start by examining Georgia Southern's big upset of Appalachian State last week. 
App State's poor run defense was exposed by the Southern triple-option attack, but they still managed to outgain the Eagles by over 80 yards. Appalachian State quarterback Zac Thomas was forced to take to the air 51 times in this one because his defense allowed its opponent to get out to a lead. 
The way to attack Georgia Southern's defense is with the pass, but App State is a run-first team, so they weren't equipped to take advantage of this mismatch. On top of that, the wind was howling at 30+ mph in Boone, NC, so Thomas' passes didn't have much of a chance.
The weather in Troy, AL is set to be in the mid-60s with less than 5-mph winds, so quarterback Kaleb Barker won't have the same problem attacking the vulnerable Georgia Southern pass defense. Troy's offense is pass-heavy and it's had a ton of success through the air this season. I expect it to be able to move the ball very well this week.
Troy's defense will face a run-heavy team for the second-straight week. Last week they allowed Coastal Carolina to rush for 4.9 yards per carry, right at its season average. The reason it took the loss on the road is because Coastal was able to pass the ball effectively. Despite getting trucked on the ground by Georgia State two weeks ago, the way to beat Troy's defense is still through the air and Georgia Southern will not be able to do that.
On top of the statistics, the situation for Georgia Southern isn't great either. The Eagles are on back-to-back travel after a massive win against their biggest rival. Troy is headed back home after a tough loss and will be looking to get right. I make Troy a 2.5-point favorite in this one, so I'm thrilled to get a field goal.
Pick: Troy +3 [In New Jersey? Bet now at PointsBet]
Florida International at Florida Atlantic
Odds: Florida Atlantic -10
Total: 59
Time: Saturday, 6:00 p.m. ET
TV: Stadium
Since Lane Kiffin took the job at FAU, the Owls and the over are 2-0 in the Shula Bowl. I'm betting on both of those trends coming to an end this week. 
Kiffin's teams are always going to be up-tempo on offense, but this year's version lacks the efficiency needed to be consistent. FAU ranks 58th in points per play, but just 82nd in yards per play, so hitting big plays is about the only way the Owls can score. FIU's defense isn't anything special, but it is good at limiting explosive plays, particularly through the air. That's important because FAU leans on the pass game, ranking 86th in run play percentage. 
As mentioned before, FAU passes the ball a bunch but its offensive line is downright awful at protecting the quarterback, particularly on known passing downs. While FIU doesn't get a great pass rush, its secondary has been excellent, so I expect the Panthers to get to the quarterback. Last week against a similarly bad offensive line, they collected three sacks and four quarterback hurries.
The biggest factor involved in this game must be the weather. The forecast for this game shows 17-mph crosswinds and rain. It's going to be a tough day to throw the football and that favors the team that runs the ball far more than its opponent. I make FIU just a 6-point dog in this year's addition of the Shula Bowl so I'll gladly take the 10 points. The under in this game is a great play as well due to the weather.
Pick: FIU +10, Under 60 [In New Jersey? Bet now at PointsBet]
Utah State at Fresno State
Odds: Fresno State -5.5
Total: 58
Time: Saturday, 7:00 p.m. ET
TV: CBS Sports Network
This game opened at around Fresno -3 on Sunday and money immediately hit the market on the Bulldogs. It's easy to see why, given how poorly Utah State has played in the last two weeks. Fresno certainly has some matchup advantages, but I believe the Aggies have their fair share as well.
Since being brutalized by Air Force on October 12, the Fresno State defense has looked very porous. Luckily for the Bulldogs, the offense has come around in a big way. In last week's win against Hawaii, Fresno racked up 514 yards including averaging 7.3 yards per carry. Hawaii has an awful defense, but it won't face a huge step up in competition this weekend.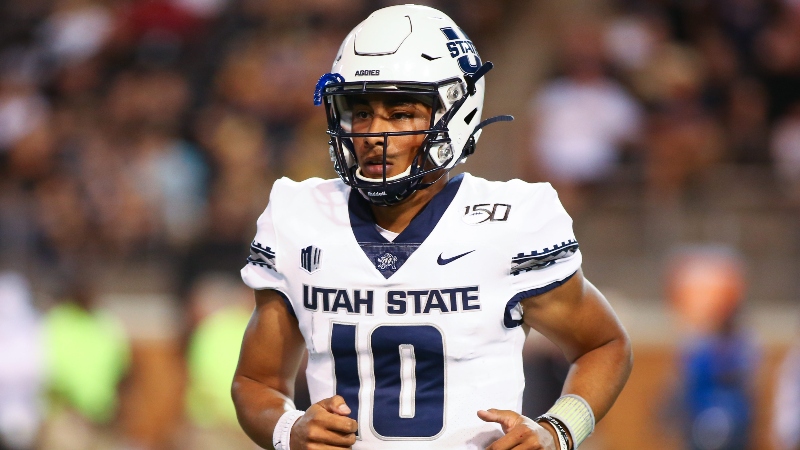 Utah State's 2019 demise started when the Aggies themselves were brutalized by Air Force on October 26th. In that game they allowed Air Force to gain 472 yards, 448 of those coming on the ground. Fresno's run game isn't as good as Air Force's but it's still 11th in the country by yards per carry.
On the surface it looks like Utah State's offense is broken as well with just 21 points combined in its last two games. But the Aggies put up 521 yards last week against BYU. Jordan Love hasn't looked nearly as good last season but he's still a super talented player. If he can cut down on the interceptions, this offense can still turn it around this year and put up some big numbers.
The final key to this puzzle lies in the trenches. Both offensive lines have big advantages and should contribute to a flurry of points. Utah State's offensive line ranks 54th in line score but is especially stingy with allowing pressure on its quarterback. Fresno State's defensive line has been a horror show, ranking 121st in line score and 117th in sack rate.
The Bulldogs' offensive line has been one of the best in the nation, ranking 20th in line score. It's a solid unit all around in both the run and passing games. Utah State's defensive line is quite the opposite, ranking 100th in line score. It gets pushed around on the ground, especially on standard downs.
Add this to Utah State's lightening fast tempo and you've got a nice recipe for an over play.
Pick: Over 58 [In New Jersey? Bet now at PointsBet]
San Jose State at Hawaii
Odds: Hawaii -8
Total: 76.5
Time: Saturday, 11:00 p.m. ET
TV: Facebook
A pair of high-powered, pass-heavy offenses match up on the island in the final game of the Week 11 slate. This game should feature plenty of points, illustrated by the gargantuan total hung by oddsmakers, but there's a real edge on a side in this matchup.
Everyone who casually follows knows about Hawaii's Run 'n' Shoot offense, but San Jose State has a dynamite offense of its own. Utah State's Jordan Love is the most well-known quarterback in the Mountain West, but the Spartans' Josh Love just might be the best. He has a 17-4 touchdown to interception ratio to go along with his 2,793 yards.
The offenses clearly get top billing in this game but it's going to come down to who can get a key stop, and who can avoid turnovers. 
Hawaii's defense is an absolute atrocity. There's no nice way to put it when you rank 117th in yards per play, 105th in defending explosiveness and 122nd in efficiency, and have given up 40+ points in three of your last four games.
San Jose State's stop unit won't be confused for Clemson's, but it's a hell of a lot better than Hawaii's. Most importantly this week, the Spartans rank 43rd in opponents' QB rating allowed. That's going to be a major factor on Saturday night when Hawaii drops back to pass on almost every play.
At the end of the day, I like the way San Jose State is playing much more than Hawaii recently, so I'm happy to back the Spartans on the highway (or boat, in this case.)
Pick: San Jose State +8 [In New Jersey? Bet now at PointsBet]
How would you rate this article?