Miller: 4 College Football Betting Picks on Under-the-Radar Games
Credit:
Greg Bartram-USA TODAY Sports. Pictured: Buffalo Bulls
Kyle Miller covers betting angles for four under-the-radar college football games on Saturday, September 21.
He's looking at UCF-Pitt and Temple-Buffalo, among others.
Everyone will have their eyes on Auburn-Texas A&M, Michigan-Wisconsin, or Notre Dame-Georgia but don't forget that there's plenty of value to be had in games involving smaller conference teams.
The lines often aren't as sharp and there aren't as many eyes on the games. If you know personnel mismatches, coaching staffs and advanced stats for Group of Five teams, you can put yourself in a good position to fire and make some money.
Every Saturday, I'll be putting out a few of my favorite bets in some under-the-radar games. This week I've got four, so let's get to it.
Miller's Favorite College Football Bets
All odds above as of Friday at 7 a.m. ET and via PointsBet, where Action Network users get an exclusive 200% deposit match (deposit $50, bet with $150).
UCF at Pitt
Odds: UCF -11.5
Over/Under: 61.5
Time: 3:30 p.m. ET
TV: ABC
Location: Pittsburgh, Pa.
It feels like I may be stepping in front of a runaway train when doing so, but I'm fading UCF this weekend.
There's no doubt that this version of the Knights has been extremely impressive to start 2019. After destroying Florida A&M and FAU, UCF finally got a top tier Power 5 opponent to come to Orlando.
Stanford made the trip, but its two future NFL offensive tackles did not and the offense suffered. To make matters worse, the Stanford defense has been uncharacteristically bad thus far in 2019.
UCF freshman QB Dillon Gabriel took advantage of that porous defense, throwing for 347 yards and four touchdowns while completing 73% of his passes.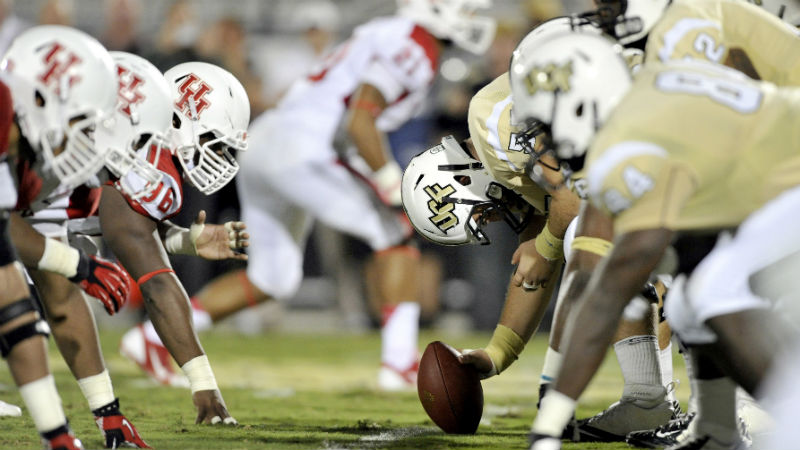 Now Gabriel and UCF must leave the state of Florida for the first time this season when they travel to Pittsburgh.
Pitt is coming off a close loss to their Penn State in which its head coach made one of the most boneheaded decisions I've ever seen. Still, the Panthers kept the game close as 17-point underdogs and I was particularly impressed with their defense. This will be by far the best defense UCF has faced this season.
My numbers make this game UCF -2.5, so I jumped on Pitt +10 early in the week. I greatly underestimated the amount of UCF money that would hit the market though and this line moved all the way up to 13.5 at one point.
It's now back down to around 11.5 and I'm comfortable backing the Pitt Panthers at that number.
Pick: Pitt +11.5
Temple at Buffalo
Odds: Temple -14
Over/Under: 51
Time: 3:30 p.m. ET
TV: ESPNU
Location: Buffalo, N.Y.
The outcome of a few Week 3 games has this line way out of whack. I believe the market has greatly overreacted to both Temple's win over Maryland and Buffalo's loss at Liberty. Temple deserved to beat Maryland last week but I didn't come away all that impressed with the Owls.
I think it's important to realize that the market had overreacted to Maryland's Week 2 win over what looks like a bad Syracuse team. Temple QB Anthony Russo has just a 38.9 QB Rating and didn't look overly impressive. Temple ran the ball well but it was the defense that got the Owls the win in this game.
Buffalo took an 18-point loss to Liberty in Week 3 but this game was much closer than the final score suggests and I didn't move Buffalo down at all in my power ratings.
This is the same Buffalo team that was moved up in my power ratings after a 32-point loss to Penn State in Week 2 because the Bulls actually out gained the Nittany Lions.
My thoughts on these two teams haven't changed a whole lot since the start of the season and I make this just a 7-point game in favor of Temple.
Temple's power number will be getting a hefty boost if they cover the 14-points with a clean box score, but I don't expect that to happen.
Pick: Buffalo +14
Wyoming at Tulsa
Odds: Tulsa -3.5
Over/Under: 45
Time: 3:30 p.m. ET
TV: CBBSN
Location: Tulsa, Okla.
No one in the country has been as lucky as Wyoming this season. In their Week 1 upset of Mizzou, the Cowboys were out gained 537-389 and benefited from three turnovers that resulted in short fields for their offense.
In Week 2, Wyoming snuck by Texas State 23-14 despite being out gained by more than 150 yards. Once again, they were the beneficiary of three turnovers from their opponent.
They had no business winning that game but they were going to get right at home against FCS Idaho in Week 3, right?
That was absolutely not the case. Despite winning 21-16, Wyoming was out gained 303-287 by the Vandals. This is the Idaho team that got beat by 72 at Penn State and won a close one at home against Division II Central Washington.
Wyoming is the biggest fraud in the entire country and now faces a team coming off its best performance of the year.
Tulsa had the lead in the third quarter as a 14-point dog at home against Oklahoma State last weekend. In the end they just didn't have the athletes to contain Chuba Hubbard and the Cowboys' running game. Tulsa failed to cover thanks to a meaningless long run by Hubbard late in the fourth quarter.
As a whole, I really like this Tulsa team and feel that its defense should perform very well against an overrated Wyoming offense. I've moved Wyoming down in my power ratings each week so far this season as that luck will run out eventually.
Pick: Tulsa -3.5
Old Dominion at Virginia
Odds: Virginia -28.5
Over/Under: 46
Time: 7 p.m. ET
TV: ESPN2
Location: Charlottesville, Va.
After beating Florida State in come back fashion, Virginia welcomes in state Old Dominion to Charlottesville before a big matchup with Notre Dame. We've got ourselves a good old fashioned sandwich spot for the Cavaliers on Saturday.
Bryce Perkins has been a little banged up so I think he'll be pulled out of this game very early if Virginia can build a lead. When he is in the game, I highly doubt we'll see very much quarterback run from Perkins because Virginia needs him fully healthy against Notre Dame next week.
I'm really down on ODU this season but this spot looks like a really good one for the Monarchs. The spot along with the fact that Old Dominion is in the state of Virginia and has a ton of players that were undoubtedly passed up by UVA has me playing Old Dominion getting over four touchdowns.
Pick: Old Dominion +28.5
How would you rate this article?