Ohio State vs. Northwestern Odds & Pick: Are the Buckeyes the Right Bet?
Credit:
Joseph Maiorana-USA TODAY Sports. Pictured: J.K. Dobbins
Ohio State vs. Northwestern odds have dropped just a bit on Friday, as the Buckeyes are now a 27-point favorite after sitting at 28.5 earlier in the week.
The Wildcats have a top 10 defense and bottom 10 offense, while the Buckeyes have rolled everyone in their path so far.
Our experts detail how they are betting Ohio State vs. Northwestern.
Ohio State vs. Northwestern Odds
Odds: Ohio State -27
Over/Under: 50
Moneyline: Ohio State -4000 | NW +1500
Time: 8:30 p.m. ET
TV: Fox Sports 1
---
Odds as of Thursday night and via PointsBet, where Action Network users get an exclusive 200% deposit match (deposit $50, bet with $150).
---
It's weird to say, but Ohio State vs. Northwestern on Friday night is a rematch of last year's Big Ten Championship Game.
But the market has changed its opinion on each team drastically since last December. The spread is two touchdowns bigger than last season, when the Wildcats were a 14.5-point underdog on a neutral site.
Is that too many points, or will the Ohio State train continue to roll on Friday night?
Fitz-Magic
Northwestern coach Pat Fitzgerald does have the ability to get the most out of his teams in big games.
He's 21-13-1 (61.8%) against the spread as a double digit underdog in his career — the fifth-most profitable current coach in that situation since 2005.
That includes an 11-3-1 ATS mark since 2014 with six outright wins in those 15 games. — Stuckey
Can Northwestern's Score Any Points?
Northwestern's defense has been excellent this year, especially when it comes to limiting explosive plays. The Wildcats have only allowed two pass plays of 30+ yards (only UCF has allowed fewer) and four runs of 20+ yards (top 20 nationally). The latter will certainly help against JK Dobbins and the Ohio State rushing attack which has 17 such runs on the year (T-7th).
Overall, the Northwestern defense is playing at an extremely high level.
The problem is the offense is one of the worst not only among Power 5 teams but in the entire country.
Per SP+, Northwestern ranks No. 5 overall on defense and 124th on offense. That's the largest discrepancy for any team since….drum roll…2015 Northwestern.
The anemic Wildcat offense will be taking on a dominant Ohio State defense that's only allowing 8.8 yards per game and 3.7 yards per play (second in the country).
If you haven't seen the Buckeye defense this year, you're in for a treat on Friday night. They have a dominant defensive line, speedy linebackers and an excellent secondary. There are really no holes on this unit.
So, I'm not sure how much we can expect from a Northwestern offense that's only averaging 14.4 points per game — the third-fewest in FBS. The only two teams averaging fewer are Akron and Rutgers.
Even worse, Northwestern is averaging 3.9 yards per play — that's DEAD LAST of all 130 teams.
I can't back Ohio State here because the number is too steep (this is about what I have it on a neutral field). However, I have no interest in getting in front of this Buckeye train, especially with this Northwestern sad offensive unit.
Pat's Cats only chance of keeping it close is to have a few fluke scores and have its defense play out of its mind as it did against Wisconsin in a 24-15 loss in Madison. — Stuckey
Spot Does Favor Northwestern
Ohio State does have Wisconsin next week, so the situation does favor Northwestern in front of what should be a raucous Friday night crowd in Evanston (at least to start).
Ohio State could possibly come out a little flat and also may pull its starters a little earlier than normal, ensuring health and not wanting to show as much with such a critical game next week.
But the talent discrepancy is just massive. The only way I'd play Northwestern here is to play the under (they can't compete in a high scoring affair) or wait until the second half or live if it gets out of hand. — Stuckey
Is Ohio State Inflated?
The game is inflated at -28.5 as the Action Network power ratings make this game Ohio State -26.5.
If you simply blanked out the team names, one could make the case for taking the number on the dog at +28.5 citing value against the power rating.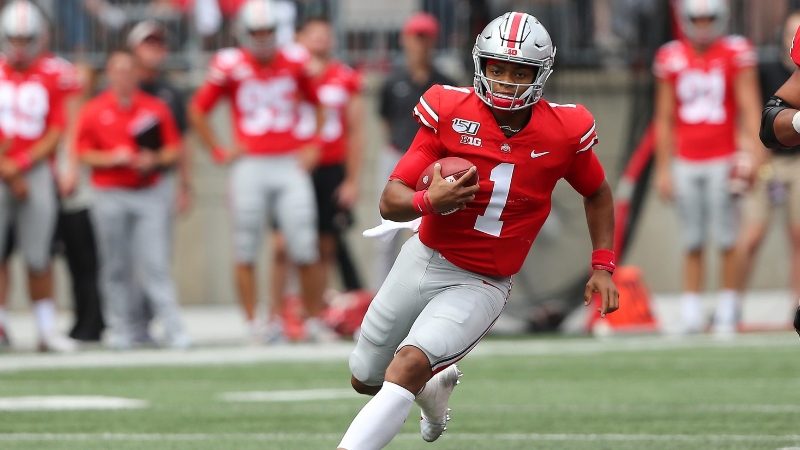 But this is the ultra-powerful Ohio State Buckeyes team that is second in the nation in defensive havoc, third in offensive success rate and second in opponent red zone scoring per attempt.
And no one has underwhelmed advanced numbers more than Northwestern teams with Pat Fitzgerald as the coach.
The Wildcats have been due for regression seemingly every year, with second-order win totals at -2.8 and -2.0 over the past two seasons.
In layman's terms, Northwestern has always won a ton of games it should have lost.
Wilson: Can't Convince Myself to Bet Northwestern
There isn't a single statistical category I can put in this space to convince someone to back the Wildcats. I won't list them all here, but they're bad.
Statistical Collin is going to tell you that +28 is too much and the Northwestern secondary can keep this game a grind giving value at five scores with the Wildcats.
Situational Collin would tell you Ohio State has Wisconsin next week, which may force the Buckeyes to scale back the playbook.
Conspiracy Collin will tell you the Ryan Field ground crew is growing the grass surface out an extra inch this week to slow down the Buckeyes attack.
Financial Collin will have the last say, and I know that Northwestern will be a bigger underdog than +28.5 in live betting.
This Northwestern defense is legit, and the best time to play the Wildcats will be after Fitzgerald's halftime adjustments, about the same time the Buckeyes may start thinking about Wisconsin.
Ohio State has scored at least 27 points in each first half this season and could again here.
From a live betting script, look to back the Buckeyes and over in the first half, while Fitzgerald and the under will certainly make my card for the second Half. — Collin Wilson
Pick: 1H Over 27, 2H NW and Under
Miller: Why I Like the Under
The spread in this one is a touch too high for my power ratings, but I don't have the stomach to back this putrid Northwestern offense. Instead, I'm looking at the total where I see some nice value.
The Buckeyes have been on an absolute mission to destroy their opponents as they've covered each week since week one. Ryan Day's offense ranks in the top-15 in nearly every category that I use to handicap games, but there are two areas that can make them lower scoring against a solid defense.
The Buckeyes have the fifteenth highest run play percentage in the country, a stark difference from last year's team led by a passing quarterback. They also don't push the tempo all that much and certainly won't do so once they get a decent lead in this game.
Northwestern's defense is far better than just a "solid" unit as the Wildcats rank fifth in the nation in defensive efficiency. They've also been great at slowing down explosive run plays. That'll keep the clock running when Ohio State marches down the field slowly but surely.
As good as their defense is, the Wildcats' offense is absolutely atrocious. They rank dead last in the entire country in yards-per-play, points-per-play, and explosive play percentage. It wouldn't surprise me in the slightest if Ohio State pitched a shutout in this game with its elite defense.
During its bye week, Ohio State did some self-scouting and realized that teams aren't respecting Justin Fields as a runner on option plays.
Look for the Buckeyes to continue that trend this week before unleashing Fields on Wisconsin next week. — Kyle Miller
Pick: Under 49.5
How would you rate this article?