Oklahoma vs. Baylor Odds & Betting Pick: Is Bears' Magic About to Run Out?
Credit:
Kevin Jairaj-USA TODAY Sports. Pictured: Oklahoma RB Kennedy Brooks (26)
The latest odds for Oklahoma-Baylor list the Sooners as -10.5 favorites, with the over/under at 69.
Baylor is also a 3-1 underdog to win straight-up.
Can the unbeaten Bears prove everyone wrong, or will Oklahoma take care of business? Our experts break it down from every betting angle.
Oklahoma Baylor Odds & Betting Pick
Odds: Oklahoma -10.5
Over/Under: 67.5
Moneyline: Oklahoma -370, Baylor +285
Time: 7:30 p.m. ET
TV: ABC
Location: Waco, Texas
It's not often you see a top 15 team as a 10-point home underdog. In fact, it's happened just five times in the last 20 years.
But that's what we've got on Saturday, when Oklahoma and its vaunted offense travel to Waco to face unbeaten Baylor.
The Bears haven't been tested much and have been stagnant on offense the last few weeks, but can prove the College Football Playoff committee wrong with a win on Saturday.
Let's attack this game from a betting perspective, with our experts' two favorite bets.
How Market Has Moved
It's not often that an undefeated team gets more than a touchdown on the point spread this late in the season. Since 2005, only 12 undefeated teams have been listed +7.5 or higher in their eighth game or later (they're 4-8 ATS).
With the juicy spread on unbeaten Baylor, bettors have been somewhat split on which way to go here. Fifty-six percent have taken the Bears, and accounted for 53% of money being wagered. Despite that, this line has moved against the home dog, sending Oklahoma from openers as low as -8.5 up to the current -10.5.
As for the total, oddsmakers set this line with the expectation of some heavy offensive output at 67. Bettors aren't convinced that's high enough, though, as 79% — who've accounted for almost all the money thus far — have taken the over.
And while oddsmakers have increased the spread, the fact that they've nudged it only by a half-point to 67.5 should suggest something about the respect they have for those on the under. — Danny Donahue
Advanced Stats Profile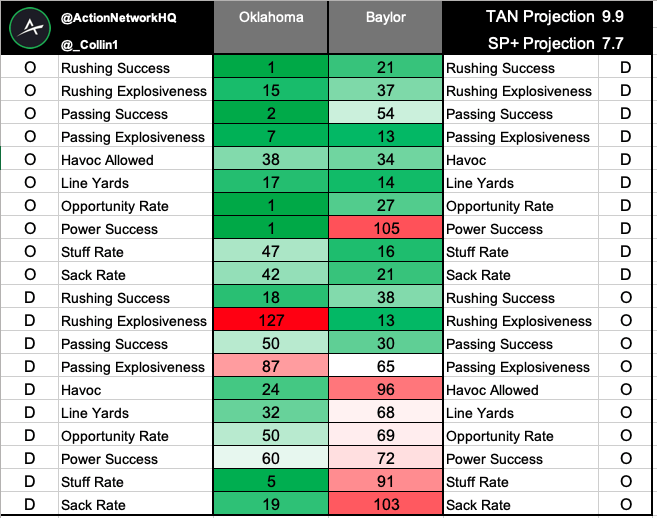 What's Gone Wrong for Each Team?
The Baylor offense has had a rough two weeks. On Halloween night against West Virginia, Baylor managed a touchdown drive and struggled with seven punts and two turnovers.
The trip to Fort Worth was no better, as Baylor and TCU combined to score zero offensive touchdowns during regulation. The Bears had an average starting field position at the 35-yard line and managed just 22 yards per drive. Our thoughts are still with the gamblers who took the under in that game, as triple overtime pushed it over.
Oklahoma was in firm control of the Iowa State game until the fourth quarter. The Cyclones took quick advantage by posting 20 points off a Sooners fumble, punt and interception to end the game.
Mistakes have been killer for Oklahoma, which has surprisingly struggled to close games in the second half.
One issue for the Sooners is opponent rush explosiveness where Oklahoma ranks 127th. There has been mass improvement in the Alex Grinch era as defensive coordinator, but an SP+ defensive rank of 39th is the worst of all national title contenders, and it is not close. — Collin Wilson
Can Baylor Get Back on Track?
Baylor may snap out of its funk considering what Oklahoma has allowed in explosive rush. Oklahoma is 105th in opponent rushing gains over 20-plus yards while Baylor is 16th in rushing gains over 20.
Baylor's defense has been solid and is top 25 in sack rate, which may get Jalen Hurts flushed from the pocket in passing downs.
The Bears have the numbers on both sides of the ball to compete, but a strength of schedule that just entered the top 100 thanks to the TCU game says Baylor is unproven.
Our Action Network numbers are spot on with the market at Oklahoma -10 with a total of 68. I favor Baylor to hang in this game, but as an investor it may be more wise to get Baylor at +14 live.
The Sooners have consistently let teams comeback from leads, resulting from a defense that hasn't stopped the run.
With so much rushing expected in this game, I will be looking for an under on gameday and a Live number on Baylor over two scores. — Collin Wilson
Pick: Under 69 or better
Baylor Offense Has One Key Advantage
I make Oklahoma a 12-point favorite in this game so don't see any value at the current line but did use the Sooners in a moneyline parlay to pair with Iowa.
Oklahoma has improved slightly on defense this year with a much more aggressive style that fits their speedy personnel. However, it has left them extremely vulnerable to giving up explosive plays. The Sooners rank 127th in the country in defending rush explosiveness and 87th in defending rush explosiveness.
And if there's one thing this Baylor offense can do, it's hit big plays. The Bears actually rank 13th nationally in rush explosiveness and quarterback Charlie Brewer has dangerous weapons on the outside he can connect with deep on any given play. The Baylor offense will hit its fair share of big plays and most likely have a few long touchdowns that keep them within striking distance. — Stuckey
Stuckey: But Here's Why Oklahoma Pulls it Out
However, I think Oklahoma ends up pulling this out for two primary reasons:
1. The vulnerable Baylor offensive line, which ranks outside the top 100 in sack rate and will face an Oklahoma defense that sits in the top 20 in sack rate. I think the Oklahoma defense can get to Brewer and make enough plays to either get stops, put Baylor behind the sticks or create turnovers (OU ranks in the top 25 in Havoc while Baylor ranks 96th in Havoc allowed).
2. The efficient Sooner offense which ranks No. 1 and No. 2 in rush and pass success rates, respectively. The Baylor defense is designed not to give up big plays but efficient offenses can move the ball down the field on the Bears, who did also lose their linebacker and defensive leader Clay Johnston earlier this season.
Don't forget this Baylor team barely escaped in overtime twice this season against Texas Tech (controversially) and TCU (luckily) while inexplicably beating Rice by eight points.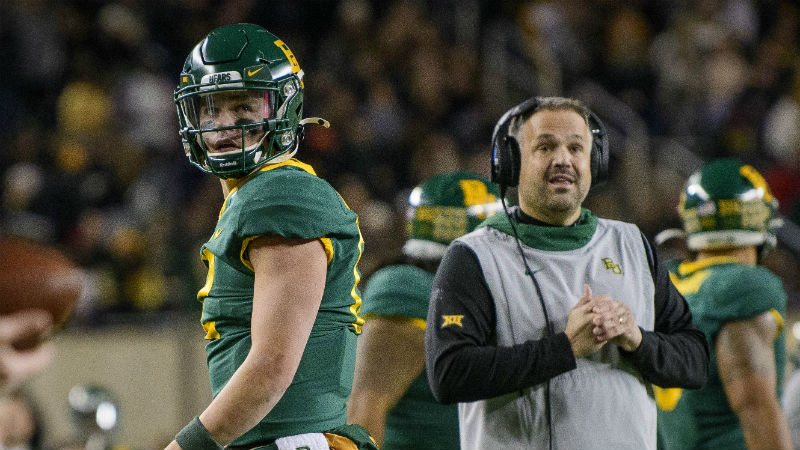 I love Matt Rhule and what he's doing with this program in Waco. He's also fantastic against the spread as an underdog and he should have this troops fired up for this one but I think OU can create enough havoc against this Baylor offensive line to get enough stops while their efficient offense should glide up and down the field with ease.
As I said before, the line is about right to me but this game should feature plenty of points which makes it an intriguing live betting game. If we see a slow start and this total comes down I may hop on a live over.
Or if Baylor gets off to a hot start, I may hop on OU live, but it's a pregame pass for me. Follow along in the app. — Stuckey
Miller: Baylor Still Overrated
Matt Rhule has Baylor undefeated, but the Bears aren't getting the respect that you'd expect from the College Football Playoff committee. I believe the Bears are actually overrated at No. 13 in the College Football Playoff Rankings.
Oklahoma is known for its offense and for good reason. The Sooners rank first or second in yards per play, points per play, success rate, explosiveness, and offensive efficiency. This is truly the best offense in the entire country.
On the other side, Baylor's defense has done all you could ask of them this year, as they rank in the top-15 in all but one of the major statistics that I use to cap games. While they don't give up the big explosive passes, Baylor ranks just 97th in passing success rate.
That means Oklahoma is going to be able to move the ball in smaller chunks all the way down the field. This bend-don't-break style of defense has worked so far this season, but I believe it'll catch up to Baylor this weekend.
Oklahoma's defense has struggled quite a bit but it's still improved over last year. It looks like a typical, Alex Grinch defense as they give up a ton of explosive plays, but rank 24th in Havoc. While Baylor tries to keep everything in front of them and hopes the offense will eventually make a mistake, Oklahoma looks to force turnovers at the cost of some big plays.
Baylor's offense is certainly set up to take advantage of the big plays available to them, but they're 96th in Havoc allowed. With the styles of these two units, there's a ton of variance on potential outcomes when Baylor has the ball.
I make Oklahoma about an 11-point favorite on the road in Waco on Saturday so there isn't a ton of value in the number. The reason I'm heavily invested in the Sooners is simply the eye test from what I've seen out of Baylor the last few weeks in narrow wins against much worse competition.
This team is going to slip up soon and I believe Jalen Hurts and Oklahoma are primed to blow them out. — Kyle Miller
Pick: Oklahoma -10.5
How would you rate this article?