College Football Week 4 Betting Odds & Picks: LSU and Alabama Start Their SEC Journeys (Saturday, Sept. 26)
Credit:
Nick Saban has come under fire playing Tua Tagovailoa against Mississippi State. Butch Dill, USA Today Sports.
Collin Wilson breaks down his 4 favorite betting picks for Saturday's college football slate, starting with Florida vs. Georgia kicking off at noon ET.
It didn't take long for Collin to jump on SEC action in the conference's first week of play -- 3 of his favorite picks of the weekend come from SEC matchups.
Check out his full breakdown for each of his four favorite Saturday betting positions below, including his picks for some of the slate's most highly-bet games.
As I have heard many times over the past 28 years in my travel to bowl games and NCAA regionals, this week is "SEC, SEC, SEC". People that live outside of SEC territory or did not attend school in the South may not realize that college football is not just a game: It is a lifestyle.
Every team will be thrust into fmeaningful conference play during Week 4, and we will finally get answers to big mysteries on LSU, Mississippi State and Ole Miss.
COVID-19 has been a factor with almost every single FBS team to date. As of this writing, four games have been canceled on the slate. Houston football may never actually play a game this season as the COVID-19 roulette wheel continues to land on the Cougars. There are missing pieces on most depth charts, but which players are out due to viral infection vs. preventative contact tracing remains to be seen.
Our Week 3 picks continued to stay in our beloved green dot city on the Action App. Now, we welcome the SEC to the party in Week 4.
Here's a quick rundown of my four favorite betting spots on Saturday's slate of games:
12:00 p.m. ET | Florida at Ole Miss
3:30 p.m. ET | Mississippi State at LSU
7:00 p.m. ET | Alabama at Missouri
10:15 p.m. ET | Troy at BYU
---
Check out the Action Network Power Ratings for all Week 3 games and follow me on the Action App for the latest updates.
---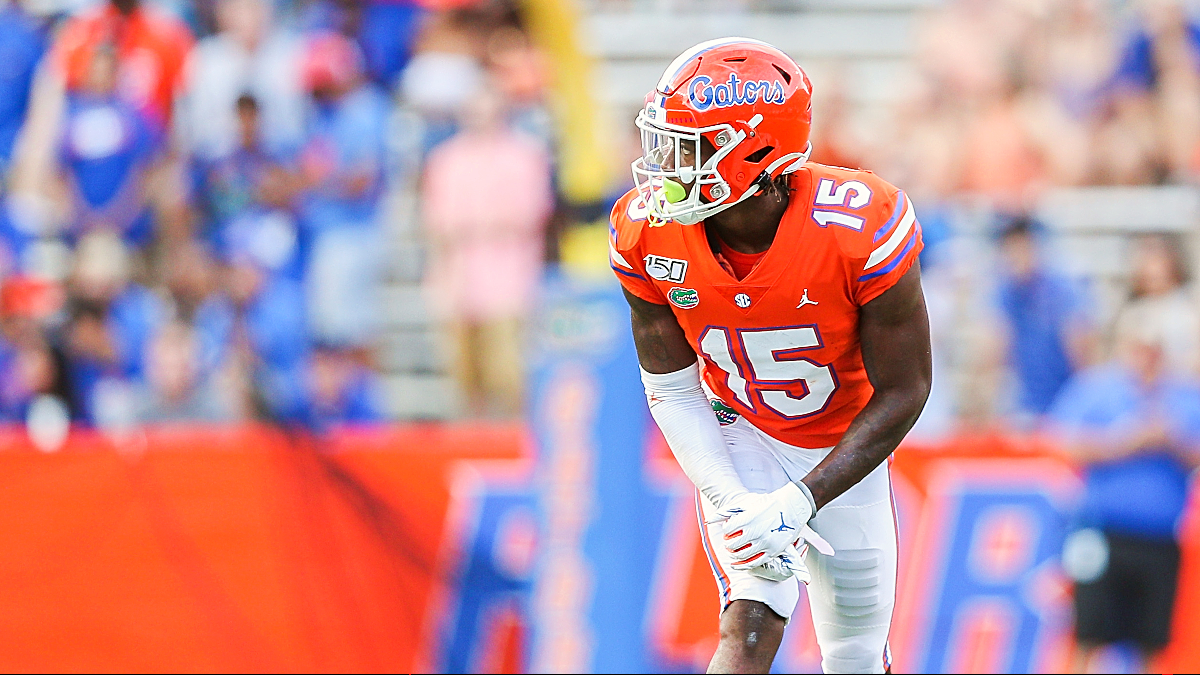 ---
Florida at Ole Miss Odds
| | |
| --- | --- |
| Florida Odds | -13.5 [BET NOW] |
| Ole Miss Odds | +13.5 [BET NOW] |
| Over/Under | 57 [BET NOW] |
| Time | 12:00 p.m. ET |
| TV | ESPN |
---
Odds updated early Friday morning and via DraftKings. Get up to a $1,000 sign-up bonus at DraftKings today or see more offers and reviews for the best online sportsbooks.
---
Predicting how Lane Kiffin calls a game as an SEC head coach may be the biggest wild card of the weekend. Florida Atlantic ran exclusively out of 11 and 12 personnel with an even distribution between the run and pass. Now, Kiffin is handed two quarterbacks with very different skill sets in Matt Corral and John Rhys Plumlee.
Corral has plenty of history with Florida and Dan Mullen after being a previous commit to the Gators. The Long Beach native was sacked 13 times in 72 drop backs last season but won the starting job after the most recent Rebels scrimmage. Winning the job does not guarantee Corral all the snaps, as the speed of Plumlee should have him under center, in the slot, or anywhere he can turn on the jets.
The biggest question is if Todd Grantham's defense will be ready for the multiple looks from Ole Miss. The Gators return 67% of a defense that was 21st in success rate during 2019. Primarily a 3-3-5 defense, Florida has been known to blitz often from multiple looks.
Grantham has had multiple stops in a defensive role for SEC programs since 2010, so he's no stranger to Kiffin's play-calling.

The Ole Miss offense should continue to be innovative, explosive and sometimes stalled in moving the chains. As for the Florida offense, Kyle Trask is back under center behind an experienced offensive line that struggled with pressure.
Trask had a -13 differential in big-time throws versus turnover-worthy throws, per Pro Football Focus. Regression should come for Trask's turnover ratio, but Ole Miss may not be the defense to force the issue. This is the first game for the two-headed defensive coordinator role between Chris Partridge and DJ Durkin.
This game gets a Jefferson Pilot timeslot as a number of storylines go down. COVID-19 has affected each team to varying degrees: The Gators have reported three cases and the Rebels have reported 27 players who have missed a scrimmage this month alone. Trask will work against a secondary that gave up more 10-yard passing plays than any defense in the country in 2019.
This bet is against a Florida offensive line that has failed to protect Trask. With a projection under two touchdowns, grab Ole Miss at +14 if or when it pops and pray that the Rebels' nearly inevitable list of COVID-19-related inactives does not include key line-movers.
The Bet: Ole Miss +14
[Bet Ole Miss to cover against the spread now at DraftKings and get a $1,000 bonus, including a $500 risk-free bet]
---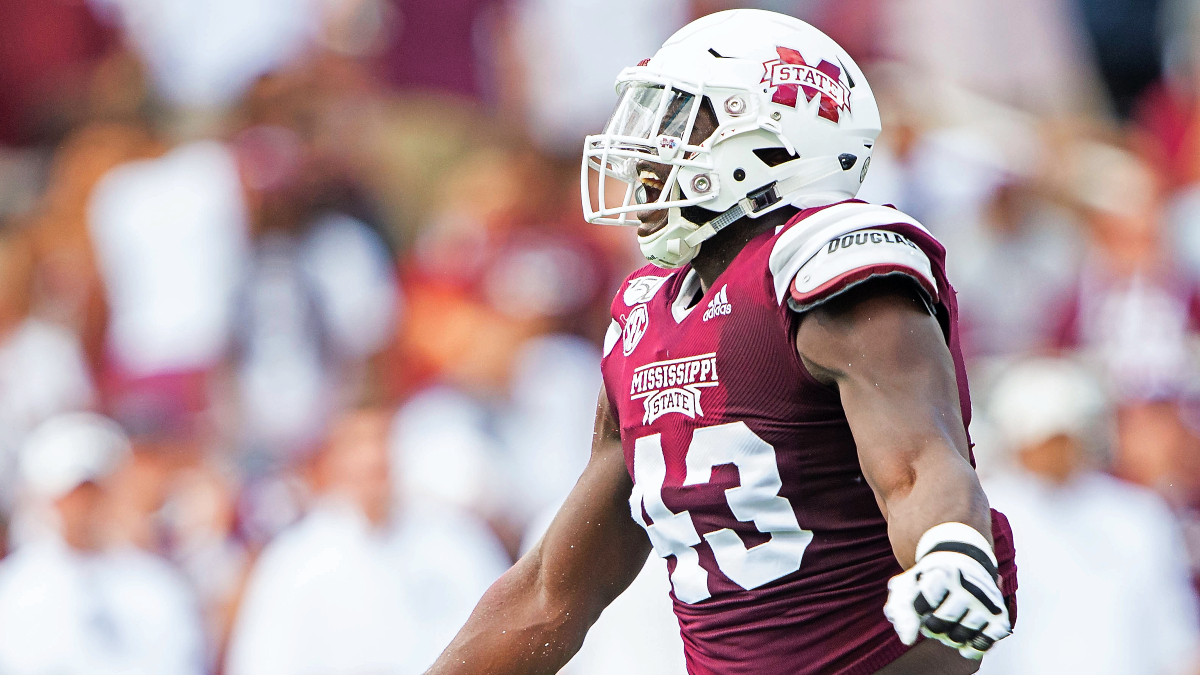 ---
LSU vs. Mississippi State Odds
| | |
| --- | --- |
| LSU Odds | -16.5 [BET NOW] |
| Mississippi State Odds | +16.5 [BET NOW] |
| Over/Under | 57 [BET NOW] |
| Time | 3:30 p.m. ET |
| TV | CBS |
---
Odds updated early Friday morning and via BetMGM. Get an INSTANT $500 deposit match at BetMGM today or see more offers and reviews for the best online sportsbooks.
---
There may not be a game on the slate with more unknowns than Mississippi State at LSU. Fresh off a national championship, the Tigers lose a plethora of players and a handful of coaches. Dave Aranda departs for Baylor with his shoes being filled by former defensive coordinator Bo Pelini.
There may not be much of a schematic change on defense, but new passing game coordinator Scott Linehan takes over for Joe Brady. On top of that, quarterback Myles Brennan leads a cast of faces looking to replace the national championship two-deep.
The changes do not stop just with the Tigers. The Mississippi State Bulldogs will switch from a 52% rush-dominant offense in 11 personnel to a Washington State model that rushed 18% of the time in 10 personnel.
There could not be a bigger contrast in what the returning Mississippi State offensive players had schematically in 2019 compared to what the game plan will be under Mike Leach on Saturday. On top of those changes, KJ Costello transfers from Stanford and an offense that ran only two plays in 10 personnel the entire season.
---
From a defensive standpoint, Zach Arnett joins Mississippi State as the defensive coordinator after serving in the same role at San Diego State. Arnett has been with the Aztecs since 2011, so it's safe to assume that the Bulldogs will be running the 3-3-5 in the vision of Rocky Long. Arnett acknowledges this is a change for a defense that ran exclusively in the 4-2-5 last season.
Betting Analysis & Pick
When you mix all of these ingredients in place, there may be a betting angle on both the side and the total. Myles Brennan is known to have an arm that can get it down the field in a spread attack. But one element the new quarterback may lack is Joe Burrow's ability to take off and avoid pressure.
Without Burrow and Clyde Edwards-Helaire, expect LSU to leave the run-dominant 21 personnel in favor of more 11 personnel — from which the Tigers threw the ball at a 62% clip last season.
---

---
In combination with a Mike Leach offense, the clock may stop multiple times for incompletions or moving the chains. A higher number of plays per game would get over the number with a bit of success in opponent territory.
Betting on a team with new schemes and coaches on both sides of the ball is generally not a profitable bet. Nevertheless, this matchup features a sufficient number of substantive changes to both teams' schematic game plans that it justifies the action. So, we'll back LSU and the over in this contest.
The Bet: Over 57; LSU -16.5 or better
[Bet the LSU point-spread now at BetMGM and get an INSTANT $500 deposit match.]
---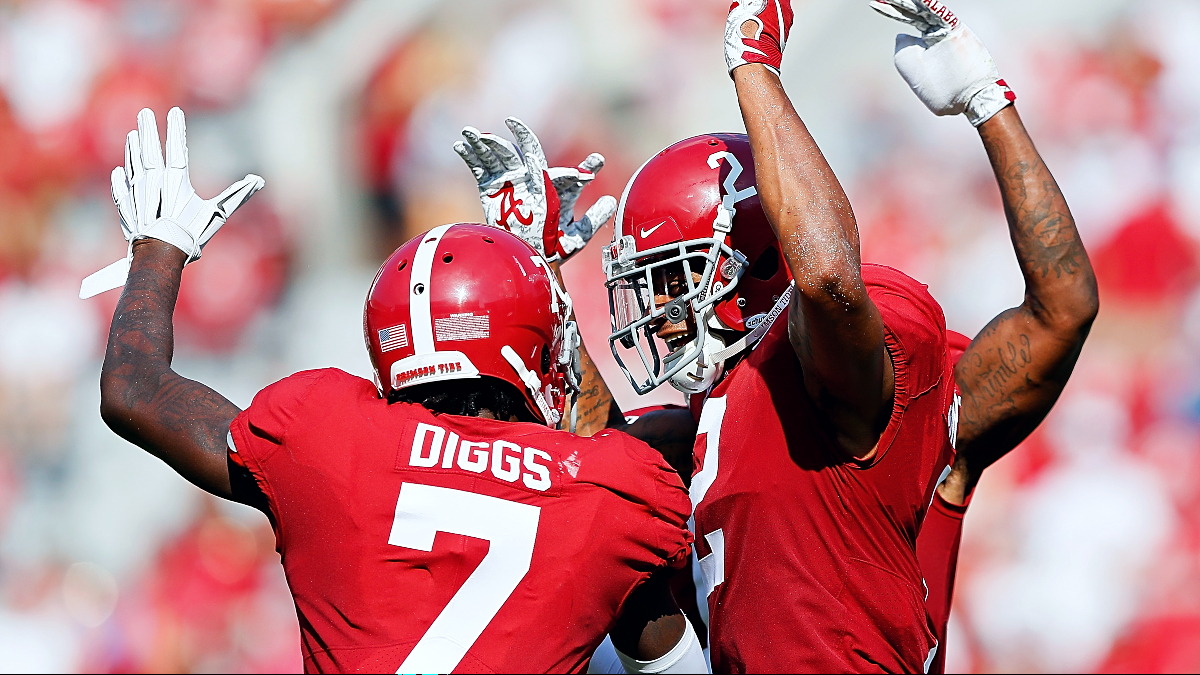 ---
Alabama at Missouri Odds
| | |
| --- | --- |
| Alabama Odds | -27.5 [BET NOW] |
| Missouri Odds | +27.5 [BET NOW] |
| Over/Under | 56 [BET NOW] |
| Time | 7:00 p.m. ET |
| TV | ESPN |
---
Odds updated early Friday morning and via FanDuel. Get up to a $1,000 risk-free bet at FanDuel today or see more offers and reviews for the best online sportsbooks.
---
New Regime at Mizzou
Missouri will be under new head coach Eliah Drinkwitz, who has no issue sharing COVID-19 results. One of the best decisions Drinkwitz made was to retain defensive coordinator Ryan Walters, who is largely regarded as a rising star under former head coach Barry Odom.
Missouri finished third in defensive success rate last season, but the Tigers failed to deliver high marks in havoc and containing explosiveness. The toughest task will be taking on an Alabama team that missed the College Football Playoff last season.
---
Evaluating Mac Jones, Alabama's Next Man Up at QB
Mac Jones returns at quarterback for Alabama following Tua Tagovailoa's departure from the program. A deeper dive on "Tua's backup" reveals that Jones was actually more than efficient under center for the Tide: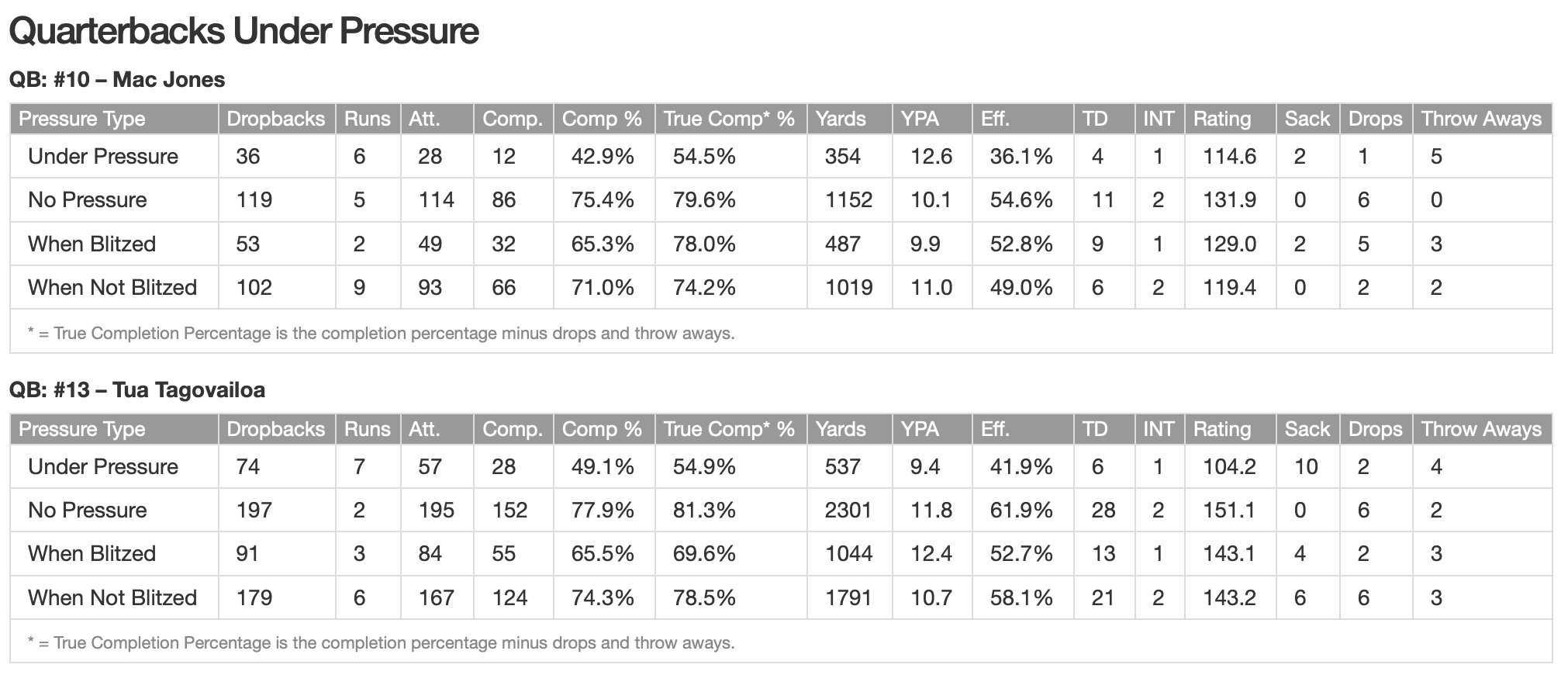 There was not a drop in efficiency when the blitz was aimed at Jones — a more impressive feat when you consider the bulk of his playing time came against Alabama's toughest opponents. Jones had a 62% completion rate over 52 pass attempts that went longer than 10 yards. Jaylen Waddle and a host of other Crimson Tide targets should feast during the 2020 season.
Alabama returns 60% of a defense that finished 37th in success rate. Those aren't necessarily the numbers that Nick Saban and defensive coordinator Pete Golding are looking for, but this will be the first time in Saban's tenure that the Crimson Tide enter the season without injury. Golding has led havoc-minded defenses since his days at Southern Miss and UTSA.
---
Betting Analysis & Pick
As for the number, our projections are well below the market number — and for good reason. This is a terrible matchup for Missouri, which is installing fresh schemes under new coaches. Having COVID-19 breakouts through camp and a five-way battle at quarterback have not helped the perception of this team either.
The one worry with Alabama covering this inflated number is the offense going vanilla with Texas A&M on deck. The first half is also inflated, but one of the sharpest plays on Alabama football over the last several years is to play the first half spread in these four-touchdown contests. Nick Saban has been very profitable in first-half double-digit spreads up to three touchdowns since 2012:

The Bet: Alabama -15.5 First Half
[Bet Alabama to cover the first half point spread now at FanDuel and get a $1,000 risk-free bet.]
---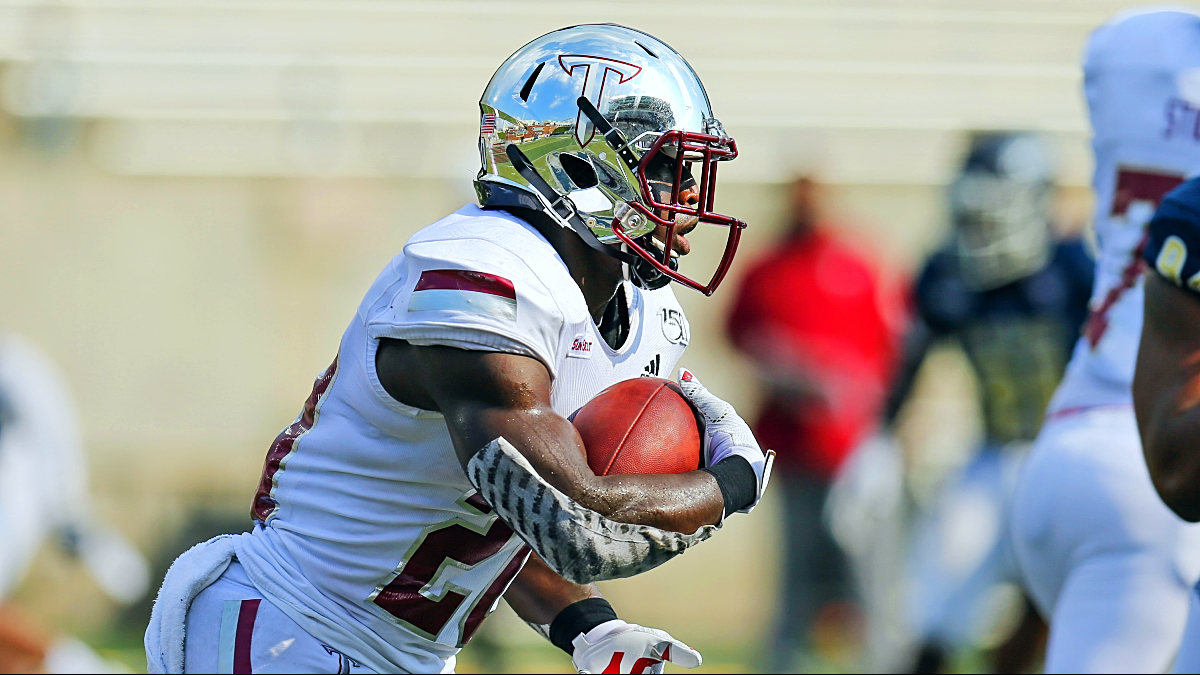 ---
BYU vs. Troy Odds
---
Odds as of early Friday morning and via DraftKings. Get up to a $1,000 sign-up bonus at DraftKings today or see more offers and reviews for the best online sportsbooks.
---
The biggest news out of Provo this week was quarterback Zach Wilson's bout with COVID-19 after a team gambling night. Thankfully, the Cougars signal-caller indicated the event — and subsequent infection — occurred some time ago, and there are no current clusters in the Cougars program.
Both Teams Are Still Untested
Frankly, we still don't know very much about the fiber of either of these teams.  BYU has played just one game: A Labor Day evening romp of Navy. The Cougars posted an explosive drive rate of 41% with an overall success rate of 72%.
Troy had similar success in its first game of the season against Middle Tennessee. The Trojans established an uptempo pace of 23 seconds per play while posting an overall success rate of 54%. The Troy defense limited the Blue Raiders to just one rush over 12 yards and two passes over 15 yards.
While those are decent openers from each team, there are a few statistics that dictate a play on the last game of Saturday evening.
---
Pace is The Key Handicap For Saturday Night
BYU runs its offense at a snail's pace. The Cougars averaged 31 seconds per play against Navy. That's on par for the BYU offense, which has finished outside the top 100 FBS programs in average plays per game in each of the past three seasons.
The Cougars are a run-heavy team, rolling with 49 rushing plays and only 12 passing plays against Navy. The absence of BYU star tight end Matt Bushman further discourages the Cougars from airing it out too often. Bushman suffered a torn Achilles tendon during a routing practice on Aug. 31.
---
Troy's Uptempo Style is Disguising its Flaws
A closer look at the advanced box score for Troy's win over Middle Tennessee reveals a lack of explosiveness. The Trojans had an explosive drive percentage of 7.7%, well below the national average of 13%. Troy only converted one pass and one rush for 20 yards or more.
Even in a 47-14 blowout, Troy only achieved a milquetoast 53.8% success rate, just above the national average for FBS teams. Although Troy runs plays at a faster pace, this is not a team that excels at busting open big plays or nickel-and-diming its way down the field. Troy only distinguishes itself by being particularly quick resetting at the line of scrimmage.
---
Check out our new NCAAF PRO Report, where we highlight factors that provide betting edges — like large wagers, historically profitable betting systems, model projections and expert picks — that when combined with sharp money can powerfully detail the smartest bets on a given slate.
---
Betting Analysis & Pick
If BYU elects to grind the game out in the trenches against a Sun Belt team, the pace could be even slower than expected. Both teams scored nearly 120 combined points in their initial games of the season, but those high scores are a mirage disguising BYU's painfully slow tempo and Troy's offensive insufficiencies.
It won't be pretty, but the under is definitely the look for Saturday's nightcap.
The Bet: Under 61
[Bet the BYU-Troy under now at DraftKings and get a $1,000 bonus, including a $500 risk-free bet]
How would you rate this article?