Saturday College Football Week 2 Betting Odds & Picks: Duke vs. Notre Dame, Clemson vs. Wake Forest, More (Sept. 12)
Credit:
John Byrum/Icon Sportswire via Getty Images. Pictured: Clemson football team.
Collin Wilson breaks down his 5 favorite betting picks for Saturday's college football slate, starting with Syracuse-UNC and Iowa State-Louisiana at 12 p.m. ET.
The Ragin' Cajuns fought tooth and nail against Mississippi State in their 2019 Week 1 opener. Should we expect more of the same from Louisiana against Iowa State on Saturday?
Read about this game and more below, where you'll find odds, analysis and picks for Willson's best matchups to bet on Saturday.
The unknowns continue to mount in the world of college football, resulting in instability in the gambling market. Each game description should start with a warning, "pending a non-COVID-19 disruption". Week 2 was no different with the cancellation of Louisiana Tech vs. Baylor and Tulsa vs. Oklahoma State due to COVID-19 outbreaks.
Even games that are being played have become influenced by the current pandemic. Navy was flattened against BYU because of precautions during training camp that limited contact.
Oklahoma coach Lincoln Riley made a statement that any COVID-19-related news from Norman would not be made public to maintain a competitive advantage. This added yet another layer of complexity to handicapping college football and must be factored into projections for the remainder of the season.
Now, let's break down my five favorite bets for games that have "passed the scheduling test" for Week 2:
---
Syracuse at North Carolina
| | |
| --- | --- |
| Syracuse Odds | +22.5 [BET NOW] |
| North Carolina Odds | -22.5 [BET NOW] |
| Over/Under | 65.5 [BET NOW] |
| Time | 12 p.m. ET |
| TV | ACC Network |
---
Odds as of Friday at 1:00 a.m. ET and via DraftKings. Get up to a $1,000 sign-up bonus at DraftKings today or see more offers and reviews for the best online sportsbooks.
---
The buzz around North Carolina football is not just white noise. It's backed up by quantifiable data that hints at UNC's potential to disrupt the top of the ACC.
The Tar Heels return 87% of an offense that ranked 16th in passing Expected Points Added (EPA) last season. Head coach Mack Brown has a future Heisman Trophy contender in quarterback Sam Howell and an arsenal of explosive receivers led by Dyami Brown and Dazz Newsome.
Offensive coordinator Phil Longo has long been known for his explosive offenses. Prior to joining the Tar Heels last season, Longo was the architect behind Ole Miss' 2018 aerial assault featuring future NFL wide receivers in A.J. Brown and D.K. Metcalf.
Now, North Carolina has the dynamic athletes to maximize Longo's scheme and play-calling. The Tar Heels' elite skill position players complement Longo's explosive offensive philosophy, forming a deadly combination that can expose any secondary.
North Carolina's practice reports contain everything you would want to see in order to back a college football team in its first game of the COVID-19 era:
A hungry and experienced front-seven that ranked top-45 in stuff rate and power success in 2019.
Storm Duck and LaDaeson DeAndre Hollins in the secondary getting reps against the best receivers in college football.
And perhaps most importantly, zero reports of positive COVID-19 tests among the team's roster of players. That's especially remarkable for a school whose campus has been ravaged by the pandemic.
The same cannot be said for Syracuse, which held only three spring practices as players refused to practice in early August. The Orange returns just 61% of its production on offense and ranked 114th in success rate last season.
Syracuse also ranked among the bottom-five FBS teams in sack rate allowed and ranked 103rd in havoc allowed. Four offensive lineman return with at least eight career starts, and it is imperative that those experienced linemen improve in pass protection. Last year, quarterback Tommy Devito completed 71% of his passes from a clean pocket, but his completion rate dropped to 31% when under pressure.
Still, the biggest handicap in this game may be the Orange's defensive scheme change. Tony White takes over as defensive coordinator and will implement a 3-3-5 scheme. That is a huge transition for Syracuse's returning defenders, who contributed 42% of the Orange's 2019 production and primarily ran a 4-2-5 scheme, per Sport Source Analytics.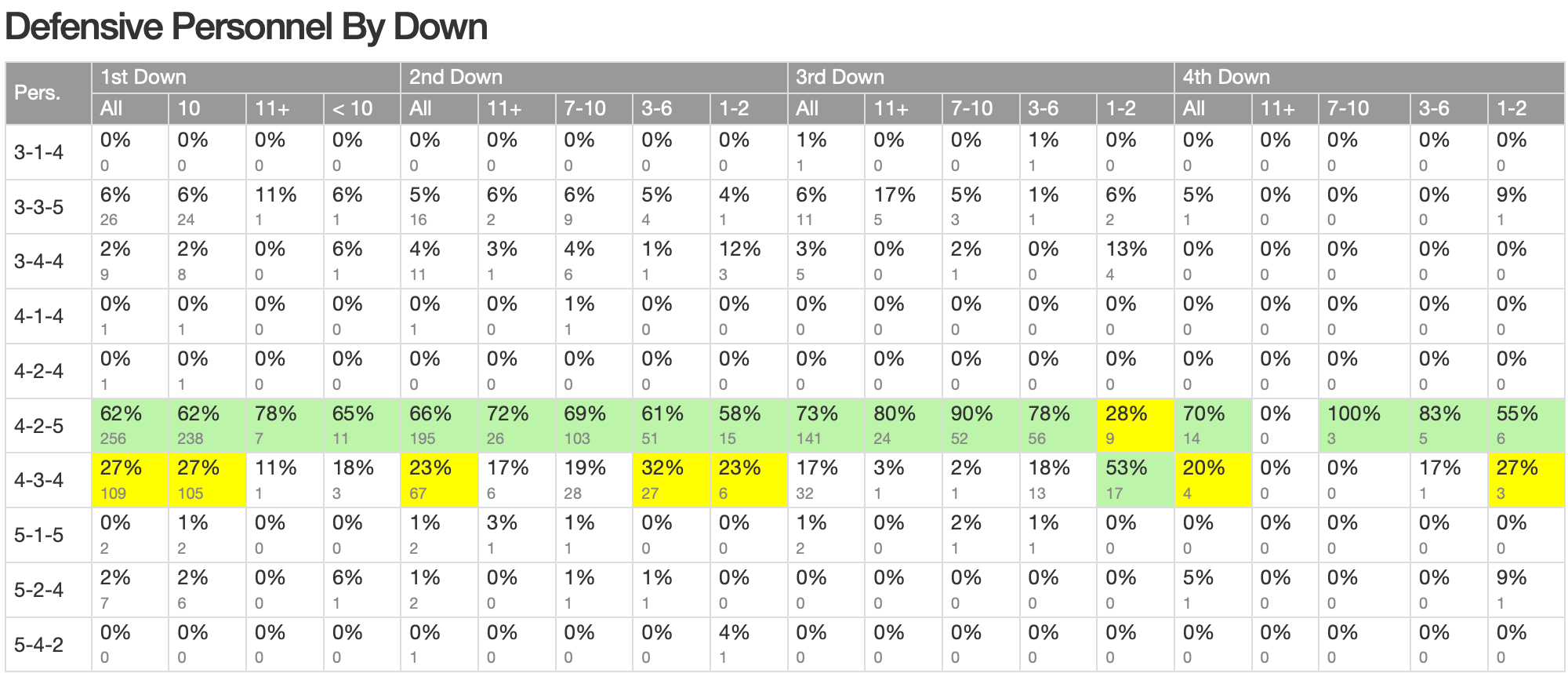 The Action Network Power Ratings project the Tar Heels as 19.5-point favorites against Syracuse. However, the Orange's defensive scheme change — potentially hampered by limited practice opportunities — puts Syracuse at a significant disadvantage.
While I plan to have a half-unit on North Carolina pre-kick, keep in mind that Sam Howell is a fourth-quarter behemoth. It would not be surprising if the Tar Heels' stud sophomore needs a few drives against the 3-3-5 before making the proper reads to his explosive targets. Look for a Live in-game wager on North Carolina if the offense stalls early in the contest.
The Bet: North Carolina -22.5
[Bet North Carolina -22.5 now at DraftKings and get a $1,000 sign-up bonus.]
---
Louisiana at Iowa State
| | |
| --- | --- |
| Louisiana Odds | +11.5 [BET NOW] |
| Iowa State Odds | -11.5 [BET NOW] |
| Over/Under | 57 [BET NOW] |
| Time | 12 p.m. ET |
| TV | ESPN |
---
Odds as of Friday at 1:00 a.m. ET and via PointsBet, where you can get $250 FREE instantly after signing up AND your bets automatically sync to the Action app. Learn more about BetSync here.
---
The potent Louisiana offense lined up against a 3-3-5 defense only once last year, torching Texas State 31-3. The Ragin' Cajuns averaged 6.8 yards per play and posted a phenomenal 27% Explosive Drive rate — 15% higher than the FBS average.
Louisiana disposed of the Bobcats without a sweat.
No one will mistake the 2019 Bobcats defense for Iowa State's 2020 squad. Nonetheless, Louisiana head coach Billy Napier clearly had no issues preparing for the 3-3-5 scheme, which is the same base formation that Cyclones defensive coordinator Jon Heacock employs.
Iowa State's defense returns 73% of its production from 2019, when the Cyclones ranked 71st in success rate. They will miss last season's top tackler, Marcel Spears Jr., but the Cyclones retain a bevy of linebackers and defensive backs with ample experience to offset Spears' departure.
On the strength of that experience and depth, the Cylcones defense ranked 17th in power success rate and 27th in stuff rate last season — two categories crucial to stopping a rush attack like Louisiana's.
The Ragin' Cajuns are no slouch on defense either, but the two real stars of this game are at the quarterback position.
Louisiana's Levi Lewis has stuffed box scores for years, excelling in both success rate and explosiveness. Meanwhile, Iowa State's Brock Purdy has been mentioned as a dark horse Heisman Trophy candidate. Purdy's 2020 Heisman Trophy odds are currently listed at 50-to-1 at DraftKings Sportsbook.
Both offenses excel at preventing opposing defenses from wreaking havoc. Last year, Iowa State and Louisiana ranked top 10 in fewest tackles for loss allowed and top 17 in fewest sacks allowed. The Cyclones and Ragin' Cajuns return the majority of their offensive linemen, which should afford both star QBs clean pockets and ample running room on Saturday.
On the flip side, each defense ranked top 30 at limiting pass explosiveness. The defenses are build to stop explosive plays through the air.
Rather than force the issue in the passing game, Iowa State may instead seek to exploit Louisiana's undersized defensive front via the running game. Rushing is not the Cyclones' premier attribute on offense, but it's reasonable to expect head coach Matt Campbell to establish the run against a Sun Belt defense.
That line of reasoning lends value to the under, which is further supported by each team's pace data. Iowa State and Louisiana achieved middling rankings in seconds per play in 2019.
Look for long, sustained drives to chew up clock and keep the final score under the game total.
The Bet: Under 57
[Bet Iowa State-Louisiana now at PointsBet and get $250 FREE.]
Link your PointsBet and Action accounts so your Iowa State-Louisiana bets automatically sync over to the app.
---
Duke at Notre Dame
| | |
| --- | --- |
| Duke Odds | +20.5 [BET NOW] |
| Notre Dame Odds | -20.5 [BET NOW] |
| Over/Under | 54.5 [BET NOW] |
| Time | 2:30 p.m. ET |
| TV | NBC |
---
Odds as of Friday at 1:00 a.m. ET and via BetMGM. Get an INSTANT $500 deposit match at BetMGM today or see more offers and reviews for the best online sportsbooks.
---
Although David Cutcliffe and Brian Kelly are two of the longest-tenured coaches in the FBS, the theme of this game will be 'new.'
Notre Dame's Tommy Rees was promoted from interim offensive coordinator to the full-time role after a dominating victory over Iowa State in the Camping World Bowl. Reese's one-game sample as the Fighting Irish's interim offensive play-caller led to fewer plays and a heavier dose of rush attempts than Notre Dame's 2019 averages under Reese's predecessor, Chip Long.
Now, he will be responsible for orchestrating a 2020 game plan that may lean more heavily on the running game. Quarterback Ian Book will have a fresh set of receiving targets this season following the departures of Chase Claypool, Cole Kmet and Chris Finke via graduation or the NFL Draft. Those three weapons accounted for 242 of Ian Book's 2019 passing targets and 23 receiving touchdowns.
On the opposing sideline, Duke head coach David Cutcliffe will call offensive plays for the first time since 2007. The Blue Devils will look to re-establish the run with a new offensive line coach after passing on 54% of their plays out of 11 personnel in 2019.
Duke must also replace redshirt senior quarterback and 2019 team captain Quentin Harris, who started all 12 games last season. Thankfully for the Blue Devils, they didn't have to search very far to find Harris' replacement.
Quarterback Chase Brice transferred from Clemson in February, promptly beating out Gunnar Holmberg and Chris Katrenick for Week 1 starting duties. You may remember Rice for saving the Clemson Tigers' season in 2018:
In addition to Brice, Duke also welcomes three offensive linemen, a few defensive starters, a new kicker and a new punter via the transfer portal.
The resulting collection of returning Blue Devils and miscellaneous transfers must now contend against an Irish defense that ranked 28th in success rate in 2019.
Given the sheer magnitude of personnel turnover for both teams, plus the installation of new offensive play-callers and questions at the skill positions, I expect some growing pains for both offenses.  As a result, my preferred position is on the under for this matchup.
The Bet: Under 54.5
[Bet Duke-Notre Dame now at BetMGM and get an INSTANT $500 deposit match.]
---
Clemson at Wake Forest
| | |
| --- | --- |
| Clemson Odds | -33.5 [BET NOW] |
| Wake Forest Odds | +33.5 [BET NOW] |
| Over/Under | 54.5 [BET NOW] |
| Time | 7:30 p.m. ET |
| TV | ABC |
---
Odds as of Friday at 1:00 a.m. ET and via PointsBet, where you can get $250 FREE instantly after signing up AND your bets automatically sync to the Action app. Learn more about BetSync here.
---
This series has been flat-out ugly over the past two years, as Clemson has outscored Wake Forest 115-6 over the past eight quarters of play.
Following Wake Forest's 63-6 loss in 2018, head coach Dave Clawson stated that Clemson ran base plays with its second-string offense and still ran up the score.
Saturday's game has a chance to turn out similarly. The Demon Deacons' program is managing players that have tested positive for COVID-19, and contact tracing procedures will keep unknown players out of this game.
While Clemson can plug and play a fresh class of blue-chip recruits, Wake Forest will be looking for answers on an offense that returns only 32% of its 2019 production. The Demon Deacons' biggest names are no longer with the team, including quarterback Jamie Newman and  wide receivers Sage Surratt, Kendall Hinton and Scotty Washington.
The Deacs will be searching for an offensive identity against Brett Venables' defense, which consistently ranks among the nation's top units in success rate and havoc.
However, Clemson will be looking for offensive answers of its own. Heisman hopeful Trevor Lawrence will have four fresh offensive linemen protecting him this season. The Tigers' offensive line features future NFL Draft first-rounder Jackson Carman, but there are 18 other Clemson offensive linemen with zero career starts and little playing experience.
That lack of familiarity and continuity may also affect the passing game, as Lawrence will be without his top two receivers in Tee Higgins and Justyn Ross. Wide receiver Frank Ladson Jr. reports the most third-down targets among Clemson's returning wide receiving corps, but he only logged eight all season in 2019.
The easy wager is to look at the cumulative score from the past two seasons and assume that Clemson will roll. That may happen, but only after Lawrence establishes a strong rapport with his new offensive linemen and inexperienced receiving targets.
Clemson's offensive learning curve may not be especially steep, but it should be enough for a talented Wake Forest front-seven to get some pressure early and keep the Lamborghini in third gear through the first half.
The Bet: First Half Under 33
[Bet Clemson-Wake Forest now at PointsBet and get $250 FREE.]
---
UTEP at Texas
| | |
| --- | --- |
| UTEP Odds | +42.5 [BET NOW] |
| Texas Odds | -42.5 [BET NOW] |
| Over/Under | 58.5 [BET NOW] |
| Time | 8 p.m. ET |
| TV | Longhorn Network |
---
Odds as of Friday at 1:00 a.m. ET and via FanDuel. Get up to a $1,000 risk-free bet at FanDuel today or see more offers and reviews for the best online sportsbooks.
---
UTEP came back from a double-digit deficit to beat Stephen F. Austin in Week 1. The victory masked a horrific box score that included zero explosive drives (any drive that averages 10 or more yards per play) and an abysmally low 32% success rate on standard downs.
The Miners narrowly escaped defeat against an FCS opponent, due primarily to their +189 hidden yards differential — a metric that captures head-to-head punt and kickoff yardage. But, by measures of success rate and pace, UTEP was the worst of all the FBS teams in Week 1.
Texas will start a season with new direction after hiring new coordinators on both sides of the ball. Tom Herman described the offense as "tempo wrinkle" and plans to use personnel packages unfamiliar to the Longhorns' returning players. Expect plenty of bubble screens and downfield passing, as Stephen F. Austin had success against the Miners in similar formations.
On the defensive side of the ball, Chris Ash is a home-run hire as the Longhorns' new defensive coordinator. Although Ash's head coaching stint did not work at Rutgers, his previous coordinator stops at Wisconsin, Arkansas and Ohio State provided havoc-minded results.
Texas returns 82% of its defensive production that limited Utah to zero explosive drives in the Alamo Bowl. So, Ash should have plenty of experience and talent at his disposal to jump-start a new era for the Texas defense.
There are two main takeaways from the Longhorns' offseason changes and UTEP's sluggish Week 1:
The Texas defense should show significant improvement in success rate and havoc.
The Miners may have trouble getting any offensive points on the board.
Practice reports indicate that Herman may heavily utilize two-tight end sets, so this may be a grind of a game that stays under the total.
The Bet: Under 58.5
[Bet Texas-UTEP now at FanDuel and get a $1,000 risk-free bet.]
How would you rate this article?