Using Week 2 to Find Second-Half Betting Value in Week 1
Credit:
Jim Cowsert-USA TODAY Sports. Pictured: South Dakota State quarterback Taryn Christion
Second-half NCAA football betting value can be found by looking ahead to the following week's schedule.
I explain how to identify favorites that may take their foot off the gas in the second half.
From looking ahead to Week 2, I have come up with five specific games that offer value in Week 1.
I get it. You probably don't want to hear about Week 2 before the first full Saturday slate of 2018 has even kicked off. But there's always value in looking ahead in the schedule. It can help you identify not only potential situational angles, but also potential second-half wagers.
Let me explain.
My colleague Dan McGuire wrote a trend piece on how you should look for blowouts when betting NCAA football second-half lines. While I'm not the biggest trend player, I do pay attention when there is a satisfactory explanation as to why a particular trend is meaningful and not just noise (correlation does not imply causation).
Even when you identify a profitable trend, remember that oddsmakers could catch on and price it into future lines, thus rendering it obsolete. Identifying those situations is not always an easy task.
---
>> Sign up for The Action Network's daily newsletter to get the smartest NFL conversation delivered into your inbox each morning.
---
One approach I've had success with is taking McGuire's second-half underdog angle one step further: Every week, I circle a few large favorites that I think will take their foot off the pedal (sooner than usual) if they get a big second-half lead.
Why would a team do this?
Injury risk. A team that is reliant on a superstar or lacks depth at key positions may pull its starters abnormally early in certain situations.
Schedule and time of year. A team that has an important game the following week wants to limit injury risk. It also wants to avoid tipping its hand, which provides an incentive to either pull their starters or use a vanilla game plan.
This isn't an exact science. I consider other factors to come up with the final list as well, such as the fact that some teams have little drop-off between their first- and second-string quarterbacks.
Once I have my final list, this is my general rule of thumb:
If the circled favorite that I wanted to fade covers the first-half line, then I will consider placing a bet on the underdog for the second-half.
Any first-half observations I have made will factor into my final decision.
What's my point, you ask?
For the next few weeks, I will share a few teams on my final list and a few of my accompanying notes to see if any pique your interest.
It's difficult to share second-half thoughts in real time because second-half lines can move rapidly. As always, getting the best number is the most important thing you can do.
Here are five spots I have circled for today.
South Carolina 
Opponent: Coastal Carolina (+29)
Time: 12 p.m. ET on SECN
On Deck: Georgia
South Carolina begins SEC play next week at home against Georgia, and I'm sure head coach Will Muschamp doesn't want to go too deep into the playbook the week before the Dawgs come to town.
As a result, I think Muschamp will be even more conservative with a huge lead, especially after an injury-plagued 2017 season.
I will be betting Coastal +29 for 0.5 units and will look to add if the Chanticleers trail by 20-plus at the half.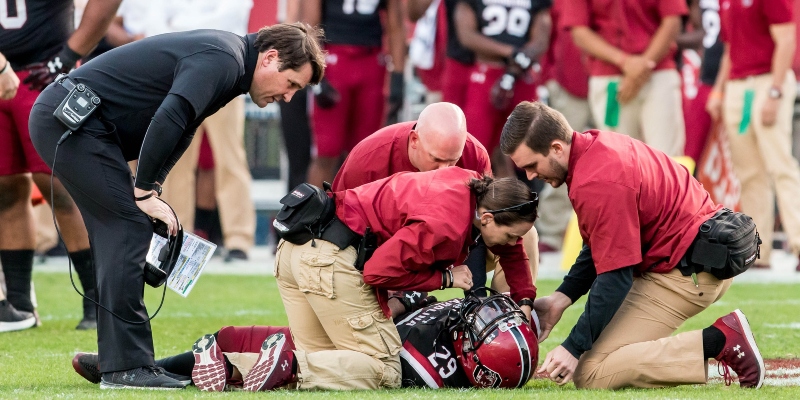 Pittsburgh
Opponent: Albany (+24)
Time: 3:30 p.m. ET on ACCN
On Deck: Penn State
Pitt will host in-state rival Penn State in primetime on national TV next Saturday, and I'm sure the players' minds are already drifting to that game. It's also likely that the coaching staff has already began to prepare for the Nittany Lions, so I expect Pitt to shut it down on offense in the second half if they have a large cushion.
Keep in mind that Pitt has previously struggled in season openers against FCS teams under head coach Pat Narduzzi. The Panthers needed overtime to beat Youngstown State last season and only won by eight points against that same Youngstown team three seasons ago.
Given Pitt's track record in these games, I plan on betting 0.5 units on Albany +24 and will potentially add a second-half play if the Great Danes trail by 14-plus at the half.
Southern California
Opponent: UNLV (+26)
Time: 4 p.m. ET on PACN
On Deck: at Stanford, at Texas
After its home opener against UNLV,  Stanford hits the road for a Pac-12 bout with Stanford and a rematch with Texas — and then a stretch of conference play.
I'm sure head coach Clay Helton will slam on the brakes at the first chance he gets in order to make sure no other players get banged up on what is already an injury-riddled team. He will especially want to ensure that freshman quarterback J.T. Daniels gets out of dodge safely.
It so, UNLV has a rushing attack that is explosive enough to score late. After trailing 44-7 at the half against Ohio State last season, the Rebels outscored the Buckeyes 14-10 in the second half.
I'm in on UNLV for a half-unit at +26 for the game and will look to play the Rebels second-half if they trail by 17-plus.
Iowa State
Opponent: South Dakota State (+14)
On Deck: at Iowa, Oklahona
Time: 8 p.m. ET
Head coach Matt Campbell has to be conflicted. On the one hand, he must be worried about his team looking ahead to next week's game with in-state rival Iowa. On the other hand, he probably doesn't want to show too much — especially considering the Cyclones play Oklahoma after Iowa.
If — and it's a big "if" — Iowa State can build a significant halftime lead, I expect Campbell to go conservative in the second half.
Don't sleep on the Jackrabbits, however. They are ranked No. 3 in the country at the FCS level and are led by Taryn Christion, an outstanding dual-threat quarterback.
Christion was under center when SDSU almost stunned TCU in the 2016 opener. He went 19-of-30 passing for 333 yards and three touchdowns in a 59-41 loss. (TCU led 45-41 with just a few minutes left before a fortunate bounce.)
I will bet the Jacks +14 for 0.5 unit and look to add if they're down double digits at the half.
Arizona State
Opponent: UTSA (+18)
Time: 10:30 p.m. ET on FS1
On Deck: Michigan State
The Sun Devils have an explosive offense that could easily give them a substantial lead by the third quarter. With Sparty coming to Tempe next weekend, I doubt new head coach Herm Edwards will keep his starters in any longer than needed, especially since the team cannot afford to lose quarterback Manny Wilkins.
With a new staff in town, ASU also has even more of an incentive to not show anything to Michigan State. Considering that the Sun Devils have depth issues and a porous defense, UTSA looks like a solid second-half wager.
I think Herm will have the Sun Devils fired up for this one out of the gates. I'm rolling with ASU for the first half and will look to come back on UTSA if trailing by 14-plus at the half.
"Sometimes, you play to win the game next week."