Week 10 College Football Futures: Is There Betting Value on Oklahoma State & Wisconsin?
Credit:
Adam Davis/Icon Sportswire via Getty Images. Pictured: Tay Martin.
Mike McNamara: Welcome to another week of us breaking down the College Football landscape from a futures perspective. What makes this week so intriguing is that it's the first week we have CFP Committee rankings at our disposal.
The Committee released its first Tuesday rankings this week, and many were outraged over certain decisions.
Alabama slotted in at No. 2 despite its loss to Texas A&M. Undefeated Cincinnati, which won at Notre Dame in October and has looked dominant, was placed in the No. 6 spot by the 13-member crew.
The fact that Cincinnati couldn't even crack the top five has many people doubting whether or not the Bearcats have any shot of making the playoff. Cincy doesn't have many more chances to add strong wins to its resume, so based on this early ranking, the Bearcats will need a lot of help down the stretch.
A few other things that jumped out at me — the Oklahoma Sooners came in at No. 8 despite being the only 9-0 team in the country. This probably won't matter in the long run, as the Sooners' final three games will decide their fate, but I thought winning was supposed to matter.
Three other choices that surprised me included Mississippi State at No. 17, Minnesota at No. 20, and Pittsburgh at No. 25 given all three teams have bad losses.
Now, let's dive into the teams that hold national title and conference championship value from a betting perspective.
---
Odds as of Wednesday afternoon and via WynnBET
---
National Championship Picture
Mike McNamara: I've talked all year about how once the middle of the season hits, the best way to find value in the market is to find a team at a big number that has a somewhat realistic path to make the playoff. Well, the Oklahoma State Cowboys check all of those boxes.
I've been higher on this team than most, going back to the preseason when I locked in its season win total over at 7.5. The Cowboys have been fantastic defensively throughout the year, and the offense is finally starting to click a little bit.
Let's take a look at Oklahoma State's remaining schedule:
at West Virginia
vs. TCU
at Texas Tech
vs. Oklahoma
I really believe this week's game in Morgantown will decide whether or not the Cowboys enter the Big 12 Championship at 11-1 with everything to play for.
West Virginia has notched two big victories in a row, including last week at home against Iowa State. The Mountaineers have been playing solid football and will present a stiff test against Mike Gundy's team this Saturday.
The middle games of the final four-game stretch look a lot easier now than they did at the beginning of the year.
In the last 14 days, Texas Tech and TCU have both parted ways with their head coaches. Both teams appear ready to enter the offseason and may not even reach bowl eligibility.
Lastly, if there was ever a time to get over the hump and go beat rival Oklahoma, it would be this year in Stillwater. I really like how the Cowboys defense matches up with Caleb Williams and company, and if the Pokes enter that game at 10-1, I fancy their chances.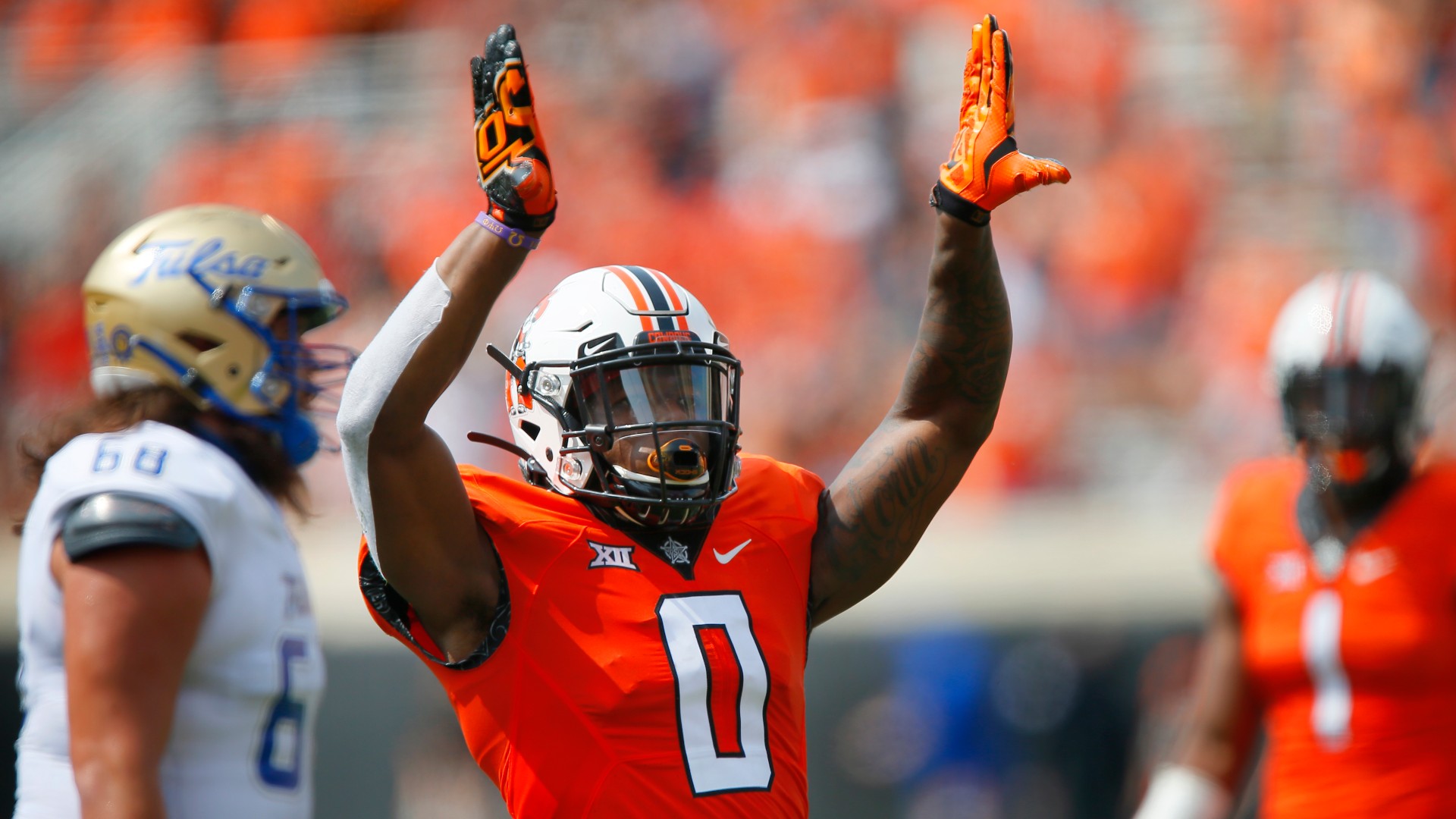 This is where it gets interesting.
If OSU can win out in the regular season and enter the Big 12 Championship game at 11-1, I believe there's a very high probability they would be in the playoff with a win at Jerry World. I think a 12-1 Big 12 champion would jump Cincinnati based on where the Committee has initially slotted the Bearcats.
As a result, the only scenario I see where a 12-1 Oklahoma State misses the playoff would be the following:
One of Ohio State, Michigan State, or Michigan running the table
Oregon winning out
Alabama defeating Georgia in the SEC Championship game
I'm willing to take my chances that all of those events don't happen, and in fact, I wouldn't be shocked in the slightest if Michigan State or Oregon gets upset this weekend.
Winning five consecutive games down the stretch will be difficult for the Cowboys, especially because their Big 12 Championship opponent would likely be Oklahoma again.
That said, I think this team is equipped to go do it.
Survive in Morgantown, handle business against two struggling teams, and then go take down your rival (possibly twice). That's the path, and if it's accomplished I see a greater than 90% chance the Cowboys are one of four teams in the CFP.
At 500-1 on WynnBET, that path is plenty realistic enough for me to be a buyer. Pistols firing, go Pokes.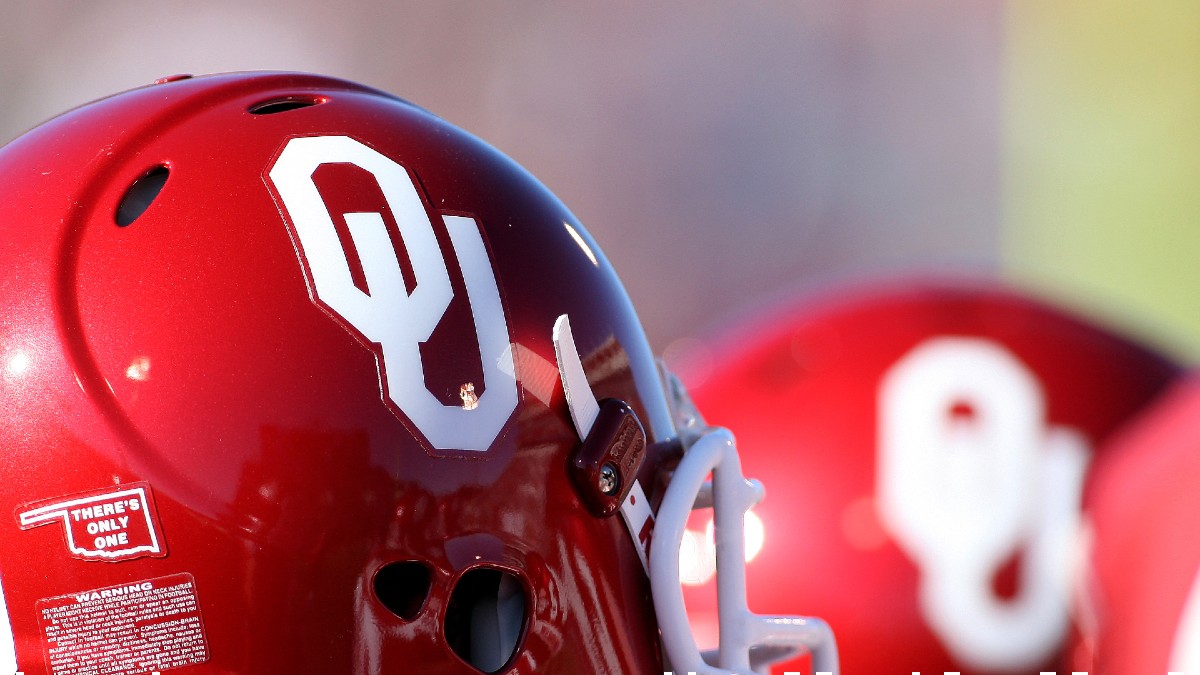 Updated 2021 College Football Betting Power Ratings
Conference Pictures
Kody Malstrom: It's never easy taking a very ugly bet. Even when all the signs point toward it, you can't help but try and wash all the stink off of it. That's exactly how I feel with taking Wisconsin to win the Big Ten.
I know, ew, gross. How on earth could I back one of the most anemic offenses in college football — especially after it's burned me time and again this season?
It's simple: the value.
Wisconsin has one of the best situational spots going for it. The Badgers are blessed with being in a very weak division, with the only other threat being Minnesota, which they face in the last game of their schedule in a potential hedge spot.
If you can look past all of the holes on offense, you would be surprised to realize how truly great they are on the other side. Ranking top-10 in Def. Rush Success, Line Yards, Pass Success, big play, and Havoc, the Badgers simply shut opponents down and have been playing better of late.
They have a very manageable schedule to end the season leading up to the potential division deciding game:
at Rutgers
vs. Northwestern
vs. Nebraska
Those are all spots they would be favorites in.
This gives Wisconsin a great chance to be within one game of Minnesota in case it wins out, meaning a tiebreaker would go to Wisconsin if it wins the last game.
Minnesota's offense is around average in the nation, showing zero threat to the Wisconsin defense. Minnesota ranks 50th or worse in nearly every offensive metric, except for pass blocking where it ranks 35th.
Minnesota boasts great ranks on defense, a slightly troubling bump to this future. But that's not enough to scare me away, as I believe the Wisconsin run game will handle it. Ranking top-40 in Rush Success and Line Yards, it's improved each game this season.
I believe Wisconsin will do just enough on offense while the defense dominates en route to secure a win over Minnesota that could very well decide the division.
Assuming a Big Ten Championship showdown with Ohio State follows, that is where I would hedge to secure a profit.
You can either take Ohio State to win it now at around -250 or wait until the championship game if you believe Wisconsin will continue to look great as the season rolls along.
Kody Malstrom: Keeping my attention in the Big Ten, I owe everyone an apology. I was wrong. Dead wrong.
Two weeks ago, I wrote about a Michigan national title future with the premises being that Michigan would steamroll past Michigan State en-route to its showdown with Ohio State.
Well, that didn't happen. Credit to me for admitting I was wrong.
Now I am here to tell you to potentially put a piece on the Spartans to win the Big Ten.
Like Wisconsin, MSU is also in a favorable schedule spot, which is a key factor into my live season future adds.
What is stopping me from pulling the trigger on the Spartans now is a very curious -2.5 line against Purdue for this weekend's matchup. If they lose, then we avoid wasting any money tied into the future. If they win, then I can't imagine the number dropping that drastically low.
While Michigan State has some very obvious gaps — the pass game, for example — it still showed out in a very impressive way.
Heisman frontrunner Kenneth Walker III showed why he deserves the Heisman in dominant fashion. Michigan had no answers for him while he ran wild for 197 yards and five scores.
The common theme between this future and the Wisconsin future is that both hedge opportunities come against Ohio State.
Ohio State is the clear-cut favorite to win it all on its way to the playoff, but the number is far gone for my liking.
You are better off putting a piece on the moneyline in their showdown. If MSU can get past OSU, then you can let it ride to the championship. If it loses, then you either make some profit or break even depending on your hedging amount.
How would you rate this article?
This site contains commercial content. We may be compensated for the links provided on this page. The content on this page is for informational purposes only. Action Network makes no representation or warranty as to the accuracy of the information given or the outcome of any game or event.