Wilson: How I'm Betting MAC Futures in the Conference's Return to College Football
Credit:
Duane Burleson/Getty Images. Pictured: The Miami (Ohio) RedHawks.
College football isn't in full effect until there's MACtion. That changes this week.
There were no offseason head-coaching changes, a rarity for the conference.
Collin Wilson breaks down how to bet the MAC this year.
The world will rejoice on the first Wednesday of November, and not because Election Day will have passed.
MACtion returns to the scene for the first time in 2020, fielding every team in the conference on Nov. 4. Historically, the MAC conference is the most unstable market from a futures perspective.
Last season, Central Michigan entered the championship game as a favorite against Miami (Ohio). The Chippewas entered the 2019 season at 300/1 to win the conference.
Central Michigan's rise from the bottom follows a long history of how much a coach can turn around with any given program in this conference. Kent State ended 2018 at 1-7 in MAC play under first-year head coach Sean Lewis, only to return in 2019 with a 7-6 overall record (5-3 in conference play), a season that was capped by a win in the Frisco Bowl. Bowling Green enjoyed a few 10-win seasons under Dino Babers, who departed for Syracuse after the 2015 season. Mike Jinks and Scot Loeffler have held the position since, accumulating just 12 total wins over the past four seasons.
As much as Power Five programs need blue-chip talent, the MAC needs stable and successful coaching to compete for the crown. First, we look at the returning production numbers that were compiled over the summer before COVID-19 put the conference on hold. Along with returning production, we measure teams' overall Success Rates on both sides of the ball.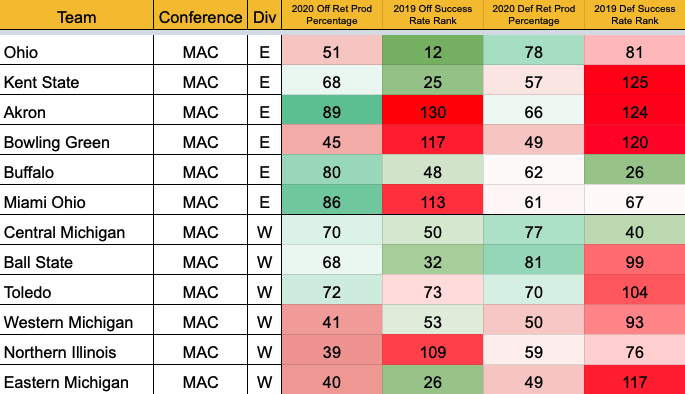 In a complete rarity, there was no turnover among head coaches in the MAC since the end of last season. Almost every coordinator position was retained with the exception of Toledo, where head coach Jason Candle made changes on both sides of the ball.
Per The Action Network Power Ratings, each of the MAC teams has a projected win total for shortened schedule. Keep in mind that cross-division play exists, with each team drawing just one opponent from the other side of the conference.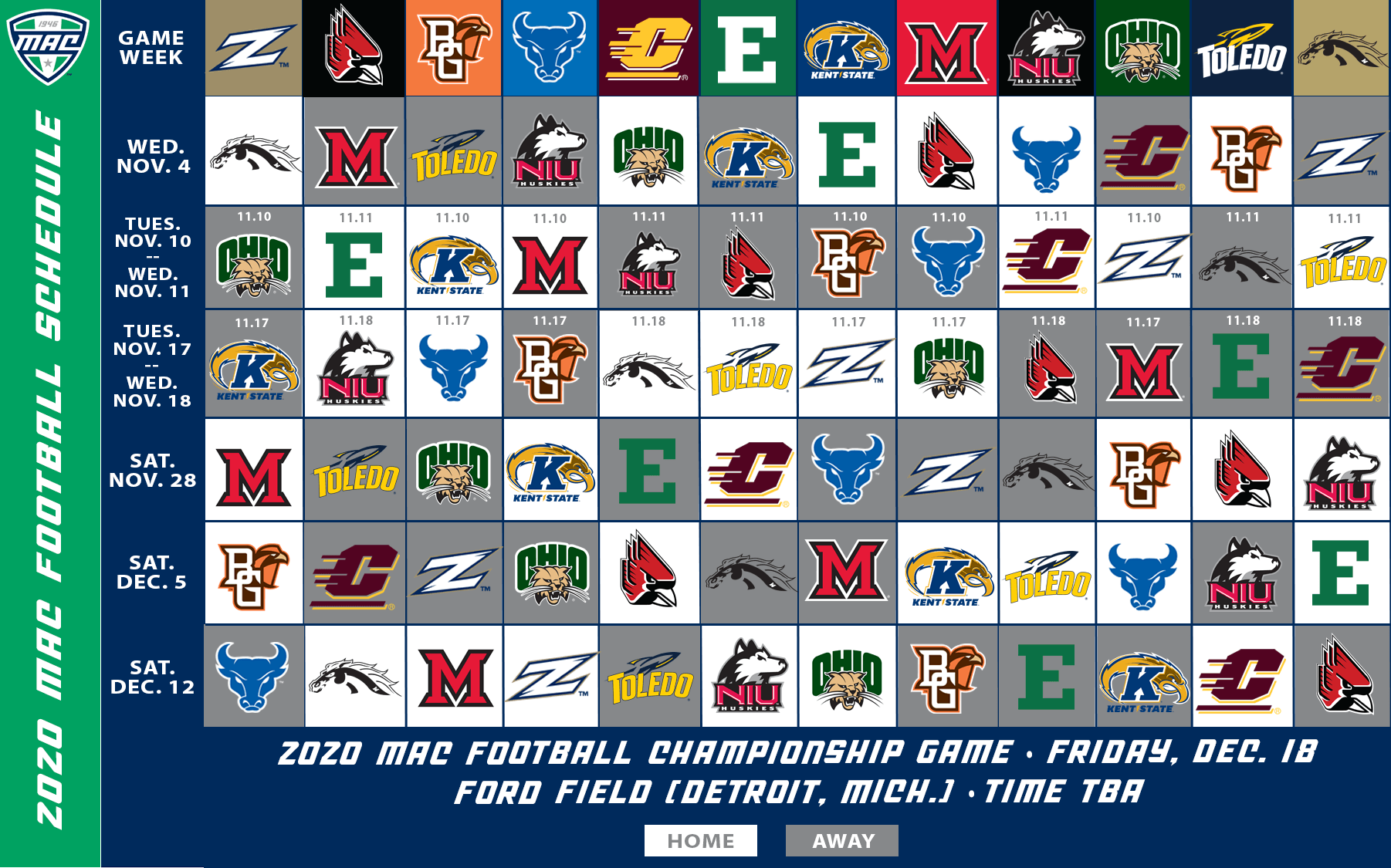 ---
Check out our new CFB PRO Report, where we highlight factors that provide betting edges — like large wagers, historically profitable betting systems, model projections and expert picks — that when combined with sharp money can powerfully detail the smartest bets on a given slate.
---
Before taking a look at each division and who may present value, let's look at win probabilities, which are assigned on individual games for the shortened season. Based upon returning production, second-order win total and turnover regression, here are the win totals along with conference championship odds for the MAC:
MAC East 
My quick-take analysis from the release of the schedule was that Kent State drew the biggest rebuilding project in the conference on their cross-division game. The Golden Flashes, led by senior quarterback Dustin Crum, host Eastern Michigan to begin the season. The schedule continues to remain kind to Lewis' program, as Kent State will visit Bowling Green and host Akron in the following weeks. The Golden Flashes have the easiest schedule in the conference through the first three weeks of the season, and it's not even close.
Ohio does not have the luxury of starting off with cupcakes, as head coach Frank Solich moves on from quarterback Nathan Rourke. The Bobcats draw the toughest team in the West Division in Game 1 against Central Michigan. There are a number of candidates to start at quarterback, including UNLV transfer Armani Rogers. The defensive side of the ball returns 78% of tacklers but lacked in takeaways last year. A Defensive Success Rate of 81st is decent in the MAC, but the Bobcats ranked 113th nationally in defensive Havoc.
Lance Leipold is considered the best coach in the conference with his success at Buffalo while having the least amount of talent on a yearly basis. A prime example of that is running back Jaret Patterson, who finished top-10 in all FBS in rushing yards and rushing touchdowns. That success came behind an offensive line that bulldozed MAC opponents, but three of those five starters have since moved on. Keep eyes on Leipold in fourth-down situations, as quarterback Kyle Vantrease was also the previous punter.
Miami (Ohio) was a thorn in the side of gamblers in 2019, posting plenty of victories in which postgame win expectancy dictated otherwise. The Chuck Martin-led team led to plenty of one-possession games deciding point spreads on the last play. Brett Gabbert returns at quarterback with all the weapons of an offense that finished 113th in Success Rate. There will continue to be suspicion around backing the RedHawks as a team finished in the bottom 10 in the FBS in categories such as Offensive Finishing Drives, Line Yards, and Rushing Success Rate.
The obvious future from this division is Kent State at 10/1. Lewis' offense finished 2019 on a heater, winning every game needed to reach the postseason. Crum finished the last four games of the year with over 1,000 passing yards and a 7:1 touchdown-to-interception ration. The obvious hedge comes Thanksgiving weekend at Buffalo, but with a 10/1 ticket on the conference, there is room to make a profit.
MAC West
The Central Michigan comeback story is one for the ages after having 300/1 odds to win the conference. The Chippewas entered last October with a 1-1 record before rattling off wins in five of the last six conference games to finish the season under first-year head coach Jim McElwain. Only a Hail Mary in the MAC Championship game kept investors away from one of the biggest cash paydays in college football gambling history.
There have been changes in the offensive line and tight end rotation for an offensive unit that returns 70% of production. The biggest question mark comes at quarterback. David Moore held mop-up duties in 2019, accumulating over 1,000 yards passing, but he currently has a six-game suspension for using a banned substance. A transfer and redshirt freshman are currently taking snaps at practice with Moore, but this will be the biggest question heading into the Ohio game with an NCAA appeal looming.
Ball State drew the short end of the stick with a road schedule that includes Miami, Toledo and Central Michigan. Quarterback Drew Plitt threw for 24 touchdowns and retains the biggest targets in an offensive unit that has 68% of its production back. The defensive front seven will continue to be an issue for the Cardinals, having ranked 99th in Success Rate and 102nd defending explosiveness on the ground last season. Look to take plenty of overs in Ball State games.
While Eastern Michigan, Western Michigan and Northern Illinois rebuild in 2020, the time may be right for Toledo to return to a MAC stronghold. Injuries decimated the team in 2019, but the Rockets return over 70% of production on both sides of the ball this year. Eli Peters is back at quarterback with plenty of playing experience and a running back stable that ranked 13th in FBS in rush explosiveness.
The Rockets can win the division if the defense can remedy a bottom-10 ranking in missed tackles. New co-defensive coordinators Vince Kehres and Craig Kuligowski were brought in to change a Sack Rate of 120th and a Defensive Finishing Drives number of 113th. Considering the questions with so many other teams in the West, Toledo +600 is the play as it hosts Ball State and draws Bowling Green in cross-division action.
Terms to Know
Postgame Win Expectancy is a calculation of all variables in a box score that dictate who would win the game if it was played a high number of times. Turnover luck, success rate and yards per play are notable components of this calculation and can influence a single game. But over a large sample, the team that moved the ball better would win more often than not.
There have been plenty of box scores in which a team wins as an underdog, but a negative value is applied to that team's power rating because the result was fluky rather than systematic.
Coach scheme changes can adjust a power rating quickly. For example, Oregon will undergo a change from Marcus Arroyo's conservative play-calling to new offensive coordinator Joe Moorhead's system. Moorhead's offense features a heavy dose of 11 personnel, west coast spread concepts and modern RPOs.
That offensive philosophy has led to more explosiveness and higher rates of success on standard downs at each of Moorhead's previous stops at Penn State and Mississippi State. In a situation like this, a power rating can be useful to quickly adjust a team's forecast for future games. In the case of Mike Leach, an adjustment of totals is coming with an increase in plays per game.
Success Rate, Finishing Drives and Explosiveness were first defined in Bill Connelly's Five Factors and are strong indicators for future box scores. While EPA (Expected Points Added) and IsoPPP (Isolated Points Per Play) can be highly variable from season to season, Success Rate is a stable data point for handicappers to use for projections.
Simply put, if a team consistently achieves the desired amount of yards — determined by down and distance — then this is a "play-on" team with your bankroll. Texas A&M ranked 17th in offensive success rate last season and returns 80% of its offensive production for 2020; that combination makes the Aggies a play-on team.
How would you rate this article?