2022 NFL Draft WR Guide: Former GM Grades Drake London, Jameson Williams, Chris Olave, Garrett Wilson, More
Credit:
Getty Images. Pictured: 2022 NFL Draft WR prospects Drake London, Chris Olave, Jameson Williams
In special collaboration with the Action Network, former NFL general manager and team executive Randy Mueller breaks down his 2022 NFL Draft prospect evaluations for his top nine wide receivers (in order), including Drake London and Jameson Williams.
---
2022 NFL Draft WR Evals
Chris Olave, WR, Ohio State
Chris Olave is one of the most polished receivers to come out of college in the past five years. He does the little things that separate him from the crowd and is the most ready-made, plug-and-play offensive player in the 2022 draft.
If you liked former Rams WR Torry Holt, coming out of North Carolina State, then your gonna love Olave because that's who Olave reminds me of.
Olave aligns in the slot and split end positions, and plays with an advanced football IQ that should allow him to make the jump to facing NFL defenses without much of an adjustment. This natural feel for defenses and being so instinctive to make post-snap adjustments should allow him to contribute early in the NFL.
To that end, I would not be shocked to see Olave selected much earlier than some analysts believe.
An in-depth film study allowed me to break down his game — and I found very little that is missing. Olave is sudden off the snap and can beat press coverage with quickness and body control, which is uncommon for college receivers. His body control and smoothness in and out of breaks as a route runner allow him to run speed cuts and hard cuts at a very high level of efficiency. His pad level at break points is already at a Pro Bowl level. He can plant and separate from tight coverage, but also put his foot in the ground to accelerate into open spaces in zones.
But the best thing Olave does is catch the ball.
His hands are extremely soft. He can adjust and extend so that his catching radius allows him to play much bigger than his measurables would suggest (6-foot and 187 pounds). His ability to reach and pluck balls away from his frame is very good. He has a combination of niftiness and speed to get deep (4.39-second 40) versus zone coverage and be a threat with the ball in his hands after making the catch.
Olave is a professional receiver already, and the fact that his game is developed with details to second- and third-level heights before entering the pro game should allow for production early in his career.
---
---
Garrett Wilson, WR, Ohio State
Wilson does it with a different style and substance, but is just as explosive and probably stretches the field even better than Olave. Wilson comes off the ball with a running gate that eats up a defender's cushion quickly and puts coverage people in jeopardy and on their heels.
His straight-line speed should allow him to be a legit deep threat, and his average per catch in the pros should be high.
Garrett can be slightly mechanical at times, and his routes are a work in progress. He can be really explosive on deep dig routes and in open spaces. Wilson plays on the field to that same 4.38-speed that he ran at the combine. His slight frame shows at times vs. incidental contract downfield, so improving his strength and adding some mass will be goals to improve his ability to make contested catches and fight through some contact once in the NFL.
Overall, his hands are solid, but Wilson will need to be more consistent to become that go-to guy.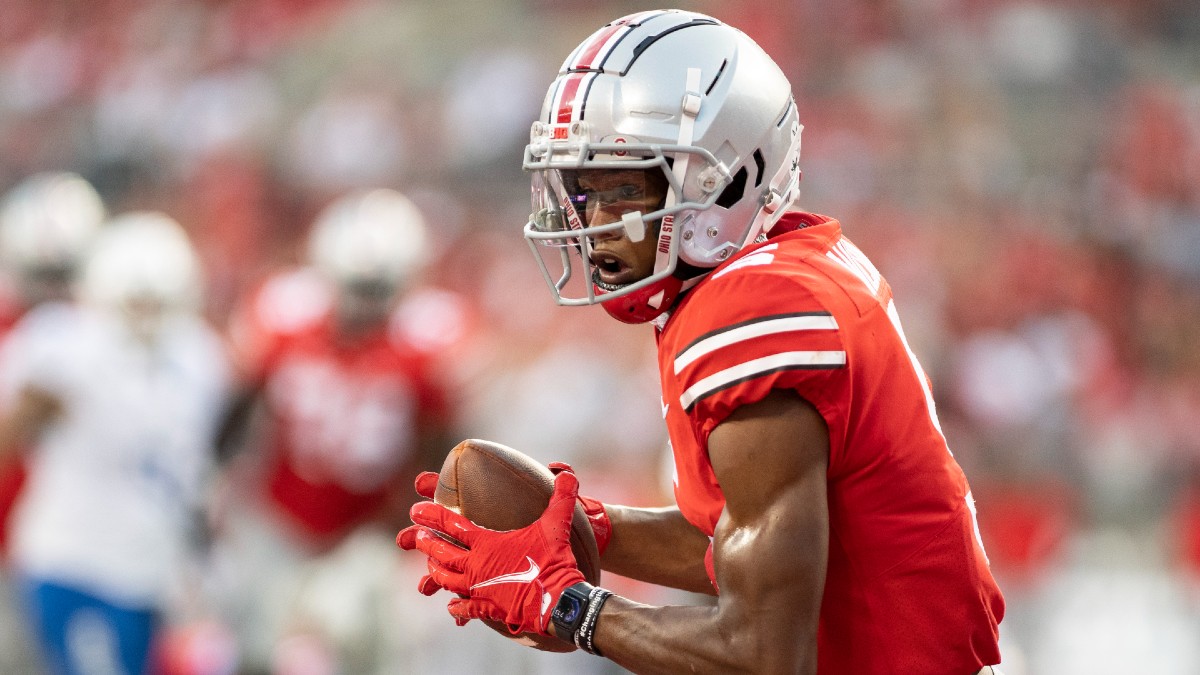 His physical athletic skill set is very much what you look for when evaluating receivers at the NFL level. Having said that, he is raw in some ways with the little details of the position, but should have big upside because he is so gifted athletically.
---
Treylon Burks, WR, Arkansas
With his combination of size (6-foot-2, 220 pounds) and play speed — which is faster than his timed 40 would give you reason to think (4.55) — Burks will probably become a better pro receiver than we saw at Arkansas, where he ran a limited route tree and was used in some different ways. (He had 66 catches for 1,104 yards and 11 touchdowns his senior season.)
What excited me the most when watching Burks' tape was his fundamentals in catching the ball. His hand placement and ability to adjust and actually attack balls thrown outside his frame are fun to watch. He makes contested catches, and his physically imposing frame allows him to play through contact both as a route runner and in securing the ball in a crowd. He makes acrobatic catches outside his frame. He has long arms (33.5 inches), and the fact that he is a natural hands catcher make him similar to an A.J. Brown or Mike Evans in play style.
Burks aligned in multiple spots in the Razorback offense and has been a kickoff returner at different points in his career. His versatility is a big plus and can even be counted on for bubble screens, reverses and maybe even some Debo Samuel-type usage out of the backfield because Burks is tough to bring down with the ball in his hands. He will run through arm tackles and uses that 220-pound frame vs. contact and in traffic very well.
What places him below Olave and Wilson is explosiveness and consistency in and out of breaks as a route runner, as Burks still has details to work on. He is a big man, and getting in and out of confined areas or tight coverage spots will be a work in progress at the next level. I don't see the sudden gear changes while underway, but that's just not necessarily his game. His game will be playing through contact to the ball.
Burks can work his way into becoming a solid No. 2 WR in the NFL.
---
Jameson Williams, WR, Alabama
Williams is coming off a season-ending ACL injury during the national championship game. His one and only year at Alabama was a coming out party for the junior, who caught 70 balls for 1,572 yards at an eye-popping 19.9 yards per catch with 15 touchdowns after playing sparingly in two years at Ohio State.
It's likely that he will start the year on the Physically Unable to Perform list and will have to miss the first six games of the regular season (at least), no matter what you hear coming out of his camp in pre-draft narrative.
Williams is exactly, on film, what the numbers say he is on paper. He is tall, eats up ground in a straight-line fashion and can stretch out defenders vertically. He can flat out run when healthy and will force defenses to play differently. He is best when allowed to build to his speed, running deep routes and deeper crossing/over routes.
His frame is slight and he seems to be affected by incidental contract, which will throw off timing until he masters a more efficient release against press coverage. He shows a tendency to body catch balls and not use his hands to extend and pluck the ball away from his frame, but he has no issues running under and locating deep throws over his shoulder. He can make adjustments easily to downfield throws.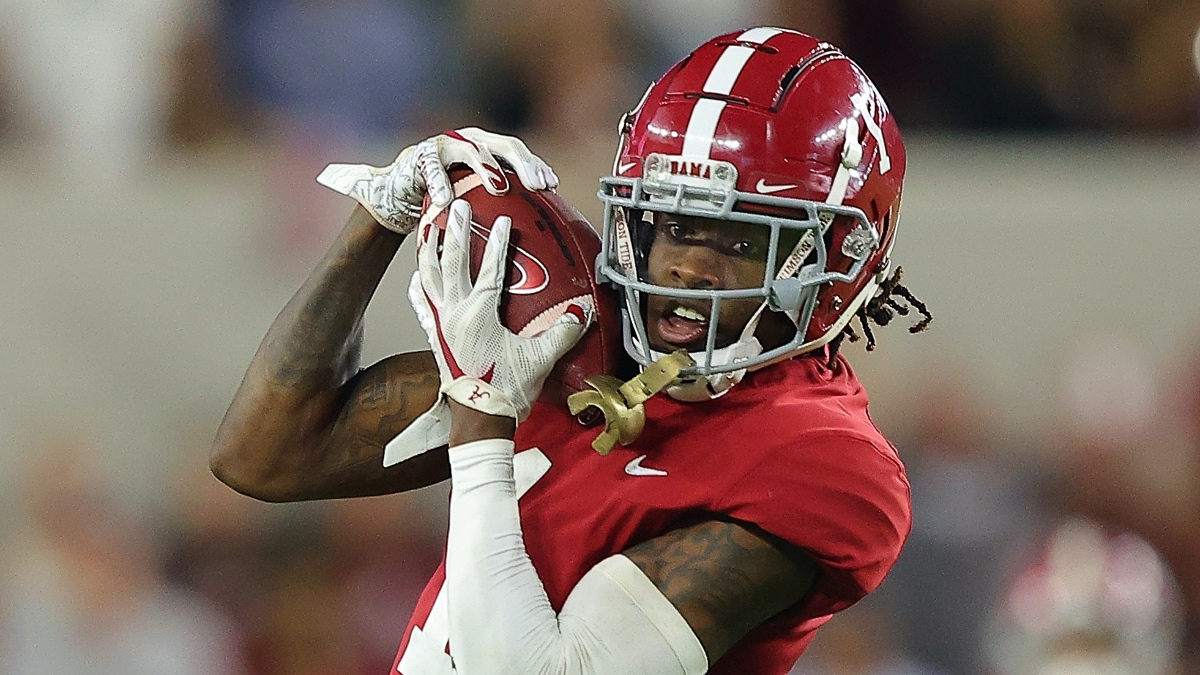 You're looking at a big play receiver who will need to improve consistency catching the ball and in his details of route running to be more of a complete receiver.
In my opinion, players like Williams who transfer end up slightly behind in developing their own skill set because they have to spend so much time learning a new scheme, memorizing plays and systems. He would have benefited immensely by staying another year, in my opinion.
---
George Pickens, WR, Georgia
Although Pickens' body of work may not be that of other top wide receivers in this draft, his flashes may be as good as any. With a longer frame (6-foot-3, 195 pounds) and 4.45 speed, Pickens is anything but a long strider or a straight line athlete.
He is sudden off the ball, can eat up a defenders cushion and forces early commitments from corners who expect to run with him deep. He actually plays faster than his 40 time would indicate and is so light on his feet that you forget he is 6-foot-3 — he can lower his pads and get in and out of tight turns and breaks like a much smaller man. He has a combination of body control and suddenness that very few have in this years draft.
Because of that, I would rate his route running well above average. He shows, when asked, that he can stop and start on a dime. He has very good hands, can extend to catch outside his frame and shows ability to track and adjust to long balls easily. All this, plus he can make contested catches and is plenty aggressive and willing to go inside in traffic and take contact.
His play speed and explosive ability to get on a defender's toes will allow him to take the top off NFL defenses.
The downside for Pickens is not his skill set, but his body of work and numbers on paper, but those can be explained.
He tore his ACL in March 2021, missing 90% of this past season, and that was after coming off a COVID-shortened season in which he caught only 36 balls. His best college season was actually his first, with 49 catches and eight touchdowns. At Georgia, his route tree was somewhat limited, plus QB play and skill set limited Pickens' numbers.
As only a three-year player, he will be raw in the eyes of NFL talent evaluators, but I see major upside once he settles into learning a new system. I could very easily see him as a high second-round option for a receiver-hungry team.
---
Drake London, WR, Ohio State
London is big, he's physical and his strength is catching the football in traffic and when covered. He made his living at USC on back shoulder throws and 50/50 balls, which will be the same at the NFL level.
I see London as being a real option on third downs and in the red zone vs. smaller defenders, and will overall be a matchup nightmare because of it. He is more nifty than fast — he breaks tackles with balance and strength, and he has very good body control for a big man. He's smart, reads coverage and finds soft spots versus zones like a pro receiver already.
His football IQ is very high, which should help his transition to the next level.
London will get covered at the NFL level, but at nearly 6-foot-4 and 220 pounds, I'm not sure what defenders can do to make a play on the ball.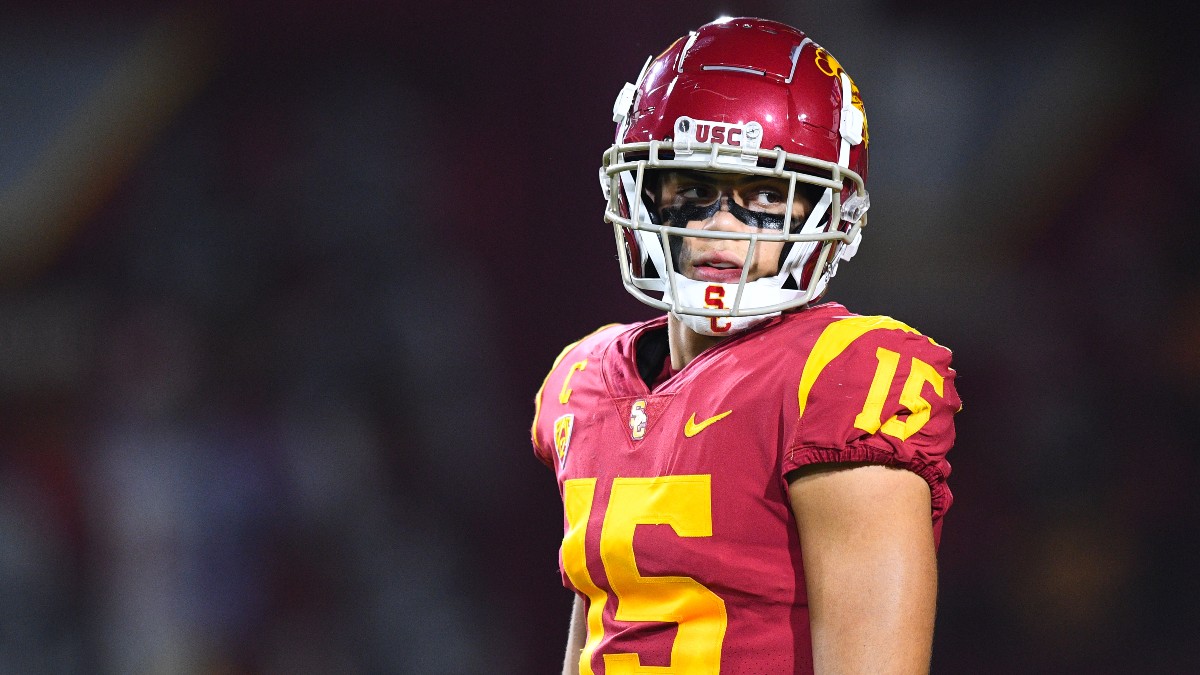 London will not be able to run by NFL corners (4.56 40 at the combine), but his double moves and deceptive footwork should get him open enough to be productive as soon as he gets healthy. He is a possession guy who should catch his share of third down conversions.
A comp for London might just be another USC receiver who was a second-round pick of the Colts in the 2020 NFL Draft: Michael Pittman Jr.
---
Jahan Dotson, WR, Penn State
Dotson's 91 catches in 2021 are a sign of production at the college level. For that to carry to the NFL, he will have to outplay his size and find his way as a slot receiver and return specialist. A comp for me on tape was former Steeler and current 49er, Ray-Ray McCloud. This in all likelihood makes Dotson a possible option for teams in Rounds 2-3 of this draft.
Dotson's strengths are his quickness, his burst in and out of breaks, and his ability to separate with his change of direction and foot quickness. Although his 40 speed timed in the mid 4.4s, I find his play speed to be slightly slower. He's quicker than fast, which makes his ability to find and sit in soft spots vs. zone coverage a solid option for teams looking for a third-down slot guy.
Dotson has very good body control and can separate vs. tight coverage if given a free release off the line of scrimmage, which is a big "if" at the next level. Press coverage will be his nemesis (and always is for smaller guys), so schemes may have to allow for this until he figures it out and cleans up his releases.
Dotson will need to be more consistent catching with his hands and not allowing balls to get into his body, which will allow him to play bigger than his measured size. I see flashes of being able to make contested catches, so the skills are there. I worry about his size and the effects of incidental contact on his routes, though, and the timing being affected with the QB at the next level. When defenders get their hands on him, he will have to improve on playing through contact.
Dotson grew on me the more film I watched, which is always a good sign.
---
Christian Watson, WR, North Dakota State
Watson played in a run-oriented attack at the FCS level and for a perennial power (four-time FCS champion). What the NFL sees in Watson will not be what is recorded by production on paper, though.
Watson is big, he is smooth and he is fast. He runs by smaller slower defenders consistently at this level, but his 4.38-second 40 is transferable to the NFL with the vision and potential that most scouts have. He is light on his feet and is clearly the fastest guy on the field. He can adjust to balls outside his frame and his catching skills seem to be on par with NFL standards.
What you won't see is an all-encompassing route tree or a passing game that gives him experience reading coverages or processing on the move. That said, Watson is raw, but with big upside because of his talent. He will, however, have a learning curve with details of route running, exposure to playing against top notch opposition and — maybe most of all — a totally different speed of the game in general.
For that reason he is probably a second- or third-round player, but shows flashes of first-round skills to go with a great frame and explosive athletic ability, which includes a 38.5 in vertical jump and a 11-foot-4 broad jump at the combine.
---
---
Skyy Moore, WR, Western Michigan
Moore's instincts and feel for the game are what jumped out to me on tape. He is not big (5-foot-10 and 195 pounds), but he plays smart and with toughness that allows him to not be afraid of contact or going inside to make catches in traffic. He gets pin-balled a lot, though, so I worry about his durability due to that lack of ideal size.
On the other hand, his ball skills are excellent, he tracks balls consistently with focus and I have no doubt he will quickly become a trusted option in the NFL, especially on third downs. His pad level at the top of his stems/routes along with balance and burst out of cuts give him the ability to separate from man coverage, including press technique at the line of scrimmage. He makes defenders miss with his evasive run after catch, and because of this, might have just what a team needs as a punt returner who can break an arm tackle and consistently get 10 yards a return.
It's clear even on tape that his passion for the game is high and his football IQ will be a positive. I like him as a role player and a possible punt/kick returner make him a possible early Round 3 option.
How would you rate this article?
This site contains commercial content. We may be compensated for the links provided on this page. The content on this page is for informational purposes only. Action Network makes no representation or warranty as to the accuracy of the information given or the outcome of any game or event.