AFC East Odds & Race: Buy Low On the Dolphins To Edge Out the Bills While You Can
Credit:
Getty Images. Pictured: Josh Allen, Tua Tagovailoa
We've officially hit the home stretch of the 2020 NFL season, and the playoff picture is starting to get clearer.
Last week, we got a pretty good hint for where the AFC East may be headed. The Buffalo Bills sat at home during their bye week and rested while they watched all three division foes lose. The New York Jets are irrelevant, of course, and were officially eliminated from postseason contention. The New England Patriots lost at home to the lowly Houston Texans. And in a big surprise, the red-hot Miami Dolphins fell on the road to the Denver Broncos while rookie quarterback Tua Tagovailoa was benched.
Last week dropped Miami to 6-4 and New England to 4-6, while Buffalo sits at 7-3 and is now a commanding division favorite. The Bills are -500 to win the AFC East at BetMGM, a 83.3% implied probability, while the Dolphins have dropped from trendy sleeper to a longshot at +400 to win (20% implied probability) — and that's why this is the perfect time to jump on Miami.
AFC East Odds
Team

Odds

Bills

-500

Dolphins

+400

Patriots

+2200

Odds as of Friday and via BetMGM.
Bills vs. Dolphins: Who Is Better?
The Bills and Dolphins have become very quality contenders this season. Both rank in the top 12 of Football Outsiders' DVOA, and the Dolphins actually rank higher than the Bills.
The Bills have the better offense because they've been more dynamic in the passing game. Josh Allen was an early MVP sleeper, while Stefon Diggs has been outstanding, opening up the attack down the field.
But neither of these teams run the ball with much effectiveness. And both rank around average on defense. For a Buffalo team that was expected to be outstanding on that end, an average defense is a huge disappointment. For Miami, it's an accomplishment and a big reason for the Dolphins' positive turnaround.
The Dolphins have been especially good on defense over the past month and a half as they've made their run. They have mixed up coverages and really confused quarterbacks and play callers alike with opponent-specific game plans that remind many of Brian Flores's coaching mentor, Bill Belichick.
Miami is also winning games in the third phase of the game: Special teams.
The Dolphins rank No. 1 1 in special teams DVOA, and have been especially strong in the punt game, racking up 15.0 hidden points — a Football Outsiders metric that measures factors such as field position and kicking percentage that our eyes often miss. Miami ranks first in it, while Buffalo is 28th at -7.5 hidden points — that's more than two points per game in Miami's favor just on hidden special teams plays.
It turns out playing is much easier when you start 10 yards closer to the end zone on every drive.
The AFC East Could Come Down to QB Play
The main difference between these teams has been the quarterback play.
Josh Allen has played like an MVP at times, while Tua Tagovailoa has been mostly muted and has yet to post any significant numbers. Buffalo is winning because of its quarterback, while Miami appears to be winning in spite of its QB play.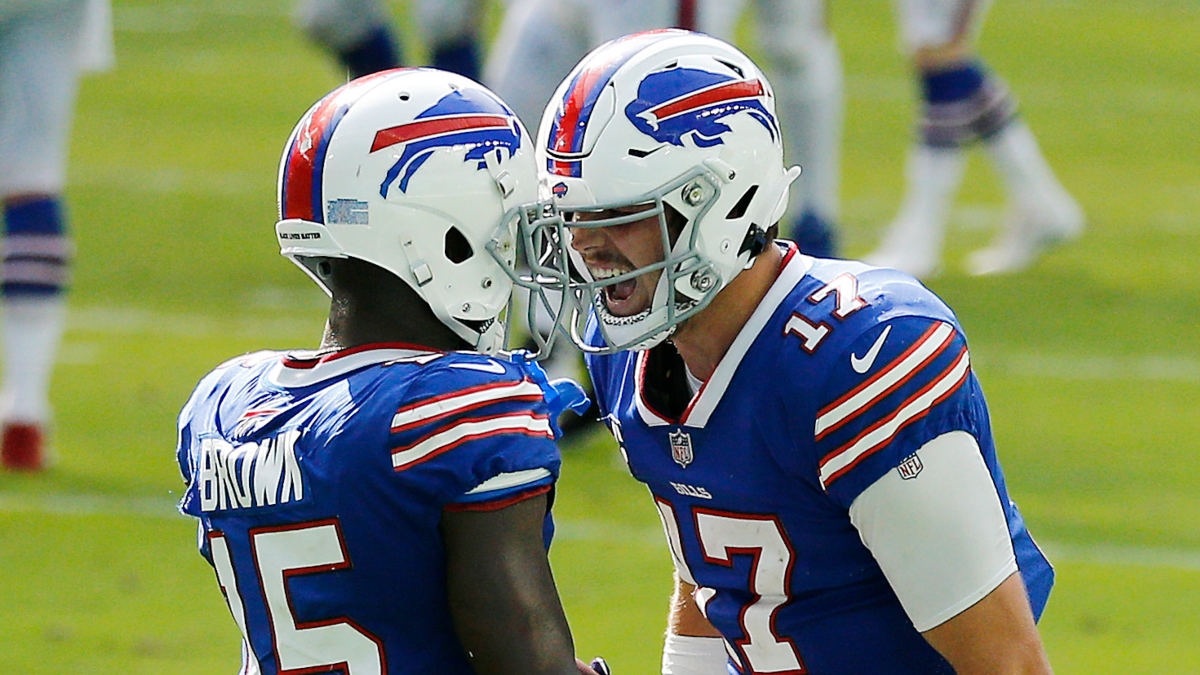 But there's another way to think of that: Consider that Buffalo is putting everything on Allen's shoulders and getting little help in the run game or on defense. It's an all-or-nothing proposition. Meanwhile, Miami is winning on defense and special teams and putting Tagovailoa in position to add to an already winning position.
Buffalo's plan works pretty well if you've got Patrick Mahomes, but if you have Allen or Tua instead, the holistic team plan is a much more stable proposition.
The gap in quarterback play also hasn't been as strong as you think.
Allen was indeed an MVP candidate through five games, or half of the season thus far. Over his first five games, he averaged 318 passing yards per game and had a sparkling 14-to-3 touchdown-to-interception ratio. But in the five games since, he's dropped to 256 yards per game and a 7-to-4 TD-to-INT ratio.
Tagovailoa has started four games now, though he played only about half of last game. He's far behind Allen at 148 yards per game. But he's thrown six touchdowns in four games and has yet to throw an interception. Tagovailoa may not be winning games for his team like Allen sometimes does, but he's not losing them for the team either.
Allen ranks ninth in quarterback DVOA. That's an impressive showing and a real step up for Allen. But Tagovailoa ranks 18th himself. He's just ahead of Jared Goff, Matt Stafford and teammate-you-thought-was-better Ryan Fitzpatrick.
The gap at quarterback is not as significant as you think. And Miami has the better team around their QB.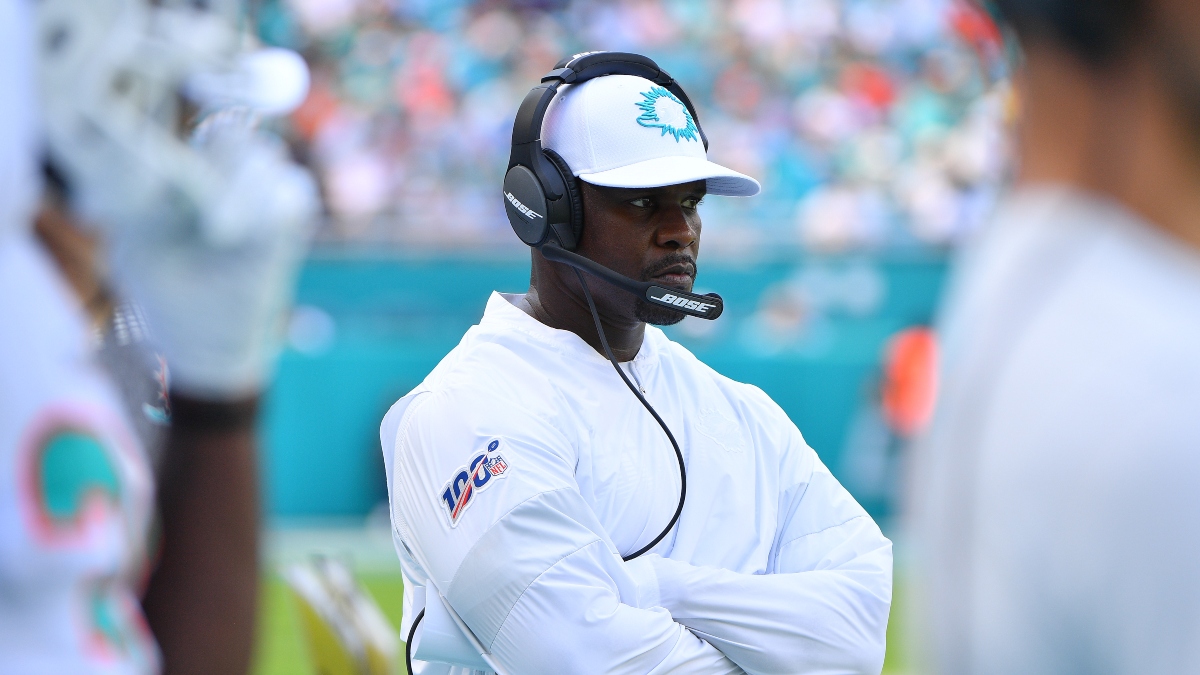 Their Remaining Schedules
Being the better team means little at this point of the season — the standings and schedule tell the story. "Better team" has never won anyone a bet, after all.
Buffalo is one game ahead of Miami right now at 7-3 vs. 6-4. The Bills are also 4-0 in the division, including a Week 2 win over the Dolphins. That's important because the first division tiebreakers are head-to-head and division record.
The teams meet again in the regular season finale in Buffalo in Week 17. Miami will almost certainly need to win that game to win the division. A Buffalo win instead would clinch the head-to-head tiebreaker and put the Bills two games up on the Dolphins, effectively 2.5 games with the tiebreak. Miami would need to overcome that 2.5-game difference in the five games between now and then. Not impossible, but let's not count on it.
So Miami probably needs to win Week 17 in Buffalo then. That's not ideal, since it means a rookie going on the road with everything on the line, but if we think Miami is the better team, it's doable. But the Dolphins still don't quite control their destiny. They're 1-2 in the division right now, so the Bills lead that tiebreaker too. The Dolphins would need the Bills to lose their other division game too, which happens to be a Monday night game in New England six days before that finale against the Fins.
Okay, let's step back a bit before we get lose in the details. Here are the remaining schedules for each team. And remember, we're assuming the Dolphins will have to beat the Bills in Week 17, which effectively ties these teams in the standings.
| Week | Bills | Dolphins |
| --- | --- | --- |
| 12 | vs. Chargers | at Jets |
| 13 | at 49ers | vs. Bengals |
| 14 | vs. Steelers | vs. Chiefs |
| 15 | at Broncos | vs. Patriots |
| 16 | at Patriots | at Raiders |
| 17 | vs. Dolphins | at Bills |
So, we notice a few things immediately. First, our time to strike with Miami is now. The Dolphins have their easiest games over the next two weeks. If we're betting on Miami, we have to believe they're going to beat the Jets and Bengals, probably the worst two teams in the NFL now that Joe Burrow is out.
The Chiefs game is a downer for the Dolphins, but notice that the Bills play the Steelers in Week 14, too. Both AFC East teams will be home underdogs. We'll expect both to lose, effectively canceling those games out.
What you don't see on that schedule is the fact that three of Buffalo's remaining games come in primetime. The trips to San Francisco and New England are both Monday night games, while the Pittsburgh game is on a Sunday night. These are huge primetime spots for Allen and a Buffalo team that hasn't proven it can win the big game while everyone is watching.
The Bills are also unlucky to play the 49ers late in the season, now that San Francisco is finally starting to get healthy. Miami thrashed the 49ers in Week 5, 43-17, benefiting by playing a team ravaged by injuries.
The Bills also play the Patriots on the road on Monday night, while the Dolphins get their matchup at home — another advantage to the Dolphins. Both teams could be vulnerable to the Patriots because New England's one real strength this season is the rushing attack, and neither run defense is particularly good.
Really, Buffalo will not be an overwhelming favorite in any remaining game.
This week against the Chargers is probably the Bills' strongest chance of a win. The Denver game comes on the road, a difficult late season destination any season. Denver and San Francisco are also run-heavy teams, a poor matchup for Buffalo's defense, while Miami's defensive strength is defending the pass, which gives them a better chance against Las Vegas and Buffalo attacks, and maybe even Kansas City.
Even the Chargers this week have remarkably similar metrics to the Bills and could give them a steep test.
Look at the schedule again. Is it really that difficult to see the Bills losing to the Chargers or 49ers while the Dolphins coast through the next two weeks? Now add in Week 14 losses to the AFC's best, and suddenly this race is tied with three weeks to go, and this race looks a whole lot different.
The edges are small, but they're there if you look closely. Buffalo is only ahead by one game, and its road down the stretch is tougher.
And remember, we don't have to be right all the time. Miami is a +400 underdog! It should be clear at this point that the Dolphins have a much better than 20% chance to win this division. They'll probably need to win in Buffalo to do it — but if you get that far and get cold feet, you'll have an excellent hedging opportunity, too.
Don't wait around! The Dolphins odds can only go up against the Jets and Bengals the next two weeks. Jump on Miami's long division odds while you still can.
How would you rate this article?