Broncos vs. Chiefs Odds & Picks: 2 Ways To Bet Sunday Night Football
Credit:
Dustin Bradford/Getty Images. Pictured: Tyreek Hill, Travis Kelce
Broncos vs. Chiefs Odds & Picks
Under 51
Brandon Anderson: The Broncos were an embarrassment to football a week ago. This week they have a quarterback again, but it's not like that's really helped them the first 10 games.
Denver ranks dead last in Football Outsiders' offense DVOA. Last week certainly didn't help, but you've got to be bad a whole lot of times to rank worst in a league in which the New York Jets exist. The Broncos rank last in passing offense DVOA, too.
Again, completing one pass in a game doesn't help, but this is not new: Denver is scoring only 19.0 points per game on the season. It's not great.
The Chiefs? They tend to score some points. Maybe you've heard of Patrick Mahomes?
No one needs to tell you the Chiefs offense is awesome. You probably feel like you already know enough to take the Chiefs, and they have won 10 straight against the Broncos, the last three by at least 20 points each. But this is a really high line at two touchdowns, so are we sure the Broncos will let themselves be embarrassed two straight weeks?
Dig into the matchups and you'll see that Denver is actually built as the exact sort of team to slow Kansas City down. The Broncos are a running offense facing the worst rushing defense in the league, and they have a top-10 defense with the No. 5 passing defense by DVOA.
Run the ball on the Chiefs and limit their passing attack, and you might hang around.
The matchups here point toward the Broncos perhaps keeping this close, but I can't bear the thought of betting on a Denver cover and suddenly it's 21-0 in the second quarter and I'm questioning all my life decisions.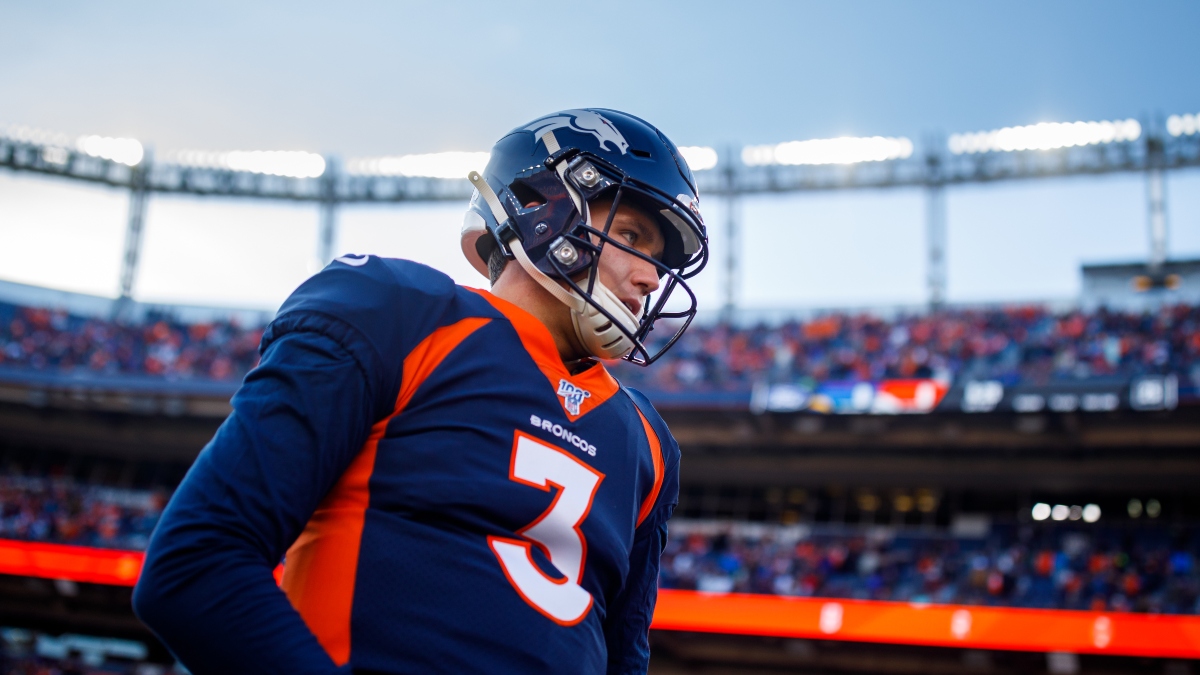 Instead, I'm playing the under, because it gives me multiple outs.
Suffice to say that the Broncos won't win a shootout here. If they do keep this close and cover, it'll be because the defense kept Mahomes and that Chiefs attack in check.
But the great part of going under is you've got a second option. Maybe the Chiefs blow up and score 42 points — that's always possible with Mahomes. You still might hit the under! Because the Broncos offense is just that bad that it's entirely plausible that they could score single digits and make the over incredibly difficult to hit, no matter how good the Chiefs are.
The under is a chance to hit a Denver cover or to fade Denver's offense entirely, so it's a shot at two very possible outcomes. Of course, Mahomes could always just throw seven touchdowns himself, but that's a risk we'll have to take…
Noah Fant Over 38.5 Rec Yards
Sean Koerner: Fant was able to catch one of Kendall Hinton's nine passes for 12 yards. In fact, Fant was the only player to catch a pass for the Broncos last week.
The entire offense should rebound on Sunday Night Football with an actual quarterback under center, and the Broncos will need to throw in order to keep up with the Chiefs. The Broncos are also +13.5 underdogs (check real-time odds here), so we should see plenty of garbage time in which Fant thrives.
The Chiefs tend to be stingy against outside wide receivers, but can be vulnerable over the middle with tight ends. Rob Gronkowski dropped 106 yards on them last week, while Darren Waller put up 88 against them in Week 11.
Fant has gone over this total in seven of 10 games this season and will have a game script that should only enhance his expected volume. He's still maybe a year or two away from entering his prime, and I expect him to only improve as we close out the 2020 season.
I would bet his over up to 41.5 yards, but here are the projected chances of him going over or under various lines based on my 10,000 player prop simulations:
| Rec Yds | Over | Under |
| --- | --- | --- |
| 36.5 | 58.2% | 41.8% |
| 37.5 | 56.9% | 43.1% |
| 38.5 | 55.6% | 44.4% |
| 39.5 | 54.3% | 45.7% |
| 40.5 | 52.9% | 47.1% |
| 41.5 | 51.6% | 48.4% |
How would you rate this article?