Saints vs. Cowboys Picks: Our Favorite Bets for Sunday Night Football
Credit:
USA Today Sports. Pictured: Dak Prescott, Ezekiel Elliott
The Dallas Cowboys are 2.5-point favorites at the New Orleans Saints on Sunday Night Football.
Who do our betting experts think will cover the spread?
Cowboys at Saints Betting Picks & Odds
Spread: Cowboys -2.5
Over/Under: 47.5
Time: 8:20 p.m. ET
TV Channel: NBC
The Drew Brees-less Saints host the undefeated Cowboys for a primetime NFC showdown.
Our experts reveal how they're betting the game, complete with three picks.
---
Odds as of Sunday afternoon and via PointsBet, where Action Network users get an exclusive 200% deposit match (deposit $50, bet with $150).
---
The Cowboys are playing well under new offensive coordinator Kellen Moore. They're No. 2 overall with 7.4 yards per play — just behind the No. 1 Chiefs at 7.6 and way ahead of the No. 3 Ravens at 6.9. They're No. 1 in Football Outsiders' rush-offense DVOA and No. 2 in pass-offense DVOA.
On defense, the Saints are No. 30 with 6.7 yards per play, right behind the No. 29 Raiders at 6.5 and just ahead of the No. 31 Giants at 6.8. They have allowed at least 27 points in three straight games. Granted, they have played the Texans, Rams and Seahawks — but with Moore, the Cowboys appear to be just as capable on offense.
And the Saints are without Brees. They luckily have a competent backup in Teddy Bridgewater, but he has just 6.7 adjusted yards per attempt this year and for his career, and the 2019 average is 7.5. With Bridgewater, the Saints have a decidedly subpar passing offense.
With 4.6 yards per carry, the Saints are slightly above the league-average 4.3 — but that's a marginal difference. The running game doesn't matter all that much anyway.
Without Brees, the Saints simply do not have the high-flying offense we've come to expect.
Defensively, the Cowboys have an acceptable unit. It's not great, but it's good enough. They've allowed 5.3 yards per play; the average is 5.7. They are No. 7 in rush-defense DVOA and No. 15 in pass-defense DVOA.
At the Superdome, the Saints have historically had a significant home-field advantage — but that was with Brees at quarterback leading a potent offense. With Bridgewater, it might be different.
Last year, the Cowboys beat the Saints by three points at home. They're on the road now, but they have added a new offensive coordinator, seen the return of All-Pro center Travis Frederick and had a full offseason to better incorporate wide receiver Amari Cooper. As for the Saints, they are without a future Hall-of-Fame quarterback and their defense is struggling.
I'm probably being too optimistic, but I would bet it past -3 all the way to -5.5. I'm inclined to be pessimistic — because I'm a lifelong Cowboys fan — but I see a lot of value here.
The Cowboys look like they could be the class of the NFC.
Just when everyone thought it was the Packers, they laid an egg at home in primetime. When everyone thought it was the Rams, they've struggled offensively. Meanwhile, the Cowboys have looked indomitable against, well, the Giants? The Redskins? The Dolphins?
Before you get huffy and say, "Wait a second, they can't help who they play, and they did cover all those games, including a massive spread against Miami," all that is true. But none of them were the gimmes the final score indicates. In each game, the Cowboys struggled out of the gate and needed a quarter or so to realize, "We're more talented, let's go dominate and win Chad some money."
Which they did.
That can't happen against the Saints. Somehow, the Saints are actually a bit healthier than the Cowboys this week (if you don't, you know, include Brees not playing). And where the Cowboys are lacking is where the Saints can take advantage: The defensive front.
Follow my logic, please.
Sean Payton is a better coach than Jason Garret. Alvin Kamara is as dynamic a weapon as Ezekiel Elliott. Bridgewater is a smart quarterback who knows his limits right now and can execute the game plan Payton draws up. And, well, the Saints are not the Giants, Redskins or Dolphins. And the Superdome is not whatever they're calling Miami's home stadium these days.
This is the first test for the Cowboys of the season, against a team that has been tested, and passed, by losing its Hall of Fame quarterback. What the Saints did against Seattle last week wasn't an emotional rally. It's because they can be an efficient team that utilizes it's best weapon, Kamara, in a variety of ways and keeps Bridgewater from having to make game-winning throws.
Tonight will have a similar feel. Only it will be at home. In primetime. This is when they get the emotional rally.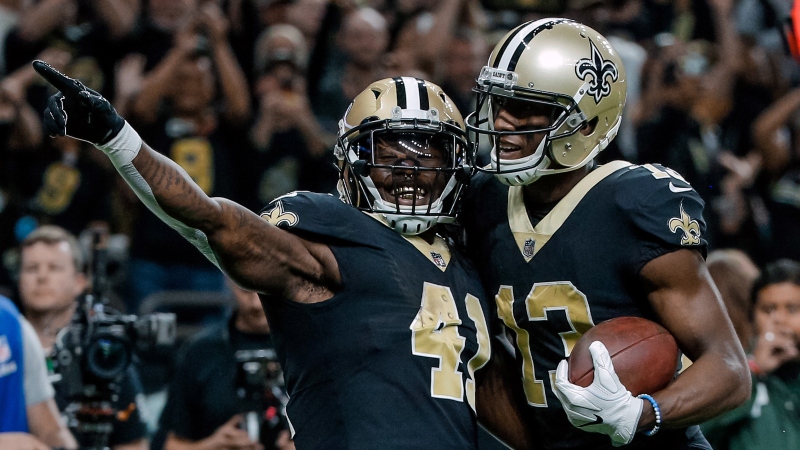 The public is backing the undefeated Cowboys, with 63% of the bets and 58% of the money backing Dallas as of writing (see live public betting data here).
However, Vegas hasn't moved the line.
As Chris Raybon discussed on our Action Network pod, the Saints have not been a home underdog much during Payton's tenure. Per Bet Labs, they are 8-3 (73%) against the spread as a home underdog and 37-24-2 (61%) cover rate overall as an underdog under Payton.
With Brees sidelined, the Saints will feature Kamara again. Their lead back had season-highs in targets (10) and receptions (nine) in last week's win. New Orleans has been one of the NFL's slowest paced teams over the past two seasons, ranking 29th with 29.5 seconds per play last year and 27th with almost an identical 29.6 seconds per play this year (per Football Outsiders).
I'm siding with the short-handed Saints and fading the public in a surprisingly close battle down in Bayou Country.
How would you rate this article?