How NFL Coaches Should Be Judged & Why Dan Quinn Was the Epitome of A Bad One
Credit:
Todd Kirkland/Getty Images. Pictured: Dan Quinn
Matt Ryan's red-zone wobbler that landed in the hands of the Carolina Panthers defense on Sunday will officially go down as an interception by safety Juston Burris, but it was more of an alley-oop to Atlanta Falcons owner Arthur Blank.
And Blank had no choice but to slam down the gauntlet on head coach Dan Quinn.
After a 6-2 finish following a 1-7 start to last season, Blank made a bet on Quinn.
But a betting man Blank is not.
If he were, he would have known that Quinn was not the right man for the job — because you are what your record against the spread (ATS) says you are.
What ATS Records Tell Us About NFL Head Coaches
No one metric serves as a better indicator of a coach's skill than ATS record.
Think about it: Point differential is more predictive of future win-loss record than prior wins and losses, and the point spread set by the betting market has proven to be incredibly efficient at adjusting your expected margin of victory to account for discrepancies in true talent level, with favorites covering 49.5% and underdogs covering 50.5% of the time since 2003, according to our Bet Labs data.
The mark of a good coach is one who covers the point spread, which in effect means one of three things have happened:
Their team has won a game it was expected to lose;
Or their team won by a margin larger than expected;
Or their team lost, but kept the game closer than expected.
Of the current head coaches, here are the 20 with winning ATS records over their careers (since 2003), per our Bet Labs database:
| Coach | Current team | ATS Record |
| --- | --- | --- |
| Bill Belichick | Patriots | 163-104-9 |
| Mike Zimmer | Vikings | 63-37-1 |
| Sean Payton | Saints | 117-92-3 |
| Andy Reid | Chiefs | 148-123-3 |
| Mike McCarthy | Cowboys | 112-91-6 |
| Pete Carroll | Seahawks | 88-69-8 |
| Matt LaFleur | Packers | 14-6 |
| Sean McVay | Rams | 29-22-2 |
| Ron Rivera | Washington | 76-67-2 |
| Mike Tomlin | Steelers | 108-100-4 |
| Sean McDermott | Bills | 28-21-3 |
| John Harbaugh | Ravens | 98-91-8 |
| Kliff Kingsbury | Cardinals | 12-7-2 |
| Bruce Arians | Buccaneers | 58-51-4 |
| Vic Fangio | Broncos | 12-8 |
| Brian Flores | Dolphins | 12-9 |
| Frank Reich | Colts | 18-16-3 |
| Matt Rhule | Panthers | 3-2 |
| Kevin Stefanski | Browns | 3-2 |
| Joe Judge | Giants | 3-2 |
That list includes a who's who of the good coaches in the league.
Note Quinn's absence from that list: His ATS record is 37-48, which paints a much truer picture of his tenure.
Some will say Bill O'Brien shouldn't have been fired after his 0-4 start, which was probably expected due to the team's difficult schedule to start the season against the Chiefs, Ravens, Steelers and Vikings. But considering the Texans were also 0-4 ATS and were failing to cover by an average of -7.25 points per game, owner Cal McNair's timing was justified.
Blank's decision, however, was long overdue.
To understand why, look beyond Quinn's fate-sealing straight-up loss as a 2.5-point favorite, and at his total body of work as a favorite instead:
Covering as an underdog is nice, but covering means most to the teams at the extremes: A bad team that covers as an underdog indicates progress, as the end goal is not to be an underdog because you're no longer in fact a bad team. And on the other end, a good team that covers in the rare spots they are an underdog is the mark of a truly elite team. But a middling team that covers as a dog isn't really moving the needle.
Quinn was 19-16 as an underdog, but the Falcons were still 16-19 straight up in those games.
For everyone else, it's ATS record as a favorite that's more telling. In the era of parity, not covering as a favorite means, at best, your coach is average. Fail as consistently as Quinn has, and it's telling of a lack of preparation.
Thanks to blowing a 28-3 Super Bowl lead against the Pats and two double-digit fourth-quarter leads this season against the Cowboys and Bears, Quinn's teams have a reputation of struggling to finish games. Yet, when it comes to the season as a whole, Quinn's teams too often fell short early on…

Quinn has made some bad decisions — kicking a field goal on fourth down to cut a 17-13 deficit to 17-16 late in the fourth quarter of a game against the 49ers in 2015, comes to mind — but unlike some coaches who are deficient in a certain area of decision-making, Quinn's signature was far less specific, unless you want to call "finding new ways to collapse" a signature.
Rather, Quinn-coached teams routinely turned out to be less than the sum of its parts on game day. He led the type of team team that could recover its own onside kicks better than it could recover the opponents'; the type of team for which the best defensive play-caller was its wide receiver coach; and the type of team in which the defense is broken, yet it's the offense that no-shows on a day when the defense allows a season-low in points.
Even worse, Quinn's teams would never bounce back well.
Usually, you can expect a team to play above expectation after a loss for reasons that include motivation, being undervalued due to recency bias, or sheer regression to the mean. But Quinn's teams struggled to cover the spread the week after a straight-up loss:

If you consistently have letdowns and don't bounce back well, it's going to be hard to have success in a season that lasts only 16 games.
Which Head Coach Will Be Fired Next?
Here are the coaches who don't have winning ATS records in their careers.
| Coach | Current team | ATS Record |
| --- | --- | --- |
| Matt Nagy | Bears | 18-18 |
| Anthony Lynn | Chargers | 24-25-4 |
| Romeo Crennel | Texans (interim) | 41-41-2 |
| Mike Vrabel | Titans | 16-18-1 |
| Doug Marrone | Jaguars | 42-43-2 |
| Kyle Shanahan | 49ers | 25-27-1 |
| Zac Taylor | Bengals | 9-12 |
| Matt Patricia | Lions | 16-19-1 |
| Doug Pederson | Eagles | 33-36 |
| Bill O'Brien | Texans (now-fired) | 45-51-4 |
| Adam Gase | Jets | 29-37-3 |
| Dan Quinn | Falcons (now-fired) | 37-48 |
| Jon Gruden | Raiders | 59-71-3 |
Shanahan's name obviously stands out here.
While Quinn played the starring role in 28-3, but it was Shanahan's offense that was the reason "28" wasn't "31" or "35" or some other number that would have put the game away. And the parallels don't stop there: Both led teams to a Super Bowl with the strength of their teams being the opposite side of the ball of their expertise. And like Quinn's 2016 Falcons, Shanahan's 2019 49ers also had a meltdown of epic proportion. In Shanahan's case, it's probably not talked about as much because we all take Patrick Mahomes' greatness for granted, making his third straight double-digit comeback of the postseason seen more inevitable than it really was.
But blowing a 20-10 lead in the final seven minutes of a Super Bowl is a big deal, and finding a way to still lose by 11 is almost unthinkable.
Since then, Shanahan's only two wins and covers have come against the Giants and Jets — who are a combined 0-10 this season — while he lost three games as a favorite outright. Maybe we should have expected that, though, as another similarity between the Quinn and Shanahan is that Shanahan too has a dismal record as a favorite before December, with the three ATS losses this season dropping his career mark to 5-11.
Shanahan is a sharp guy, and you've got to think he gets it together, but the parallels are eyebrow-raising at the very least.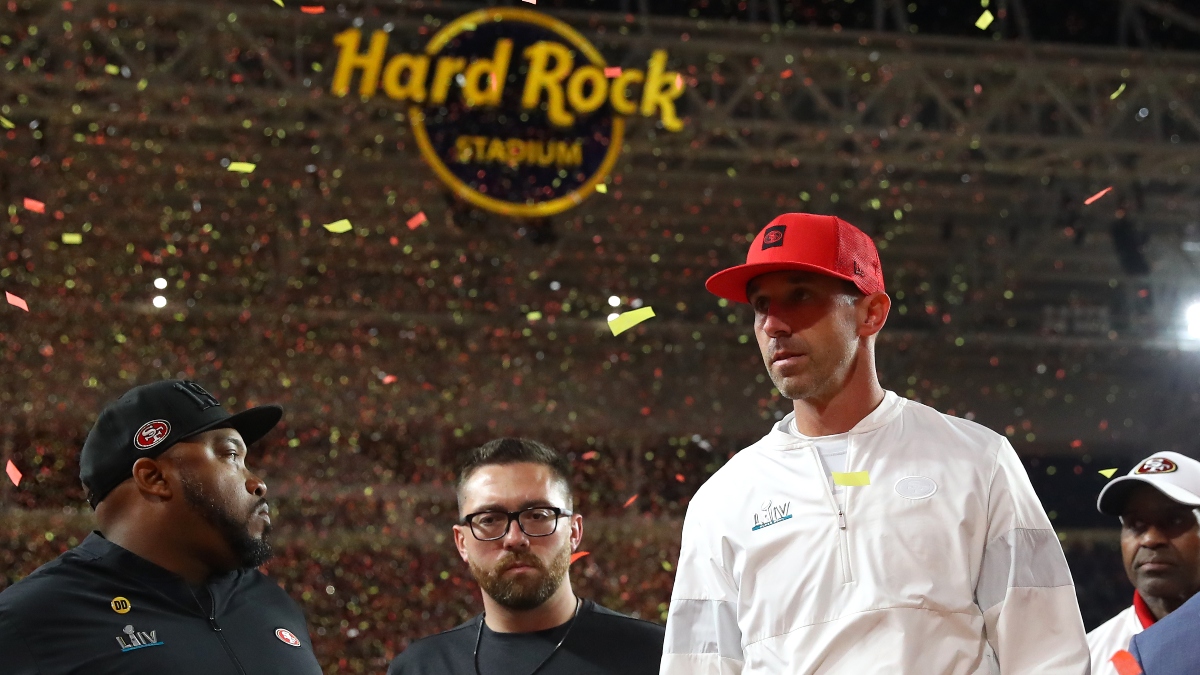 Pederson is also somewhat surprising, but I suppose a Super Bowl hangover is more acceptable when you actually, you know, win the Super Bowl. For that same reason, we'll go easy on Gruden as well, especially after his upset road win over the Chiefs this past Sunday.
But there are two prime candidates to be the next coach fired…
Matt Patricia, who fails the eye test. And though he's only three games under a .500 ATS record overall, his 3-6 record as a favorite is a Quinn-like red flag. Of course, the Lions would actually have to get good first.
Then there's Adam Gase, who is the clear frontrunner to be the next coach fired. He's been bad ATS as a favorite (7-9-2), a dog (22-28-1), and he's covered in only 33% of his games as a Jet.
Considering the Jets' futility over the years, it's notable that Gase is by far their worst coach ATS:
| Coach | ATS Record |
| --- | --- |
| Eric Mangini | 24-23-1 |
| Rex Ryan | 46-48-2 |
| Todd Bowles | 28-32-4 |
| Herm Edwards | 19-25-4 |
| Adam Gase | 7-14 |
Even Rich Kotite was 14-18 against the spread. Yikes.
And if you don't know who Kotite is, just picture Gase with glasses, no beard and dressed in 90s gear.
(Here, we did it for you.)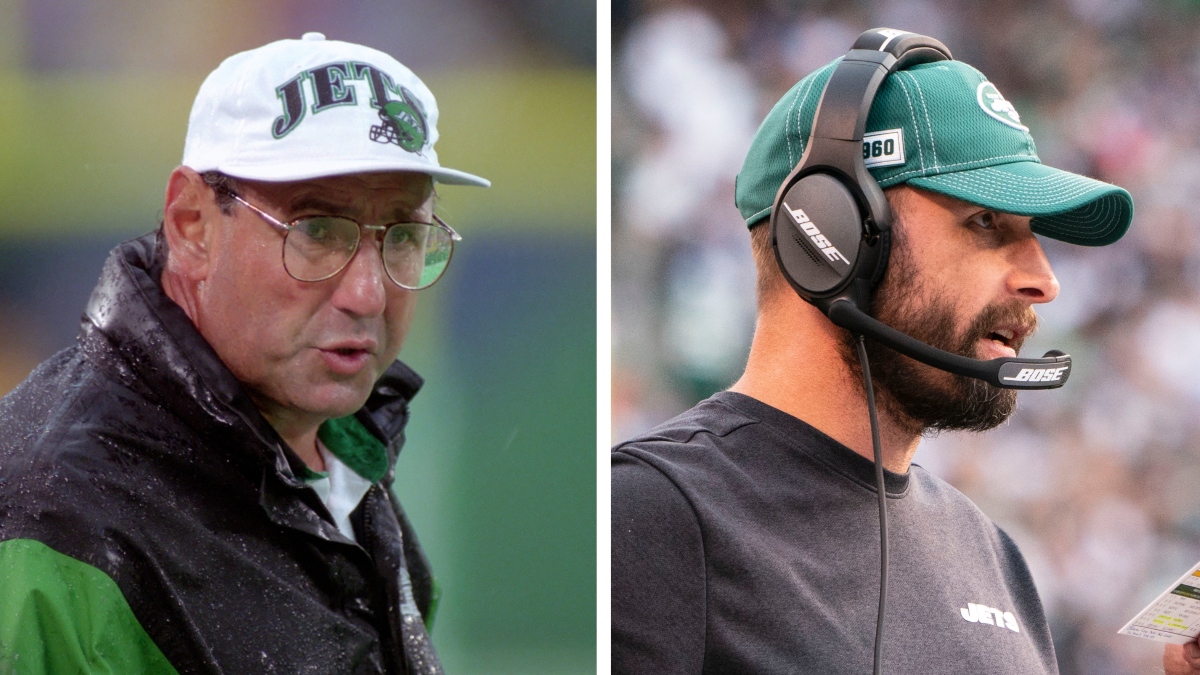 How would you rate this article?