The Packers Are Still A Value Super Bowl Pick With Aaron Rodgers
Credit:
Ronald Martinez/Getty Images. Pictured: Aaron Rodgers
The Green Bay Packers were a prime regression candidate heading into the 2020 season.
Despite winning 13 games and going to the NFC Championship, they finished the 2019 season with Pythagorean expectation of 9.7 wins, and teams that finish with more wins than their Pythagorean expectation tend to see their wins regress the following season while teams that lose more than their Pythagorean expectation tend to win more.
As ESPN's Bill Barnwell outlined heading into the season, the 48 teams that have gone 13-3 since 1989 have been outscored by an average of 150 points — roughly 9.4 points per game. The Packers, however, had a point differential of just +63 last season — a shade less than four points per game. With Green Bay finishing an unsustainable 6-1 in games decided by seven or fewer points, oddsmakers certainly believed the Packers were poised to take a step back in 2020, setting their win total at just 9.
When the Packers drafted quarterback Jordan Love in the first round instead of adding another weapon to help out Aaron Rodgers, conventional wisdom said their Super Bowl window was over.
Rodgers had other plans.
The Packers' Offensive Improvement
In training camp, Rodgers talked about how he revisited film of his 2010 Super Bowl season during lockdown and spotted some things he could improve on, which has already had a tremendous impact on how he's performed thus far. Through two games, he's Pro Football Focus' highest graded quarterback, going 50-of-74 for 604 yards with six touchdowns and no interceptions with a quarterback rating of 119.4.
In past years, everything fell on Rodgers — Green Bay's passing game was its entire offense — but things are different now under head coach Matt LaFleur. With the combination of Aaron Jones and Jamaal Williams, the Packers have the No. 1 rushing offense in the NFL through two weeks, averaging 208.5 yards per game and 6.2 yards per carry.
With a top-five passing and rushing offense, the Packers are No. 1 in Football Outsiders' offensive DVOA.
Although some of the Packers' offensive performance is due to their competition, it's not a stretch to say that they're more comfortable in Year 2 of LaFleur's system. With the reduced training camp and no preseason games, I can't stress this enough: Continuity is key in 2020. And despite a shortened offseason, there's been an increased comfort level in LaFleur's offense.
In 2019, the offense never found a consistent groove — the Packers were just 15th in scoring offense while Rodgers produced the lowest mark in ESPN's Total QBR (50.4) of his career. By comparison, Green Bay has the top ranked scoring offense and Rodgers has the No. 1 Total QBR at 91.0 so far in 2020. The Packers join the 1991 Bills as the only teams in NFL history with at least 85 points and 1,000 or more total yards through the first two games.
History has shown us that there's something to be said for teams improving during the second year of a head coach's tenure: There have been 15 who have taken their teams to the Super Bowl in their second season, with Don Shula repeating the feat twice.
The Packers Defense Still Needs Work
The Packers haven't had the same success on defense as they have on offense.
They've allowed both the Vikings and Lions to score touchdowns on their opening drives, despite allowing only one all last season. The 49ers ran for 6.8 yards per carry in last season's NFC Championship Game, and the Packers haven't gotten any better on that side of the ball: They're 30th in defensive rush efficiency and dead last in rushing success rate at 67%, struggling particularly with outside zone runs.
Although Preston Smith and Za'Darius Smith have done a great job at generating pressure, earning a combined 23.5 sacks in 2019 with three so far in 2020, they've struggled with setting the edge.
Nevertheless, the Packers defense has been solid once settling in: They've given up just three points through the second and third quarters of their first two games. They held the Lions to just seven points after the first quarter, and while the Vikings scored 24 fourth-quarter points, they were essentially garbage-time points as the Packers held a 29-10 lead.
You have to wonder if the 27.5 points per game the Packers have allowed is at all misleading based on the Vikings' garbage-time points. Green Bay is 13th in passing yards allowed with 233 yards per game and 10th overall in yards allowed with 344.5 per game.
The next four games against the Saints, Falcons, Buccaneers and Texans means the Packers will face four of the best quarterbacks in the league in Drew Brees, Matt Ryan, Tom Brady and Deshaun Watson. This stretch should give us a better idea of how good this defense is. We know the offense will be one of the best in the league, and if the defense can play average football, the Packers could be a contender this season.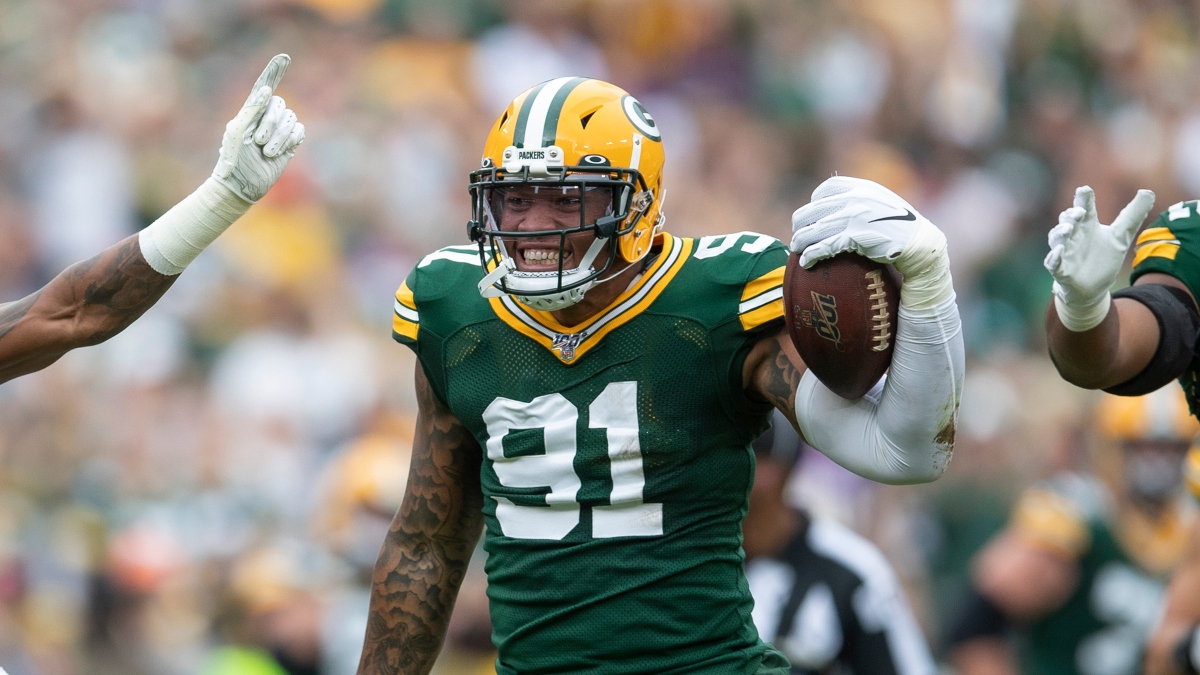 The Packers' Dominance In the NFC North
If there's any advantage the Packers have over the rest of the NFC, it's their schedule.
As we all know, the easiest way to make the playoffs and earn a first-round bye is to win your division. After going 6-0 in the NFC North in 2019, it was tough to imagine this Packers team repeating that feat. The rest of the NFC North was a combined 21-26 last season, and conventional wisdom said they would improve. Although 21 teams have swept their divisions since realignment in 2002, just one repeated the feat with teams averaging 3.3 wins within their division the following season.
Fortunately for the Packers, that hasn't been the case.
The Packers seem well on the path to repeating their NFC North dominance as they opened the season winning two divisional games against the Vikings and Lions by a combined 30 points. The rest of the division has clear flaws, which may provide the Packers with an open path to the division, a home playoff game and potentially the No. 1 seed in the NFC.
Take a look at FanDuel's adjusted win totals and stats for every NFC North team, then we'll take a closer look at the Packers' division opponents:
| Team |  Current Win Total | Point Differential | DVOA Rank |
| --- | --- | --- | --- |
| Packers | 9.5 | +30 | 4th |
| Bears | 8.5 | +8 | 18th |
| Vikings | 7.5 | -26 | 10th |
| Lions | 5.5 | -25 | 23rd |
Minnesota Vikings
The Vikings lost 10 defensive players over the offseason — DT Linval Joseph, CB Trae Waynes, DE Everson Griffen, CB Xavier Rhodes, S Andrew Sendejo, CB Mackensie Alexander, S Jayron Kearse, DE Stephen Weatherly, CB Marcus Sherels and ILB Kentrell Brothers — embracing a full rebuild on that side of the ball.
Their offense hasn't performed much better, either, as Kirk Cousins has struggled behind an offensive line that can't pass protect. Losing wide receiver Stefon Diggs certainly hasn't helped.
Detroit Lions
The Lions have been much improved offensively with the return of quarterback Matthew Stafford. However, cluster injuries to their secondary — Justin Coleman, Desmond Trufant and Darryl Roberts — has already put a strain on a defense that's struggled to generate pressure.
Third-round pick Jeff Okudah allowed seven catches on 10 targets in coverage for 121 yards in his debut last week, garnering him a team-worst 28.6 grade from PFF. Through two games, the Lions are tied for 30th with just two sacks and their 16.7% pressure rate is 26th in the league.
Chicago Bears
The strength of the Bears is still their defense as they're sixth in defensive DVOA. Still, the Bears were a D'Andre Swift-dropped-reception away from losing to the Lions in Week 1 and barely held on in a 17-13 win over the Giants in Week 2.
As always with the Bears, the question is Mitchell Trubisky — he ranks 28th in completion percentage at 59.4% and 20th in Total QBR (55.7) so far. Against two bad defenses, he and the Bears have struggled to put together a full game.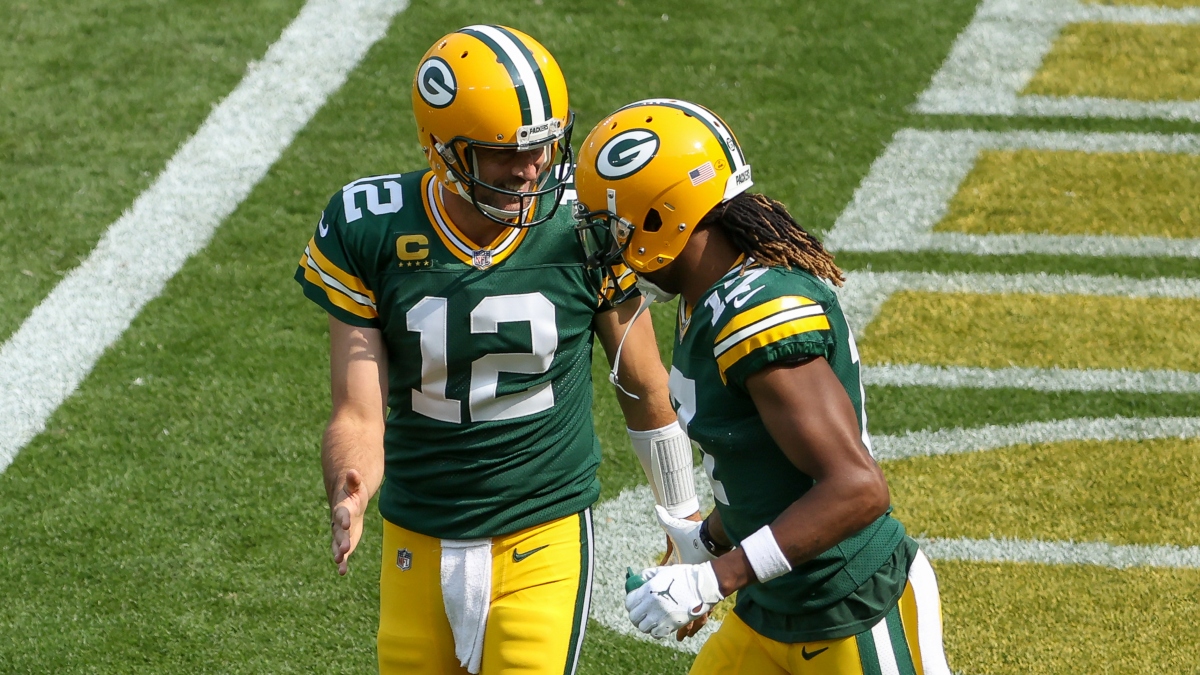 There's Still Value on the Packers To Win the Super Bowl
Although the Packers face contenders in the Saints and Buccaneers, looking ahead, they caught some breaks schedule-wise. They're fortunate to face a depleted 49ers as well as host the rebuilding Jaguars and Panthers, a struggling Eagles team, and the Falcons.
In addition, the Packers may have the easiest road to win their division.
With the Seahawks, the Cardinals and Rams all playing solid football, the NFC West appears to be the best division in the conference. You can also expect the NFC South with two Hall of Fame quarterbacks in Tom Brady and Drew Brees to beat up on each other. The Cowboys are the cream of the crop in the NFC East, but their defense leaves the door ajar for any of their division opponents.
All things considered, I believe there's some value on the Green Bay Packers to win both the NFC and the Super Bowl.
The Packers have a top tier offense and play in a division that should give them a chance at a playoff home game and a first-round bye. One caveat to note is that there's only one first-round bye per conference this season, making it more valuable. No wild card team has gone to the Super Bowl since the 2012 Baltimore Ravens, and teams that have earned a first-round bye have represented each conference the past six seasons.
In general, NFL offenses are more consistent than defenses year-to-year.
Looking back at league history — between the 1990s Bills, 2000s Colts and the 2018 and 2019 Chiefs — it's clear a dominant offense will give you an opportunity to win a Super Bowl. There's a lot said about the Packers' defensive struggles, and they are 25th in defensive DVOA. By comparison, however, the 2018 Chiefs were 27th in defensive DVOA and were just an overtime loss to the Patriots away from making it to the Super Bowl in Patrick Mahomes' first full season as a starter.
With a Sunday Night Football showdown against the New Orleans Saints this week and a road game against the Buccaneers in two weeks, the Packers still need to prove how good they are against top level competition. Nevertheless, at +2100 to win the Super Bowl, there's a ton of value. And should they defeat just one of those two teams, we could see the odds move in our favor.
With the way the Packers' offense is playing, Rodgers at +1100 to win league MVP is also a solid bet — should they get the No. 1 seed, he has an opportunity to win this award even in a season in which Russell Wilson, Lamar Jackson and Patrick Mahomes are all playing lights out.
Futures Picks
How would you rate this article?