NFL Draft Odds: There's Betting Value On Fewer Than 5 First-Round QBs
Credit:
Kevin C. Cox/Getty Images. Pictured: Mac Jones.
Each year, one of my favorite NFL draft props is the number of quarterbacks selected in Round 1 — and DraftKings has just posted this prop.
Last year, I was 124-88-1 (+26.2 units) betting the NFL draft and the No. 6 mocker in the FantasyPros accuracy contest. In 2019, I was 54-29 (+17.7 units) on the draft and was also a top-20 mocker in the FantasyPros accuracy contest and Mock Draft Database contest.
While I rely on my own research, I also take a "wisdom of the crowds" approach by surveying an index of mock drafts. I find that these drafts, created by experts with established records of success, collectively give me a good sense of the realistic range of outcomes for what we might see with any given player or pick.
With that in mind, I think there's value on under 4.5 quarterbacks selected in Round 1 of the 2021 NFL Draft.
Under 4.5 QBs in Round 1
Over 4.5: -560
Under 4.5: +375
In my post-Super Bowl mock draft, you'll see that I have five quarterbacks going in Round 1.
Trevor Lawrence: 1.01, Jacksonville Jaguars
Zach Wilson: 1.02, New York Jets
Justin Fields: 1.08, Carolina Panthers
Trey Lance: 1.15, New England Patriots
Mac Jones: 1.19, Washington Football Team
Indeed, I think it's likelier than not that we'll see five quarterbacks in Round 1 this year. But at +375, the under has a 21.1% implied probability of hitting, and I think the true odds are closer to 30%.
In my 16 indexed mocks, we see the under hit 31.3% of the time.
I don't think the edge with this prop is massive, but it's sufficient.
This prop will likely come down to Jones.
While Lawrence, Wilson, Fields and Lance all go off the board in literally 100% of my surveyed mocks, Jones appears in 11-of-16 drafts. He is likely to be selected in Round 1, but Jones is by no means a lock.
I can easily see why a team would take him on Day 1. Last year he looked like the best quarterback in the nation as he led Alabama to a national championship and ranked No. 1 in the Power 5 with 12.8 adjusted yards per attempt.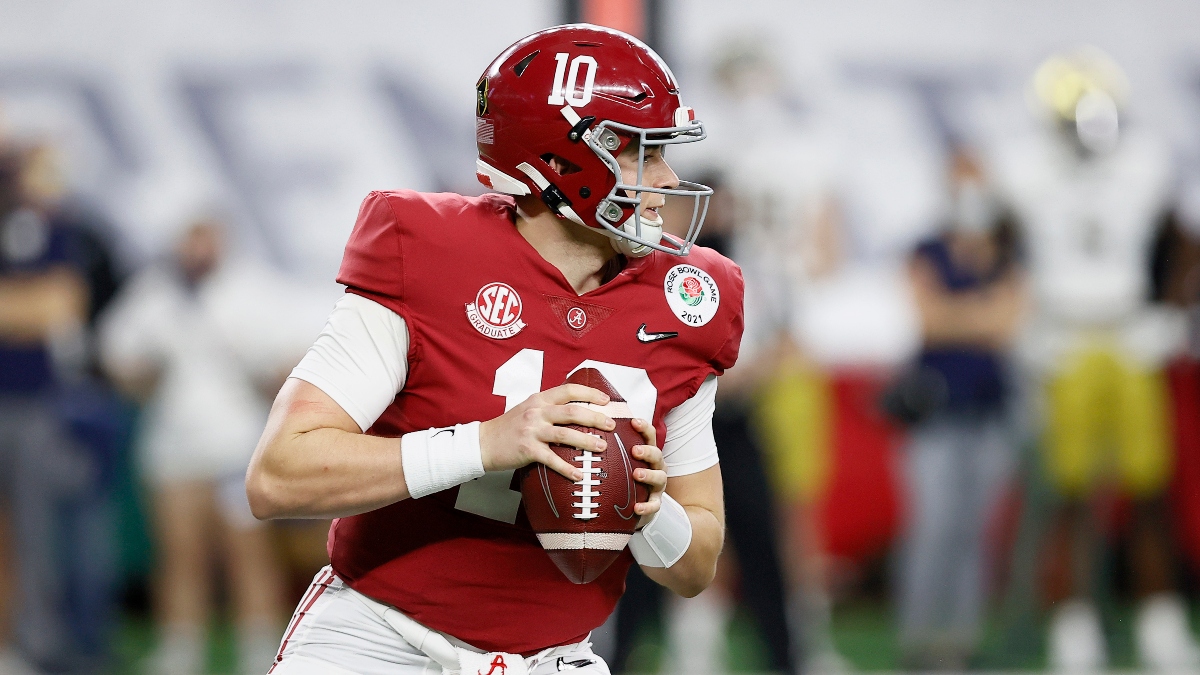 I can also see how he could fall to Day 2: He's older, he's relatively small, he has barely more than a year of starting experience, he wasn't an elite recruit, he's a net negative as a runner and he probably has below-average arm talent. I'm not saying that to disparage him: I think he should go on Day 1. But if the NFL wants to find reasons to pass on him, it will be able to do so.
And here's the bigger item: It's rare for more than four quarterbacks to go in Round 1. Only three times in NFL history has it happened.
1983: John Elway, Todd Blackledge, Jim Kelly, Tony Eason, Ken O'Brien, Dan Marino
1999: Tim Couch, Donovan McNabb, Akili Smith, Daunte Culpepper, Cade McNown
2018: Baker Mayfield, Sam Darnold, Josh Allen, Josh Rosen, Lamar Jackson
Five-plus Round 1 quarterbacks is the type of thing that tends to happen only once every 15-20 years — and it just happened a few years ago. To have this many quarterbacks go at the top of the draft, you must have a great class of passers as well as a great need at the position in the league.
I think we have both this year — but maybe I'm wrong.
In any given draft, it's not uncommon for a quarterback hyped as a Round 1 guy to fall down the board. Think of Drew Lock in 2019, DeShone Kizer in 2015, Derek Carr in 2014 and Geno Smith in 2013.
As unthinkable as it is right now, Lance or maybe even Fields could slip to Round 2.
On top of that, maybe the quarterback market isn't as thin as it seems. Not that many teams actually need quarterbacks right now, and many eligible-ish veteran passers might be available one way or another this offseason.
Dak Prescott: Unrestricted free agent
Jameis Winston: Unrestricted free agent
Ryan Fitzpatrick: Unrestricted free agent
Cam Newton: Unrestricted free agent
Andy Dalton: Unrestricted free agent
Jacoby Brissett: Unrestricted free agent
Mitchell Trubisky: Unrestricted free agent
Alex Smith: Candidate for release or trade
Sam Darnold: Candidate for release or trade
With these players in the market, and with many quarterback situations already settled, there might not be the demand in 2021 for five quarterbacks to go in Round 1.
Again, I think it's likelier than not that over 4.5 quarterbacks hits, but if I can get +375 odds while betting that what almost always happens will actually happen once again, I must do it.
Pick: Under 4.5 QBs in Round 1 +375 (1.0 units)
Bet Now: DraftKings
Limit: +300
---
Matthew Freedman is 1,018-828-37 (55.1%) overall betting on the NFL. You can follow him in our free app.
How would you rate this article?