NFL Odds, Picks, Predictions: Steelers, Patriots, Saints To Cover As Dogs As We Pick Spreads For Every Game
Credit:
Justin K. Aller/Getty Images. Pictured: Steelers OLB T.J. Watt
Wondering which way to bet spreads in Week 8? Our analyst runs through NFL odds for every game and makes his picks for each.
Here's the kicker: Not all picks are created equal, so there are some he's betting, but others he's passing on. Find all his takes below.
It's time to finalize our Week 8 picks.
Remember, we have seen road underdogs of under a touchdown dominate this year (see below). Short road dogs are 31-12 against the spread (ATS), covering by more than 7.0 points per game, and they're 26-17 straight up.
Home-field advantage just doesn't mean as much as it once did, and the dogs have been covering and often winning these toss-up matchups.
Eight games this week — more than half of them — fit that criteria, and we already saw the Packers win as short road dogs on Thursday night, even without Davante Adams against an unbeaten Cardinals team. I loved the Packers in that spot before the Adams injury threw me off the scent, and I've got my eye on the Steelers, Patriots and Saints in big potential road upset spots on Sunday.
---
NFL Odds, Picks, Predictions
We've already covered every game below, but let's circle back with a few late-week updates to our positions now that we have more information on injuries. First, let's recap picks from below that remain unchanged — and remember, you may want to sprinkle the moneyline on these short road dogs too:
Steelers +4 at Browns (Bet)
Bills -14 vs Dolphins (Lean)
Falcons -3 vs Panthers (Bet)
Bears +4 vs 49ers (Lean)
Patriots +4.5 at Chargers (Bet)
Seahawks -3.5 vs Jaguars (Lean)
Saints +4.5 vs Bucs (Bet)
Washington +3.5 at Broncos (Lean)
We're going on the record with a pick for every game, but that doesn't mean we have to play every game.
I quite like the Colts matchup against the Titans, but that line has moved significantly and killed off a lot of the value. If you do like Indy, I think the division odds are the better play now.
I'm also passing on a confusing Lions-Eagles game, though I do like the under there:
Colts -3 vs Titans (Pass)
Lions +3.5 vs Eagles (Pass)
Alright, let's dive a little deeper into the games that shifted this week with injury news and line moves.
Bengals (-11.5) at Jets

We waited for Jets quarterback news, and we got it: Mike White will start at QB for New York.
Raise your hand if you'd ever heard of Mike White before last Sunday. No, not the White Lotus director. No, not the School of Rock and Nacho Libre writer who went on Survivor — that's the same as the first guy. This Mike White is a 26-year-old rookie who played college ball at South Florida and Western Kentucky. He was actually a fifth-round draft pick and led the NCAA in total yards per play in 2016, ahead of Baker Mayfield, Sam Darnold, Lamar Jackson, and Patrick Mahomes, all first rounders that year.
Here's the question we need to ask ourselves in this game: exactly how much of a downgrade is Mike White from Zach Wilson?
Six days ago, the Bengals were 3.5-point favorites in this game when I picked Cincinnati in our Lookahead podcast segment. Then New York got crushed by the Patriots, Zach Wilson got hurt, and the Bengals blew out the Ravens. So is that trio of results really worth eight points of line movement? I'm skeptical.
Remember, Wilson is young and inexperienced and was never expected to be particularly great this season. White is older and more mature, and he's been around this Jets team all year. He earned this backup role as a no-name rookie, and he's now earned the start over Super Bowl winner Joe Flacco.
I have six major Action Labs signals all in New York's favor here. Teams coming off a big blowout loss typically perform well the following week, while teams off a big blowout win do the opposite. That's regression to the mean and overinflated lines, and the trends are even stronger when two such teams play each other. Teams who lost by at least 17 the week before playing teams who won by 17 or more are 97-60-4 ATS (62%). When the losing team is at home too, the trend gets even stronger, with a 26% ROI.
This is ugly, but I just have to play the number here. The Jets have value.
THE PICK: Jets +11.5 (Lean)  |  Previously Wait
Rams (-14.5) at Texans

Rookie Davis Mills will get another start for the Texans, and I cannot back Houston with how inept he's been. I loved the Texans here if Tyrod Taylor had returned, but just look at the contrast. Houston scored 51 points in 1.5 games with Taylor under center, but the Texans have scored only 46 points in 5.5 games with Mills since.
That's 8.4 PPG under Mills. That's … really, really bad. In five full games with Mills, the Texans have scored 9, 0, 22, 3, and 5 points. The Houston Astros are routinely outscoring their NFL counterpart right now.
The Rams defense has not matched last year's standards, but the soft spot on this D is the run defense. The Texans rank dead last in rushing DVOA and just traded away their starting RB. This line seems awfully high until you remember the Texans have a pretty good chance of scoring single digits, which means we only need like 24 Rams points to cover. The Rams are scoring 29.6 PPG.
You're forgiven if you don't want to bet on such a high Rams line, but please, do not talk yourself into Davis Mills again.
THE PICK: Rams -14.5 (Lean)  |  Previously Wait
Cowboys at Vikings (-3)

I wrote quite a bit about this game below already, so check the full preview there. Here's the TLDR version: I loved the Cowboys coming off a bye week with time to prepare for Kirk Cousins and Mike Zimmer, who have been awful in toss-up spots, in night games, and against prepared opponents.
Then the line swing heavily midweek as news of a lingering Dak Prescott injury broke. It looks like Prescott will be a true game-time decision for Sunday night, and the line has swung from Cowboys -2.5 all the way to Vikings -3.
If Prescott starts, I have to trust that he's healthy enough to be out there, and I still like Dallas for all the same reasons. I'd still bet Dallas up to -2 in that spot.
If it's Cooper Rush at QB instead, this line probably pushes past -3 by kickoff. If we do get the hook or more, I'll still lean Cowboys.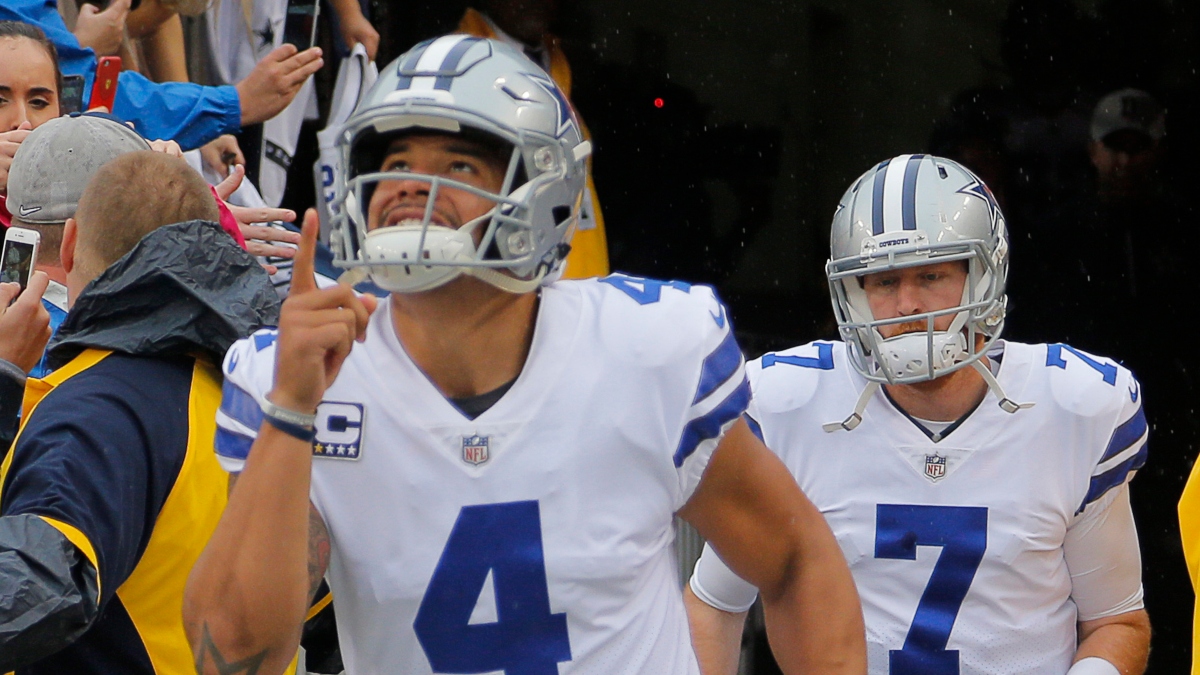 Dallas should be able to run all over this porous Vikings run defense, and they should lean even harder on Ezekiel Elliott and Tony Pollard if Prescott is out. That game feels close to a toss-up, and we know road dogs under a TD have been hanging tough. It's also a bit of an adrenaline letdown spot for Minnesota in a big Sunday night game they've been waiting two weeks for if Prescott doesn't play.
I do not think this would be a walkover without Prescott. I bet Dallas already a week ago on the lookahead line, and I'm not buying out of my position even with the QB uncertainty. I still think Dallas has a shot, and my gut still says Prescott plays too.
Still, I can't play anything new right now until I have a QB announcement. If Prescott is in, I'm betting Dallas at any underdog number and up to -2. If it's Cooper Rush, I'll pass at +3 but lean Cowboys at +3.5 or longer.
THE PICK: Pass until a QB announcement  |  Previously Cowboys -2.5 (Bet)
Giants at Chiefs (-9.5)

I waited on this one to make sure Patrick Mahomes was ready to go and also because I wanted to see where this line ended up. Mahomes seems fine, and the line has settled in around -10. And I'm still not sure.
On the one hand, the Chiefs really have no business being favored by double digits against anyone right now. This team is not playing great football. The defense is no longer heinous but still very bad, and the offense has struggled in four of its last five games. The Chiefs have a negative EPA offensively over the last four weeks. They rank 17th in the NFL in EPA per pass play over that span — that's technically bottom half of the league — and Mahomes ranks 16th in EPA + CPOE.
Basically, the numbers tell us the Chiefs offense has been extremely average for at least a month. Kansas City is 2-5 ATS, and they've failed to cover in seven straight home games and three straight times as a double-digit favorite. The last time the Chiefs actually covered in either of those spots was the same game — almost exactly one year ago on Nov.1, 2020, against an abysmal Jets team actively trying to lose.
On the other hand, I came into Sunday tempted to bet the Chiefs lookahead line — and that was at -13 before Week 7 action. Then Kansas City was nearly shutout by Tennessee, while the Giants almost shutout the Panthers. Believe it or not, this game actually fits that same formula as the Jets trend above. The Chiefs are the big loser playing at home against a big winner in the Giants.
So do we try to avoid recency bias and take the Chiefs? Or do we think Kansas City has been overrated by the books this whole time and that an average offense with a bad defense should not be getting 10 points against anyone?
I'm honestly not sure. I think I trust that the Chiefs D is getting just a little better and that the offense won't catch every bad break forever. I think the Chiefs win this and stay in the playoff hunt, and that this is a pretty nice teaser opportunity. I think there's a chance the Chiefs get right with a monster game here. I think I'll trust the Chiefs one more time. But I also think I'll stay away.
THE PICK: Chiefs -9.5 (Pass)  |  Previously Wait
---

Editor's Note: The content below was published on Tuesday. Please check out the information above to see how Brandon Anderson's picks have changed — and why — since then.
So far in 2021, it's been great to be a road underdog in the NFL. Home-field advantage is not what it once was. Even with the crowds returning at full strength this year, the 12th man advantage is not adding up. And even with big favorites dominating in recent weeks, this is still an underdogs season at 58-49 ATS so far.
But what if we combine those two trends and narrow the scope a bit? Now we get a serious trend in our favor. This season, road dogs of under a touchdown are an incredible 30-12 ATS, per Action Labs. They're covering the spread a whopping 71% of the time and doing so by 7.04 PPG.
And if you're thinking to yourself, hey wait, if an underdog of less than a TD is covering by 7.04 PPG, doesn't that mean … why yes, it DOES mean they're winning too. These short road dogs are 25-17 straight up with a 58% ROI. A $100 bettor would be up $2,425 already — and it's only been seven weeks!
As you can see, we've got six short road dogs in Week 8. And that doesn't mean we should blindly bet them all! The books have seen this trend too, and these things even out over time. But it's good to keep this in mind. Short road dogs are a thing in 2021.
Let's make some Week 8 picks. As always, we'll make early picks on every game, but come back Saturday for final decisions once we have more information on lines and injuries. For now, every pick is a "bet," "lean" or "wait."
Note: Odds highlighted below are the best available for each pick as of writing. Shop for the best real-time lines with our NFL odds page.
---
Thursday Night Football
Packers at Cardinals (-6)

With Green Bay 6-1 and Arizona a perfect 7-0, this was shaping up as the Thursday Night Football game of the season. The Cards remain unbeaten and are 6-1 ATS. The Packers got blown out in Week 1 but have been perfect since, winning and covering all six. This is not just a huge primetime game, but a huge one for the NFC playoff picture and 1-seed.
And then the Davante Adams news broke.
Adams is in COVID protocol, and with the short week, it would appear almost certain that he will miss this one. As great as his chemistry is with Aaron Rodgers — easily the best QB-WR combo in the league right now — that is a devastating blow to this offense. And the books knew it, immediately bumping this line 2 or even 2.5 points across the board.
That's a shocking line move for a receiver, and it makes me wonder if there's something more here. Is it possible other players (like Allen Lazard, who NFL Network's Ian Rapoport reported will be out Thursday due to a COVID-19 close exposure) will miss this one too, if they were exposed with Adams? I think the books are wondering the same thing.
That means this is a stay away, since we're publishing Tuesday without clear news. And that's a bummer, because I loved this spot for Rodgers and the Packers before that news. I gave out Packers +3.5 as a Hot Read pick on The Action Network Podcast. Rodgers is 8-11 lifetime as an underdog of more than a field goal, and he's won five games in a row from that spot. Late in his career, he's thrived in this spot.
But if Rodgers is missing his security blanket — and who knows what other receivers too — then it's a much harder sell. Arizona's defense has been the best in the league over the past month, and the pass defense in particular. No receiver in the league is more important to his team than Davante Adams.
If Adams plays — and he hasn't officially been ruled out yet — I like the Packers as dogs here in what would feel like a field-goal game. For now, I have to pass.
THE PICK: Packers +6 (Pass)
---
Early Sunday Afternoon
Titans (-1.5) at Colts

Nobody in the NFL is hotter than the Tennessee Titans. You can't have much better of a week than winning Monday night against the red-hot Bills and then smashing Patrick Mahomes and the Chiefs, nearly shutting them out.
What goes up must come down.
The Colts have dominated this division rivalry over the past decade or so, winning 22 of the last 26. Tennessee won at home by nine a month ago — that puts Indianapolis in a position of desperation here, already down two games and effectively 2.5 with the division tiebreak. A win here by the Titans all but clinches the division.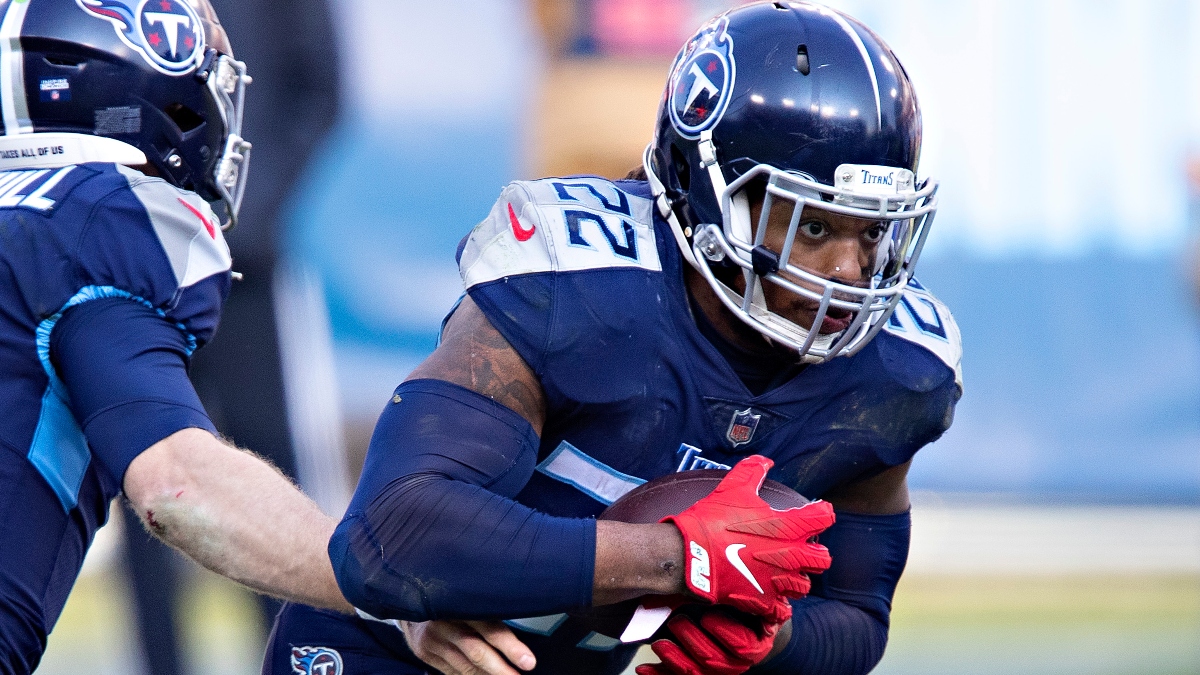 I like the Colts, though. Indy's defense has been fantastic. The run defense has ranked near the top of the league all season, and that's always the place to start against Derrick Henry. Tennessee's run game is still by far its greatest strength, so if the Colts can neutralize Henry, they'll have a great shot. And lately, Indy's pass defense has been just as good. The Colts rank top five in EPA per play on both passing and rushing defense over the past four months, and second overall defensively.
Mike Vrabel has not been good in toss-up games, with lines at a field goal or below in either direction. His Titans are 7-12-1 ATS in that spot. I like the Colts in a must-win spot, and if you do like Indy here, you should consider playing Indianapolis at +400 to win the AFC South. Now that the Colts are getting healthy, with Carson Wentz looking good and Quenton Nelson upgrading the O-line in a huge way, the team is playing great ball. And with the Jaguars and Jets up next, a win here coming off a primetime win could mean the Colts are suddenly the league's hottest team instead of the Titans.
THE PICK: Lean Colts +1.5
Steelers at Browns (-4)

The last time these teams met, it was a great day for Browns fans.
Coming into 2021, the Steelers had absolutely dominated Cleveland in this so-called division rivalry. The Browns had won just five of the last 36 meetings when the clock struck midnight on New Year's. But then Cleveland won a Week 17 game over the Steelers without Big Ben, then came back to Pittsburgh a week later and absolutely smashed the Steelers to grab Cleveland's first playoff win in almost three decades. You might recall the Browns opening up a shocking 28-0 first quarter lead in that one.
You know who else might recall that? The Pittsburgh Steelers.
The Steelers have to be hungry for revenge after getting embarrassed like that. Remember, this team started 11-0 last season before losing five of their final six, exiting the season in ignominious fashion. Pittsburgh hadn't lost two in a row to Cleveland this entire century, and Ben Roethlisberger is 23-2-1 lifetime against the Browns, with his last regular-season loss coming in 2014.
The Steelers also have a massive health advantage. Pittsburgh is coming off a perfectly timed bye week, and I'm eager to see what Matt Canada's offense looks like after a week to find its bearings. The Browns, meanwhile, are not healthy at virtually any roster spot. Baker Mayfield missed Thursday night and is nursing a major shoulder injury. Nick Chubb may be back this week, but he and Kareem Hunt both missed Thursday too. Jarvis Landry could finally return but has missed most of the season hurt. Odell Beckham Jr. is playing through injury, and the top three Browns tackles are hurt. Jeremiah Owusu-Koramoah and Jadeveon Clowney are question marks on defense.
We just listed off about half of the Browns starters. This line opened at -3.5 and has moved slightly toward Cleveland, so that's a decent indication that some of these guys are expected back — presumably Mayfield and/or Chubb. I ain't afraid of Baker, though. He's been miserable since the injury, and I'm not sure a week away will change anything.
Kevin Stefanski is 0-6 ATS lifetime in division games, and Mike Tomlin and Big Ben thrive in this spot as underdogs. Tomlin is 40-20 ATS as an underdog, covering 67% of the time, and Big Ben is 25-11 ATS as a short dog, including 24-12 straight up with a 49% ROI and seven wins in his last eight such games.
I hate this spot for the Browns and love it for the Steelers. Sometimes you just have to play the guys available on the field. I don't mind the line moving away from my Hot Read pick. I'll grab Pittsburgh anyway because there's always the chance the Browns announce key starters missing and move this line back the other way, maybe even past the key number.
THE PICK: Bet Steelers +4
Panthers at Falcons (-2.5)

This is quietly a huge game in the NFC playoff race, with both of these teams on the fringe of that last wild-card spot.
My first instinct on this game was to lean Panthers. They're one of our short underdogs, and they feel undervalued after getting embarrassed last week by the Giants. Meanwhile, the Falcons are getting credit for three wins in their last four, but did so against the Giants, Jets and Dolphins, who are 4-16 combined.
Then I dug into the numbers and noticed that there are no teams trending in more polar opposite directions over the past four weeks. Carolina started 3-0 but has lost all four games since, while the Falcons dug a 0-2 hole but are now back to 3-3 and on the cusp of the playoffs, just as I predicted a month ago.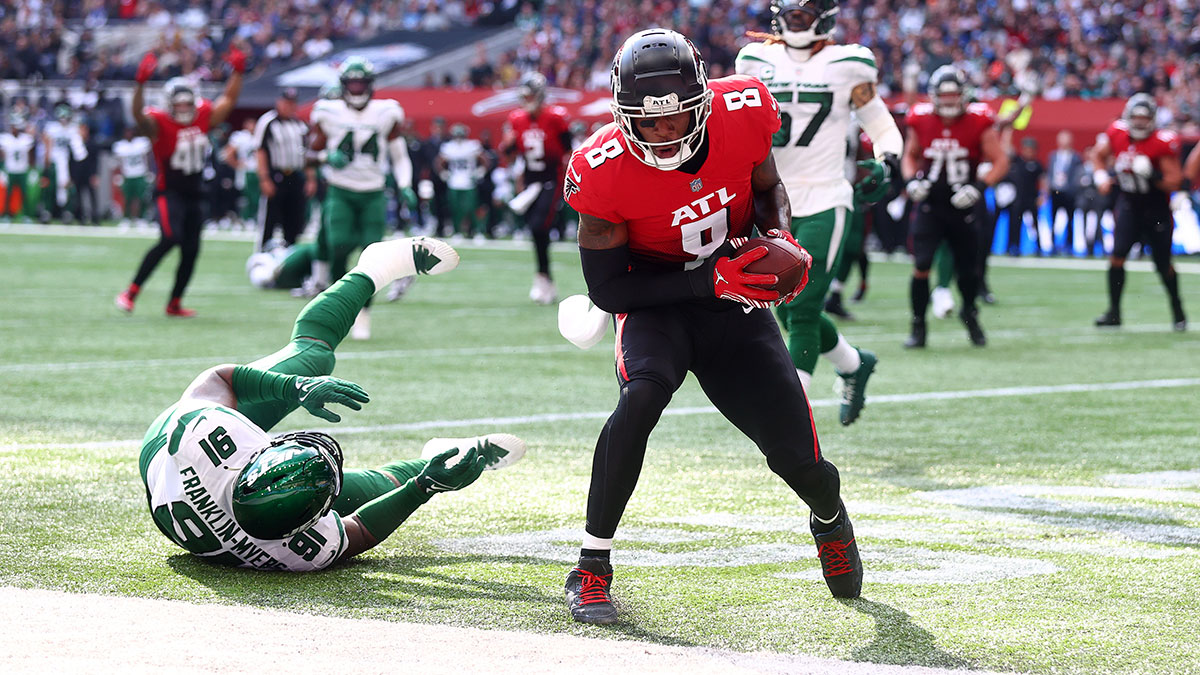 The Falcons offense ranks second in the NFL in Expected Points Added (EPA) per play over the past four weeks, and they're first in EPA per pass play. Remember how we loved what the addition of Arthur Smith might do for this offense? It might be working, especially now that stud rookie TE Kyle Pitts is balling. The Falcons are averaging 0.423 EPA per pass play over the past month. And at the other end of the spectrum? Why, that would be Sam Darnold and the Panthers at -0.344 EPA per pass play. Carolina ranks dead last in both passing and overall EPA offensively during this stretch.
Think of it this way: every time Atlanta and Carolina each run a passing play this game, the Falcons gain three quarters of an expected point on the overall score. That is a massive advantage. Matt Ryan looks rejuvenated under Smith, while Darnold is dinged up and just got benched for P.J. Walker.
Those EPA numbers don't adjust for opponent strength, and it's fair to point out that Atlanta has had an awfully easy schedule these last four games. It's also fair to point out that Carolina has been as bad as those last four Falcons opponents. Forget the early games. Focus on what we've seen the last four weeks and this is a slam dunk. I'm betting this at -2.5 before we lose the hook.
THE PICK: Bet Falcons -2.5
49ers (-3.5) at Bears

Kyle Shanahan is starting to lose hope in Jimmy Garoppolo, and I am starting to lose hope in Kyle Shanahan.
Shanny is now 8-21-1 ATS as a favorite, covering only 28% of the time, and that includes 1-4 this season. We keep making the 49ers favorites, but I'm starting to think this team just might not be very good.
The Niners started 2-0 against the Lions and Eagles. They won those games by only a touchdown, and we've learned since that both opponents aren't very good. Since then, the 49ers are 0-4. It's been a tough schedule, and they're not getting blown out, but they're not winning either.
This matchup feels relatively even, and the Bears play much better at home. San Francisco ranks 30th in passing EPA per play over the last four games, and I trust this Bears defense. I lean Chicago here with the hook, though this could move to a pass if the line drops to -3 or below.
THE PICK: Lean Bears +3.5
Rams (-14) at Texans

This should be an easy Rams win, but it all depends on whether Tyrod Taylor can go for the Texans. Last week we bet Houston early and gambled that Taylor might come back. This week we'll wait and see.
The Texans scored 51 points in 1.5 games with Taylor; they've scored 46 total in 5.5 games since he went out.
THE PICK: Wait for Tyrod Taylor news
Dolphins at Bills (-13.5)

The Bills have absolutely owned the Dolphins lately. Buffalo has won six straight against Miami, five of them by double digits, including a 35-0 thrashing in Miami barely a month ago. And remember, Miami has been pretty good the last few seasons, so those dominant wins are not meaningless.
Miami plays aggressive defense and relies heavily on its corners — that simply has not worked against Buffalo in the past. Expect a big day from Josh Allen. He leads the league in EPA + CPOE over the last four weeks, per RBSDM, a great overall composite ranking for QBs, and he's thrown 17 TDs in this six-game win streak against the Dolphins, almost three per game.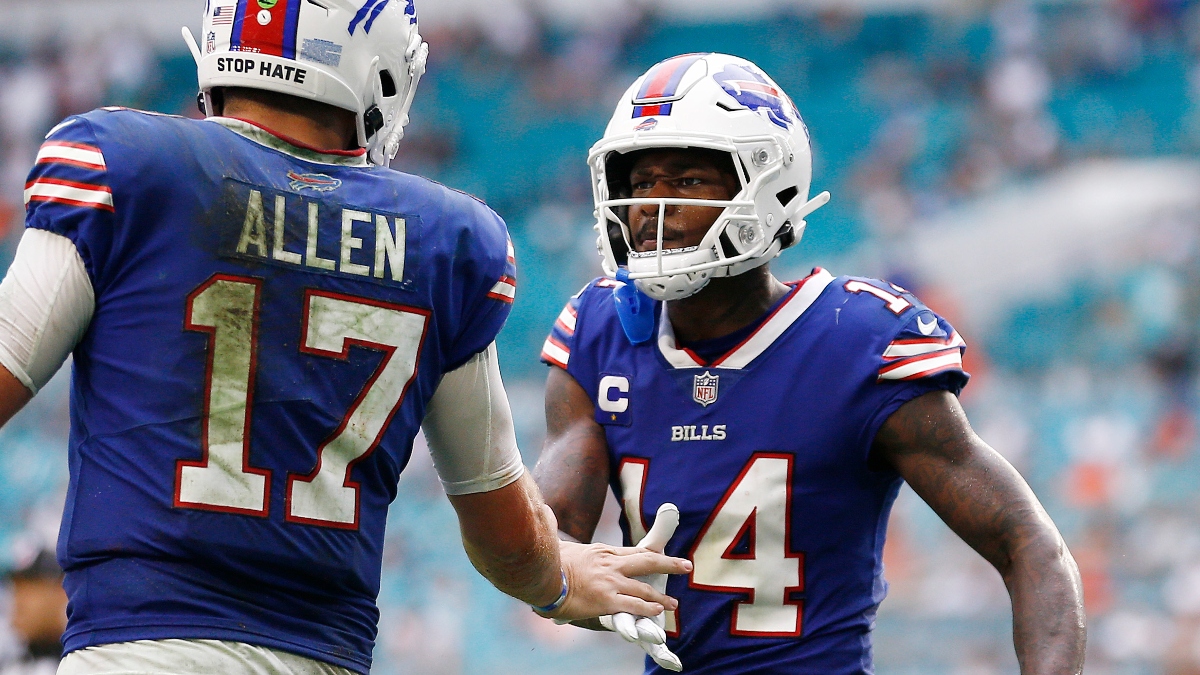 Sean McDermott is 6-3 ATS against Miami. That's typically not much of a trend to rely upon, but his team is covering by 10.3 PPG and that is massive. Remember how road underdogs are dominating this year? That's only the short dogs. Road underdogs of 7.5 or more points are just 6-13 ATS on the season, failing to cover 68% of the time by 8.87 points.
THE PICK: Lean Bills -13.5
Eagles (-3.5) at Lions

The Lions are 0-7, the last winless team in the league, but that doesn't seem fair. Detroit has 1.8 Expected Wins, per Pro Football Reference, and even that feels like it's selling the Lions short. Detroit held leads over the Ravens and Vikings — both playoff teams right now — with under a minute left. The Lions nearly came back on the healthy 49ers in Week 1, and they competed all the way in L.A. against the Rams last week.
Detroit is not good, but the Lions are not miserable either. And heading into the bye, this might be Detroit's best chance left to grab a win this season. There's still the Thanksgiving home game against the Bears, but six of the other eight remaining games are against opponents .500 or above, and the other two are tough roadies in Denver and Seattle.
The Lions have fought admirably for Dan Campbell, and I like that they're playing to win. Against the Rams, they attempted an onside kick and a fake punt inside of five minutes to start the game, then tried a second fake punt later in the game. There's not a ton of talent on this roster, but Campbell and his guys are having fun and playing hard.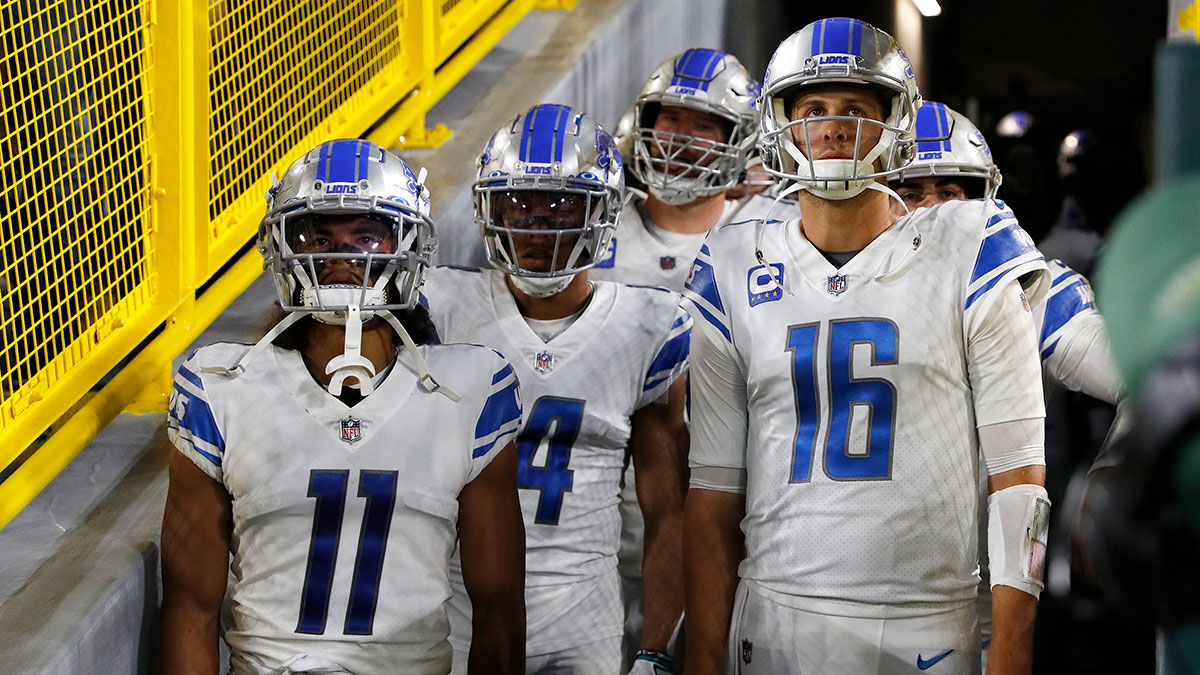 The Eagles have been unpredictable, and they've had problems with turnovers and defense lately. Jalen Hurts is struggling to move the ball, and Miles Sanders is now hurt. The Eagles have scored 22 or fewer points in five of their seven games, and the Lions haven't scored 20 since the opener (and that was only in the final minutes).
I like the under 48 in this game with both offenses struggling to find their way. And if you like the under, that's often a good sign to give the underdog a chance. Call me crazy, but I think the Lions could win this one.
THE PICK: Lean Lions +3.5
Bengals (-10.5) at Jets

Are you listening to our Lookahead segment on The Action Network Podcast? You really need to be listening to The Lookahead. Last Friday, I told you to bet the Bengals against the Jets before Sunday. I thought Cincinnati might win in Baltimore and that the Jets could get embarrassed by the Patriots, so I grabbed Bengals -3.5. Now the line is a full touchdown higher and the value is long gone.
To be fair, part of that swing is because Zach Wilson sprained his knee. He'll miss this one, and we don't know yet if the replacement will be Mike White or new Jets trade acquisition Joe Flacco. I'm going to wait and see who gets announced as the starter — and just how far this line balloons by the weekend.
THE PICK: Wait for Jets QB news and line movement
---
Late Sunday Afternoon
Patriots at Chargers (-5.5)

The Chargers are coming off a bye week, so that burned off a little bit of the L.A. buzz, but this has still been one of the early stories of the season.
I wonder if we're overrating them a bit, though. The Chargers got big buzzy wins over the Chiefs and Browns but could — and probably should — have lost both of those games. They were throttled by the Ravens heading into the bye, and the loss against Dallas wasn't as close as it looked either.
I love Brandon Staley and Justin Herbert and was high on this team entering the season, but the truth is that the Chargers are more average than great right now. L.A. ranks 17th overall in DVOA, per Football Outsiders. That's below average, actually. The Chargers rank 11th in offensive DVOA and 16th on defense, and the D has been trending in the wrong direction.
The run defense has been especially bad. And while part of that is by design, we saw what happened when this defense couldn't get off the field against Baltimore. The Chargers rank dead last in run defense, and now they're playing a coach known for finding a specific weakness in his opponent and exploiting it over and over all game.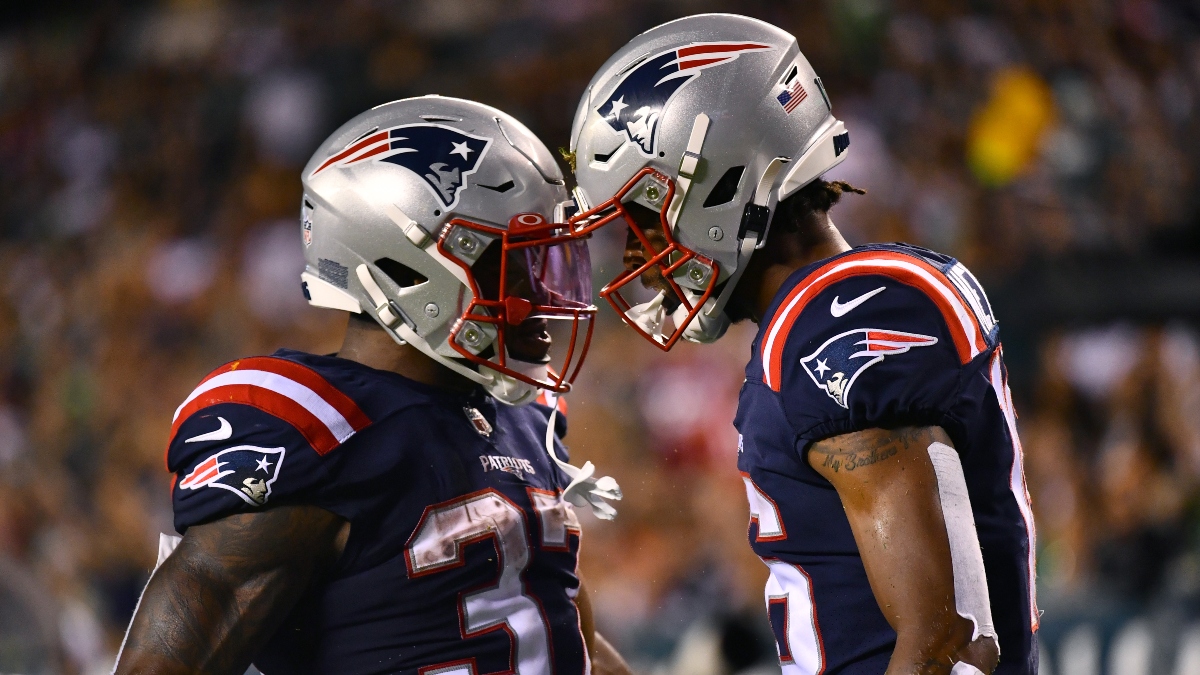 Mac Jones has actually played pretty well in recent weeks, but I think the Pats lean heavily on the run here and gash the Chargers with Damien Harris all game. I'll look to play Harris overs, and I wouldn't be surprised to see New England run the ball 30 or 40 times. Bill Belichick will run the same play five straight times if the Chargers can't stop it, and right now, they haven't proved they can.
The Patriots have quietly been very competitive all year. They're 3-4 but could easily be 5-2 or even 6-1. They dominated Miami in Week 1 but lost thanks to a late fumble, and they nearly beat the Bucs before a late field-goal drive. They lost to the Cowboys in overtime. And remember, Tampa and Dallas are 11-2.
New England actually ranks 13th in DVOA, ahead of the Chargers. Staley's defense drops two safeties and forces the opponent to check it down and run the ball, and Belichick will happily do that all game long. The Pats have a huge mismatch in the run game and also on special teams.
Belichick is 28-14-2 ATS as an underdog. He's 23-21 straight up in those games, a better than .500 record, with a 35% ROI on the moneyline.
I think this line is badly mispriced. I love the matchup for the Pats. This could be our Week 8 Upset Special. New England is +205 on the moneyline.
THE PICK: Bet Patriots +5.5
Bucs (-5.5) at Saints

The Bucs laid the smackdown on the Bears, and Tom Brady is 76-47-7 ATS as a one-score favorite. The defending Super Bowl champs are rolling, and no one wants to step in front of this Tampa train right now.
Be careful, though.
The Bucs were rolling last year too — right up until they played the Saints. New Orleans swept Tampa Bay in the regular season, including a shocking 38-3 win in Tampa. The Saints have won 15 of 20 against the Bucs. Of course, Tampa won the one that mattered most, ending Drew Brees's career with a 30-20 Bucs win in New Orleans in the playoffs, but this is still a matchup that has tilted heavily in the Saints direction.
Sometimes opponents just have your number, and this defense had Brady's number last year. The pass rush was in Brady's grill all game, and that's the one way to consistently throw the old man off his flow. New Orleans's defense has been just as dominant this season. The Saints D ranks third in DVOA, including sixth against the pass and second against the run. They are ready for this matchup, even as well as the Bucs offense is playing.
And remember, Tampa isn't entirely healthy. We'll see how the injury report shakes out, but the Bucs were missing a bunch of key names last week. Tampa was without Rob Gronkowski and Antonio Brown on offense, and Lavonte David was a key miss on D. Even more importantly, this team's secondary is still in shambles. Carlton Davis, Sean Murphy-Bunting and Richard Sherman are out, and Jamel Dean got hurt in Week 7 too.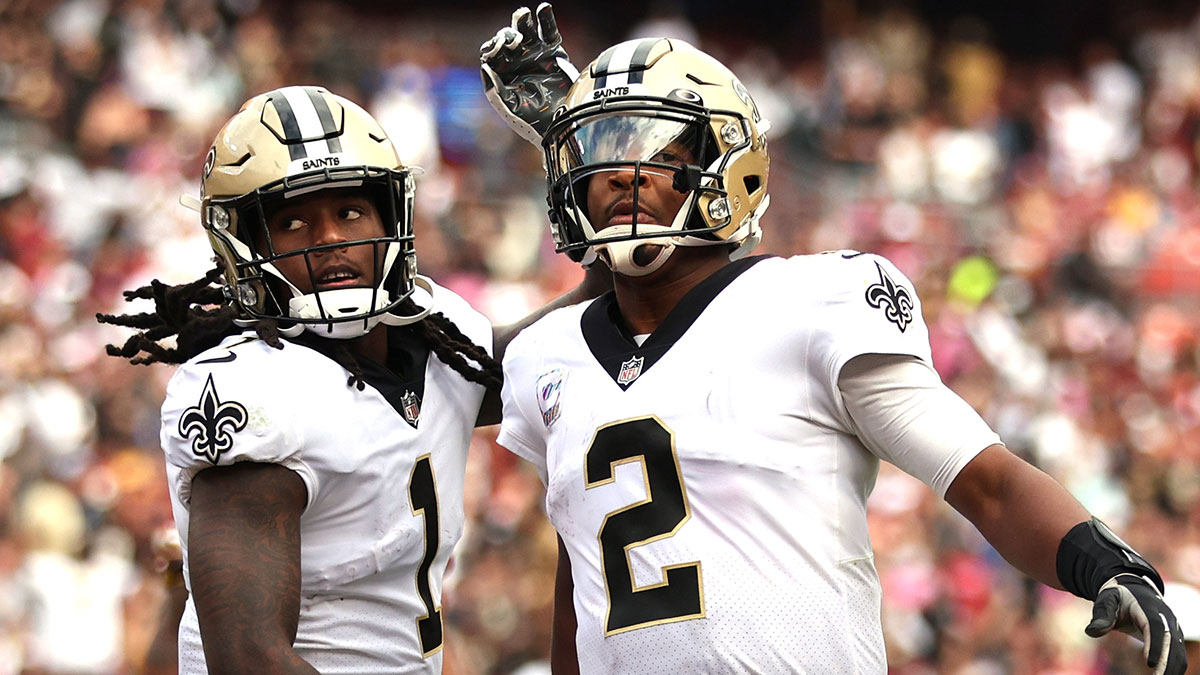 This secondary is on its last legs — and this year, the Saints actually have a quarterback with an arm that can punish them. Brees could not do that last year, as was evidently clear in the playoff game, but Jameis Winston has always had the big arm and the tools. He can beat this leaky secondary, and you better believe he'll be amped for his first start against his old team.
We faded Jameis as a favorite on Monday night, but he's a different story as an underdog. Winston is 18-10-1 ATS as a dog of more than a field goal, covering 64% of the time. The Saints are typically a far better team at home, and the Bucs have been far worse on the road this year, losing in LA and beating the Pats and Eagles by under a touchdown.
Could Week 8 give us a pair of late afternoon Upset Specials? I prefer the cover to the moneyline here. After all, it's still Jameis Winston vs. the GOAT if it's close at the end. But I'll take the Saints to cover in a matchup they've dominated.
THE PICK: Lean Saints +5.5
Jaguars at Seahawks (-3)

I can't believe I keep backing Geno Smith and the Seahawks, but Seattle has quietly played pretty well with Smith. The Seahawks have a pair of field-goal losses against tough Pittsburgh and New Orleans defenses, but Seattle has more than held its own.
Jacksonville is not the Steelers or Saints. The Jags rank dead last in DVOA on defense, so this should be a much easier test for Smith's guys. The one thing the Jaguars do well is run the ball, and Seattle's run defense has actually been tough. It's the pass D that has been troublesome, so if Jacksonville is going to get another win, it'll need to be on the back of Trevor Lawrence.
I like Seattle a lot here, but Jacksonville is coming off a bye while the Jaguars are coming off two tough primetime losses. Combine that with the short road dogs trend this season and that's enough to hold me back from betting this one too heavily. I'll grab Seattle while there are still -3s on the board because it probably becomes a stay-away if the line rises.
THE PICK: Lean Seahawks -3
Washington at Broncos (-3)

This is an ugly game between two of the league's most disappointing defenses. I ranked Denver and Washington first and third in my preseason article previewing the league's defenses. Instead, they rank 26th and 28th in DVOA respectively — honestly, we don't even need to offer much respect the way these guys are playing. You'd think that would lean over, but both of these offenses are so unreliable that that's not necessarily a safe play either.
Denver is ice cold, 0-4 over the past month since starting 3-0. That perfect start feels a lot less impressive in hindsight, with those three opponents a combined 4-15 now. During this four-game losing streak, this once vaunted Broncos defense ranks 29th in EPA defensively, and Teddy Bridgewater ranks fourth-to-last among qualified quarterbacks in EPA + CPOE.
Washington actually played the Chiefs and Packers well the last two weeks before letting both games get away late. Plus, the Football Team are a short road dog, and we know how that's gone this season.
THE PICK: Lean Washington +3
---
Sunday Night Football
Cowboys (-2.5) at Vikings

This looks like a good one for Sunday night, but I think this is a bigger mismatch than the books are letting on.
The Vikings have been playing better lately — at least on one side of the ball. The defense has improved greatly since a shaky start, especially the pass defense. Mike Zimmer always figures things out. But the run defense has still been very shaky, ranking fifth-to-last in DVOA, and Ezekiel Elliott and Tony Pollard have been two of the league's most efficient runners. They could eat in this one. The Vikings offense is also trending the wrong direction. They rank bottom 10 in EPA per pass play over the past month, and the run game hasn't looked right all season.
Dallas is really good, and it feels like the books still aren't giving America's Team enough credit. The Cowboys have been great running and passing the ball, and the defense continues to play well too, even if Trevon Diggs won't get an interception every game.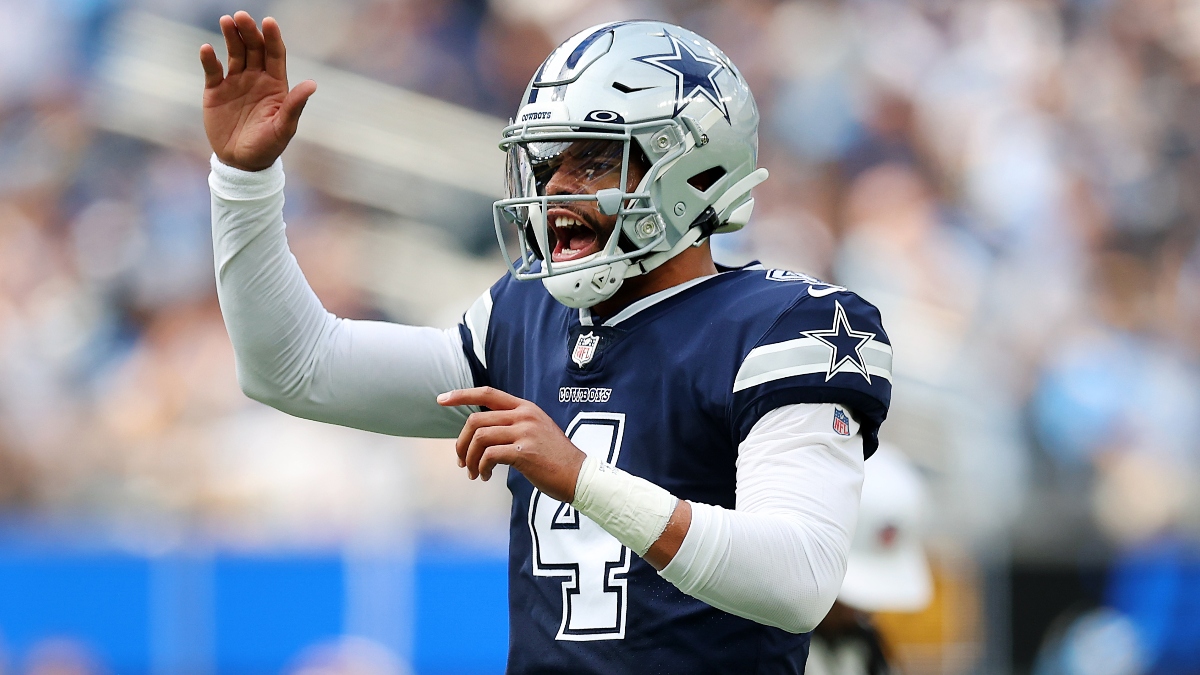 There are a slew of trends favoring Dallas here too. Mike McCarthy is 11-2-1 ATS, covering 85% of the time. Road favorites coming off a bye like the Cowboys are 68-41-2 ATS (62%). Of course, Minnesota is coming off a bye too, but road favorites facing a team coming off a bye are also 47-35-1 ATS (57%).
The trends also hate Kirk Cousins in this spot. Cousins is 1-7 ATS against teams coming off a bye, and Cousins and Zimmer are an ugly 5-13 ATS in toss-up games at three points or less. Cousins also shrinks in these spotlight primetime games. He's just 3-10 straight up as a night underdog.
This line is all wrong, and I don't think it'll be below a field goal by kickoff. I'm betting Dallas while it is.
THE PICK: Bet Cowboys -2.5
---
Monday Night Football
Giants at Chiefs (-10.5)

The Chiefs were -13 on the lookahead line for this one before Sunday's results. Kansas City got destroyed by the Titans, the Giants got a second win, and this line dropped to single digits — but it is slowly rising again.
I'm not sure it should be. The Chiefs just might be broken this season, and I'm also not feeling confident in Patrick Mahomes's health after that nasty hit he took on his final play of the game Sunday. I'm leaning toward the Giants but expect this line to keep rising, and I want to wait to make sure Mahomes is cleared too.
If you like the Giants, you could risk a bet on New York now since a Mahomes absence would likely drop the line below a TD and give you great closing value. I do expect Mahomes to play though, and once that news comes out, this line may only rise further. We'll circle back on Saturday.
THE PICK: Wait for Mahomes news and to see if the line rises further
How would you rate this article?
This site contains commercial content. We may be compensated for the links provided on this page. The content on this page is for informational purposes only. Action Network makes no representation or warranty as to the accuracy of the information given or the outcome of any game or event.