NFL Odds For Seahawks vs. Eagles: Your Guide to Betting the Monday Night Football Spread & Total
Credit:
Alika Jenner/Getty Images. Pictured: Russell Wilson
NFL Odds: Seahawks vs. Eagles
If the season ended after last week, the Seahawks would have headed out to Philadelphia to face the Eagles in the playoffs — just like last year when the Seahawks pulled out a 17-9 victory in the city of brotherly love. Oddly enough, that's the same exact score that Pete Carroll's bunch won by earlier last season in a matchup in the Emerald City.
Amazingly, Philadelphia will overtake first place in the NFC East with a win, which would get the Eagles to 4-6-1 on the season. Meanwhile, the Seahawks are looking to keep pace with the Rams atop the very competitive NFC West standings.
Let's take a quick look at both teams before diving into how I think this one plays out.
Seattle Seahawks
Russell Wilson was having an MVP-caliber season until a few weeks ago when he had back-to-back rough outings against the Bills and Rams. After those two losses, Pete Carroll hinted at going back to a more run-heavier attack after fully giving into the "let Russ Cook" pleaders.
Seattle went from the heaviest run team in the league over the past two seasons on first-and-10 to a top-10 passing team on first downs. That worked beautifully through the first half of the season, but Wilson was playing at an unsustainably high level. Once the regression hit, the results were ugly.
Last week, we saw Carroll revert to some of Seattle's tendencies from recent seasons of a more run-heavier attack with a higher frequency of 12 personnel. I expect more of the same this week with Chris Carson back in the mix. Plus, starting right tackle Brandon Shell will miss Monday night's game, which opens the door for Cedric Ogbuehi, who has struggled in pass protection. Shell is the opposite, excelling when it comes to pass blocking.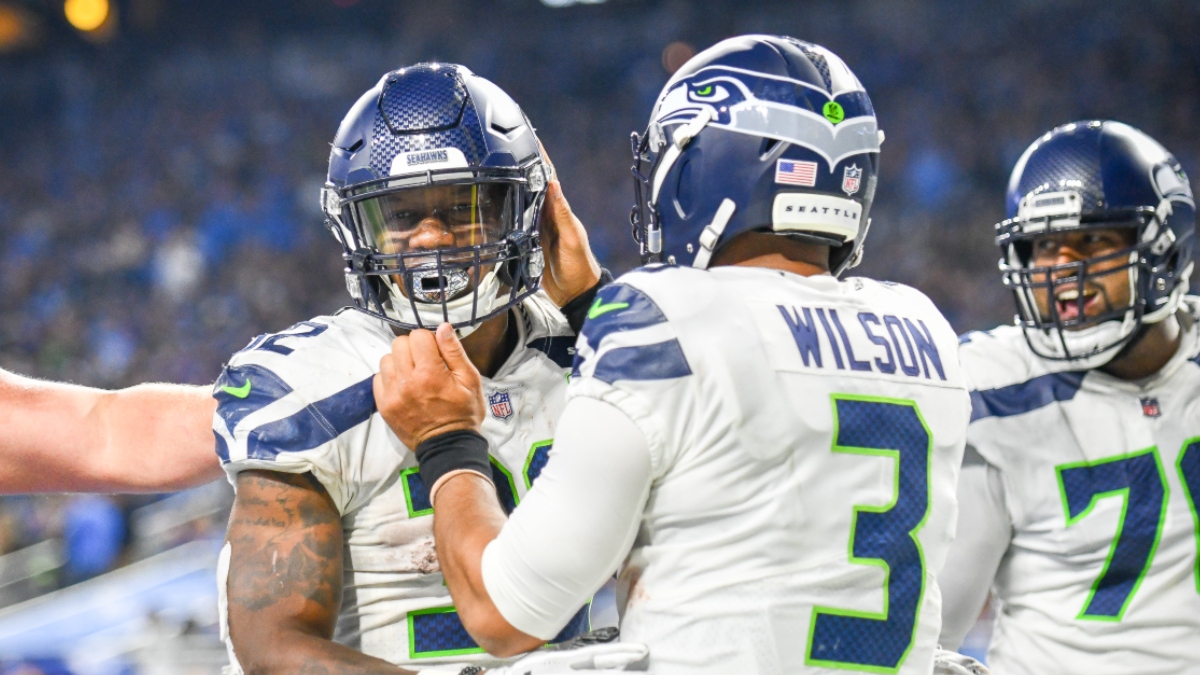 On the other side of the ball, Seattle's defense has been one of the most disappointing units in the league in 2020. The Seahawks rank 28th in yards per play allowed (6.2) and have been especially poor in the secondary and generating pressure from the edge — a nightmare combination in today's NFL.
However, they've shown signs of trending up of late and are starting to get healthier.
Jamal Adams has recently returned and Seattle should get its best cornerback in Shaquill Griffin back on Monday night. The Seahawks also went out and added Carlos Dunlap, who instantly became their best edge rusher. This is a unit I expect to trend up the rest of the season, assuming they can stay healthy.
Philadelphia Eagles
Things have looked ugly all year in Philadelphia, especially on the offensive side of the ball where the Eagles rank 30th overall and 30th in passing offense. The offensive line has played musical chairs all season with a plethora of injuries and the wide receivers simply can't get open.
And don't just blame the lack of continuity and wide receiver separation issues, as Carson Wentz has seemed to regress rapidly. From a clean pocket, only Jake Luton and Sam Darnold have a lower passing rating of 38 quarterbacks with a minimum of 100 drop backs. Wentz also leads the league in turnover-worthy throws.
Things have gotten so bad for Wentz that the expectation is Jalen Hurts will get reps as the first-team quarterback on Monday night.
The defense has been a bit better, ranking in the top 10 in yards per play and a number of other categories. Missed tackles have been an issue, but the Eagles remain stout against the run and rank sixth on third downs and in the top five in red-zone efficiency.
Seahawks-Eagles Pick
This game plays out similar to the two meetings last season, none of which got to 30 total points, so I fancy the first-half under (24 or higher) and game under (49 or higher).
I expect the Seahawks to go with a much more run-heavy attack, which will play into the strength of the Eagles defense. And despite how bad Wentz has been, I still project the offense better with him under center than a rookie quarterback in Hurts.
Also, Philly does rank third in the NFL in defending explosive passes, which is one of the strengths of this Seattle offense. Meanwhile, Seattle has struggled in giving up explosive passes (24th) but Philly has failed to hit almost any explosive passing plays down the field, ranking 31st in explosive pass play rate.
And as I mentioned previously, the Seahawks defense is trending in the right direction. They also excel at covering tight ends with their excellent linebacker group, which is critical against the Eagles.
These are also two offensive lines that rank 31st and 32nd in adjusted sack rate (per Football Outsiders) going up against two defenses that rank in the top-half of the league in that same category. We could see a number of key sacks that set each offense behind the chains, leading to punts. Look out for Carlos Dunlap going up against the Philly right tackle, which will not be Lane Johnson, who's out for the season.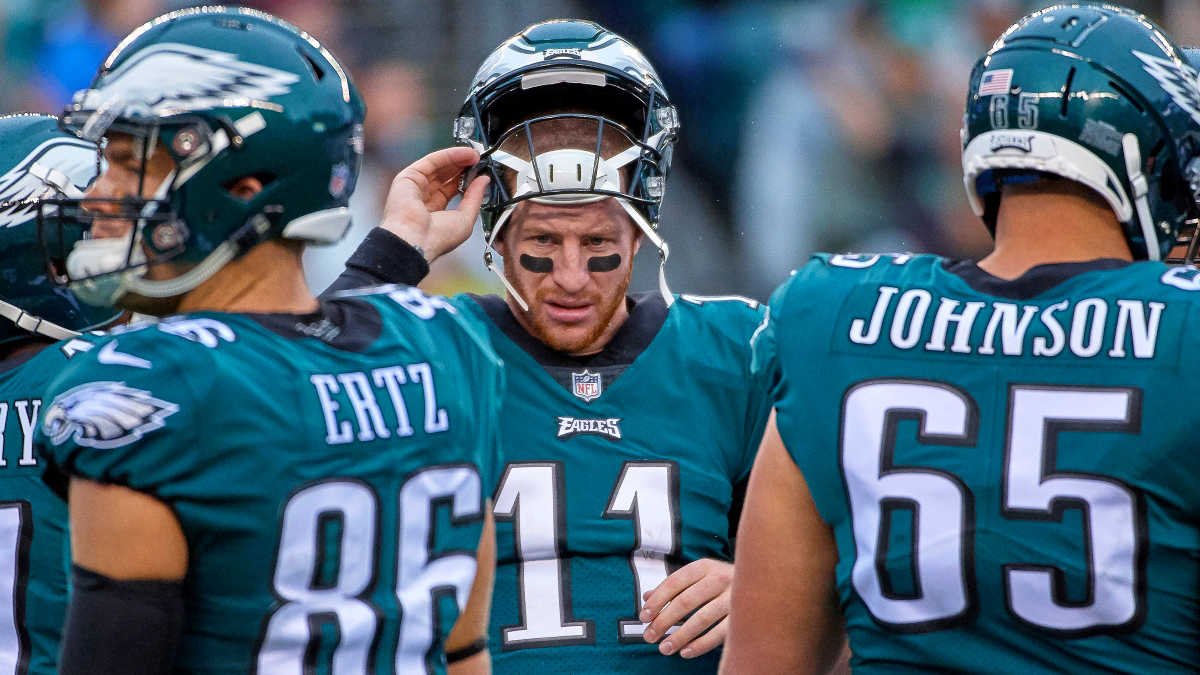 The Eagles defensive front can also generate pressure from up the middle and on the edge as well as any defense in the NFC. That's the key to containing Russ.
From a pace perspective, neither is a speed racer: The Eagles sit in the middle of pack in situation neutral situations while the Seahawks rank 25th.
If you're looking at a side here, I would lean Philly at +6 or better. It's worth noting that Seattle did have extra time to prepare for this one after playing last Thursday night, but I still only make this line Seahawks -4.5.
Ultimately, Wilson's legs could ultimately be the difference against an Eagles team that has shown vulnerabilities against mobile quarterbacks this season (Daniel Jones and Lamar Jackson). However, this is a lower-scoring game than most project that will be decided by one possession. After all, we know that's all Seattle does, with 18 of its past 21 victories coming by a one-possession margin.
PICKS: Eagles +6; Under 49 (or higher)
How would you rate this article?