From $600 to $105K: Meet the 'Playoff Philanthropist' Who's Letting It All Ride on Philly
Credit:
USA Today Sports. Nick Foles, unidentified bettor
A bettor with the pseudonym "Playoff Philanthropist" turned $600 worth of Week 15 bets into $105,000 that he's now betting all on the Eagles.
Darren Rovell talks to the anonymous bettor about how they turned such a quick profit and why they're going all-in on Philly.
The ticket was shared by the most random of sources: Chef Andrew Zimmern.
After the Chicago Bears lost to the Philadelphia Eagles on the "Double Doink" in last weekend's wild-card matchup, Zimmern shared a ticket placed by someone he called the "Playoff Philanthropist."
It was for the Divisional Round: A money line bet on the serious underdog Eagles to beat the New Orleans Saints on the road this Sunday.
The bet? $105,000 to win $441,000.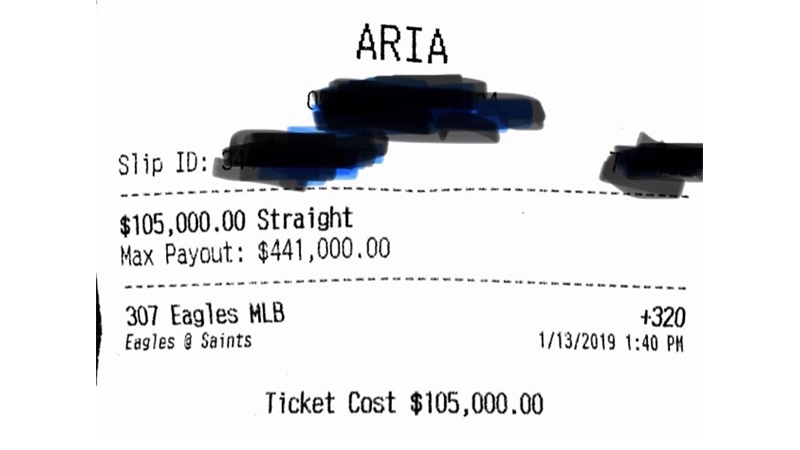 Zimmern said that this "Playoff Philanthropist" started with $600 in Week 15 on the Eagles and kept rolling it over. That yielded the $105,000 to bet this week.
Something wasn't right. There's no way that turned into that much money that quickly.
So we went to the Aria in Las Vegas, where the ticket was written. We wanted to know if it was authentic and if the people behind the counter could call the bettor and ask him or her if they were willing to talk to us.
No dice.
"We can't even make that connection," the guy behind the counter said. "We've lost customers that way."
Well, we worked the phones enough that a couple hours later, we got a call. It was from the "Playoff Philanthropist."
Darren: We know you don't want to use your name, but how did you get here?
Playoff Philanthropist: Grew up in Queens, been gambling since I was 10…
Darren: Let's speed it up. How did you become the "Playoff Philanthropist?"
PP: The philanthropy part comes because I give a nice portion of my gambling winnings to charity, like to ovarian cancer causes when we heard about Mason Crosby's sister-in-law.
Darren: Glad you mentioned Mason. If it sounds like we've heard this story before, it's because we have. You did this with the Packers?
PP: When Aaron Rodgers said (in 2016 season) that he thought the Packers could run the table, I got together a couple friends to put in money to bet they'd win every week. We bet them against my team, the Eagles, $300 on the moneyline in Week 11 and kept rolling it over.
They won eight straight and we had $76,000 on the line for the NFC championship Game.
Darren: They went on to lose. Last year, your Eagles finally won. Anything on that?
PP: I didn't roll anything over like this because I placed two futures bets on them that cashed in nicely. I was fortunate they were bet at the Westgate digitally or else I would have ripped them up after Carson Wentz went down.
Darren: OK, there's something strange about this bet because there's no way you could have turned $600 in Week 15 to $105,000 just by rolling over the moneyline. What's the truth here?
PP: OK, so it's more than the Eagles moneyline.
We started out in Week 15 with a $400 straight-up bet on the Eagles to beat the Los Angeles Rams and a $200 parlay on the Eagles to beat the Rams and the Texans the following week. That turned into $8,000. The next week, I took the Eagles and the Bears in a moneyline parlay because the Eagles needed the Bears to win to get in. That gave me $32,000. Then did an Eagles moneyline bet on Bears game and won that.
So that's how we get to $105,000.
Darren: Where were you for the "Double Doink?"
PP: Oh, I was at Soldier Field with an old friend who is a Bears fan. We both couldn't watch the end, so we started walking away when we heard the doink. I joined guys singing "Fly Eagles Fly" outside Soldier Field.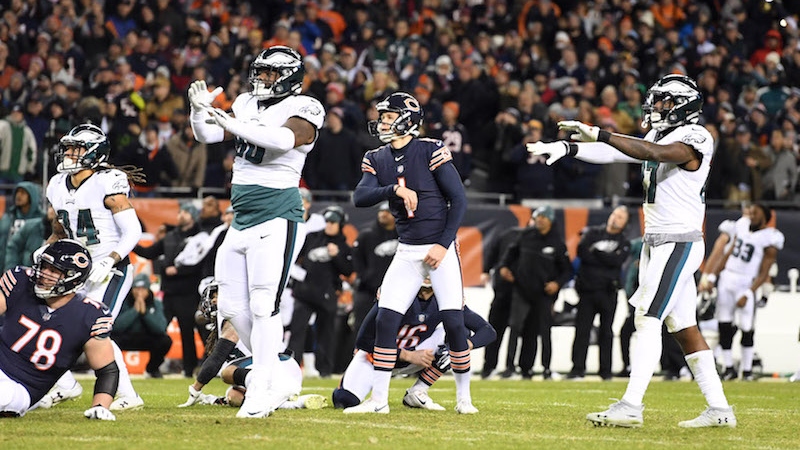 Darren: This whole story goes bust if you are hedging here. So tell me you're not?
PP: I am not. I think of it as a $600 initial investment not $105,000.
Darren: How is your ticket shared by Andrew Zimmern of all people?
PP: I was the producer of a food show he did for years at Microsoft. We are very much kindred spirits.
By the way, I know Andrew calls me the "Playoff Philanthropist" but I prefer what a Fox station called me last time when I had the Packers bet: "A gambler and a giver."
Darren: What's the ticket worth if it gets rolled two more times and the Eagles win another Super Bowl?
PP: About $2 million.
Darren: Have you decided how much would go to charity?
PP: No, not yet.
Darren: Have you decided where you are watching this week's game against the Saints?
PP: I'm going to watch the Colts game at the Aria in Vegas. Then think about what I want to do. There are not easy flights between Las Vegas and New Orleans.
Darren: You don't have much time! Last question, is this the biggest bet of your life?
PP: Oh easily. I bet $50,000 on Mayweather to beat McGregor because I thought it was essentially free money. But the largest football bet I made before this was last week.