Sunday NFL Divisional Round Mega Preview: How to Bet Chargers-Patriots, Eagles-Saints
Credit:
USA Today Sports. Pictured: Fletcher Cox, Drew Brees and Bill Belichick
All odds as of Friday morning. Download The Action Network App to get real-time NFL odds and track your bets.
---
Spread: Patriots -4
Over/Under: 47.5
Time: Sunday, 1:05 p.m. ET
TV channel: CBS
Betting Market
In a round when trendy dogs are the trendy thing, the Chargers are the trendiest with 61% of spread bets.
They're also getting 70% of the money as of writing (see live data here), which has helped them move from +5 to +4 — not the most consequential of line moves, but there is still time for them to move closer to the key number of +3.
The over/under has been in flux thanks to the forecast, which we'll get into next. — Mark Gallant
Weather Report
The snowstorm that was in the forecast earlier in the week is no more. The initial panic around the weather caused the over/under to drop from 47.5 to 45, but it's now back up to 47.5 with no snow in the forecast.
The temperature will be in the mid-20s. Wind speeds of 5-6 mph should not impact the passing game too much. — Gallant
Tom Brady is 18-7-1 against the spread in regular-season games played in 32 degrees or colder, but his playoff record in such freezing temperatures is only 7-7 ATS. — John Ewing
---
>> Sign up for The Action Network's daily newsletter to get the smartest NFL conversation delivered into your inbox each morning.
---
Trends to Know
Brady has been a home favorite in the postseason by an average of 8.4 points since 2003, per our Bet Labs data.
This is just the fifth time in 21 home playoff games that the Patriots have been a favorite of fewer than six points. They went 3-1 straight up and ATS in the previous four. — Ewing
Sacking Brady is the key to ATS success against the Patriots. Here is their ATS record when Brady is pressured:
Brady sacked one or fewer times: 96-46-2 (68%) ATS
Sacked two or three times: 67-52-6 (56%) ATS
Sacked four or more times: 13-21-2 (38%) ATS — Ewing
For the 35th time since 2003, Brady will start a home game on more than seven full days of rest. The Patriots are 31-3 (91.2%) SU and 19-13-2 (59.4%) ATS in the previous 34 games, covering by 5.2 points per game.
The only three quarterbacks to beat Brady in Foxborough in this spot? Russell Wilson, Mark Sanchez and Peyton Manning. — Evan Abrams
Philip Rivers is 0-4 SU and 1-3 ATS in Foxborough and 1-7 SU and 2-6 ATS against the Patriots overall.
If you zoom in just on the past decade, Rivers 0-4 SU and ATS against Brady. This is Rivers' least profitable opposing quarterback matchup over that span. — Abrams
Biggest Mismatches
When the Patriots have the ball: Melvin Ingram and Joey Bosa vs. Trent Brown and Marcus Cannon
The key to limiting Brady is getting pressure, and Ingram and Bosa put the Chargers in great position to do just that.
With Bosa rounding into form after missing the first 10 games of the season with a foot injury, the duo has combined for six sacks and nine quarterback hits over the past four games.
Ingram and Bosa screaming off the edge isn't ideal for a Pats line bookended at right tackle by Cannon and at left tackle by Brown, who respectively ranked 28th and 39th out of 46 qualified tackles in Pro Football Focus' Pass Blocking Efficiency metric during the regular season. — Chris Raybon
When the Chargers have the ball: Chargers' run game vs. Patriots' run defense
Anytime you see a defense that's better against the pass (14th in Football Outsiders' DVOA) than the run (19th) while being overseen by a mastermind like Belichick, the first thing that comes to mind is that tactical concessions are being made a la Wade Phillips — stopping the pass is far more important than stopping the run, after all.
But it will be difficult to devote many extra resources to stopping the run against a Chargers offense that not only ranks sixth in rushing DVOA, but second in passing DVOA.
A vulnerability to the run has gotten the Patriots in trouble this season. They allowed 94.9 rushing yards per game in their 11 wins, but got hammered for 152.0 per game in their five losses.
It wasn't just a matter of the team that ultimately won being able to pile up attempts late, either — the Pats got clobbered by the run in the first half in each of those losses, giving up nine carries for 64 yards (7.1 yards per carry) in Week 2 to Jacksonville, 15-81 (5.4) in Week 3 to Detroit, 19-69 (3.6) in Week 10 to Tennessee, 12-142 (11.8) in Week 14 to Miami and 10-84 (8.4) in Week 15 to Pittsburgh.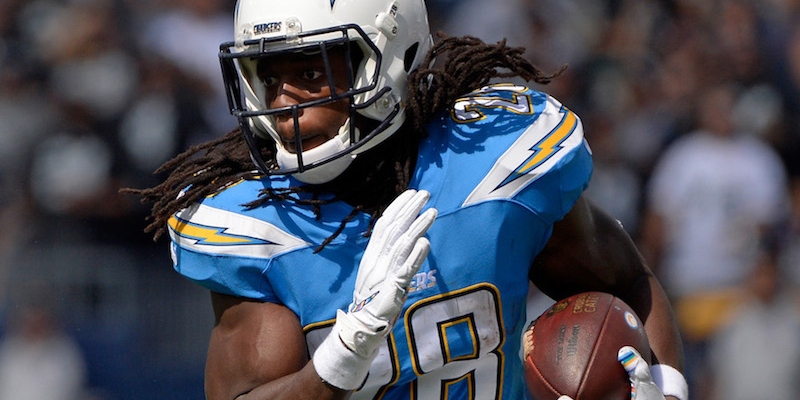 With two backs who averaged more than 5.0 yards per carry during the regular season in Melvin Gordon (5.1) and Austin Ekeler (5.2), a capable third-stringer in rookie Justin Jackson, as well as an offensive line that ranked fifth in Football Outsiders' adjusted line yards (4.80), the Chargers are well equipped to shred New England on the ground. — Raybon
Who Has the Advantage in Key Areas?
Quarterback: Patriots
Brady has as many Super Bowl rings (five) as Rivers has postseason wins. Brady has as many Super Bowl appearances (eight) as Rivers has winning seasons.
New England's future Hall of Fame passer was also the one to hand Rivers a loss in Rivers' only AFC Championship Game appearance, a 21-12 defeat in Foxborough on Jan. 20, 2008.
But if Rivers is going to put a dent in his rival's dominance over him, the time is now. By nearly every metric, Rivers has been the better passer in 2018.
During the regular season, Rivers edged Brady in yards per attempt (8.5-7.6), touchdown passes (32-29), ESPN's Total QBR (71.2-68.8) and passer rating under pressure (83.8-71.2 per PFF). — Raybon
Coaching: Patriots
Not only does Belichick have a 5-0 edge in Super Bowl rings as a head coach over Anthony Lynn, who is in just his second season, but Belichick also has more career playoff wins (28) than Lynn has regular-season wins (21).
Lynn faces an uphill battle to even his 0-1 career record against Belichick, who has led the Patriots to wins in the Divisional Round in each of the past seven postseasons, going 6-1 ATS over that span. — Raybon
Special teams: Patriots
The Chargers have improved here thanks to kicker Mike Badgley, who was 15-of-16 on field goal attempts and 27-of-28 on extra points in the regular season.
The rookie's confidence only grew in the wild-card win, as he accounted for most of LA's offense.
Stephen Gostkowski is one of the best active kickers career-wise, but he's had some struggles this season, making just 27-of-32 field goal attempts. Still, this kicking matchup is Gostkowski vs. a rookie, so I give Gostkowski the edge.
Both teams have solid return games. Desmond King is a dynamic returner for LA, and New England ranks second in kick return average with the dangerous Cordarrelle Patterson.
This is an area to really focus on since the Chargers ranked dead last in touchback percentage during the regular season at close to 30%, with the Patriots ranking 25th at 53.8%. And while some of that was strategic for the Pats, it didn't pay off as they ranked 26th in kick return average allowed. The Chargers ranked eighth.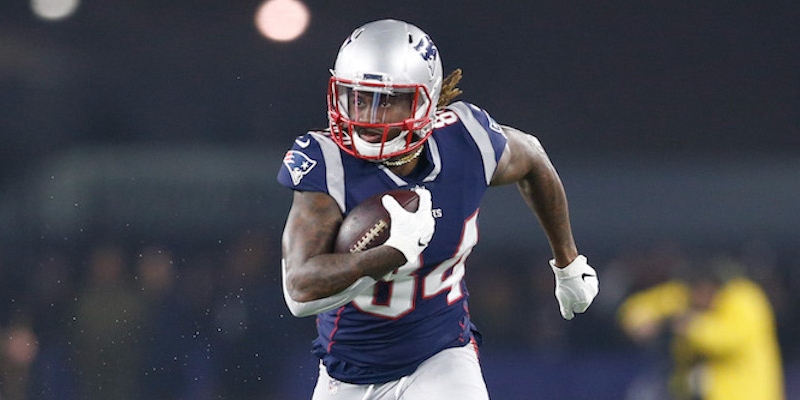 But when it comes to punting, the Chargers have been atrocious. They ranked dead last in net punting at an average of 38.5 yards. New England hasn't been great at punting, but it has still been better than LA.
Both teams have struggled in punt return coverage. While King does bring a more dangerous element to the return game that should worry New England, the Chargers' punting situation has been so poor that I have to give the nod to the Patriots.
Overall, special teams is not a huge advantage for the Patriots. The Chargers ranked 25th in special teams DVOA and the Pats 16th, but their respective weighted rankings (which puts more emphasis on recent performance) are 17th and 16th.
The Chargers have issues on special teams, but I don't think it will cost them the game. — Stuckey
Injury Report
Which team is healthier? Chargers
Both teams are healthy relative to other teams at this point in the season, although they have lost some key contributors to Injured Reserve.
The Patriots are only dealing with serious injuries to backup tight end Dwayne Allen (knee) and defensive end Deatrich Wise Jr. (ankle), as safety Devin McCourty (concussion) and Patterson (knee) were able to practice in full to start the week.
Gordon (both of his knees) is fully expected to suit up despite opening up the week with a DNP. The outlook for center Mike Pouncey (thumb) is less clear, but the offense is expected to at least welcome back stud tight end Hunter Henry (knee) in a limited capacity.
Note: Info as of 6 p.m. ET Thursday. See our Injury Report for daily practice participation and game statuses up until kickoff. — Ian Hartitz
DFS Edge
Ekeler could be an intriguing contrarian option in tournaments. Ekeler out-snapped Gordon 36 to 32 last week while piling up 15 touches to Gordon's 18. Ekeler also ran 15 pass routes to Gordon's nine, per PFF.
If Gordon were to be limited in any way, Ekeler could reap the benefits — especially on a full PPR site like DraftKings.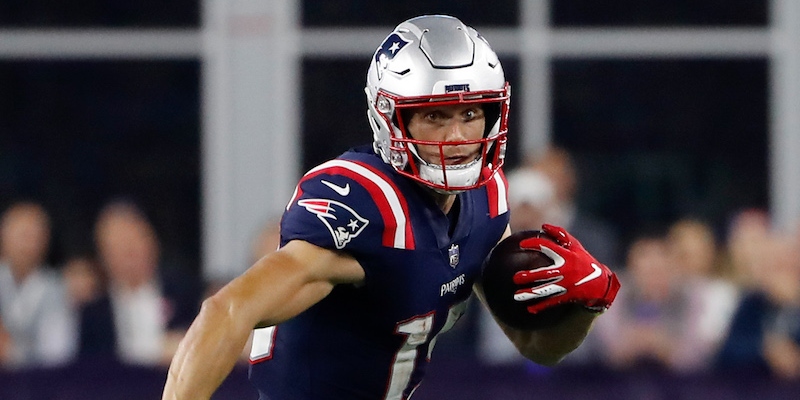 Chris Hogan will be in play at $3,900 on DraftKings and $5,500 on FanDuel. He saw 11 targets against the Jets in the regular-season finale, and he'll help free up salary to get to some of the top-priced receivers and running backs.
There's some risk, as he wasn't targeted sans Josh Gordon against the Bills in Week 16, but the 11 targets the week after were encouraging. — Justin Bailey
Bets to Watch
Chargers +4: The Chargers are the most popular bet of the week, just as they were last week. And while I often fade the public, casual bettors are on the right side.
Our NFL simulations from Bet Labs makes this line -3, which suggests that it's inflated for the Patriots.
We also already established that the Patriots struggle to cover when Brady gets sacked: They're 39-43-4 ATS when he's sacked three or more times. Bosa, Ingram and the Chargers sacked Lamar Jackson seven times last Sunday. I expect LA to harass Brady, too.
The Chargers should also be able to slow down the rest of the Patriots' offense — LA is the only defense remaining that ranks inside the top 10 in rushing and passing DVOA. — Ewing
Chargers Over 21.5 Team Total: We're gonna keep hammering the Patriots' historical struggles against elite pass rushes here.
New England has faced teams in the playoffs with a PFF pass rush grade of 30 or higher seven times since 2006. In those seven games, opponents have gone over their implied team total five times — and have averaged 27.3 points per game.
I'm also relatively unconcerned about the effect of the Chargers' cross-country travel — they've won each of their East Coast road games this season. — Ryan Collinsworth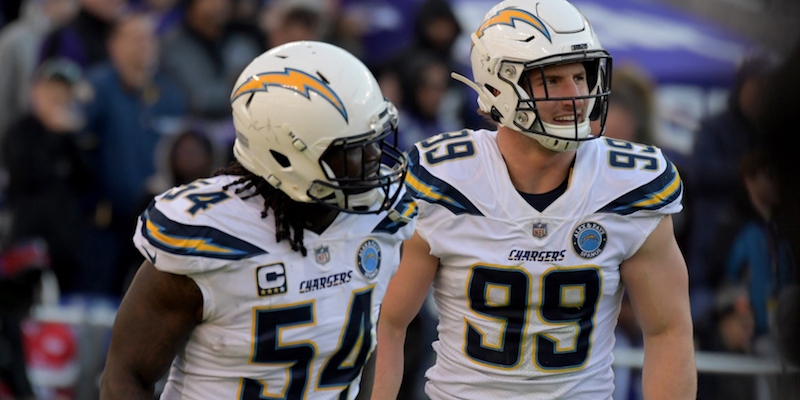 Chargers +170: If you're crazy enough to bet against Brady and Belichick in January, you might as well go all-in with it.
Seriously, I don't see an area in which the Patriots should be considered significantly "better" than the Chargers …
Explosive pass play rate (offense): Chargers (3rd), Patriots (12th)
Explosive run play rate (offense): Chargers (5th), Patriots (21st)
Explosive pass play (defense): Chargers (16th), Patriots (15th)
Explosive run play rate (defense): Chargers (19th), Patriots (20th)
Adjusted line yards per rush (offense): Chargers (5th), Patriots (3rd)
Adjusted line yards per rush (defense): Chargers (17th), Patriots (26th)
Net yards per pass attempt (offense): Chargers (4th), Patriots (6th)
Net yards per pass attempt (defense): Chargers (9th), Patriots (10th)
… other than pressure, but those figures aren't exactly accurate for the Chargers considering they only got seven regular-season games from Bosa.
Heroes get remembered, but legends never die. Gimme the Chargers out-right over the Brady bunch. — Hartitz
---
Spread: Saints -8
Over/Under: 51
Time: Sunday, 4:40 p.m. ET
TV channel: FOX
---
>> All odds as of Friday morning. Download The Action Network App to get real-time NFL odds and track your bets
---
Betting Market
The Saints were anywhere between 7.5- and 10-point favorites when this line opened. It settled in at -7.5 for a time, but has since gone up to -8.
Like every other dog this weekend, the Eagles are trendy, getting 55% of bets and 69% of dollars at the time of writing (see live data here). If some real sharp players had hit them, they would've moved to +7, but that hasn't happened yet.
The over/under initially fell from 51.5 to 50.5 despite the fact that the over was getting two-thirds of the total bets — that's what we call a reverse line move, folks.
But it's since moved back up to 51.5 thanks to some buyback. — Mark Gallant
Trends to Know
Nick Foles is 4-0 straight up and against the spread in the playoffs since 2017, but history suggests he could regress.
Backup quarterbacks — defined as starting five or fewer regular-season games — not named Foles have gone 11-21 SU and 13-17-2 ATS in the postseason since 1990. — John Ewing
After the Eagles' wild-card win over the Bears, Foles has won six straight starts as an underdog, becoming the sixth quarterback since 2003 to accomplish that feat.
Matt Ryan was the last to do so in 2015-16, but Eli Manning is the best comparison to Foles. Manning's two streaks of six or more games won as a dog crossed through his Super Bowl wins in 2008 (eight) and 2012 (six). — Evan Abrams
Underdogs are 14-1 ATS in the playoffs since the 2017 season, but bettors shouldn't count on the dogs to keep barking — pooches were 24-28-3 ATS over the previous five playoffs. — Ewing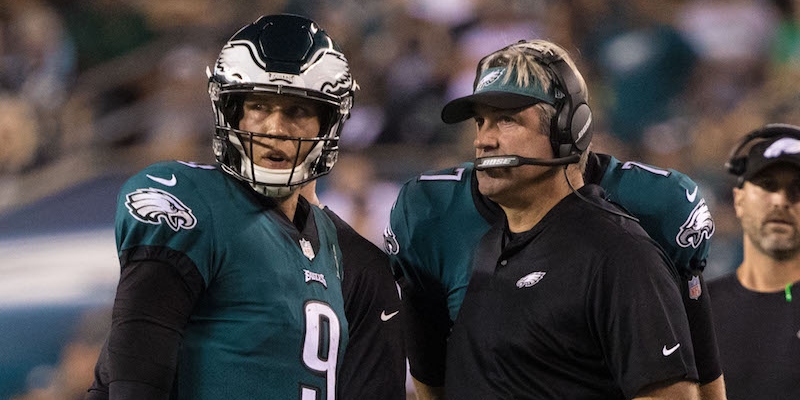 Doug Pederson is 0-3 SU and ATS on the road when facing an opponent the Eagles previously lost to by 20 or more points in the teams' most recent meeting, failing to cover by 10 points per game. — Abrams
If this game comes down to the wire, Drew Brees has given fans and bettors more confidence than ever: His seven game-winning drives this season are his most in a single season. — Abrams
The Saints finished the regular season 13-3 SU and 10-6 ATS, making them the NFL's second-most profitable team ATS, per our Bet Labs data. Unfortunately for their backers, they limped to the playoffs, failing to cover in their final three games.
Teams that enter the playoffs on at least a three-game ATS losing streak are actually 7-2 SU and 8-1 ATS over the past decade, covering by an average of 11.2 points per game. — Abrams
Biggest Mismatches
When the Saints have the ball: Saints' receivers vs. Eagles' secondary
Since that 48-7 loss to the Saints in Week 11, the Eagles have won six of seven games.
Two of those came against Redskins backup quarterbacks. A third was against Eli Manning. Another was against a Texans team that still managed to score 30 points despite having one of football's worst offensive lines. And the most recent came against the vertically challenged Mitchell Trubisky.
The only impressive win over that stretch came against a Rams team that still put up more than 400 yards with Todd Gurley at less than 100%.
Let's just say I'm not going to put much stock in that one game.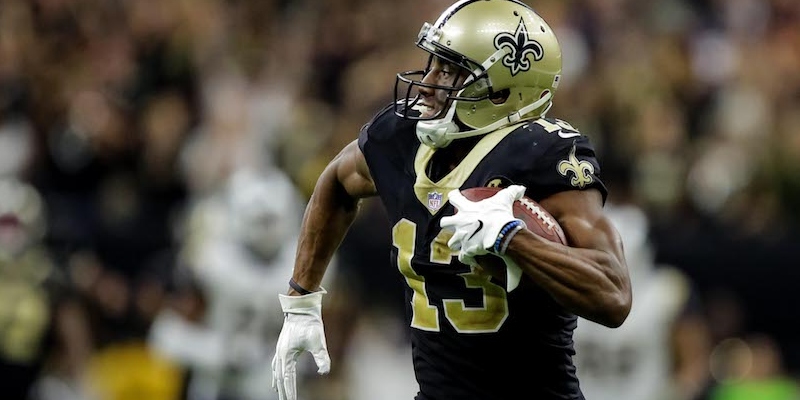 The Saints simply have too many weapons on the outside and should expose a depleted Eagles' secondary that has benefited from a favorable schedule (and some luck).
The Eagles' defensive strength is along their front, where they might have the NFL's deepest pass rush. But the Saints have one of the best offensive lines, which ranks No. 3 in Football Outsiders' adjusted sack rate and can neutralize that rush.
Yes, Eagles rookie Avonte Maddox has been one of football's best corners by a lot of metrics since taking over as a starter, but you better believe that the Saints will take advantage of his aggressive style (which plays much better when the defensive line can dominate).
You saw how often Allen Robinson beat Maddox with double moves last week. The Saints will utilize those same route combinations for the unguardable Michael Thomas.
I also expect a huge day from Alvin Kamara against an Eagles defense that ranks No. 24 in defending running backs out of the backfield, per Football Outsiders.
He'll be huge in the screen game and as a dump-off option when the Eagles generate pressure on Brees.
Brees and his receivers should eat off a first-round bye in the dome against a decimated secondary. — Stuckey
When the Eagles have the ball: Eagles' deep passing vs. Saints' secondary
Two reasons the Eagles offense has picked up under Foles: He has been willing to throw the deep ball and Golden Tate assimilated to the offense after being traded midseason.
Both of those things could pay dividends against a Saints pass defense that allows 7.5 yards per attempt (28th in the NFL) and ranks dead last in defending the deep ball, per FO.
Look for the Eagles to attack safety Kurt Coleman's side of the field with deep balls. Coleman ranks 85th out of 97 qualified safeties in Pro Football Focus coverage grades. — Stuckey
Bonus Matchup to Watch
Eagles' red-zone defense vs. Saints' red-zone offense
The Eagles defense led the league in red-zone touchdown rate (44.6%) during the regular season. They'll try to slow down a Saints offense that ranked fourth in red-zone touchdown rate (69.6%), including a third-best 79.4% rate at home.
Brees finished the regular season with absolutely silly red zone numbers: 67-of-93 (72.04%) with 22 touchdowns and zero interceptions. — Stuckey
Who Has the Advantage in Key Areas?
Quarterback: Saints
As magical as Foles has been in the postseason, the bottom line is that Brees has set the all-time completion percentage record two seasons in a row and has thrown as many interceptions in 15 starts this season as Foles has since taking over the reigns for Carson Wentz four games ago (five). — Chris Raybon
Coaching: Even
Sean Payton and Pederson have both taken highly questionable timeouts this season.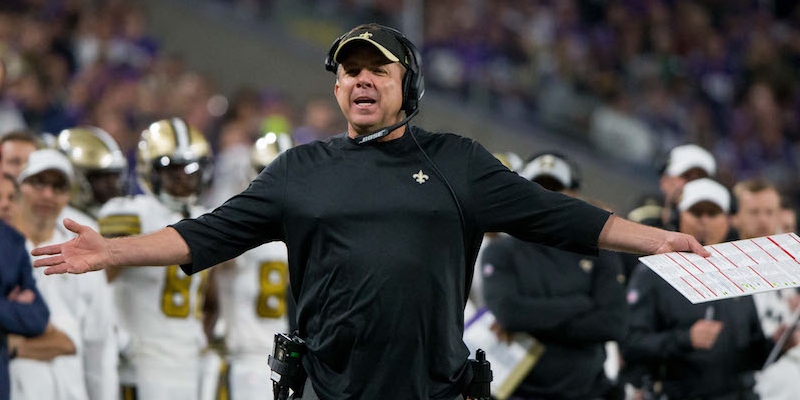 Payton used his final timeout on defense three seconds before the two-minute warning with the Cowboys in field-goal range and the game tied at 10 in Week 13.
Then there's Pederson, who blew his first timeout in the wild-card matchup against the Bears with the clock already stopped at 1:01 before a fourth-and-goal when having three timeouts would've given the Eagles a chance to get the ball back had they failed to score.
As luck would have it, only Payton's ended up costing him game.
But Pederson's probably should have, too. He blew his second timeout before a failed 2-point conversion attempt that saw Wendell Smallwood get stuffed after Darren Sproles had just gotten stuffed from the 2-yard line on first- and second-and-goal.
(The jury is out on whether Pederson was right not to trust Josh Adams, who fumbled in a key moment against the Texans in Week 16. But at 225 pounds, Adams is 17 pounds heavier than Smallwood and 35 heavier than Sproles.)
Pederson has as many Super Bowl rings in three years as a head coach as Payton has in 12. Pederson also tends to be smarter with challenges, winning 12-of-23 (52%) over the past three seasons compared to Payton's 8-of-21 (38%).
But Pederson's team has been plagued by slow offensive starts, averaging a league-low 2.6 points in first quarters, which is not ideal against a Saints offense that's tied for fourth with 7.1 points in first quarters at home this season.
This is mostly an even coaching matchup, but Payton does have one huge advantage: Dance moves that inspire music videos.
And judging by the current odds, there's no worse than a 75% chance that we see the Saints hitting da Sean Payton in the Superdome's home locker room on Sunday. — Raybon
Special teams: Saints
Just ask Eagles fans how important special teams are. Unfortunately for them, they're facing a team with the overall advantage.
While kicker Jake Elliott has dealt with inconsistency issues on short field goals early in his career, we haven't seen as much of that this season. He's connected on 26-of-31 field goal attempts, but only one of those misses came from shorter than 40 yards. Three came from farther than 50.
Those numbers don't touch Will Lutz, though. Lutz has been tremendous, connecting on 28-of-30 field goal attempts.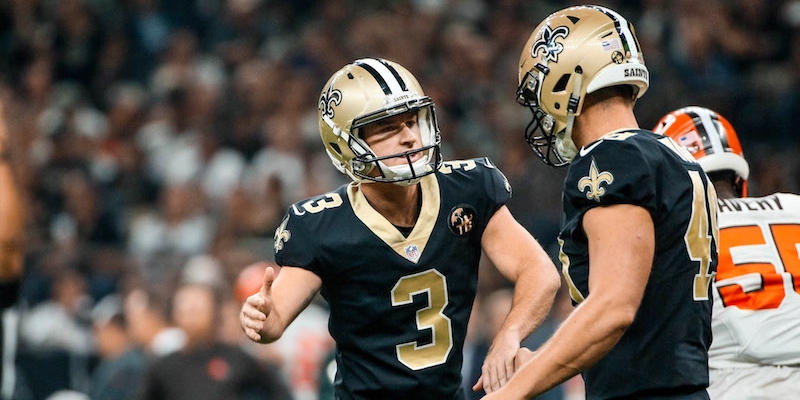 While these are both average kick coverage units, the Saints average about 2.5 more yards per return and have the much more dangerous return unit.
The Eagles and Saints are tied atop the NFL in net punting at 45.0 yards and each average a much less impressive 6.5 yards per return (bottom 10). Both also rank in the top six in punt return coverage.
The punting is very even in every aspect, but the Saints have much more explosive potential.
The Eagles rank 15th overall in Football Outsiders' special teams DVOA; the Saints rank ninth, which feels like a fair representation of how these two units have performed this season. — Stuckey
Injury Report
Which team is healthier? Saints
The Saints are almost 100% healthy … with the glaring exception of their most-important unit: The offensive line.
Left tackle Terron Armstead (shoulder), backup left tackle Jermon Bushrod (hamstring), right tackle Ryan Ramczyk (shoulder), left guard Andrus Peat (hand) and right guard Larry Warford (knee) all started the week with a limited practice.
The Eagles defense could get some much-needed reinforcements if linebacker D.J. Alexander (hamstring) and cornerback Sidney Jones (hamstring) can parlay their respective returns to practice into snaps on Sunday.
Defensive end Michael Bennett and left tackle Jason Peters (foot) are expected to continue to play through pain, while wide receivers Alshon Jeffery (ribs) and Tate (knee) are also tentatively expected to suit up.
Note: Info as of 6 p.m. ET Thursday. See our Injury Report for daily practice participation and game statuses up until kickoff. — Ian Hartitz
---
>> Sign up for The Action Network's daily newsletter to get the smartest NFL conversation delivered into your inbox each morning.
---
DFS Edge
Eagles: Foles has continued to target Zach Ertz as the de facto No. 1 receiver since taking over for Wentz in Week 15.
Ertz: 34 targets since Week 15
Jeffery: 27
Tate: 22
Nelson Agholor: 21
Sproles: 16
Smallwood: 13
Dallas Goedert: 12
Tate's eight targets last week trailed only Jeffery's nine. Foles was confident enough in the Eagles' midseason addition to throw Tate the ball on their biggest play of the season yet: The game-winning touchdown in Chicago.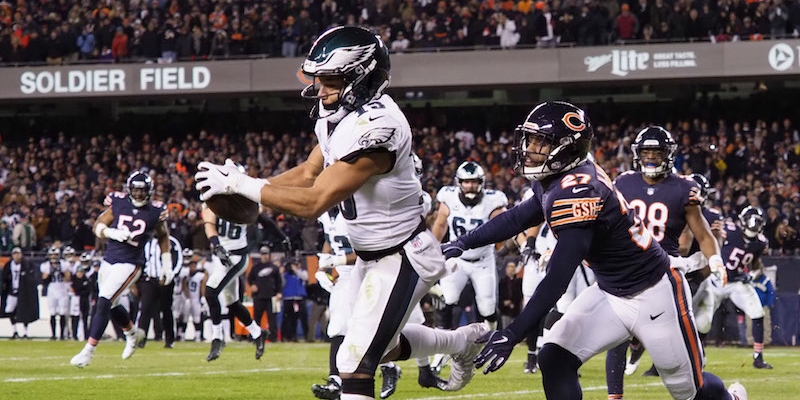 Jeffery is expected to again see shadow coverage from Marshon Lattimore (PFF's No. 25 overall cornerback), so Agholor should see plenty of Eli Apple (No. 77), while Tate will get to feast on P.J. Williams (No. 110).
Still, it's tough to ignore just how dominant the Saints were during their 48-7 victory over the Eagles in Week 11. Ertz (2-15-0), Jeffery (4-33-0), Agholor (0-0-0) nor Tate (5-48-0) were able to get much going in the Coors Field of Fantasy Football.
Jeffery (+0.96), Ertz (+2.59) and Goedert (+0.21) are the only Eagles receivers with a positive Projected Plus/Minus in our FantasyLabs Pro Models. — Hartitz
Saints: Brees completed 22-of-30 (77.3%) passes for 363 yards (12.1 yards per attempt) with four touchdowns and zero interceptions against the Eagles in Week 11.
Thomas (4-92-1), Tre'Quan Smith (10-157-1) and Kamara (1-37-1) also made their presence felt against the NFL's fourth-worst defense in DraftKings points per game allowed to opposing receiver units.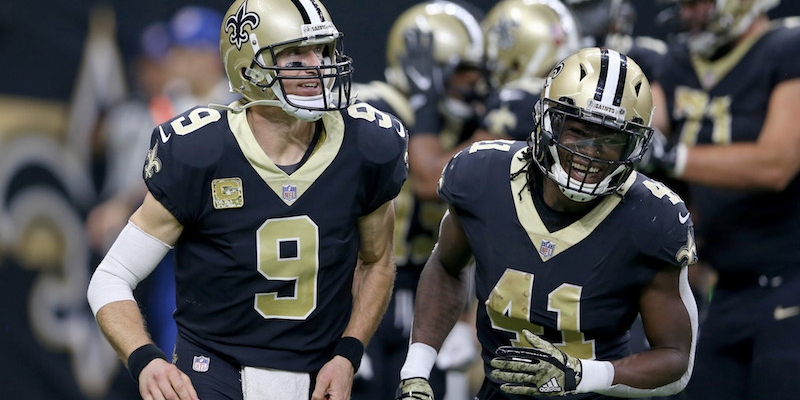 The Eagles have honorably dealt with their injury-riddled secondary over the season's second half and managed to hold the Bears (15 points) and Redskins (13 and 0) offenses in check since their Week 11 debacle.
Still, the Giants (22), Cowboys (29), Rams (23) and Texans (30) were able to find some success through the air against this rag-tag cornerback group.
Maddox could be Payton's key target. It's impossible for Maddox to fully cover the current talent gap that exists between him and Thomas.
Thomas is locked and loaded as the offense's featured pass-game target, but the rest of the pecking order is a mystery. His $7,900 price tag on DraftKings comes with a gaudy 29.3-point projected ceiling and a +1.85 Projected Plus/Minus. — Hartitz
Bets to Watch
Saints -8: I'm breaking nearly every rule I live by: Betting a huge favorite against a hot team with a quarterback who has proven he can win in pressure situations and, at the very least, bring his team back in furious comeback for a backdoor cover.
Whew … take a breath.
Here's why I'm backing the Saints: For all the improvements the Eagles have made during their furious playoff run, their secondary is still the weak link. That was obvious in the second half against the Bears, when Trubisky consistently threw over the top with ease, hitting receivers who were getting separation.
Brees is a better quarterback than Trubisky, his receivers are better than any the Bears have and, unlike Matt Nagy, Payton will not wait until the final quarter to be aggressive.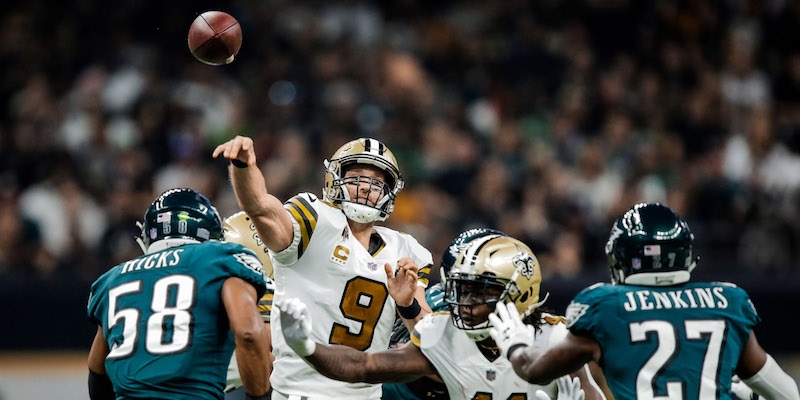 The Bears' other failing: They ignored Tarik Cohen, their best playmaker. He caught one pass on the first drive for 20 yards and was targeted just three times the rest of the game.
In space and on the edge against the Eagles defensive backs, he would have made a difference.
You might have noticed, but the Saints have Kamara, who is better and more productive than Cohen. I don't expect Payton and Brees to forget that, either. — Chad Millman
Over 51.5: This trend failed me last week, but I am back on the wagon. I thought I was well on my way to Green Dot City with the way the Colts-Texans game started, but I was hung out to dry in Red Dot Unincorporated Township.
Playoff dome overs have been very profitable historically. The over has hit in 29-of-39 games since 2003, winning by an average margin of 5.58 points.
Despite last week's loss, games with totals of 47 or higher have still been the real money makers: The over has hit in 21-of-25 games by a margin of more than eight points.
History suggests this will get back on the winning track. — Gallant
Saints -0.5 1Q: In the words of my boss, Chad Millman: "The Nick Foles story is done." I think the Saints roll the Eagles to eliminate the reigning champs.
With that said, I love the value of the Saints in the first quarter.
Brees has outscored his opponents 47-19 in the opening quarter since the Saints' Week 1 loss to Ryan Fitzpatrick and the Bucs. And in six home playoff games, Brees has three touchdowns, no picks, no sacks, higher than a 70% completion percentage and 9.8 yards per attempt in the first quarter.
The Eagles are going up against a giant. I'll roll with the Saints early. — Abrams
Michael Thomas Over 81 receiving yards: Thomas has put up at least 81 yards in eight of 15 starts with Brees this season, including 92 on only four catches against the Eagles in Week 11.
Thomas, who averages 9.2 targets per game, should get even more chances in a game likely to be far more competitive: Underdogs that lost the previous head-to-head meeting against their Divisional Round opponent are 28-15 (65.3%) ATS since 2003, covering by an average of 2.49 points according to our Bet Labs data.
The Eagles finished the regular season allowing 90.9 schedule-adjusted receiving yards per game to No. 1 wide receivers — the most in the league, per Football Outsiders.
Then they got destroyed by Robinson for 143 yards on 10 catches in last week's wild-card meeting, his highest total since December 2016.
Counting Robinson's effort, the Eagles have allowed a wide receiver to go for 100 or more yards in eight games, 90 or more in 10 games and 83 or more in 12 games.
I'd bet this into the low 90s. — Raybon
---
Editor's note: The opinions on these games are from the individual writers and are based on their research, analysis and perspective. They are independent of, and may not always match with, the algorithm-driven Best Bets from Sports Insights.