Koerner: My Saints-Cowboys Prop Picks for Our $1,000 Contest
Credit:
Matthew Emmons-USA TODAY Sports. Pictured: Ezekiel Elliott
We're giving away $1,000 to the winner of our Saints-Cowboys Thursday Night Football prop contest.
Sean Koerner, who helped come up with some of the questions for our prop sheet, gives his picks.
In case you've missed the news, we're giving away $1,000 in cash to the winner of our Thursday Night Football props contest.
What's the occasion? We've got a nice matchup — Saints! Cowboys! — and giving away cash makes us happy.
Here are the details: We've come up with 10 questions centered around Saints-Cowboys. Submit your entry into our free app by 8:20 p.m. ET on Thursday, and then follow along as we grade your predictions in real-time.
Answer the most props correctly and you'll take home your share of the cash. That's it: 100% free to enter and loads of prop-filled fun.
I helped come up with some of the props, but also wanted to give you my leans for each.
Good luck with your entry!
1. What will be the result of the first possession of the game?
Touchdown
Field Goal
Turnover
Punt
Other
Since this is a winner-take-all contest with thousands of entrants, the opening question poses an intriguing leverage opportunity with "Turnover" as a potential game-winning pick.
But since it only has a 7-9% of happening in a matchup between two teams that are very good at not turning the ball over, I like the "Punt" option, which should also be undervalued, particularly if the Cowboys get the ball first.
2. Who will score the Saints' first rushing TD?
Mark Ingram
Alvin Kamara
Taysom Hill
Other/None
Alvin Kamara will be the chalk here — and rightfully so. I think in order to win the contest you will either need to go against the grain on Questions 1 or 2 … or in the tie-breaker.
Of course, you can also just try to go perfect! If you're interested in that route, go Kamara. I would imagine Mark Ingram will get a high number of picks and Taysom Hill might be a bit too popular, as well. If Hill scores I think it would come much later in the game.
If I was rolling the dice, I'd go with "Other/None" since that includes Drew Brees, who has three rushing TDs on the year. If they get to the goal line, his patented QB sneak is very possible.
Also included in that would be fullback Zach Line, who could channel John Kuhn and get a 1-yard troll TD.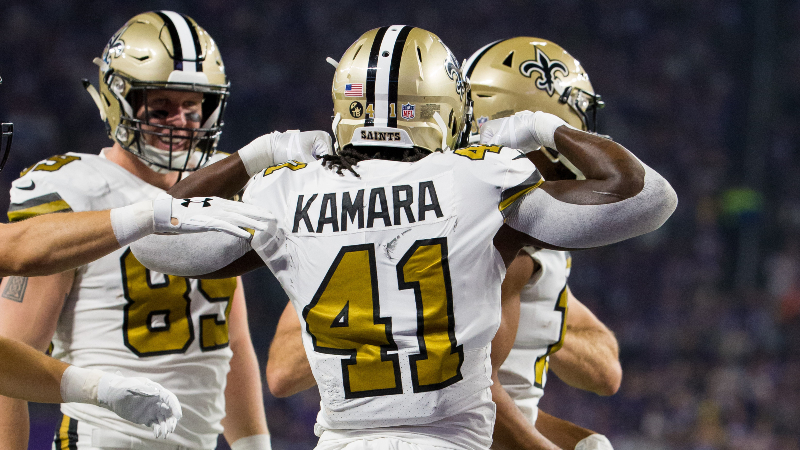 3. Will Ezekiel Elliott score a TD in the first half?
I have Zeke scoring a TD roughly 60% of the time, but if we are only talking first half here I would think "No" is much more likely.
Another reason to be on "No" would be that I assume more than 50% of people will be on the other side, so this could be a no-brainer leverage spot to go against the grain and have the odds on your side.
4. Will there be any points scored in the final two minutes of the first half?
There is a chance that a team can be in the middle of a drive heading into the 2 minute warning making this an easy "Yes."
There's also the chance that even if a team is starting a drive deep in its own territory after the two-minute warning that it is able to drive down the field to set up a field goal before the half.
I'm picking "Yes" and hoping it's the Saints who have the ball around this point of the game.
5. How many passing yards will Drew Brees have?
240 or fewer
241-295
296-346
347+
When setting this prop I tried to make it as close to a 25% chance for each of the four buckets. I am thinking most people will be going with the 347+ because it's more fun to root for and has also occurred 36% of the time this year for Brees.
He has only finished in each of the middle buckets once this year. I'm going to trust my math on this one and go with 296-346 and hope that fewer than 10% of entrants select it.
6. Total combined rushing and receiving yards by Alvin Kamara: Over/Under 103.5
I think this is a fair number, so I'm simply going to go opposite of where I think the action will be. I'm anticipating around 60% of the over, so give me the under.
7. Amari Cooper's longest reception: Over/Under 23.5 yards
When coming up with this number I realized that this one probably won't be close. It will either be something like nine yards or 90 yards.
I set this number on Monday, and it looks like books offering this very prop arrived at the same number I did.
Digging a bit deeper, the Saints are eighth-worst in the NFL in allowing passes of 10-plus yards (42). They've also allowed the third-most passes of 20-plus yards (10).
I'll go with the over.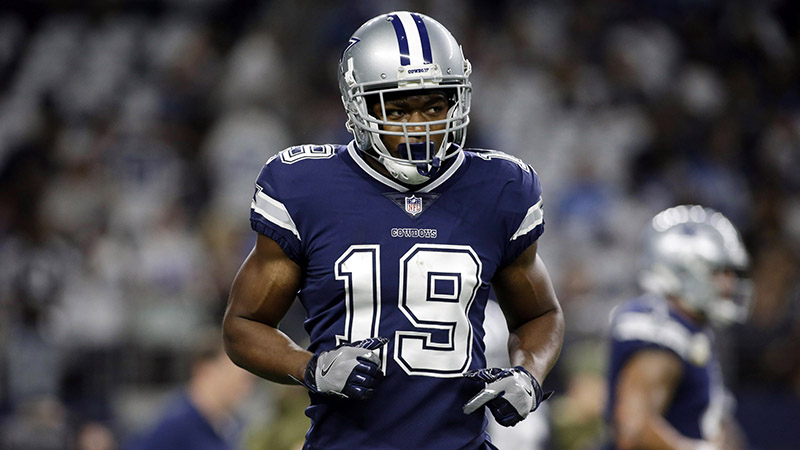 8. Taysom Hill rushing yards: Over/Under 16.5 yards
I alerted listeners on Wednesday edition of The Action Network NFL Podcast all the way back in Week 4 that Taysom Hill's package of wildcat plays was going to hinder Drew Brees' floor/ceiling going forward.
While that was true at the time, Sean Payton has eased up on Hill's red zone usage after his costly fumble on an errant pitch to Alvin Kamara back in Week 7
This is going to be one of the most fun props to root for as it should end up being close, but give me under.
9. Will Cameron Jordan record a sack?
The Cowboys have allowed the second-most sacks this year with 38. Cam Jordan is a beast, and it's going to be much more fun rooting for him to get a sack. Sign me up for "Yes."
10. Total tackles for Leighton Vander Esch: Over/Under 10.5 tackles
Vander Esch has lived up to his first-round pedigree this year. He was an excellent selection by the Cowboys, who have traditionally fallen apart whenever Sean Lee missed time due to injury.
As expected, Lee has missed significant time the past two months and Vander Esch has stepped up big.
When setting this number, I realized that he has only gone over this total four times this year, but my projections are factoring in his now every-down role and also the Saints' increased play volume.
He should be heavily involved in slowing down Kamara/Ingram/Hill and underneath routes. Give me the over.