Koerner: Ranking How Much Chiefs & 49ers Players Are Worth to the Super Bowl Spread
Credit:
David Eulitt/Getty Images. Pictured: Tyreek Hill
When it comes to estimating how many points a player is worth against the spread, there are a few factors to consider: Not only do we need to evaluate their importance, but who would replace them and how their team would be able to make up for their loss.
With all of those aspects taken into account, here is how I would rank the value of 15 different players to the Super Bowl 54 spread.
1. Patrick Mahomes: 7-7.5 Points
We saw this very question arise when Mahomes suffered a multi-week injury in Week 7. I had speculated he would be worth 7-9 points at the time, and sure enough, the market ended up adjusting the Chiefs' Week 8 spread by eight points with Mahomes out.
Backup quarterback Matt Moore ended up having a solid two starts, going 1-1 straight up and ATS. But a lot of credit needs to go to head coach Andy Reid, who was able to alter the Chiefs' system in a way that allowed a below-average QB like Moore to thrive.
Considering what we saw from the Chiefs without Mahomes earlier this season, I would lower Mahomes' value to 7-7.5 points.
2. Jimmy Garoppolo: 3-3.5 Points
Jimmy G went down in Week 3 of the 2018 season, which allowed us to see how the market would react to his absence. His absence ended up moving the line 5.5-6 points, which seemed right at the time given C.J. Beathard and Nick Mullens looked like significant downgrades. But after seeing Mullens actually look pretty solid in this offense, I would say Garoppolo would move the line only 3-3.5 points now.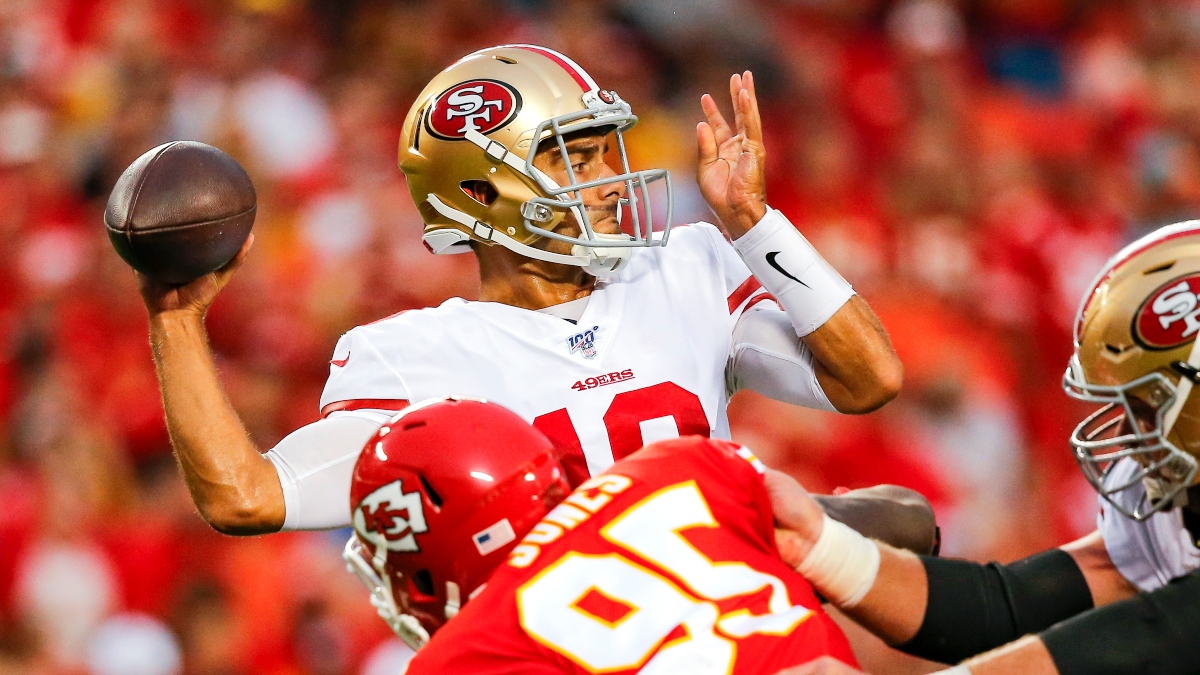 We have to remember just how strong the 49ers' defense and running scheme are — they would be able to game plan in a way that could minimize the damage of losing Garoppolo. Weapons such as Deebo Samuel and George Kittle are dangerous after the catch, so they offer quite a bit of value regardless of who is at QB.
3. Tyreek Hill: 1 Point
Quarterbacks are always going to have the biggest impact on the spread. However, there are certain non-QBs who can impact the line. Hill is one of those players thanks to his explosiveness.
Even when he doesn't finish with a huge stat line, he can have an impact given opposing defenses likely go out of their way to stop him, allowing for other players to see a boost in production.
It's very hard to replace a player like Hill. Still, Mecole Hardman was drafted as a fallback option when we weren't sure how Hill's off-the-field situation would be resolved this past offseason. Hardman has looked every bit as dynamic as Hill, and if the rookie can become a bit more polished as a receiver next year, he could lower Hill's value to 0.5-1 as the Chiefs would have a backup who could fill in without as much of a drop-off.
4. George Kittle & Travis Kelce: 0.5-1 Point
These are two of the best tight ends in the game. Kittle in particular is a very effective run-blocking TE, so his absence would hurt the 49ers offense on a couple different levels.
5. Deebo Samuel, Emmanuel Sanders, Nick Bosa, Richard Sherman, Chris Jones: 0.5 Point
This is the range in which defensive players come into play.
Bosa has blossomed in his rookie season and could impact the line if he were ever ruled out. Still, the 49ers defense is so good that it would likely be able to survive if just one of their studs were to miss time. That includes Sherman.
Jones may not be quite in the same tier as Bosa and Sherman in terms of raw value, but the defensive tackle's loss would especially hurt the Chiefs defense, which doesn't feature as many above-average individual defensive players as the 49ers.
6. Raheem Mostert, Arik Armstead, Tyrann Mathieu, Damien Williams, Sammy Watkins: 0-0.5 Point
All of these players offer value to their team. However, if they were to miss a game — depending on the context — it might not actually move the market.
You would really only see these players move the market if there was a cluster of injuries at their position. For example, if Tevin Coleman were already ruled out and then Mostert were to be ruled out, that's when the market would move by about a half-point.
The same is true for Watkins. If he were to have missed time when Hill was out earlier this season, Watkins would have moved the market by a half-point or so. But based on his current role in the offense, if he were to be a surprise scratch for the Super Bowl, it would likely have zero impact on the spread.
How would you rate this article?