Super Bowl Prop Bets: Odds, Printable Sheet & Expert Picks for Chiefs vs. 49ers
Credit:
Peter G. Aiken/Getty Images. Pictured: Raheem Mostert
Super Bowl prop bets. The latest odds. Expert picks. A printable prop sheet. A customizable value calculator.
Find everything you need to bet Super Bowl 54 props before the Chiefs and 49ers kick off the biggest game of the year.
Happy Super Bowl Sunday — also (unofficially) known as National Prop Betting Day.
Whether you have no idea what a prop bet even is (more on that later) or are a seasoned prop betting vet, we have you covered with all the analysis and resources you need for the big game.
Below you'll find an outline of our experts' picks, a downloadable/printable prop sheet for your party and more Chiefs-49ers prop coverage.
Super Bowl Player Prop Bets & Picks
We've been gleaning the Super Bowl 54 prop markets for two weeks to find the best bets for Chiefs-49ers. Here are the 33 (!) picks from our experts that still have value as of Sunday morning.
Print Your Super Bowl Prop Sheet
No access to a sportsbook, no problem: We put together a handy 10-question prop sheet that you can play along with wherever you're watching the big game.
Click here or on the image to download and print our prop sheet.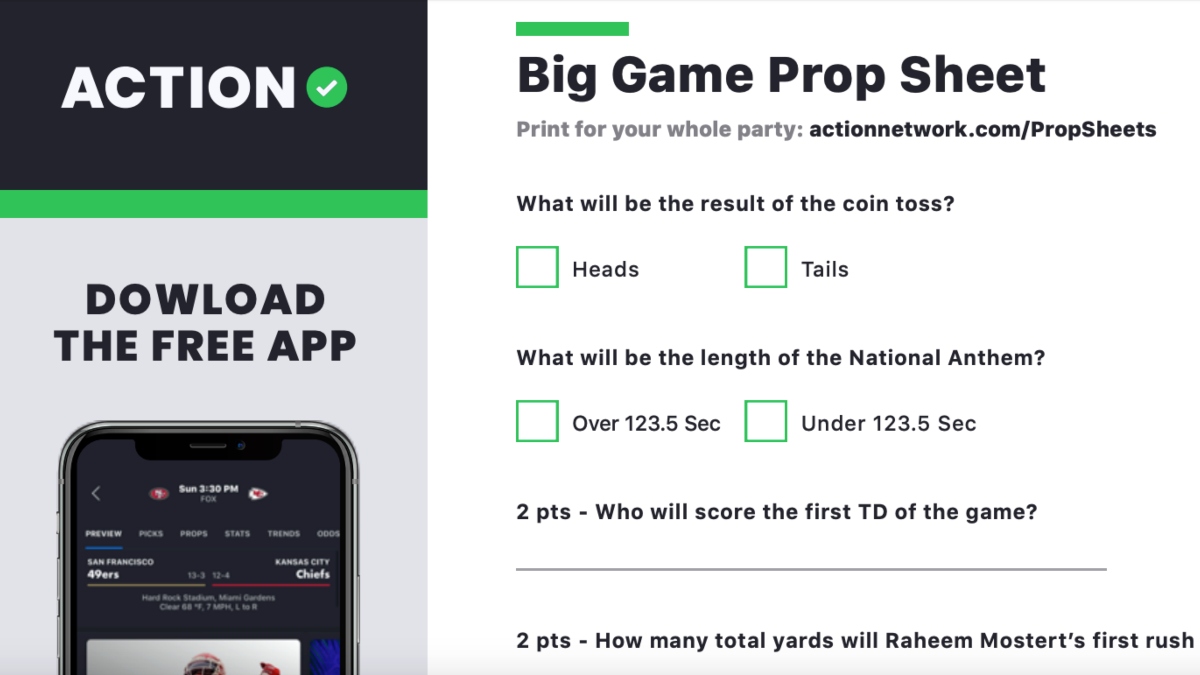 More Super Bowl Prop Bets: Chiefs vs. 49ers
Gatorade color: Purple has emerged as the favorite this year. Find out why.
National Anthem: Will Demi Lovato's rendition be longer than the shortest scoring drive? We did the math.
Overtime: This postseason has gifted us two OT games. Here are the chances of us getting another.
Safety: There have been nine over the past 53 Super Bowls. Here's what you need to know about the chances of it happening in Miami.
Cross-Sport Props: Patrick Mahomes' passing yards vs. the winning score of the Waste Management Open. The Super Bowl's first-half total vs. Zion Williams' points. Our resident golf, NBA, college basketball and NHL experts highlight the best cross-sport props.
Prop Betting Starter Kit
New to betting? Let us introduce you to the wonderful world of props.
Super Bowl Player Prop Calculator
To help you fully exploit the value of prop betting, Sean Koerner — our director of predictive analytics — used his projections to create a customizable Super Bowl Player Calculator.
Plug your odds into the downloadable spreadsheet or Google Sheets version to automatically calculate the exact edge on more than 50 props.
How would you rate this article?