33 Super Bowl Prop Bets & Picks Still Offering Value for Chiefs vs. 49ers
Credit:
Michael Zagaris/San Francisco 49ers/Getty Images. Pictured: Emmanuel Sanders, George Kittle
We've compiled more than 30 of our NFL experts' favorite Super Bowl prop bets that still have value heading into the big game between the Chiefs and 49ers.
Find their picks for 33 different Super Bowl player props, from touchdown scorers to the length of Raheem Mostert's first rush to whether there will be a missed field goal.
We've been gleaning the Super Bowl 54 prop markets for two weeks to find the best bets for Chiefs-49ers.
Now it's showtime.
We've compiled player prop picks from four of our top NFL experts — Chris Raybon, Matthew Freedman, Sean Koerner and Stuckey — that still have value as of Sunday morning. There are 33 (!), and they span every major category, even kicking.
Let's get started.
Skip to: Passing | Rushing | Receiving | Touchdowns
---
Odds are as of Sunday morning and via various legal mobile sportsbooks in NJ, PA, IN and WV, where you can find special promos for the big game.

---
PASSING
Freedman: Patrick Mahomes Unders
Under 35.5 Pass Attempts (+115)
Under 23.5 Completions (+125)
Under 0.5 Interceptions (-137)
I expect that the 49ers will be able to limit Mahomes' opportunities and keep him sequestered on the sideline by attacking the weak Chiefs run defense with their Kyle Shanahan-powered, zone-blocking ground game.
Although he's the best passing quarterback in the game, Mahomes simply might not have as many offensive snaps as he usually does.
This season, Mahomes has a median of 35 pass attempts and 23 completions. Amazingly, he's hit both of those numbers exactly in each of his postseason games. To get the under on both of them at plus money is fantastic.
As for the interceptions, Mahomes has thrown just five in 16 games this year, and although the 49ers have an elite pass defense, they are not a ball-hawking unit. In the regular season, they had a middle-of-the-road 12 interceptions.
With -137 odds, there's a 57.8% implied probability that Mahomes will not throw an interception, but I think his true odds are closer to 65%.
I wouldn't bet the attempt and completion props lower than 35.5 and 23.5, but I'd take each of them down to +110. For the interception prop, I'd bet it down to -160.

[Bet now at DraftKings. NJ, PA, IN and WV only.]
---
RUSHING
Koerner: Patrick Mahomes Under 30.5 Rush Yards (-105)
I've long believed that Mahomes has underachieved as a runner.
We've seen only his upside with the 53 rushing yards he's posted in back-to-back games. Before that two-game stretch, Mahomes had rushed for more than 30 yards in only five of his 34 career starts (a 14.7% rate). So now after eclipsing that mark in two straight games to bring his career rate up to still only 19.4%, we should consider this his median?
This line is simply an overreaction, and we should expect Mahomes to have a tougher time getting explosive runs against the 49ers.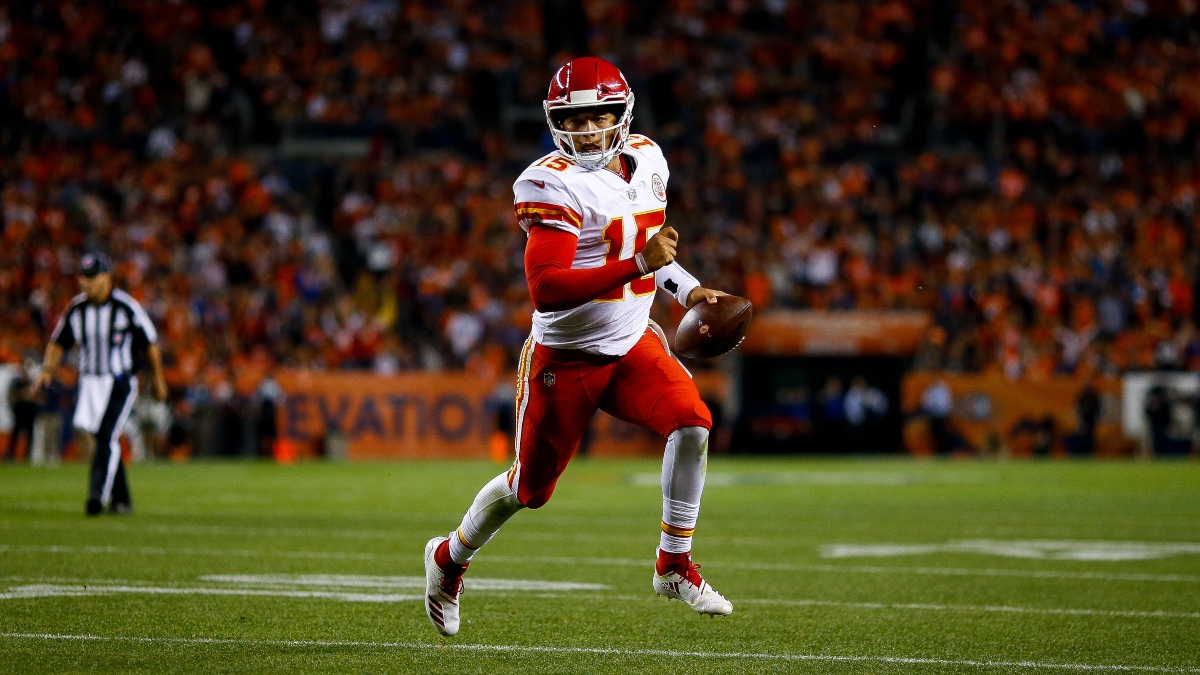 I did give him a considerable boost in expected rush attempts and expected yards per carry before running my simulations. And to his credit, he looks 100% recovered from the significant knee injury he suffered midseason, so I made sure that wouldn't influence my sims data too heavily. I also added the chances of kneel downs at the end of the game by factoring in the Chiefs' chances of winning and how that correlates to one to four (-1 yard rush) potential attempts.
After this intense calculation, I arrived at a 60.2% chance he finished with fewer than 30 rushing yards.
[Bet now at PointsBet. NJ only.]
Koerner: Raheem Mostert First Rush Under 3.5 Yards (+110)
This prop really showcases what I mean when it comes to "mean" vs. "median" props.
I really like Mostert's rushing upside in this game. He faces a Chiefs defense that's been very poor against the run this season. In fact, I have his yards per rush attempt distribution at 4.64 yards/rush against Kansas City. However, we have to remember that the distribution is heavily skewed.
Long runs are what are responsible for much of the noise in a running back's yards per carry. The median for every rush attempt is 3 yards for most backs. Mostert, as good as I have him projected to be in this game, is no different — I have him getting fewer than 3.5 yards on his first carry 57% of the time.
The fact that we're getting plus odds on this market makes it even better.
[Bet now at DraftKings. NJ, PA, IN and WV only.]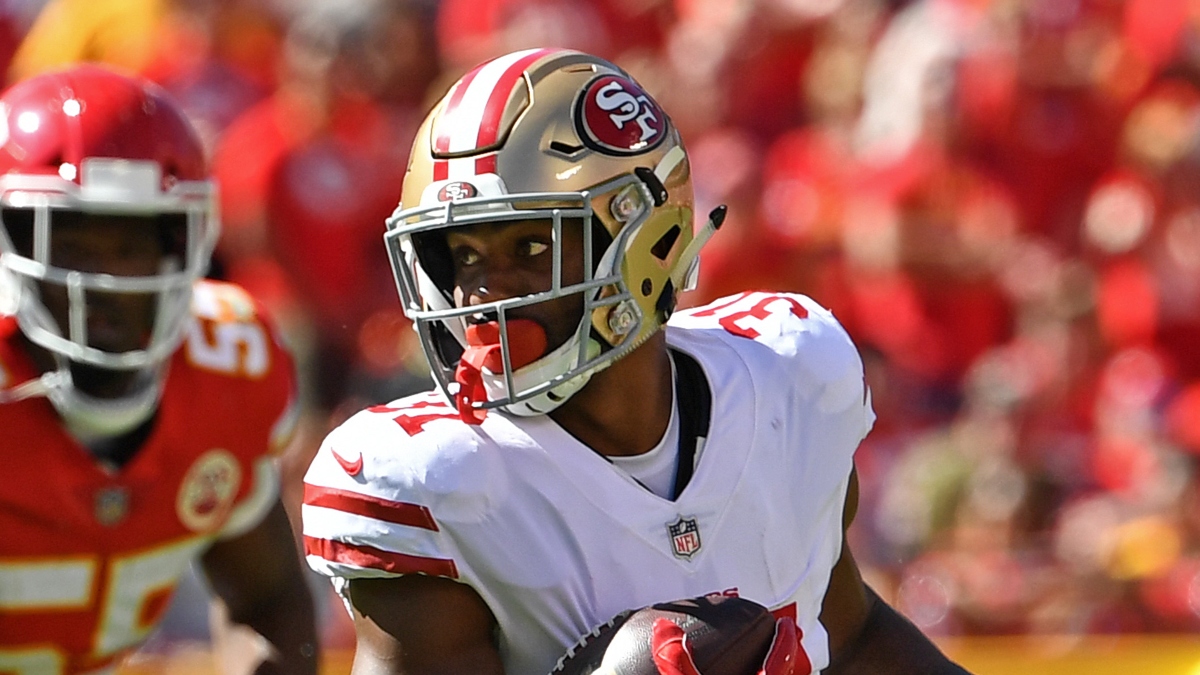 Freedman: Tevin Coleman Under 27.5 Rushing Yards (-118)
Coleman (shoulder) was removed from the injury report on Friday, but that doesn't really mean he's healthy. I expect him to play a reduced role in the Super Bowl.
On top of that, he has been playing behind teammate Raheem Mostert since December. Starting in Week 13, Mostert has out-carried Coleman in every game but one — the Divisional Round — when Mostert sat out the second half of the game with a minor injury. In every other game since Week 13, Coleman has had no more than six carries.
[Bet now at FanDuel. NJ, PA, IN and WV only.]
Raybon: Deebo Samuel Over 13.5 Rushing Yards (-112)
If you're looking for an x-factor that could swing the game — or the MVP vote — look no further than Samuel. Seventeen carries into his professional career, the rookie already has five runs of 20-plus yards and three rushing scores under his belt.
To get a sense of how valuable Samuel is as a runner, consider this: On just 14 carries, he generated 110 Defense-Adjusted Yards Above Replacement this season, which would have made him the 16th-most valuable running back.
Degen alert: Samuel's median carry is 9 yards. He has now received at least one carry for seven games and counting. Most sports books have settled on a line of 13.5 for his rushing prop (9 yards x 1.5 carries), but his median outcome, carry-wise, over the last seven games is actually 2. He has hit that mark in four of his last six (67%) and three of his last four (75%), so you can make the case that bookmakers are being too conservative with this line.
[Bet now at DraftKings. NJ, PA, IN and WV only.]
Freedman: Deebo Samuel Under 17.5 Rushing Yards (-167)
I think this prop is outrageous. Since December, Samuel has had at least one carry in each of his seven games, and his median is two carries for 28 yards. So I sort of get why this line is so high.
But we're talking about a wide receiver. He seems unlikely to get more than two carries in this game, and even though he's averaged 12.2 yards per carry this year, we shouldn't expect him to approach that rushing average in this game. I think this line should be around 9.5.

[Bet now at PointsBet. NJ only.]
---
RECEIVING
Freedman: Sammy Watkins Under 50.5 Receiving Yards (-125)
I think this line might be artificially high because last week Watkins had a 7-114-1 receiving performance for his best game of the season since Week 1.
But in the regular season, the 49ers allowed just 130.3 receiving yards per game to opposing wide receiver units, and I think it's likely that Watkins will run many of his routes against No. 1 cornerback Richard Sherman.
I'd bet the receiving yardage prop down to 47.5.
[Bet now at DraftKings. NJ, PA, IN and WV only.]
Freedman: Tyreek Hill Under 77.5 Receiving Yards (-130)
In his 27 full games with Mahomes, Hill has a mean of 83.5 yards but a median of just 69, which isn't so nice.
And in their nine games together this year, Hill has a mean of 73.6 yards and a median of 67.
Hill could have a big game, but given his tough matchup, I'm looking to leverage his volatility.
I'd bet the receiving yardage prop down to 73.5.
[Bet now at DraftKings. NJ, PA, IN and WV only.]
Freedman: Emmanuel Sanders Under 40.5 Receiving Yards (+115)
The total for this game is high, and higher-scoring games tend to lean on the passing game, but even so, I have little enthusiasm for Sanders.
Since joining the 49ers in Week 8, Sanders has been the ostensible No. 1 wide receiver, but he's had a median of just 29 yards receiving across 12 games with the team.
And in the regular season, no team held opposing wide receiver units to fewer receptions and yards receiving than the Chiefs with 9.4 and 119.3 per game.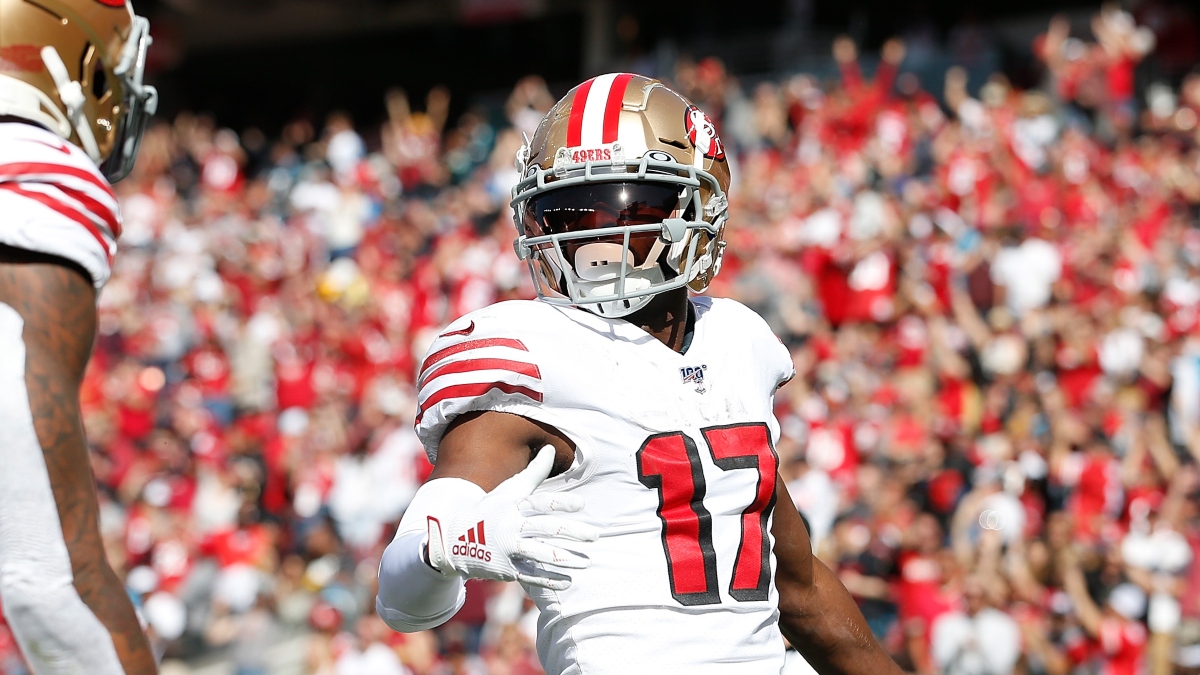 I'd bet the receiving yardage prop down to 35.5.
[Bet now at DraftKings. NJ, PA, IN and WV only.]
Raybon: Emmanuel Sanders To Get 100+ Receiving Yards (+600)
I'm gonna differ from Freedman here.
This line for Sanders to get 100-plus receiving yards implies 14.2% odds, but he's cracked the century mark in 16.7% of his games with the Niners so far (20.0% if you remove the two games in which he was banged up and played fewer than half of the snaps). And both of Sanders' 100-yard performances came in one-score games in which the two teams combined for at least 53 points.
[Bet now at PointsBet. NJ only.]
Koerner: Emmanuel Sanders Longest Reception Over 17.5 Yards (-108)
Taking the over in other player prop markets often requires a leap of faith. This prop is no different.
I'm implying that I trust my models here despite the fact that Sanders has gone over this number in only five of his 12 games as a 49er — that's only a 41.7% rate in which he's recorded a reception longer than 17.5 yards. However, if you look past that number, you would see that between two of those five games, he had three additional catches of 18 or more yards. So if all eight of those big gains had been spread out evenly (one per game), he would have hit the over on this prop in 66.6% of his games as a 49er.
Now, I'm not saying that we can expect his receptions of 18-plus yards to be perfectly spread out to hit this market 66% of the time, but my models do expect this to hit closer to 58% over the long run.
[Bet now at FanDuel. NJ, PA, IN and WV only.]
Koerner: Demarcus Robinson Under 22.5 Receiving Yards (-125)
This is my prop of the game as I have it hitting at a 69% rate at this number.
Most books are offering this number at 20.5 or higher, and while I like the under at all prices, but make sure you take the best number possible. This prop market is very similar to Mostert's receiving yards market in the sense that we're dealing with a player who is likely going to see between one and three receptions. My simulations take the various scenarios and expected distributions into account and it's screaming to take the under here.
One reason I've been bearish on Robinson in my models of late is due to the recent increase in usage of Mecole Hardman. From Weeks 14-16, Robinson averaged 70% routes run per quarterback drop back compared to Hardman at 13%. But over the past three games, that split has become Robinson 47% vs. Hardman 37%. I have to believe that this may be partially due to Robinson dropping three catchable passes from Mahomes in the Divisional Round. It could be the reason Hardman finally out-snapped Robinson on pass plays in the AFC title game.
All that said, I have Robinson regaining his role and out-snapping Hardman with a 50% routes run rate this week and still see value on the under here.
[Bet now at DraftKings. NJ, PA, IN and WV only.]
Stuckey: Damien Williams Overs
Over 3.5 Receptions (-135)
Over 29.5 Receiving Yards (-120)
The San Francisco defense generates pressure as well as any team in the NFL, which forces opposing quarterbacks to get the rid of the ball quickly.
That pressure combined with a disciplined, heavy zone-based coverage scheme (especially on first and second down) are a major reason the 49ers defense ranked No. 2 in explosive pass plays allowed. They allowed only 34 completions of more than 20 yards on the season, which tied with Buffalo for the fewest in the league. And only the Bills (four) allowed fewer completions of 40 or more yards than the five allowed by the 49ers.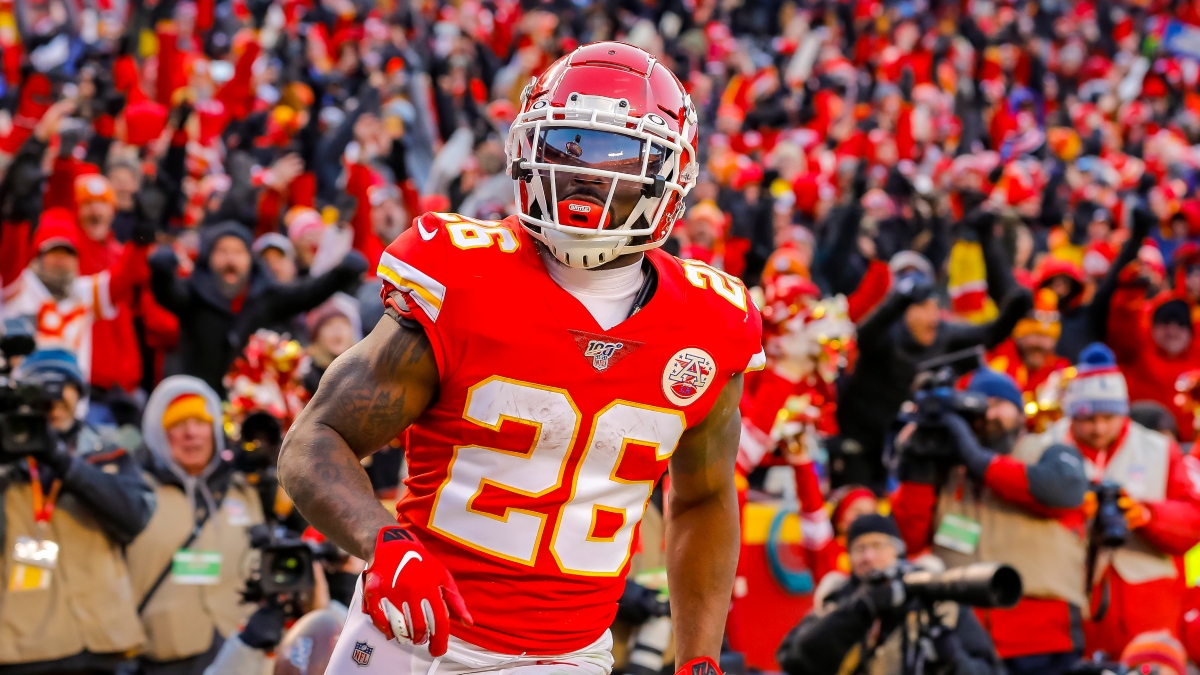 I think that will result in Williams getting a lot of usage out of the backfield when Mahomes drops back to throw. I expect quite a few dump downs to the former Oklahoma Sooner as well as one or two patented Andy Reid screens.
The other benefit of backing Williams here is knowing his high usage rate. Unlike San Francisco, there really isn't a question as to who will get the lion's share of snaps in Kansas City's backfield — I expect Williams to get close to 90% of the running back snaps in this game.
[Bet Williams' receptions now at William Hill. NJ only.]
[Bet Williams' receiving yards now at FanDuel. NJ, PA, IN and WV only.]
Koerner: Raheem Mostert Under 12.5 Receiving Yards (-112)
I have Mostert projected for 1.9 receptions and a 7.8 yards per reception rate. You might be thinking, "If 1.9 multiplied by 7.8 equals 14.8 yards, how is that screaming value on the under 12.5?"
Well, this prop is low enough that it's easy to break down a few better ways to analyze this market.
Mostert has a 15.6% chance of ending with zero catches — that's an instant win scenario as he'll have zero yards.
There's a 44.5% chance he'll finish with one or zero catches. And the odds of just one reception being fewer than 12.5 yards would be about 83%, which would bring his overall odds of getting fewer than 12.5 yards on one or zero receptions to 52.9%
Even still, there are plenty of scenarios in which he can catch two passes and still finish with fewer than 12.5 yards. He would finish with under 12.5 yards with exactly two receptions 47% of the time.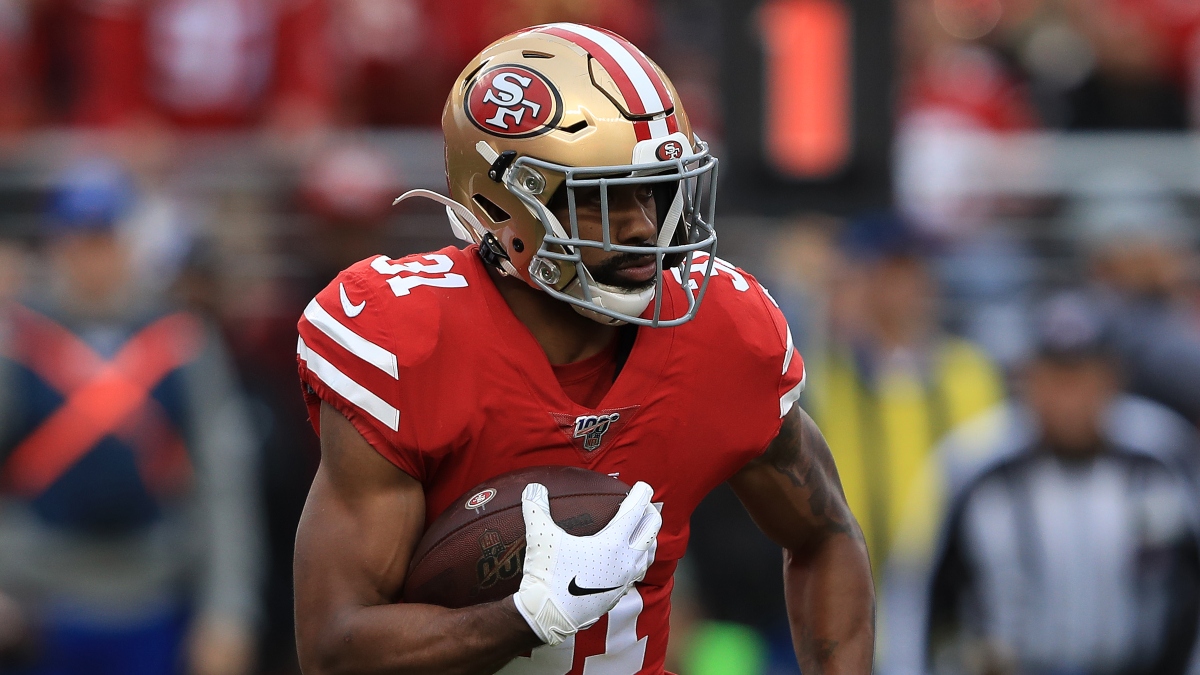 We have a lot of cushion with this prop, and it's really not until he catches three or more passes that this bet becomes a loser.
Every yard matters in a market like this — a line of 10.5 would see the chances of the under hitting fall to 63.4%. That's why it's critical to make sure you are getting the best number(s).
[Bet now at FanDuel. NJ, PA, IN and WV only.]
Stuckey: Kyle Juszczyk Overs
Over 9.5 Receiving Yards (-125)
First Reception Over 5.5 Yards (+100)
It might sound crazy on the surface to back a guy who got zero targets in two playoff games and caught only 20 passes over 14 games this season, but I think he could play a minor role in the 49ers' passing attack.
Hear me out.
The full-season reception numbers for the Harvard product are skewed downward as a result of how a majority of the 49ers games played out this season: They were able to simply rely on their rushing attack to put teams away early most week. And that's exactly what happened in their first two postseason wins, which is why Jimmy Garoppolo's numbers look so pedestrian.
But if you focus only on the subset of games in which San Fran had to throw more, Juszczyk had much more receiving production.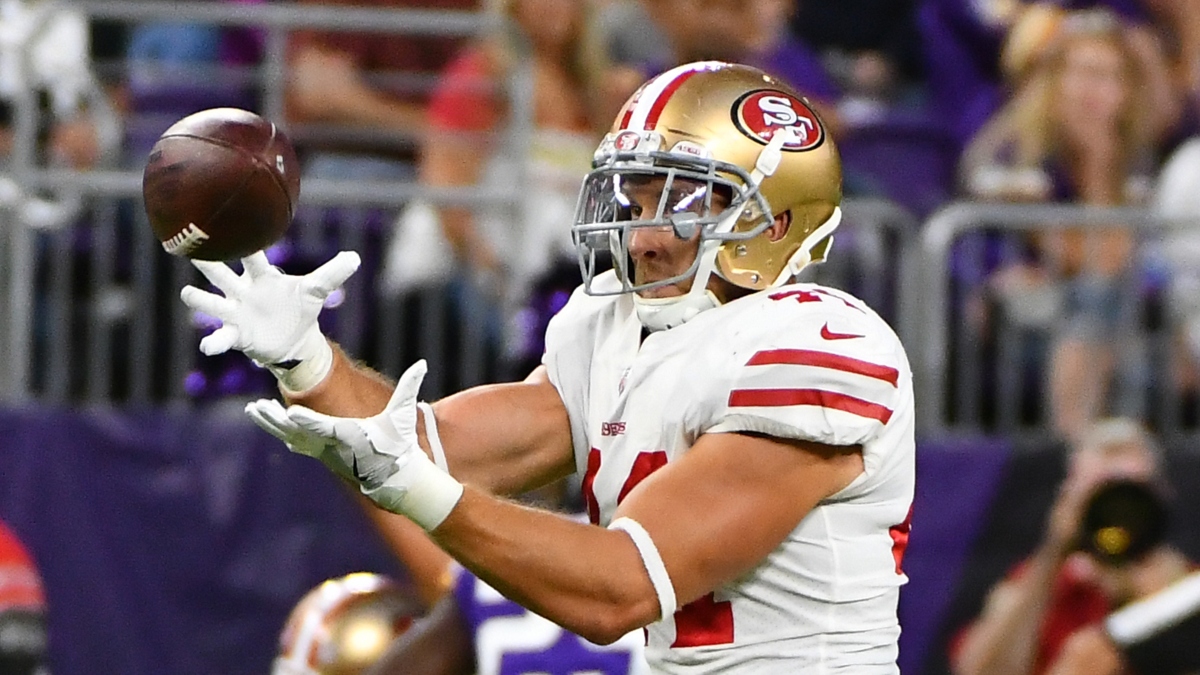 After removing the games Juszczyk missed due to injury, the 49ers played in eight that featured at least 40 points and were within one possession in the fourth quarter — both reasonable expectations for the Super Bowl. And in those games, Juszczyk had 17 catches for 214 yards.
That's an average of 2.1 catches and 26.8 yards per game.
[Bet now at PointsBet. NJ only.]
Koerner: George Kittle Longest Reception Under 24.5 Yards (-108)
Much like the Sanders' longest reception prop, a simulation will give you a much more accurate forecast than just looking at a player's season over/under rate in this market. However, in this case, the sample size happens to line up on the same side as my model.
Kittle has a reception of 28 or more yards in seven of 16 games played this season. That comes out to 44% rate of him going over this market, but my simulations have it expected to occur at a lower rate of 34%.
I think we can expect public perception to play a huge factor in here as books are likely expecting a ton of over action on this prop. Kittle is known for his big-playmaking ability, which includes his highlight reel catch against the Saints when it required multiple defenders to bring him down. But while Kittle absolutely has that huge playmaking upside in this matchup, we need to be aware of how much lower his "true" median is as opposed to what the market may think.
Give me the under here.
[Bet now at FanDuel. NJ, PA, IN and WV only.]
Freedman: George Kittle (+105) More Receiving Yards Than Travis Kelce
Kelce is a -125 favorite in this head-to-head prop, but I think this is pretty much a coin flip — and I actually lean toward Kittle — so I love him at plus odds.
Over the past two seasons, Kelce has a median of 77.5 yards. Over that same time, Kittle has a median of 77. These two guys are incredibly even.
But Kelce has a tough matchup. In the regular season, the 49ers were the No. 1 team in the league against tight ends, holding them to just 34.5 yards receiving per game.
And Kittle's matchup is decent. The Chiefs allowed 60.1 yards receiving per game to opposing tight ends — the league's fifth-highest average. And the Chiefs pass defense is likely to be worse than that number indicates, since the secondary will be without safety Juan Thornhill (knee), who suffered a season-ending injury in Week 17.
I'd bet Kittle to -105.
[Bet now at DraftKings. NJ, PA, IN and WV only.]
RUSHING + RECEIVING
Freedman: Damien Williams Over 82.5 Rushing + Receiving Yards (-112)
In the 2019-20 playoffs, Williams has played 90.9% of the offensive snaps for the Chiefs, and I project him to dominate backfield snaps once again in the Super Bowl.
In his 10 Chiefs games with a snap rate of at least 60%, Williams has a median of 97.5 scrimmage yards and has gone over 82.5 eight times.
I would bet this scrimmage prop up to 89.5 yards.
[Bet now at FanDuel. NJ, PA, IN and WV only.]
Freedman: Raheem Mostert Under 90.5 Rushing + Receiving Yards (-118)
Mostert went off in the NFC Championship for 226 yards on 29 carries and two targets, but he's not a consistent presence in the receiving game, and he's had more than 20 carries just one time in his career.
The Chiefs have a subpar run defense, so I can see how Mostert could hit the over, but he's not guaranteed to dominate touches in the 49ers backfield, and in his 10 games with double-digit carries, he's had a median of just 79.5 yards from scrimmage.
I would bet this scrimmage prop to down to 85.5

[Bet now at FanDuel. NJ, PA, IN and WV only.]
TOUCHDOWNS
Koerner: Mecole Hardman to Score First TD (+2200)
Hardman is by far the best value in this market. He's been eating into Demarcus Robinson's playing time over the past three games. In fact, Hardman out-snapped Robinson on passing plays 44% to 37% in the AFC Championship Game, and there's reason to believe that trend continues here against a stingy 49ers defense. Having playmakers like Hardman and Tyreek Hill on the field to start the game could give the 49ers fits.
I have the fair price for Hardman to be the first touchdown scorer at +1500.
One sneaky factor that gives Hardman hidden value is the fact he may be the first player to touch the ball. He is Kansas City's main kickoff returner and has a 104-yard kickoff return for a touchdown under his belt already this season. Mitch Wishnowsky handles kickoffs for San Francisco, and his kicks have resulted in a 51% touchback rate — the seventh-lowest mark in the NFL.
It's likely Hardman is able to return the opening kickoff.
[Bet now at DraftKings. NJ, PA, IN and WV only.]
Raybon: Raheem Mostert TDs
Anytime TD (-145)
2+ TDs (+440)
The best value on Mostert is his TD props.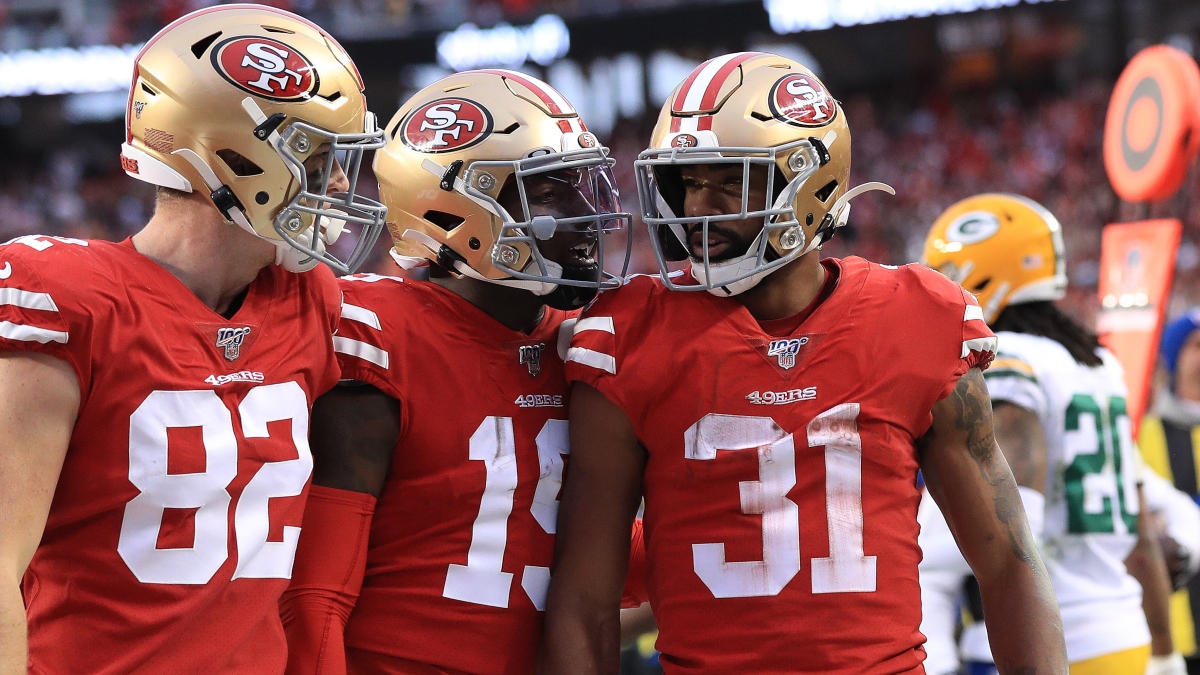 The -145 line on his anytime TD prop implies 59.1% odds, but he has found the paint in seven of his past eight games (87.5%). And despite notching multiple scores 50% of the time over his past six outings — and his teammates doing so on five on occasions — his multi-TD prop is being offered at +440 which implies 18.5% odds.
[Bet now at FanDuel. NJ, PA, IN and WV only.]
Freedman: Raheem Mostert To Score 2+ TDs (+450)
Over the past eight games, Mostert has scored 12 touchdowns, and he seems to be locked in as the lead back for the 49ers.
And in eight of their 18 games this year, the 49ers have had a running back score multiple touchdowns. (Thanks to my colleague Chris Raybon for pointing this out on our show today on SiriusXM Fantasy Sports Radio.)
The +450 odds give Mostert an 18.2% implied probability of scoring two-plus touchdowns, and given his recent scoring binge and the 49ers' willingness to give multiple touchdowns in a game to one back, his real odds of scoring twice seem much higher.
Raybon: Tyreek Hill TDs
Anytime TD (+105)
2+ TDs (+425)
Wide receivers have accounted for 69% of the receiving TDs against the 49ers this season — including scores by speedsters like John Ross, Brandin Cooks and Tyler Lockett. If you remove the two games in which Hill played under 20% of the snaps due to injury, his TD rate is 50%.
Most books have posted Hill's anytime TD prop with negative juice, but FanDuel has it at +105. Also, Hill's multi-TD prop of +425 at DraftKings implies 19% odds, but he has posted multiple TDs in 25% of his non-injured games this season after scoring at least twice in 22% of his outings last season.
[Bet Hill's anytime TD now at DraftKings. NJ, PA, IN and WV only.]
[Bet Hill's 2+ TDs now at FanDuel. NJ, PA, IN and WV only.]
Raybon: Kendrick Bourne TDs
Anytime TD (+300)
First TD Scored (+2000)
2+ TDs (+2500)
Chiefs defensive coordinator Steve Spagnuolo employs a multiple scheme that has shifted between various personnel groupings, coverage schemes and blitz looks, but one constant has been to make it tough for opponents to get the ball to their top wide receivers: The Chiefs allowed an NFL-low 51% target share to wide receivers, and they limited opposing No. 1 and No. 2 wideouts to a bottom-seven efficiency mark.
The trade-off has been subpar performance versus the remainder of the opposition's wide receiver corps, which would benefit Bourne in this case.
In 12 games since the 49ers acquired Emmanuel Sanders, Bourne has established himself as a go-to guy in scoring position, drawing the second-most targets inside the 10 (six) and converting each one for a score. His six receiving TDs lead the team not only during that span, but also for the entire 18-game season to date.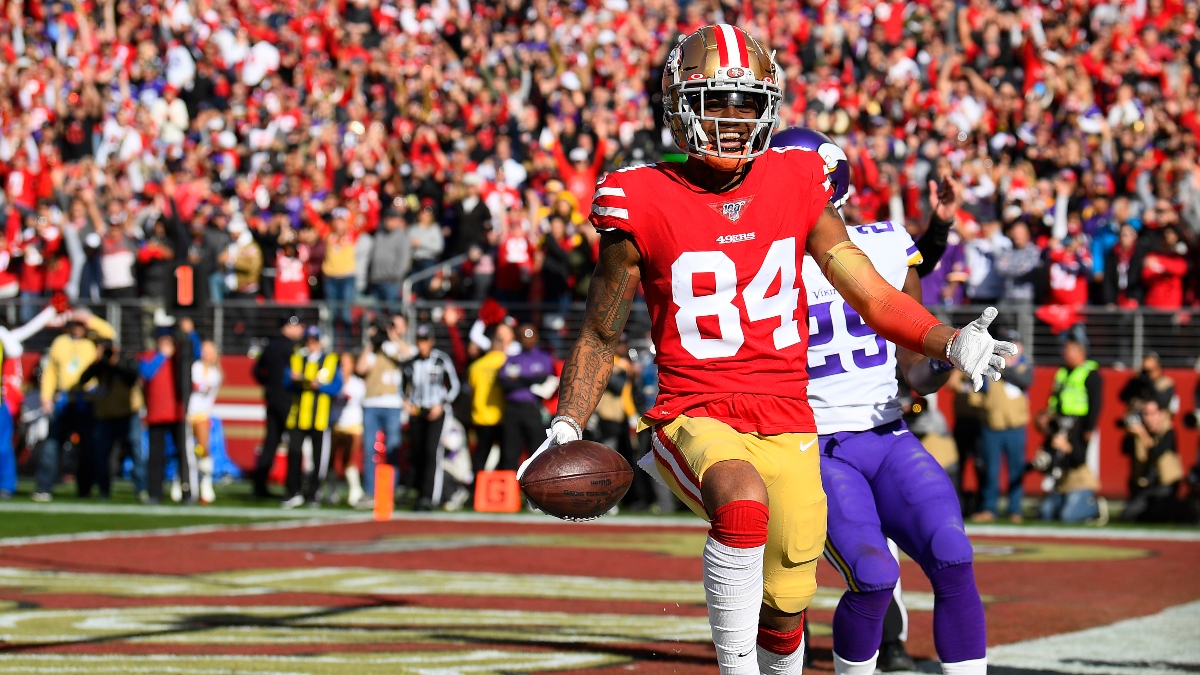 Bourne's anytime TD prop (+300) implies 25% likelihood, but Bourne has scored in five of 12, or 41.6%, of his games since the Sanders trade, and his 27.3% TD share over that span equates to 0.49 TDs when applied to the 1.8 passing TDs we have projected for Garoppolo.
Half of Bourne's TDs have come in the first quarter, so I also bet Bourne's first TD prop. We've seen him catch multiple scores in a game once this season, so I also got down on his multi-TD prop.
[Bet now at DraftKings. NJ, PA, IN and WV only.]
Koerner: Total Yardage of All TDs Over 104.5 Yards (-115)
I was able to create odds for every possible number in this market and included it in my Super Bowl Prop Calculator. It gave me a median of 112.5 yards with a 55% chance it goes over this number.
There are so many explosive players on both sides of this matchup that this over makes sense. And if there happens to be a special teams and/or defensive touchdown, it would significantly boost the chances of this going over.
[Bet now at PointsBet. NJ only.]
KICKING
Stuckey: Robbie Gould to Miss a FG (+290)
I've said all year that Gould is approaching washed territory, and his 6-12 clip from 40 or more yards backs up that sentiment.
I'm simply putting my money where my mouth is on this dart throw.
How would you rate this article?