Freedman: Mike Evans Will Be in the NFL Hall of Fame
Credit:
Kim Klement-USA TODAY Sports. Pictured: Tampa Bay Buccaneers wide receiver Mike Evans (13).
You can't make the Hall of Fame while you're still in pads, but Mike Evans has been making his case over the past six seasons.
Matthew Freedman poses and answers the burning question about Evans' future Hall of Fame chances.
Buccaneers wide receiver Mike Evans is having himself a season. In Week 9, he led the league with 180 yards receiving, and for the year, he's No. 1 with seven receiving touchdowns as well as 1,407 air yards and yards after the catch combined (per AirYards.com).
In my Week 10 WR/CB matchups piece, I highlight the upcoming matchup between Evans and Cardinals cornerback Patrick Peterson and say that "we might be seeing two Canton-bound players go at each other in a one-on-one heavyweight matchup."
Sensing that many people might disagree with me, I decided to post a poll on Twitter.
Is Mike Evans a Hall-of-Fame receiver?

— Matthew Freedman (@MattFtheOracle) November 4, 2019
I believe Evans will be in the NFL Hall of Fame someday, and in this piece I hit on a few of the reasons for my position.
Mike Evans Entered the NFL with an Elite Profile
Not all elite prospects turn into Hall-of-Famers, but given Evans' draft capital, physical profile and college production, it's reasonable to say that what he's done in the NFL hasn't been a random fluke.
He was selected No. 7 overall in the 2014 draft at the age of 20. At the combine, he measured in at 6-foot-5 and 231 pounds and ran an impressive 4.53-second 40-yard dash. In his final college season, he had a nice 69 receptions for 1,394 yards and 12 touchdowns in 13 games as a redshirt sophomore.
Evans was a big-time NFL prospect. It's not at all random that he's become a big-time NFL player.
Mike Evans Has Been a Consistent Producer
On a weekly basis, Evans is a volatile player, but his year-over-year production has been incredibly consistent.
2014 (15 games): 1,051 yards
2015 (15 games): 1,206 yards
2016 (16 games): 1,321 yards
2017 (15 games): 1,001 yards
2018 (16 games): 1,524 yards
2019 (eight games): 842 yards
Evans is on pace to join Randy Moss as the only other player in NFL history to open his career with six consecutive 1,000-yard receiving campaigns.
You probably don't need me to tell you that in 2018 Moss became the most recent receiver to be inducted into the Hall of Fame.
Mike Evans Has Been a Precocious Producer
What makes Evans' production especially impressive is that he entered the league at such a young age.
Evans is just one of four NFL players ever to have 1,000 yards receiving as a 21-year-old rookie. The others are Moss, Keenan Allen and Amari Cooper.
If you were asked to name off the top of your head the three best NFL receivers to enter the league at 21, you might say Moss, Larry Fitzgerald and DeAndre Hopkins.
Here's what those guys did in their first five seasons and where they rank among all receivers in the age-21-to-25 cohort.
Randy Moss: 6,743 yards (first)
Larry Fitzgerald: 5,975 yards (third)
DeAndre Hopkins: 5,865 yards (fourth)
Where does Evans slot in? He's No. 2 with 6,103 yards. Of all the young receivers, Moss is the only one to accomplish more through the first five seasons of his career.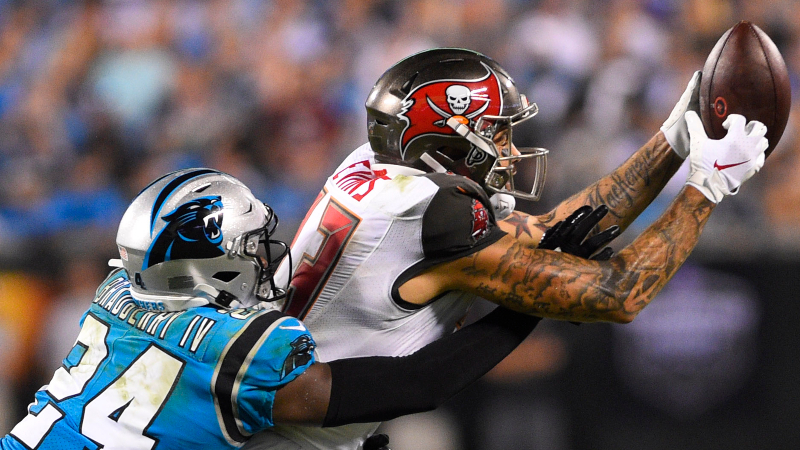 Why am I focusing so much on age?
For two reasons.
First, it's hard for young guys to adapt to the NFL. If a receiver can enter the league and perform well right away at a boyish age, that speaks well for his future as he develops.
Also, if a guy enters the league at a young age, he could theoretically have a longer NFL career, which would give him more time in the second half (or post-peak portion) of his career to put up the "accumulation stats" often needed to bolster a Hall-of-Fame case.
Mike Evans Has Been a Prolific Producer
Regardless of age, Evans has had an impressive start to his career. Through Week 9 of the 2019 season, Evans has played 85 career games.
Here's the top 10 in NFL and AFL history in receiving yardage through 85 games.
Lance Alworth (1962-69): 8,118, Hall-of-Famer
Julio Jones (2011-17): 8,076, two-time All-Pro, will be a Hall-of-Famer
Jerry Rice (1985-89): 7,370, Hall-of-Famer, greatest receiver of all time
Randy Moss (1998-2003): 7,258, Hall-of-Famer
Torry Holt (1999-2004): 7,147, most yards through five years in NFL history
A.J. Green (2011-16): 7,135, one of three players with five straight career-opening seasons
Art Powell (1960-66): 7,005, two-time All-Pro, did little once 30 years old
Mike Evans (2014-19): 6,945
Antonio Brown (2010-15): 6,906, four-time All-Pro, will be a Hall-of-Famer
Calvin Johnson (2007-12): 6,846, three-time All-Pro, will be a Hall-of-Famer
Unless Evans has a Powell-esque decline or gets radically overshadowed by a teammate à la Holt with Isaac Bruce, then Evans seems to have a good chance to get into the Hall eventually.
As good as third-year receiver Chris Godwin has been for the Bucs this season, it's hard to say that he's anything more than the Anquan Boldin to Evans' Fitz. And as much as everyone loves Boldin, he was never dominant enough to keep his former teammate out of Canton.
What Does the Future Look Like for Mike Evans?
This is the big question: How much longer will Evans play and how productive will he be?
He just turned 26 in August. Many of the modern-era players to whom he's statistically comparable played well into their 30s.
Honestly, the biggest factor holding Evans back right now is his team: The Bucs don't attract a lot of national attention, and they haven't been to the postseason since 2007.
If Evans goes his entire career without gaining widespread notoriety or making a memorable run in the playoffs — even if he has a long and steadily productive career and is regarded as one of the top receivers of his generation — his chances to make the Hall of Fame will be materially diminished.
Even so, I think he'll eventually get there. He's too similar to other Hall-of-Famers and future Hall-of-Famers not to be taken seriously.
How would you rate this article?