Grading Week 10 NFL WR/CB Matchups: Can Mike Evans Best Patrick Peterson?
Credit:
USA Today Sports. Pictured: Mike Evans, Patrick Peterson
Tampa Bay Buccaneers WR Mike Evans is likely to draw shadow coverage from Arizona Cardinals CB Patrick Peterson.
Matthew Freedman breaks down that matchup and grades every wide receiver/cornerback matchup for Week 10.
Wide receiver-cornerback showdowns might be the most important individual matchups in football.
In this piece, I leverage snap data from Pro Football Focus to project NFL Week 10 WR/CB matchups.
For more, see the FantasyLabs Matchups page, where we provide basic and advanced data — including fantasy and red-zone performance — for each offensive skill-position player based on his matchup.
Also consult our Week 10 injury report for status updates on receivers and corners. I will update this piece over the weekend.
---
For Week 10 odds, check out PointsBet, where Action Network users can access an exclusive promotion to get a 200% deposit match (deposit $50, bet with $150).
---
Let's start with this week's featured matchup and then run through all the wide receiver situations and sort through my matrix featuring every matchup.
WR/CB Matchup of the Week
Buccaneers WR Mike Evans vs. Cardinals CB Patrick Peterson
In past seasons, if a wide receiver — any wide receiver — were facing Patrick Peterson, he'd get an automatic downgrade in projections and rankings.
But in his three games this year since returning from a six-game suspension, Peterson has been rough, allowing an 82.4% catch rate, 204 yards and two touchdowns.
Granted, two of his games came against wide receivers Michael Thomas and Emmanuel Sanders — but in the past he was rarely embarrassed the way he has been this year, and that was with him shadowing No. 1 receivers almost every week.
And this week he isn't facing just any No. 1 receiver: He's facing THE No. 1 receiver.
Mike Evans leads the league with seven receiving touchdowns as well as 1,407 air yards and yards after the catch combined (per AirYards.com). He's been a top producer this season and has provided outstanding daily fantasy value (per our FantasyLabs Trends Tool).
Evans is volatile on a week-to-week basis, but his opportunity to accumulate yards has been fairly consistent, and over the past three games — after he got just three targets in Week 5 against the Saints — he's balled out with a 32-474-3 receiving line on an unreal 45 targets.
Evans is easily on pace to join Randy Moss as the only other player in NFL history to open his career with six consecutive 1,000-yard receiving campaigns.
People don't talk about Evans in this way, but he's been playing at a Hall-of-Fame pace ever since his rookie season. And this weekend, we might be seeing two Canton-bound players go at each other in a one-on-one heavyweight matchup.
These are the good-old days.
NFL Week 10 WR/CB Matchups
Chargers at Raiders: Thursday Night Football
Chargers WRs: The Raiders have a bottom-three PFF coverage grade (40.8) and perhaps the weakest corner trio of all the teams without injury issues at the position. Keenan Allen and Mike Williams get large upgrades with their exploitable matchups.
Raiders WRs: Last week, Zay Jones replaced Trevor Davis as the No. 3 receiver. He significantly out-snapped slot receiver Hunter Renfrow (64-37), but Renfrow led the offense with seven targets and has a secure role. No. 1 receiver Tyrell Williams has a #RevengeGame against his former team, but he might be able to avoid shutdown cornerback Casey Hayward Jr., whom the team hasn't used in shadow situations over the past two games.
Lions at Bears: 1 p.m. ET on Sunday
Lions WRs: Kenny Golladay has a 16-397-3 receiving line in the four games since the Week 5 bye, and last year was 11-168-1 in two games against the Bears. He's playing at an elite level.
Bears WRs: In their Week 10 matchup last year, Allen Robinson punished the Bears with a 6-133-2 receiving performance, but in their Week 12 rematch, cornerback Darius Slay shadowed Robinson and held him to a 2-37-0 stat line on four targets. Shadow matchup: Robinson vs. Slay
Ravens at Bengals: 1 p.m. ET on Sunday
Ravens WRs: Marquise Brown (ankle) returned to action in Week 9, and Seth Roberts played ahead of Miles Boykin as the No. 3 receiver. No. 1 corner Dre Kirkpatrick (knee) has been out since Week 7, and slot corner Darqueze Dennard (hamstring) has played in just one game this season. They might be healthy off the bye, but I'm skeptical. Brown and slot receiver Willie Snead have advantageous matchups against fill-ins B.W. Webb and Tony McRae. UPDATE (Nov. 9): Brown is questionable but expected to play. Kirkpatrick is out. Dennard is in.
Bengals WRs: A.J. Green (ankle) is tentatively expected to make his debut after the Week 9 bye, but John Ross (clavicle, IR) is still out. No. 1 cornerback Jimmy Smith (knee) returned to action last week, giving the Ravens a loaded three-headed unit with Smith and Marcus Peters on the perimeter and former shadow man Marlon Humphrey in the slot. UPDATE (Nov. 9): Green (ankle) is out.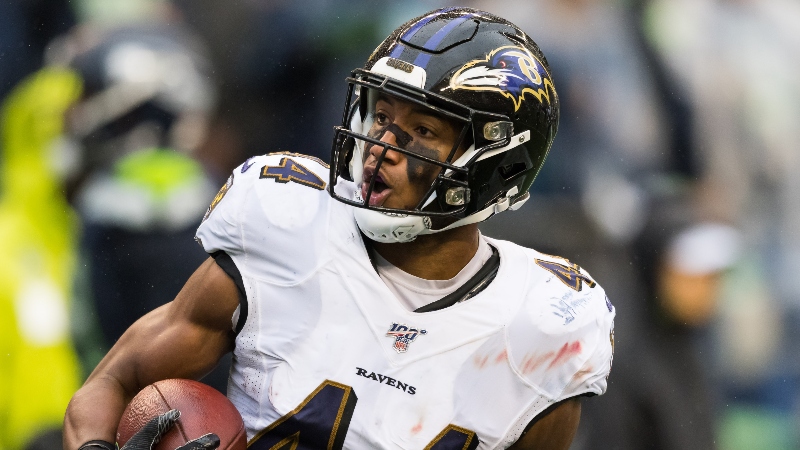 Bills at Browns: 1 p.m. ET on Sunday
Bills WRs: Duke Williams was a surprising healthy scratch last week after running with the first unit the three previous games. He was replaced in three-wide sets by Isaiah McKenzie. Although he has often shadowed No. 1 receivers, Denzel Ward has played exclusively at left corner since returning form injury two games ago. Slot corner Eric Murray (knee) missed Week 9 and is uncertain for Week 10. Backup corner T.J. Carrie is a significant liability. UPDATE (Nov. 9): Murray is out.
Browns WRs: For the second game in a row, Antonio Callaway last week saw action ahead of Rashard Higgins as the No. 3 receiver. Tre'Davious White played exclusively at left corner in Weeks 1-7, but he has moved across the formation over the past two games and could present a sizable challenge in shadow coverage with his 53.0% career catch rate allowed. Shadow matchup: Odell Beckham Jr. vs. White
Chiefs at Titans: 1 p.m. ET on Sunday
Chiefs WRs: Demarcus Robinson has played ahead of Mecole Hardman in three-wide sets for two consecutive games. Right cornerback Malcolm Butler (wrist) suffered an in-game injury last week and did not return. He seems doubtful. Backup corner LeShaun Sims gifts Robinson a large upgrade. UPDATE (Nov. 9): Butler (IR) is out.
Titans WRs: Tajae Sharpe is clearly behind Corey Davis, A.J. Brown and Adam Humphries, but he's still seeing 20-30 snaps per game. Slot corner Kendall Fuller (thumb) has missed three straight games, and sixth-round rookie backup Rashad Fenton has been inconsistent in his place. UPDATE (Nov. 9): Davis (hip) is doubtful and expected not to play. Fuller is questionable.
Falcons at Saints: 1 p.m. ET on Sunday
Falcons WRs: Without Mohamed Sanu (trade), the Falcons are now using Russell Gage as the primary slot receiver. Cornerback P.J. Williams (suspension) returns from his two-game hiatus to man the slot. This year the Saints have heavily used cornerback Marshon Lattimore in shadow coverage against No. 1 receivers, and I expect that trend to continue this week with Julio Jones, who had a 16-243-0 receiving line in two games last year against the Saints. Shadow matchup: Julio Jones vs. Marshon Lattimore
Saints WRs: Tre'Quan Smith (ankle) might be healthy off the bye, but he has played just three games, so I am tentatively projecting him to be out. No. 1 corner Desmond Trufant (toe) might be healthy off the bye, but he has missed three straight games. In his absence, the Falcons secondary underwent a transformation last week: Slot corner Damontae Kazee shifted to free safety, fourth-round backup corner Kendall Sheffield moved from the left perimeter to the slot and special-teams veteran Blidi Wreh-Wilson started at left corner. Needless to say, the Falcons pass defense is incredibly exploitable. UPDATE (Nov. 9): Smith is in. Trufant is a questionable game-time decision.
Giants at Jets: 1 p.m. ET on Sunday
Giants WRs: Sterling Shepard (concussion) cleared the league's protocol late last week but then surprisingly reentered it over the weekend. He's missed four consecutive games and seems unlikely to play. Left corner Trumaine Johnson (ankle) missed Week 9 and is uncertain for this week. Right corner Darryl Roberts and backup Nate Hairston are liabilities on the perimeter and were just exploited by Dolphins wide receivers Preston Williams and DeVante Parker, who combined for a 9-129-3 receiving performance on 15 targets. UPDATE (Nov. 9): Shepard is out. Johnson (IR) is out and Roberts (calf) is doubtful. Backup CB Arthur Maulet is in.
Jets WRs: Robby Anderson for most of his routes is likely to avoid No. 1 cornerback Janoris Jenkins, who hasn't shadowed since Week 3. Instead, he'll primarily face rookie DeAndre Baker, who has a bottom-five PFF coverage grade among starting corners. UPDATE (Nov. 9): WR Demaryius Thomas (hamstring) is technically questionable but expected to play.
Cardinals at Buccaneers: 1 p.m. ET on Sunday
Cardinals WRs: Last week, KeeSean Johnson replaced Damiere Byrd at left wide receiver, and the Cardinals pivoted away from their base four-wide set by moving Christian Kirk to the perimeter and using a tight end inline or in the slot. After playing most of the season at right corner, Vernon Hargreaves is now officially a full-time defender in the slot, where he will continue to suck. Despite reportedly practicing in full last week, perimeter corner Carlton Davis (shoulder) was surprisingly inactive last game, so in his place, third-stringish rookie Jamel Dean got his first NFL start. It's possible Davis has been benched. Who knows. The Bucs might be taking a "Nothing is working, let's try anything" approach to cornerback. UPDATE (Nov. 9): Davis (hip) is out.
Buccaneers WRs: Mike Evans and Chris Godwin are such ball-dominant receivers that it almost doesn't matter which cornerbacks they face. That the Cardinals have a bottom-five PFF coverage grade is just a bonus. Shadow matchup: Evans vs. Patrick Peterson. UPDATE (Nov. 9): SCB Tramaine Brock (hamstring) is out. Backup CB Kevin Peterson is in.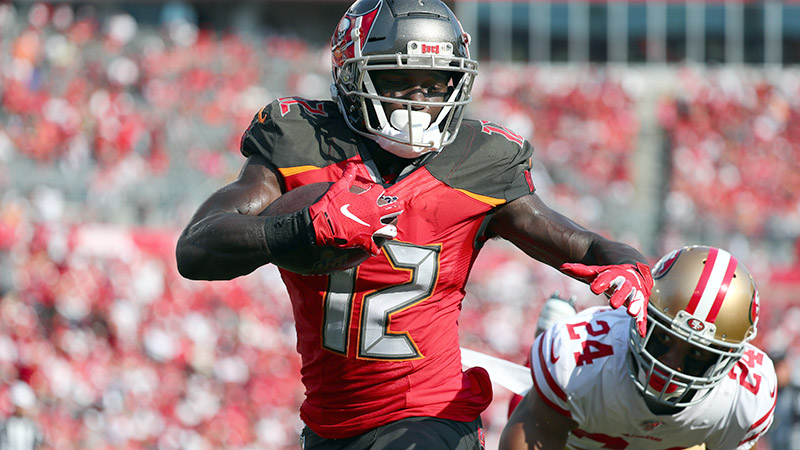 Dolphins at Colts: 4:05 p.m. ET on Sunday
Dolphins WRs: Kenny Stills and Albert Wilson are splitting snaps as the No. 3 receiver. Corner Pierre Desir (hamstring) missed Weeks 8-9 and is uncertain for Week 10. Fifth-round rookie backup and and Star Wars character Marvell Tell III will offer a juicy matchup to Preston Williams if Desir is out. UPDATE (Nov. 9): Williams (knee, IR) is out. Desir is questionable but seems likely not to play.
Colts WRs: Last week Zach Pascal stepped up as the No. 1 receiver in the absence of T.Y. Hilton (calf), and rookie Parris Campbell has claimed Hilton's available snaps. No. 1 corner Xavien Howard (knee, IR) is unavailable, and last week perimeter corner Ken Webster (ankle) was out, so the Dolphins went with undrafted rookie third-stringer Nik Needham and undrafted third-year special-teamer Ryan Lewis on the outside. They also moved slot corner Jomal Wiltz to safety and replaced him with undrafted second-year fourth-stringer Chris Lammons. No wonder the Dolphins are No. 32 in Football Outsiders' pass defense DVOA. UPDATE (Nov. 9): Hilton and Campbell (hand) are out. Webster is out.
Panthers at Packers: 4:25 p.m. ET on Sunday
Panthers WRs: Curtis Samuel (shoulder) played through an injury in Week 9 and seems to have made it through without any issue. Early in the season, No. 1 corner Jaire Alexander might have shadowed D.J. Moore, but for the past three games, the Packers have played him exclusively at left corner, where he'll match up with Samuel. UPDATE (Nov. 9): Samuel is in. Alexander (groin) is questionable but expected to play.
Packers WRs: Davante Adams (toe) returned to action last week, forcing Allen Lazard and Jake Kumerow to the sideline. James Bradberry has played at left corner over the past two weeks, but the Panthers have strategically used him this year to shadow big-and-dominant No. 1 receivers (Mike Evans twice, DeAndre Hopkins), and I think that's what they'll do with Adams this week. The Panthers are No. 3 in pass defense DVOA. Shadow matchup: Adams vs. Bradberry. UPDATE (Nov. 9): Bradberry (groin) is questionable but expected to play.
Rams at Steelers: 4:25 p.m. ET on Sunday
Rams WRs: Brandin Cooks (concussion) suffered his second head injury of the season in Week 8, and even though the Rams are coming off the bye, I doubt he'll play. UPDATE (Nov. 9): Cooks is out. 
Steelers WRs: New No. 1 corner Jalen Ramsey shadowed Julio Jones for the Rams in Week 7, but in Week 8 he stayed at left corner. Ramsey rarely plays in the slot, so JuJu Smith-Schuster will likely escape him for a majority of his routes. Coming off the bye, Ramsey should have a greater understanding of the Rams defense.
Vikings at Cowboys: Sunday Night Football
Vikings WRs: Last week, Adam Thielen (hamstring) aggravated an existing injury that forced him from Week 7 and caused him to miss Week 8. In his absence, franchise bust Laquon Treadwell — ReTreadwell, if you will — played as the No. 3 receiver. If Thielen is out once again, I expect the Vikings to use two-tight end sets as their base package. Slot corner Anthony Brown (hamstring) has recently been dealing with a soft-tissue injury. If he's out, Jourdan Lewis will be a steady fill-in. UPDATE (Nov. 9): Thielen is out. 
Cowboys WRs: No. 1 corner Xavier Rhodes hasn't been used in shadow coverage since Week 2, but he will still see plenty of Amari Cooper and Michael Gallup on the perimeter. In their four full games together this year, Cooper and Gallup have combined for a 49-855-4 receiving line on 66 targets. UPDATE (Nov. 9): Cooper (knee, ankle) is questionable but expected to play. CB Trae Waynes (ankle) is questionable.
Seahawks at 49ers: Monday Night Football
Seahawks WRs: Josh Gordon was claimed off waivers late last week, and I expect him to slide in as the No. 3 receiver opposite D.K. Metcalf on the perimeter. Right cornerback Ahkello Witherspoon (foot) has missed the past five weeks and is yet to practice. Backup Emmanuel Moseley has played admirably in his stead. The 49ers have a top-two PFF coverage grade and pass defense DVOA. UPDATE (Nov. 9): Witherspoon practiced on Friday and is questionable.
49ers WRs: The addition of Emmanuel Sanders and emergence of Deebo Samuel have pushed Kendrick Bourne and Dante Pettis into a rotation for the No. 3 role. Perimeter corner Tre Flower (neck) returned to action last week, but he's currently a liability in coverage.
---
NFL Week 10 WR/CB Matrix
I take a cautious approach to injured players I expect to be questionable or out. If by the weekend it seems likely that they will play, I will include them in my updates.
Pos = left, right or slot WR or CB
Projected shadow matchups are CAPITALIZED
WR Exp = Wide Receiver Expectation: I rank from 3 to -3 how much I think we should adjust expectations for wide receivers based on matchups. 3: Large upgrade. 2: Medium upgrade. 1: Small upgrade. 0: No change. -1: Small downgrade. -2: Medium downgrade. -3: Large downgrade. 
Thanks to Scott Barrett for providing me with some of PFF's historical data.
How would you rate this article?