The Most Stressful NFL Teams to Support
There's no denying that the NFL is among the most exhilarating and exciting sports leagues in the world, but with all of the excitement also comes a lot of stress for fans watching their favorite teams. 
You may wonder which teams induce the most anxiety in their supporters. Analyzing a series of factors including win rate, number of games, and online sentiment, we've been able to determine the most and least stressful NFL teams to root for. 
The Most Stressful NFL Teams in 2021

1. Baltimore Ravens
All factors considered, the most stressful team to follow during the 2021-22 NFL season was the Baltimore Ravens. The Ravens racked up an index score of 104.97 out of 150. Eleven out of 17 Ravens games were decided by a four-point margin or less last season. The Ravens won five of these games and lost six. Frustratingly for fans, this is a higher number of close losses than any other NFL team endured. Even the games that they won were sure to catapult stress levels across Ravens nation.
2. New York Giants
The New York Giants place second on the list of most stressful teams to support with a total index score of 86.73. The Giants were especially guilty of sloppy play last season. They had more giveaways per game than any other NFL franchise (1.8). They also suffered more injuries than any other team. Giants players missed an incredible combined 369 games between September 2021 and February 2022. While expectations were relatively low for the Giants at the outset of the season, fans were still likely to find themselves upset and disappointed with how things went on the field for their Giants in 2021-22.
3. Detroit Lions
Ranking as the third-most stressful football team to support last season, we have the Detroit Lions (81.38). The Lions had the second-highest number of overall losses last season (13), alongside the Giants, Jets, and Texans. Of those 13 losses, over a third of them could be considered a close defeat (five). In fact, the team could only scrape three victories all year, plus a nail-biting tie, on their way to recording a 18.8% win percentage – better only than the Jaguars (17.7%).
4. Cleveland Browns
The fourth-most stressful team to follow was the Cleveland Browns (80.43), which experienced seven tight games last season — resulting in three wins and four losses. While the numbers themselves were bad enough for the Browns, fans watched one of their best offensive weapons in Odell Beckham, Jr. get traded as well. This was also during a season in which the Browns were widely expected to be strong playoff contenders. 
5. Las Vegas Raiders
Rounding out the top-five of our list is the Las Vegas Raiders. Interestingly, the Raiders (79.32) topped the charts for most close wins (seven) and also rate of negative comments left by fans after games (16%). Despite their new and luxurious stadium, it seems as though Raiders fans have some issue with the product on the field.
The Least Stressful NFL Teams in 2021
1. Tampa Bay Buccaneers
At the other end of the scale, the least stressful NFL team to cheer for in 2021-22 was the reigning Super Bowl LV champs in the Tampa Bay Buccaneers (39.42). The Bucs lost the fewest games last season (five), winning an impressive 73.7%, and only played three close games all year. They won two of those three close games as well. Life is usually pretty good with Tom Brady as your quarterback. It's likely we'll see Tampa Bay climb up this list next season without him. 
2. Philadelphia Eagles
Surprisingly (by the numbers at least), the Philadelphia Eagles also gave their fans a relatively easy ride through the season last year. The Eagles only featured in three games that went down to the wire, winning two of them. In addition, they only lost a single game in 2021-22 in which they were deemed the favorite. Eagles fans were even rewarded with a playoff berth despite not winning their division.
3. Green Bay Packers
With an index score of just 45.14, Green Bay Packers fans are also among those put under the least stress. As their star QB Aaron Rodgers would say "R-E-L-A-X." This is largely down to the Packers only losing five games last season and coming away with the third-highest win rate (72.2%). Although, they did have five nail-biting victories on their resume. 
4. Miami Dolphins
Following closely behind the Packers, the Miami Dolphins came away with an impressive index score of 46.31. This comes after the Dolphins lost seven of their first eight games. However, Miami would go on to win eight of their last nine. Whether they were winning or losing, the Dolphins didn't play many close games in 2021-22.
5. Los Angeles Rams
Current Super Bowl champs, the LA Rams, place fifth (49.62). That said, Rams fans certainly went through the full spectrum of emotions beating the Bengals by just three points in Super Bowl LVI. Bringing in Matthew Stafford and Odell Beckham, Jr. (among others), Rams fans were treated to a season of consistently strong play by their team.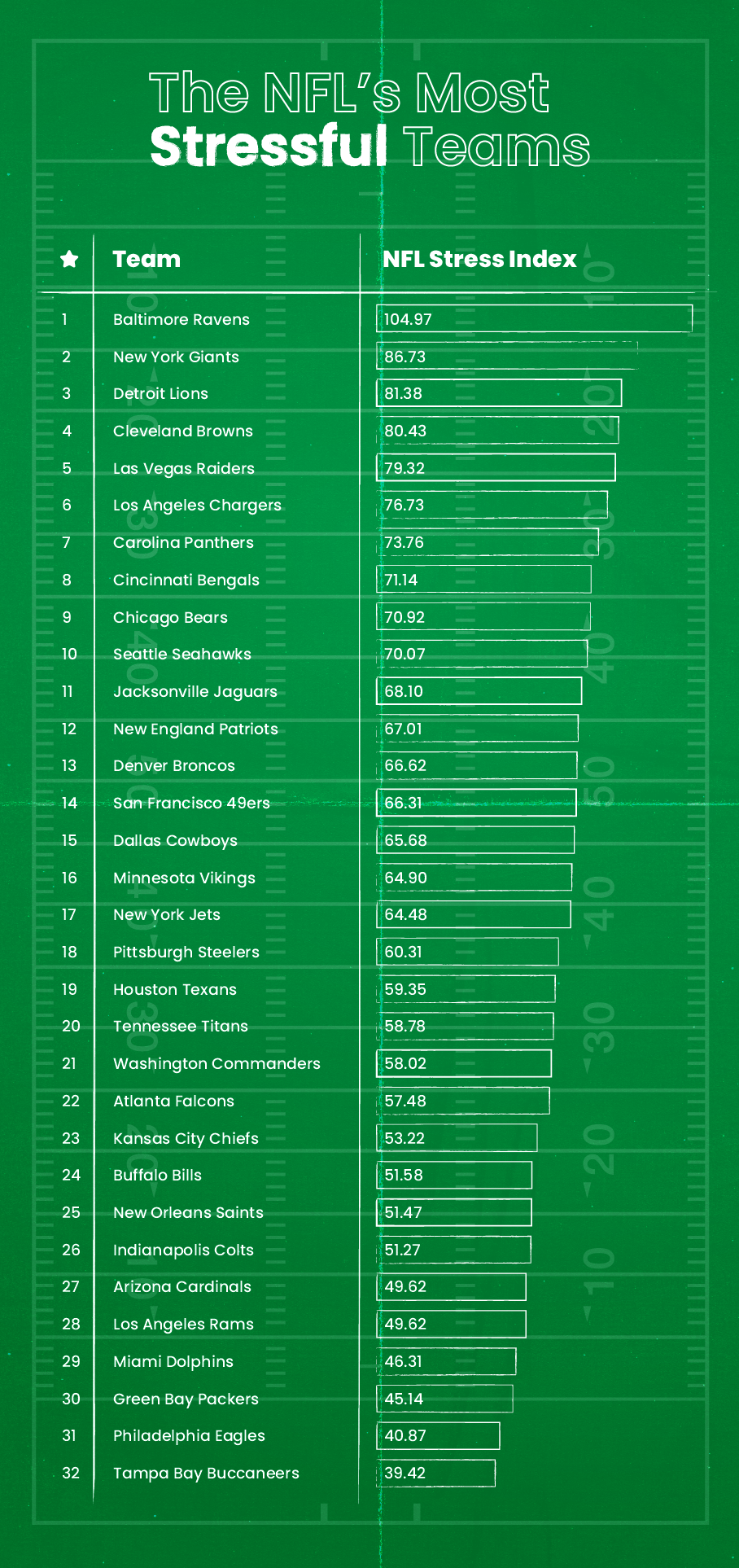 With the 2022 NFL season underway, find out all the latest odds and picks for your favorite team, or check out what's going on in the world of fantasy football. Check out Caesars Sportsbook's promo code for new users. They have the best average pricing for NFL wagers across all betting markets.
Methodology
To rank the most and least stressful NFL teams to support, we considered 10 factors. For each factor, we ranked all teams and gave each a weighted index score out of either 10 or 20. This was dependent on how stressful the metric was considered. Factors considered include*:
Losses during the 2021-22 NFL season (index score out of 20)

Win percentage during the 2021-22 NFL season (index score out of 20)

Games won by a margin of four points or less (index score out of 20)

Games lost by a margin of four points or less (index score out of 20)

Loss of game as the favorite (index score out of 20)

Penalties conceded each game (index score out of 10)

Number of interceptions and fumbles per game (index score out of 10)

Total games missed by players during the 2021-22 NFL season (index score out of 10)

Number of negative comments online between September 2021 – February 2022 (index score out of 10)

Percentage of negative comments online between September 2021 – February 2022 (index score out of 10)
For each team, all index scores were combined to give an overall total out of 150. The higher the index score, the more stressful a team is to support.
How would you rate this article?
This site contains commercial content. We may be compensated for the links provided on this page. The content on this page is for informational purposes only. Action Network makes no representation or warranty as to the accuracy of the information given or the outcome of any game or event.