Raybon's Fantasy Football Trade Targets: The Buy/Sell Options for Week 9
Credit:
Sam Navarro-USA TODAY Sports. Pictured: Washington Redskins wide receiver Terry McLaurin (17).
Which players should you be looking to add to your fantasy football lineups for Week 9? Which ones should you be looking to dump off?
Chris Raybon breaks down who's worth buying and selling for the upcoming weekend.
It's go time.
Some fantasy leagues have trade deadlines that mirror the real NFL deadline, which means this week, while some occur closer to Thanksgiving.
But either way, right now you should have a pretty good idea if you're set up to make a playoff run, and if so, you shouldn't just sit back — it's time to shape your playoff roster by thinking a week or two ahead of the crowd.
And even if you're merely a longshot, the right deal can put you in position to make a sneaky run. Heck, maybe you're already out of it and simply want to be the best spoiler you can be, because fuck it — if Joe Flacco didn't go out quietly, then why should you?
Whatever the case may be, here are player who make for sharp trade targets, followed by a couple of players to sell whose value has all but certainly hit its apex.
Week 9 Buy Lows
WR Terry McLaurin, Redskins
With a combined five catches for 50 yards over his past two games and an average of just 3.0 catches for 50.3 yards over his last four, Scary Terry's owners may be getting spooked — especially with a matchup against the Bills in Week 9 and a bye in Week 10 on deck.
But if you are playoff bound, McLaurin is worth having around for the stretch run.
Week 11 vs. Jets: 26th
Week 12 vs. Lions: 22nd
Week 13 at Panthers: 23rd
Week 14 at Packers: Ninth
Week 15 vs. Eagles: 32nd
Week 16 vs. Giants: 30th
Weeks 11-16 average: 24th
Yes, Redskins interim head coach Bill Callahan is channeling the days of John Riggins with his run-heavy ways, but McLaurin has a five-percentage-point lead over the rest of the league in air yard market share (49%, per AirYards.com).
And even if Dwayne Haskins gets the nod at some point, it shouldn't alter McLaurin's ball-hogging ways, as the two connected for 11 touchdowns together last season at Ohio State. I'd be looking to move WR3/FLEX types to acquire McLaurin, even if I had to give up a two-for-one.
WR T.Y. Hilton, Colts
UPDATE (Nov. 1): Hilton (calf) has been ruled out for Week 9 at Pittsburgh and is likely looking at a 3-4 week timetable, which would put him on track to return for Thursday Night Football in Week 12 at Houston, or — perhaps more realistically — Week 13 at home against Tennessee. As Hilton figures to remain one of the NFL's highest-volume receivers upon his return, he is still worth acquiring and stashing if you are a playoff-bound owner. With that said, I would only be looking to acquire him in exchange for my excess bench depth, rather than any player I would otherwise have relied upon as a consistent starter.
Since shooting out of the gate with 20 catches and four touchdowns in Weeks 1-3, Hilton has missed one game and caught just 12 passes for 165 yards and one touchdown across three others, so his value is currently dipping toward its lower extreme.
But on tap for the Colts are five matchups against defenses that currently sit outside the top 25 in fantasy points allowed to wide receivers — Dolphins (25th), Texans (31st), Bucs (28th), Saints (24th), Panthers (23rd) — with the Steelers (15th), Jaguars (16th), and Titans (11th) mixed in.
That's a pretty nice slate for one of the most talented receivers in the game, who currently is tied for ninth league-wide in target share (25%) and 14th in air-yard share (36%).
TE Zach Ertz, Eagles
It's understandably disheartening for owners who burned a second- or third-round pick on Ertz to watch him just tenths of a point ahead of Darren Fells for the TE9 spot.
But at a position this shallow, it's all about upside. As I mentioned last week in regard to buying low on Evan Engram, if you don't have one of Travis Kelce, George Kittle, Austin Hooper, Hunter Henry, Darren Waller, Mark Andrews, Engram, or Ertz, you need to go out an acquire one.
As Ertz is coming off a 2-20-0 line against a notoriously stingy Bills defense vs. tight ends — Buffalo is ranked third in fewest fantasy points allowed to tight ends this season and ranked first last season — his value is likely at its lowest point of the season.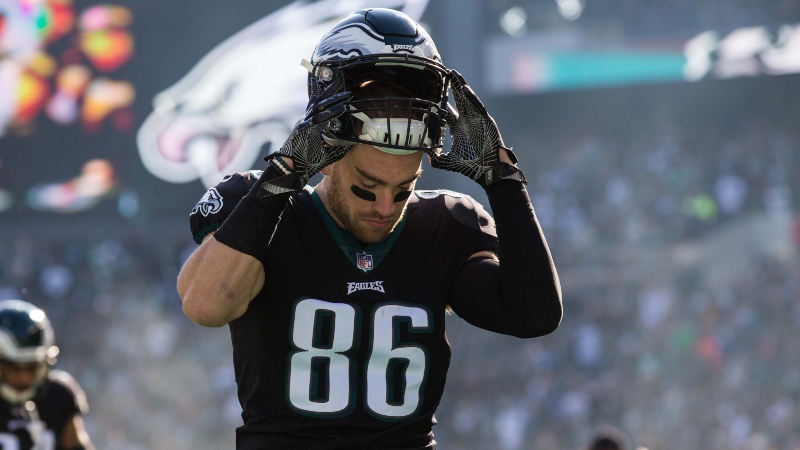 Remember, this is still a player who had at least four catches and 50 yards in each of his first six games — consistency rarely seen at the position.
Ertz has a bye and a tough matchup against New England coming up in Weeks 10-11, but his Week 9 matchup against the Bears (20th in fantasy points allowed to tight ends) is no guarantee to continue to depress his value to a point lower than it has gotten over the past two weeks, so I'd make the move now if I could afford it and stream tight end in Weeks 10-11 if necessary.
Well, there is one other tight end I'd consider adding to that group, but it's dicey …
TE Greg Olsen, Panthers
The reason I say Olsen is dicey is because he's a 34-year-old who has missed 16 games over the past two seasons, and his eight catches for 70 yards over the past four games could be taken as a sign that he's wearing down.
That said, if he holds up, he has a dream schedule featuring two games against the Falcons (20th in fantasy points allowed to tight ends) in Weeks 11 and 14, plus the Packers (27th), Seahawks (29th) and Colts (26th) in Weeks 10, 15 and 16, respectively.
If you can't secure one of the top eight, Olsen is a worthwhile high-risk, high-reward target.
RB Alvin Kamara, Saints
An injury coupled with a Week 9 bye may have owners in a crunch willing to move Kamara, so I'd definitely look to land him if you can afford it this week.
Latavius Murray played so well in Kamara's stead that he may force Sean Payton into deploying a rotation that more resembles the Kamara-Mark Ingram split from the past two years rather than the Kamara-centric approach we saw up until Kamara got hurt, but Kamara still produced RB1 value even when Ingram siphoning 16.6 touches per game in 2017-18.
Running backs are always going to be more valuable than WRs at this time of year, so I'd try to acquire Kamara for multiple WR2/3 types if I could, but I'd be willing to package an inconsistent RB2/FLEX type in the deal if I had to.
---
Week 9 Sell Highs
QB Matthew Stafford, Lions
Stafford has been a revelation under new offensive coordinator Darrell Bevell of late, ranking second in yards (917) and third in touchdown passes (seven) over the past three weeks.
But we know quarterbacks are generally replaceable, and the ones with the lowest floors are those who don't add in much rushing upside. With just 17 carries for 60 scoreless yards on the season, Stafford fits the bill.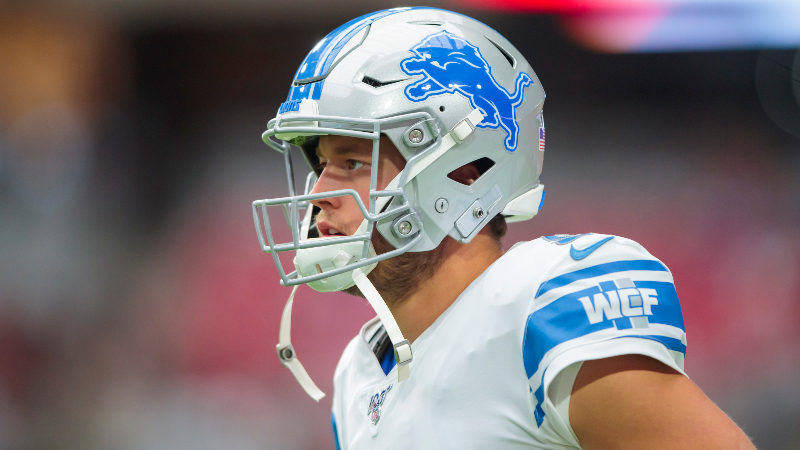 Ahead of a juicy matchup with the Raiders, this is the time to pull the trigger; Stafford has two matchups with the Bears still to come, as well as trips to Minnesota and Denver, the latter of which will take place in fantasy championship week.
If you have two quarterbacks, I'd definitely move Stafford, and I'd even consider doing so if viable streaming options are available for this week, such as Gardner Minshew or Derek Carr.
WR Alex Erickson, Bengals
If you happened to pick up Erickson before these last two weeks, congrats: His 8-137-0 and 6-97-0 lines have left you with some value on your hands. But with A.J. Green due back and Tyler Boyd and Auden Tate still in the mix, Erickson is the most likely member of the quartet to be squeezed out.
The Bengals are on a bye right now, so your sharper league mates may not be willing to bite but if you can parlay Erickson into even low-end WR3 value, consider it a win.
How would you rate this article?