What Bettors, DFS Players Need to Know for Flyers-Lightning, Leafs-Capitals
Who knew the NHL still plays outdoor games? Well, apparently the league believes the shark has yet to be jumped, so Toronto will travel to the Naval Academy in Maryland to play Washington on Saturday evening.
Prior to that, we've got a matinee featuring two playoff teams, as the Flyers travel to Tampa Bay riding a seven-game road winning streak.
Off we go.
Information is current as of Friday evening. Check back during the day and keep an eye on our Twitter handle for any updates.
If there's a specific matchup you want to jump to, click the quick links below. For live spreads and bet percentages, check out this page. To get access to our premium betting tools, subscribe here.
PHI-TAM | 
TOR-WAS
Philadelphia Flyers @ Tampa Bay Lightning —  NO LINE YET
1 p.m. ET
Pace Watch: Philadelphia plays a very structured system, and as a result it operates at the second-slowest "pace" (shot attempts for per 60 minutes + 5-on-5 shot attempts against per 60 minutes) in the entire NHL. Tampa Bay plays at a much higher tempo and ranks 10th in the league with a pace of 101.66. That's over six shot attempts higher than Philly. — Michael Leboff
Expected Goals: Believe it or not, Tampa Bay doesn't rank in the top 10 in expected goals for per 60 minutes (xGF/60) at 5-on-5. Tampa is averaging 2.38 xGF/60, which is 14th in the league. Even though its offense gets a lot of the credit, Tampa's defense is among the league's best units and ranks sixth in the NHL with an xGA/60 of 2.13. — Michael Leboff
Voodoo: Both the Flyers and Lightning have benefited from terrific goaltending all year long. Tampa ranks third in the NHL with a .934 5-on-5 save percentage, and Philly is fifth at .931. — Michael Leboff
Ahead of the Curve: Only the Calgary Flames have spent more total time this season tied with their opponents than Philadelphia. The Flyers have been tied for 42% of the season, they've led for 31%, and they've trailed for 27%. Tampa, on the other hand, has been ahead 41% of the season, behind 23% of the time, and tied 36%. — Michael Leboff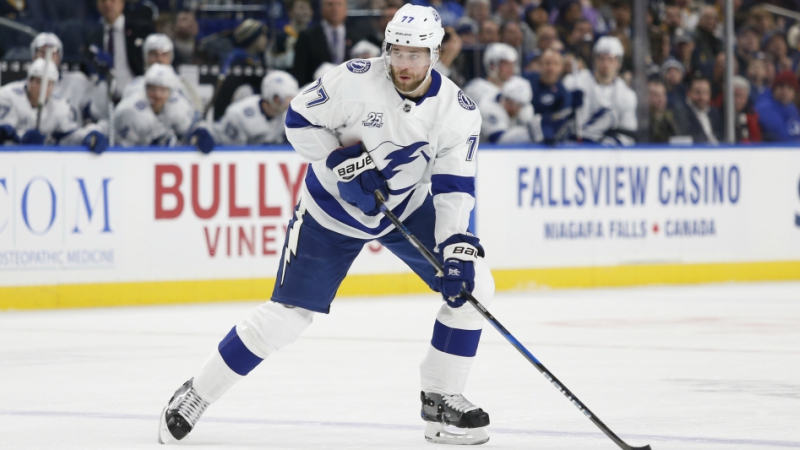 Hed of the Class: Targeting peripheral stats is key when searching for both a high floor and ceiling in DFS hockey. Victor Hedman is typically one of those peripheral stat monsters we like to pay up for on the back end. That said, he's registered only one shot on goal in two straight games, and has scored just a single goal over his last 11. But over the past month, his shot attempts, shots+blocks, and Corsi For lead all skaters in this game. He also ranks considerably higher in the short term than his long-term sample, so it's entirely possible that Hedman is finally experiencing negative regression toward that long-term mean. That said, the game could easily underwhelm from a peripheral stats perspective; the Lightning and Flyers own a bottom-half Corsi For Expectation in the early slate. — Joe Holka
Fly, Eagles, Fly-ers: Since the Eagles won the Super Bowl on Feb. 4, the Flyers are 10-2 on the moneyline and the most profitable team in the NHL (+$745 on $100/game). Prior to Super Bowl Sunday, the Flyers were 24-28 on the moneyline this season. On Feb. 3, the Flyers were eighth in the Eastern Conference; now they're fifth and just one point back of the Capitals for the Metropolitan Division lead. — Evan Abrams
Road Warriors: Since that Eagles Super Bowl win, the Flyers are undefeated on the road, winning their last seven, albeit by just 12 goals overall (including four one-goal games). This matches their second-longest road winning streak in franchise history. The Flyers haven't won seven consecutive road games on the moneyline since 1993. —  Evan Abrams
Over/Under: The Flyers and Lightning are two of the highest-scoring teams in the league, and each has a winning "over" record this season. Late in the regular season (March-April), when two winning "over" teams meet, the under is 215-172-18 (56%) since 2005. — John Ewing
---
Toronto Maple Leafs (+102) @ Washington Capitals (-122) | O/U 6
8 p.m. ET, NBC
Danger Zone: The Maple Leafs could prove to be a headache for the Capitals. No team has created more high-danger scoring chances (5-on-5, score + venue adjusted) than Toronto. Washington, on the other hand, has struggled preventing high-danger chances: The Caps have allowed the third-most in the NHL this year. — Michael Leboff
Expected Goals: Even though it's leading the Metropolitan Division, Washington has one of the worst xG differentials in the NHL (-21.86). The Capitals average 2.24 xG/60 while allowing 2.67 xG/60, the latter of which is the third-worst mark in the circuit. — Michael Leboff
Driving Play: Washington is also in the bottom third of the league in possession. The Caps own a 47.9 CF% (5-on-5, score +venue adjusted), which is the ninth-lowest mark in the league. Toronto is a bang-on average possession team with a 50.01 CF%. — Michael Leboff
DFSpecial Teams: Toronto has allowed the fourth-most Corsi over the past month, but it also owns the third-best penalty kill in the league at 83.6%. Naturally, Washington's top-five power play (21.7% conversion rate) may be in for a tough matchup on special teams, but the two players most likely to take advantage are Alex Ovechkin and John Carlson, who rank in the 98th and 94th percentile in shots+blocks over the past month, respectively. The next closest skater in this game is Patrick Marleau in the 81st percentile. — Joe Holka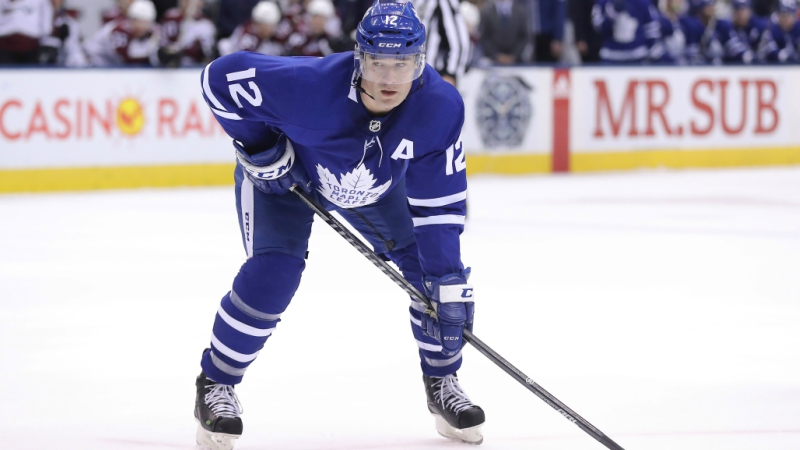 Fade and Follow: There's not a ton of peripheral stats to go around for Washington, so Carlson's 95th percentile blocks over the past month could easily skew the above stat. In fact, after Ovechkin (99th percentile in shots), five Maple Leafs skaters rank higher in shots over the past month than the next Capitals player. If you decide to fade Carlson, Ovi could make for a fantastic one-off play. He also has standalone value, leading the slate with 12 DraftKings Pro Trends. — Joe Holka
Ovi Alert: Ovechkin scored a hat trick in his last game against the Maple Leafs in November after being held without a point in his previous three against the Leafs. — Evan Abrams
Believe in Babs: As coach of the Maple Leafs and Red Wings, Mike Babcock is a mediocre 110-101 (52.1%) on the moneyline when riding a two-plus-game losing streak. But when he faces a team averaging three-plus goals per game in the spot, he wins 56.5% of games, including 11-5 on the moneyline in February or later. — Evan Abrams
Missing Matthews? The Maple Leafs had not lost back-to-back games on the moneyline in about six weeks before their last two road games against the Panthers and Lightning. With Auston Matthews on the shelf, Toronto dropped two straight, both in overtime. The Maple Leafs haven't lost three straight road games since before Christmas. — Evan Abrams
---
Photo: T.J. Oshie, John Carlson, Alex Ovechkin
Credit: Aaron Doster, USA Today
Stats in betting analysis are at 5-on-5 unless otherwise noted. Stats in DFS analysis consider all skating situations unless otherwise noted.