NHL Betting Breakdown: Will Defense Dominate in Wild-Avalanche?
Credit:
Tyson Barrie | Zach Parise via Ron Chenoy-USA TODAY Sports
The Vegas Golden Knights have ruined a great comeback story. One for the ages, really.
Last season, the Colorado Avalanche finished with 48 points, 21 fewer than any other team in the NHL, and not much was expected from the Avs this season, either.
But though Colorado's been overshadowed by Vegas' remarkable inaugural season, here we are in March, and the Avalanche are in a playoff spot with 80 points. And their star, Nathan MacKinnon, is making a credible run at the Hart Trophy.
There's still a lot of work for Colorado to do to avoid becoming an adorable footnote in the 2017-18 season, however, and two more points are up for grabs Tuesday night as the Avalanche travel to Minneapolis to take on the surging Wild. Off we go.
All info as of Monday evening. Check back during the day and keep an eye on our Twitter handle for any updates.
For live spreads and bet percentages, check out this page. To get access to our premium betting tools, subscribe here.
---
Colorado Avalanche (+170) @ Minnesota Wild (-200) | O/U 6
8:30 p.m. ET, NBC Sports Network
Great Expectations: Although both teams give up a lot of shot attempts (also known as Corsi) at even strength, both Minnesota and Colorado do a good job of limiting scoring chances. The Wild lead the NHL with an average of 1.96 expected goals against (also known as xGA, roughly defined as the number of goals expected to be allowed based on shot quantity and quality) per 60 minutes at 5-on-5, while the Avalanche sit 11th with an xGA/60 of 2.28. — Michael Leboff
Not So Great Expectations: As good as they are at limiting quality chances, Colorado and Minnesota leave something to be desired in creating their own opportunities. The Avs generate 1.94 expected goals for per 60 minutes, the second-lowest rate in the league, and the Wild have the 12th-worst rate with 2.31 xGF/60. — Michael Leboff
Nate the Great: It isn't easy to get through Minnesota's defense, but it also isn't easy to stop Nathan MacKinnon. The 22-year-old forward leads the Avalanche and is tied for fourth in the NHL with 81 points, and he creates 11.75 individual scoring chances for per 60 minutes at 5-on-5, which ranks 10th in the circuit. — Michael Leboff
Voodoo:  In a weird way, the Wild make life both hard and easy on their goaltender, Devan Dubnyk. As we said, Minnesota allows very few Grade A scoring chances, but Dubnyk does see a lot of rubber come his way. The 31-year-old netminder has a .929 5-on-5 save percentage this year, which is pretty good on the surface. But a closer look reveals that Dubnyk may be underperforming a tad thanks to the type of shots he's facing. His expected save percentage (also known as xSV%) at 5-on-5 is .936, so by that measure, Dubnyk is actually stopping fewer pucks than a league-average goalie would in his place. This isn't to say that Dubnyk has been bad, but he could definitely be better. — Michael Leboff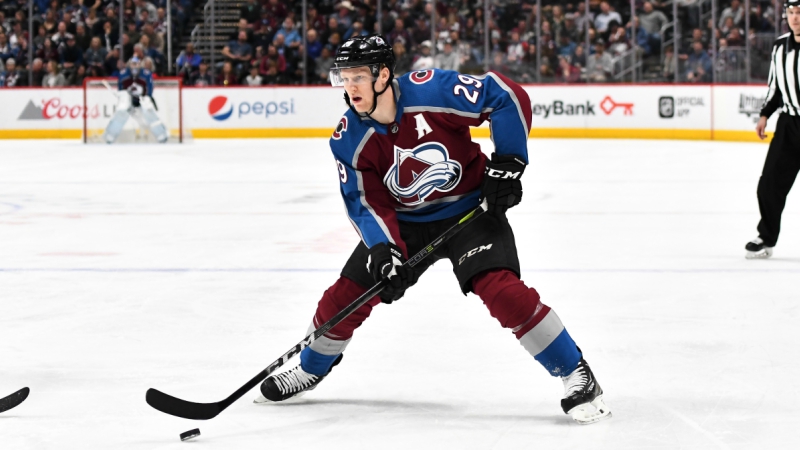 Power Points: Quietly, Colorado owns the third-best penalty kill in the league at 83.4%. Minnesota is above average on the power play this year (21.4%, which ranks ninth in the league), but the two players most likely to battle through a tough special teams matchup are Mikael Granlund and Matt Dumba. Both rank in the 93rd percentile or higher in shots+blocks and the 89th percentile in power-play shots over the past month. — Joe Holka
Ditching Devan: Colorado has the lowest Corsi Expectation on the evening's slate, and, thus, the lowest Save Prediction belongs to Devan Dubnyk (25.46), who is expected to start for the Wild. Home goaltenders with comparably low save predictions and similar Vegas MoneyLine Ratings (88th percentile) have historically performed below their salary-based expectation (-0.09 DraftKings Plus/Minus) with a 50.0% Consistency Rating. — Joe Holka
Reverse Revenge: Colorado smashed Minnesota 7-1 when they played March 2. Teams that won the previous head-to-head matchup by six or more goals are 143-106 (57%) straight-up in the next meeting. — John Ewing
Road Avalanche: In nearly two seasons under coach Jared Bednar, the Avalanche are 21-53 (28.4%) on the road, losing by an average of 1.4 goals per game. During that span, the Avs have been the least profitable away team in the league. Since Jan. 25, Colorado has lost four road games in a row — and has been outscored 18-3 — against opponents who are over .500. — Evan Abrams
Back Into The Wild: In their previous game, the Wild lost 4-1 to the Oilers. This season, Minnesota is 18-11 on the moneyline after a loss and 8-3 following a loss by three or more goals. — Evan Abrams
---
Top Photo: Zach Parise (L), Tyson Barrie (R) via Ron Chenoy-USA TODAY Sports
Note: Stats in betting analysis are at 5-on-5 unless otherwise noted. Stats in DFS analysis consider all skating situations unless otherwise noted.