Thursday NHL Betting Guide: The Flyers' Big Disadvantage vs. Bruins
Credit:
Bill Streicher-USA TODAY Sports
The points you earn in October count just the same as the ones you earn in March, but these games are starting to have some serious oomph to them.
We've plucked the best of the best from the slate tonight, breaking down three games so you can bet them confidently and let your action do the talking.
Boston is banged-up, but the B's are still dominating. They welcome the Flyers to TD Garden just 24 hours after Philly got beat up by Pittsburgh.
In Los Angeles, the Kings, who continue to barely hold on to a playoff spot, face Washington, which may have a bit of a goalie controversy on its hands. Finally, we conclude with San Jose and St. Louis, both on four days of rest and in need of a win to keep pace in the wide-open West.
All info as of Wednesday evening. Check back during the day and keep an eye on our Twitter handle for any updates.
If there's a specific matchup you want to jump to, click the quick links below. For live spreads and bet percentages, check out this page. To get access to our premium betting tools, subscribe here.
PHI-BOS | WAS-LAK | STL-SJS
---
Philadelphia Flyers (+170) @ Boston Bruins (-200) | O/U 5.5 
7 p.m. ET, NHL Network
Schedule note: The Flyers are on a back-to-back after falling 5-2 at home to Pittsburgh last night. The Bruins had Wednesday off after an overtime victory over Detroit  on Tuesday. — Michael Leboff
Injuries: The Bruins will still be without first-line center Patrice Bergeron and top-pair defenseman Charlie McAvoy. Riley Nash has taken Bergeron's spot in between Brad Marchand and David Pastrnak, while Brendan Carlo has slotted in for McAvoy next to Zdeno Chara. The Flyers are still without goaltenders Brian Elliott and Michal Neuvirth. — Michael Leboff
Boston Isn't A One-Man Band: Even though Bergeron is one of the best, if not the best, possession-drivers in the league, the Bruins have still controlled play at a fantastic rate in his absence. In the four games since Bergeron went down, the B's are 4-0 and have posted a 56.7 Corsi For % (shot attempt differential, also known as CF%) at 5-on-5, which is a shade higher than their season average of 54.65. — Michael Leboff
Goalies: Alex Lyon figures to be the starter for Philadelphia since Petr Mrazek got the nod against the Pens last night. Lyon has seen action in five games this year, with a .917 5-on-5 save percentage and a -0.16 Goals Saved Above Average (the number of goals saved compared to a hypothetical league average goaltender, also known as GSAA) in those appearances. The 25-year-old hasn't exactly set the world on fire in the AHL either. In 26 games, Lyon has a .911 save percentage overall. Tuukka Rask is the probable goalie for the B's. The Finnish veteran has a .926 5-on-5 save percentage and a +4.44 GSAA this year. — Michael Leboff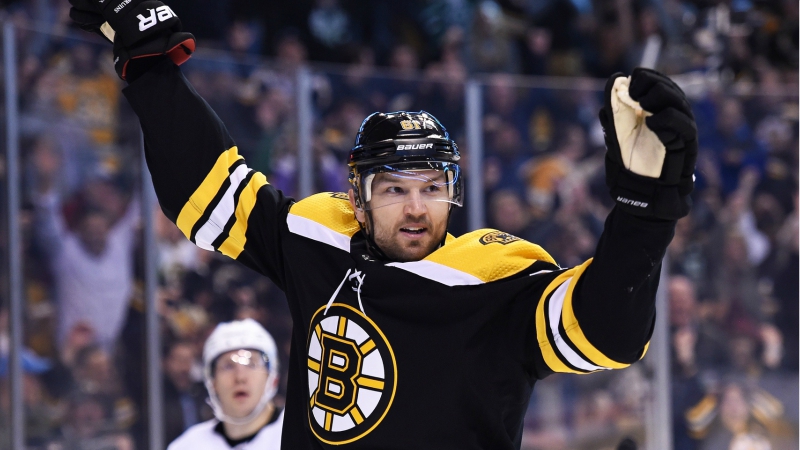 Calling Krug: Rick Nash is squarely in play, ranking in the 99th percentile in shots over the past month, but Torey Krug is intriguing in the 99th percentile in power-play shots. Finding value will be crucial for roster construction, and the mid-range looks like a favorable spot to spend salary today on Boston. Krug has also seen a recent shooting spike, ranking in the 97th percentile in shots over the past month and the 87th percentile over the past year. — Joe Holka
Goalie Value: Obviously there's value in targeting goaltenders on great defenses because the odds of that team allowing fewer goals and accruing the win are much greater. On such a large slate, you essentially need your goaltender to get the win or you're drawing dead. Why not attack a Philly team that's lost three straight with a red-hot Boston team at home that has a 7-3-0 record over its past 10? Boston has allowed a slate-low 39.08 Corsi over the past month, but Rask should have a strong chance to earn a win, which makes his low 26.54 Save Prediction much easier to swallow. — Joe Holka
Bad Dogs:The Flyers are underdogs on a back-to-back against one of the best teams in the league (which we'll define as possessing a winning percentage of at least .600). Historically, this has been a bad spot, with the underdog going 372-628 (37%) on the moneyline, costing a $100 bettor $3,812. That being said, late in the season these teams become undervalued, with the side on the back-to-back returning a profit of $1,641 for a $100 bettor. — John Ewing
Bad Spot: The Bruins have won four in a row and are currently the No. 2 seed in the Eastern Conference. Since 2011, teams on a winning streak of four games or more, facing a team on a back-to-back, win 59.9% of their games. When the game is played in March or later, that winning percentage increases to 60.8% on the moneyline. — Evan Abrams
Value: The Bruins are in a really good spot here, but the -200 is certainly not appetizing. With the clear advantage in goal, I think the Bruins are a decent play on the puckline (-1.5, +150). To find value in that, you'd have to expect the B's to cover more than 40 percent of the time and I believe they do in this spot. – Michael Leboff
---
Washington Capitals (+115) @ Los Angeles Kings (-135) | O/U 5.5
10:30 p.m. ET
Not So Great Expectations: Neither Los Angeles, which posts 2.21 expected goals (roughly defined as the number of goals expected to be scored or allowed based on shot quantity and quality) per 60 minutes (xGF/60) nor Washington, with 2.26 xGF/60, is particularly good at creating scoring chances. But the Kings have been much better at preventing them. John Stevens' squad allows 2.38 xGA/60, while Washington ranks 29th with 2.65 xGA/60. — Michael Leboff
Holes In Holtby: Braden Holtby has not been himself lately. The 28-year-old netminder has a .917 5-on-5 save percentage and and an overall save percentage of .907, below the league average of .914. Washington needs to keep pace with Pittsburgh, so it may be better off running with backup goaltender Philipp Grubauer while Holtby finds his game. Grubauer has been solid this year with a .944 save percentage and 16.85 GSAA at 5-on-5. UPDATE: As we suspected, Grubauer will start with for Washington tonight.— Michael Leboff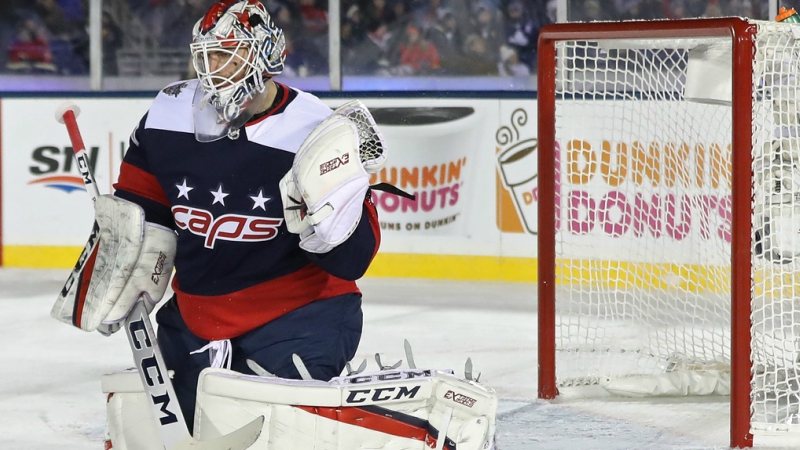 More Than Ovie: Alex Ovechkin (99th percentile in shots) has stand-alone value, leading the slate with 11 DraftKings Pro Trends. That said, consider Jeff Carter for a $1,400 discount. Since his return, Carter has matched Ovechkin in the 99th and 97th percentile in shots and shots+blocks, but actually outpaces him in power-play shots per game. — Joe Holka
Offense And Defense: If you're searching for value in this game, Dion Phaneuf, who's priced at $4,600 on DraftKings, stands out. No player in this tilt has a higher blocks percentile over the past month (97th), and he provides leverage off of those rostering stacks from the first power-play unit. Historically, power-play skaters with comparable peripheral stats and Vegas implied totals have performed above their salary-based expectation (+0.45 DraftKings Plus/Minus) with a 51.4% Consistency Rating. — Joe Holka
Making Up For Lost Games: The Caps got shut out 4-0 on Tuesday in Anaheim. Over the last three years, Washington is 7-2 following a game it lost by four or more goals, winning by an average of 1.33 goals. — John Ewing
King Of Kings: Over the last decade, the Kings are 7-0 on the moneyline at home against the Capitals, outscoring Washington 24-12. Ovechkin has just one goal and three points in those seven games. — Evan Abrams
Value: Both of these teams have outperformed their underlying metrics this year, but the Caps are the deeper squad and even with the Kings at home, this game is very much a coin flip. Washington at plus-money isn't a bad wager at all.
---
St. Louis Blues (+120) @ San Jose Sharks (-140) | O/U 5.5
10:30 p.m. ET
Mirror Images: Even though the Sharks have four more points in the same amount of games, St. Louis and San Jose are very similar teams. The Blues are the slightly better possession team with a 51.35 CF % (score + venue adjusted) compared to the Sharks' 51.13 mark. However, San Jose is a tad better in the expected goals department with an xG differential of +6.02 compared to St. Louis' +4.69. — Michael Leboff
Or Maybe Not: Where these teams do differ is in generating high-danger scoring chances. St. Louis is a top-10 team in preventing high-danger chances and a bottom-five team in creating them, while San Jose ranks in the top 10 in high-danger chances for and in the bottom 10 in high-danger chances against. — Michael Leboff
Pace Watch: The Sharks play a high-volume style of hockey and have the third highest "pace" (CF/60 + CA/60 at 5-on-5) at 104.69. The Blues are on the slower side of things with a below-average pace of 99.28. — Michael Leboff
Burns Stays Hot: Brent Burns continues to be a strong and reliable option on the back end. He trails only Nathan MacKinnon in shots+blocks on the entire slate, and ranks in the top three (for all defensemen) in shots and shot attempts over the past month. — Joe Holka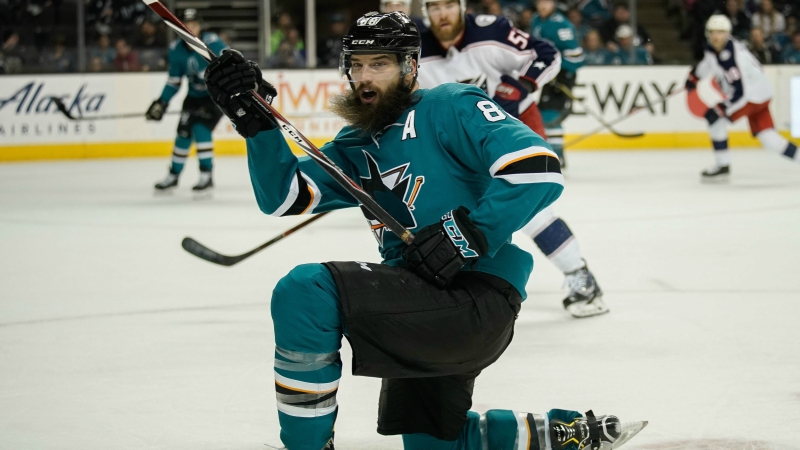 Against The Grain: The only skater in this game with more shot attempts per game over the past month than Burns (5.23) is Vladimir Tarasenko (5.82). However, it's hard to get excited about any player on St. Louis. The Blues are on the road, with the second-lowest Expected Goals For and the sixth-lowest Matchup Rating on the entire slate. That said, Tarasenko could make sense at low ownership in guaranteed prize pools as a contrarian flier. Historically, power-play skaters with comparably low implied totals and peripheral stats have provided a +0.49 Plus/Minus and Upside Rating of 14 at just 7.6% ownership. (Upside figures show the percentage of games in which a player has scored at least one-half standard deviation above his point expectation based on salary. They can be used to identify high-upside players for tournaments.) — Joe Holka
Rest Up: San Jose and St. Louis are both well-rested, with each team enjoying at least four days between games. This is just the 40th time since 2005 that two teams with this much rest met in March or April. In the previous 39 games, the underdog went 20-19 SU, +$1,034 for a $100 bettor. — John Ewing
Singing The Blues: The Blues were 31-21 on the moneyline through January, a top-10 profitable team in the NHL, winning games by 0.4 goals per game. But since Feb. 1, the Blues are 4-10 on the moneyline and are being outscored by 1.1 goals per game. All told, when facing teams with a winning percentage above .500, the Blues are just 15-21 (41.7%) on the moneyline this year, the fourth-least profitable team in the league. — Evan Abrams
Value: There's really not much between these sides, and while adjusting for home ice advantage gives the Sharks a slight edge, there's still value with the Blues above +117.
---
Note: Stats in betting analysis are at 5-on-5 unless otherwise noted. Stats in DFS analysis consider all skating situations unless otherwise noted.
Top Photo: Jordan Weal (L), Matt Grzelcyk (R) via Bill Streicher-USA TODAY Sports