Tuesday NHL Betting Guide: Which Stalwart Defense Will Hold in Stars-Preds?
Credit:
Steve Mitchell, USA Today
Great news: This article, which usually requires a subscription, is FREE to read today. Enjoy! While you're here, take a look at our gambling-focused tools and content, and sign up for our daily email newsletter to get the best sports betting insight and analysis delivered to your inbox.
There are nine games in the NHL tonight, and the juiciest matchups take place in cities known for beaches, barbecue and palm trees. Gary Bettman's Southern Expansion is paying off!
Doing your homework when wagering on sports can also yield big dividends, which is where we, The Action Network's hockey analysts, come in.
Take a deep dive into three significant contests on Tuesday's slate with betting/DFS angles and analysis.
All info as of Monday evening. Check back during the day and keep an eye on our Twitter handle for any updates.
If there's a specific matchup you want to jump to, click the quick links below. For live spreads and bet percentages, check out this page. To get access to our premium betting tools, subscribe here.
FLA-TBL | DAL-NAS | WAS-ANA
---
Florida Panthers (+160) @ Tampa Bay Lightning (-185) | O/U 6
7:30 p.m. ET
Deconstructing the Cats: Florida comes into this game on a serious roll, having won its last six and 13 of its last 16. But does this hot streak check out, or are the Panthers just getting the bounces? Over those 16 games, Florida has posted a 5-on-5 score & venue adjusted 101.6 PDO (a statistical measure of luck that is based on shooting percentage + save percentage where 100 is the average). While that suggests the Panthers have been relatively fortunate, Florida has also shown signs of improvement, notching a 49.83 Corsi For % (CF% for short; this measures shot attempts for and against) over its hot streak. Additionally, the Panthers are allowing 10.46 high-danger scoring chances per 60 minutes at 5-on-5 compared to 10.23 high-danger chances for. Over the entire season, the Panthers have a 48.96 CF% and allow 10.78 high-danger scoring chances per 60 minutes while creating 9.76. So the Panthers' play has improved over this stretch, but they haven't turned a huge corner overnight. — Michael Leboff
The Old and New Guard: It figures to be an interesting goaltending matchup between Tampa Bay's Andrei Vasilevskiy and Florida's Roberto Luongo. Vasilevskiy has been dynamite all season, with a .934 5-on-5 save percentage and a goals saved above average (GSAA) of 7.36. When he's been healthy, Luongo has been solid as well. The soon-to-be 39-year-old has a .937 5-on-5 save percentage, and he's posted a .935 save percentage across all situations since returning from a two-month absence. — Michael Leboff
Floors and Ceilings: In DFS hockey, targeting peripheral stats is key when searching for both a high floor and ceiling. With that as a backdrop, the top power-play unit for Tampa Bay certainly stands out as an appealing stack to attempt to pay up for in tournaments. Nikita Kucherov and Victor Hedman both rank in the 97th percentile or higher in shots+blocks, and Steven Stamkos is in the 99th percentile in power-play shots. Finding value will be crucial for roster construction if we want to add the aforementioned players, so consider Tyler Johnson ($4,700) even though he may not correlate at even strength. He has seen a recent shooting spike, ranking in the 93rd percentile in shots over the past month and the 79th percentile over the past year. — Joe Holka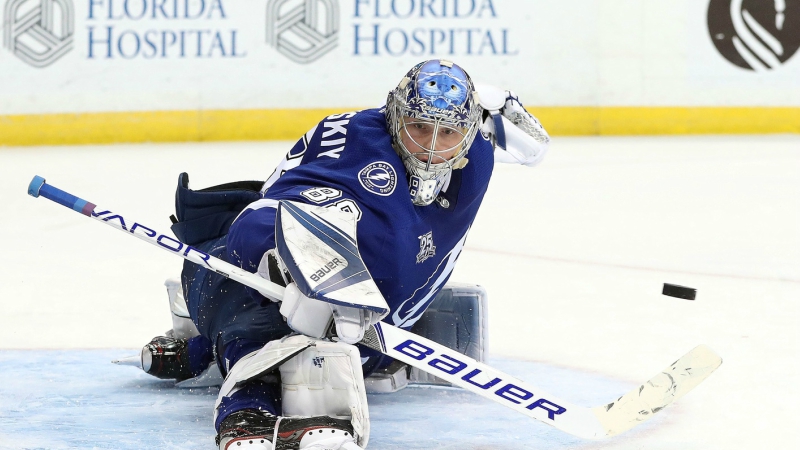 Andrei the Giant: Andrei Vasilevskiy is expected to start today, and Tampa Bay has the second-best Matchup Rating on the entire nine-game slate. Similarly priced goaltenders with a comparable recent winning percentage and Save Prediction have historically smashed their salary-based expectation on DraftKings (+0.72 DraftKings Plus/Minus) with a 61.8% Consistency Rating. — Joe Holka
A Florida Man… The Panthers are streaking. As mentioned, Florida has won 13 of its last 16 overall heading into this in-state battle. Since Feb. 1, the Panthers are the most profitable team in the NHL, but their goal differential is just +13 in 16 games during that span. — Evan Abrams
Lightning and the Thunder: History is not on the Panthers' side in Tampa Bay. Since 2005, Florida is 74-144 (33.9%) on the moneyline playing on the road against teams with a winning percentage above .500. The Panthers are the fourth-least profitable team in the NHL over that period. — Evan Abrams
---
Dallas Stars (+148) @ Nashville Predators (-170) | O/U 5.5
8 p.m. ET
The Ellis Effect: Since the return of defenseman Ryan Ellis on Jan. 2, the Predators' form has reached a new level. With Ellis, the Predators are a 54.4 Corsi team (score + venue adjusted) and have an expected goals (xG) differential of +7.21, with an average of 2.43 xGF/60 against 2.1 xGA/60. In the 39 games they played before the 27-year-old rearguard rejoined the team, the Preds were at 51.48 CF%, and their xG differential was -7.3 with an average of 2.11 xGF/60 against 2.36 xGA/60. — Michael Leboff
Star Suppressors: Even though they have offensive stars Tyler Seguin, Jamie Benn and Alex Radulov in the fold, the Stars actually have one of the league's best defensive units this year. Dallas ranks fourth in the NHL with a Corsi Against per 60 (CA/60) of 55.17 — meaning the Stars allow an average of 55.17 shot attempts against per 60 minutes of 5-on-5 play. Additionally, Dallas allows just 9.34 high-danger scoring chances per 60 minutes at even strength, the third-best mark in the league. — Michael Leboff
Long Johns: At just $3,900 on DraftKings, Stephen Johns is a strong value option as the only power-play skater in this game who ranks in the 98th percentile of shots+blocks or better over the past month. That said, a lot of his peripheral upside comes from blocked shots (99th percentile). The downside with targeting blocked shots over shots is pretty simple: Small events (shots) are exactly what lead to less predictable — but often more significant — events like goals and assists. — Joe Holka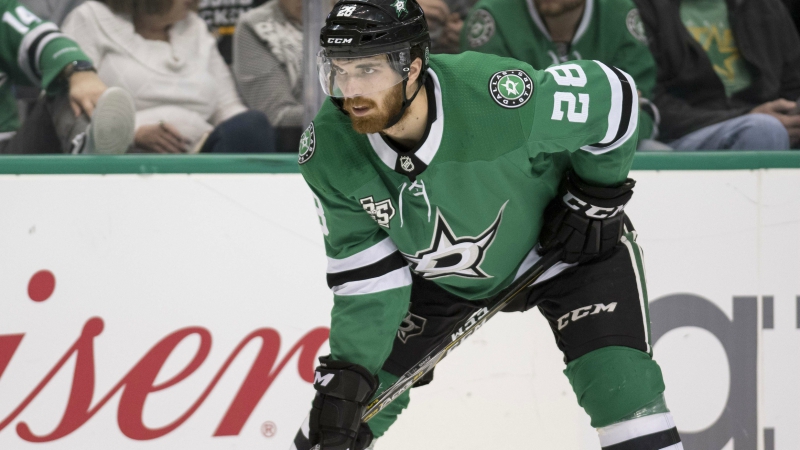 You Can't Spell DFS Without 'D': The biggest question with Nashville from a DFS perspective is (usually), how many defensemen can/should you roster? Roman Josi (99th percentile shots+blocks over the past month) is day-to-day, so keep an eye on that injury situation. That said, P.K. Subban (95th percentile) and Ryan Ellis (97th percentile) are still very much in play given how the Predators' system is favorable for point shot volume. Nashville has the fourth-highest Corsi For Expectation on the slate and leads all teams in offensive Corsi For over the past month. — Joe Holka
Dallas Two-Step: Coach Ken Hitchcock has been the most profitable coach on a back-to-back over the last three seasons (18-10 on the moneyline) with the Stars and Blues. During that span, Hitchcock is 14-8 on the road, and he is currently on a three-game winning streak on back-to-backs. — Evan Abrams
Predator vs. Hitchcock: On the other hand, Nashville doesn't care about Hitchcock's success coaching on back-to-backs. This season, the Predators are 7-1 on the moneyline when facing a team on a back-to-back. Overall, they've won 10 of their last 12 in the spot. — Evan Abrams
---
Washington Capitals (+115) @ Anaheim Ducks (-135) | O/U 5.5
10 p.m. ET | NBC Sports
Chances Abound: Anaheim and Washington rank in the bottom 10 of the NHL in preventing high-danger scoring chances. The Capitals are 30th in the league with an average of 13.12 high-danger chances allowed per 60 minutes, and the Ducks are 25th with an average of 11.78. — Michael Leboff
Voodoo: John Gibson has had a stellar year in the blue paint for Anaheim. The 24-year-old has a .927 save percentage and a 10.56 GSAA. His counterpart, Braden Holtby, has been up and down this season, with a .919 save percentage and a -0.18 GSAA. Holtby has done a good job making the routine stops; he ranks fourth in the NHL with a 99.04 low-danger save percentage. Where Holtby has had issues is making the "big save," as he has the 10th-lowest high-danger save percentage (400 minutes played minimum) at 76.42%. — Michael Leboff
Alexander The Great: Alex Ovechkin leads the slate with 11 DraftKings Pro Trends. He's the only skater in action today who ranks in the 99th percentile in shots+blocks over the past month. — Joe Holka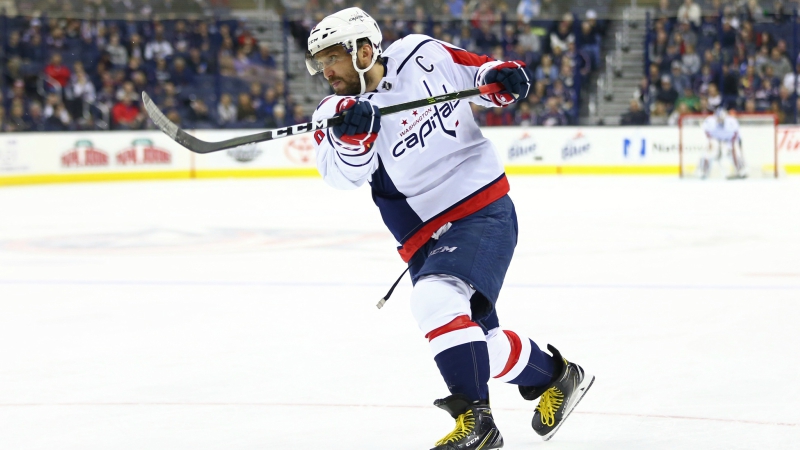 Getting in the Way: There's a ton of value in centermen who block shots, and Ryan Getzlaf (84th percentile) leads all power-play forwards today in blocks per game over the past month. Comparable shot-blocking centermen at similar price points have historically performed well above their salary-based expectation on DraftKings (+0.48 DraftKings Plus/Minus) with a 57.1% Consistency Rating. — Joe Holka
Ovechkin's Ownage: Throughout Ovechkin's career, he and the Capitals have been a serious thorn in the Ducks' side. The Caps are 11-4 on the moneyline in 15 games against the Ducks with Ovechkin, and he has 10 goals and 23 points in the 15 contests, including eight points in his last five matchups against Anaheim. —  Evan Abrams
Different Caps Team? From 2010 to 2014, the Capitals were 107-98 (52.2%) on the moneyline when playing a game while they were above .500. For bettors, though, the return on investment was -7.2% because of the moneyline price. Since 2015, the Caps are 133-76 on the moneyline (63.6%) when they are above .500, the second-most profitable team in the NHL behind the Vegas Golden Knights, who have played more than 100 fewer games than Washington in the spot. — Evan Abrams
---
Note: Stats in betting analysis are at 5-on-5 unless otherwise noted. Stats in DFS analysis consider all skating situations unless otherwise noted.
---
Top Photo: Roberto Luongo (L), Jamie McGinn (R)
Credit: Steve Mitchell, USA Today Sports