Betting Ducks-Flames: Will Calgary's Luck Turn Before It's Too Late?
Credit:
Sergei Belski-USA TODAY Sports
Each year it happens. A team with underlying metrics that suggest it is quite good falls short of the postseason. The game isn't played on a spreadsheet, as they say.
This year, the Calgary Flames are in danger of becoming "that team." The Flames trail Anaheim — their opponent tonight — by six points in the Pacific Division with seven games remaining. (The Ducks will play eight more times in the regular season, so they have a game in hand.) Given the current state of the Western Conference standings, Calgary needs to catch Anaheim to earn a spot in the playoffs. Don't you just love the smell of must-win games in the morning?
Here's what you need to know ahead of tonight's critical clash.
All info as of Tuesday evening. Check back during the day and keep an eye on our Twitter handle for any updates.
For live spreads and bet percentages, check out this page. To get access to our premium betting tools, subscribe here.
---
Anaheim Ducks (-110) @ Calgary Flames (-110)  | O/U 5.5
9:30 p.m. ET
Anomaly: The fact that Calgary is sitting outside of the playoff picture right now is surprising because the Flames' possession numbers are quite good. No team in the NHL takes more shots than the Flames, who average 65.8 shot attempts (also known as Corsi) per 60 minutes at 5-on-5 (score + venue adjusted). They also own the third-best Corsi For % (shot attempt differential, used as a barometer for possession and also known as CF%) in the NHL at 5-on-5 (score + venue adjusted). The Ducks, who dealt with a litany of injury issues early in the year, rank 20th in CF% at  5-on-5 (score + venue adjusted). — Michael Leboff
Anomaly Pt. 2: Calgary also ranks among the league's best teams in scoring chance rate. The Flames generate 31.02 scoring chances per 60 minutes (tied for fourth in the league) while allowing only 27.04 (10th in the league). That is the fourth-best ratio (53.43%) in the NHL. The Ducks, on the other hand, typically allow more scoring chances (29.96 per 60 minutes) than they create (28.04) and rank in the bottom 10 in scoring chance rate at 48.34%. (All statistics at 5-on-5, score + venue adjusted.) — Michael Leboff
Expecting More: There is a running theme here, as I'm sure you've noticed, but let's really drive the point home, eh? Calgary's expected goals (xG, which is determined by weighing a number of factors, including quantity and quality of shots) differential at 5-on-5 is +14.26. Their actual goal differential at even strength is -1. Anaheim's 5-on-5 xG differential is -9.36. Their actual goal differential is +18. In other words, the Flames are underperforming by around 15 goals while the Ducks are overperforming by around 27. Yeesh. — Michael Leboff
Three's A Charm: Calgary has lost three straight, while Anaheim has won three in a row. Home teams on a losing streak of three or more games facing an opponent on a winning streak of three or more have gone 160-136 straight-up since 2005, returning a $2,528 profit for a $100 bettor. —  John Ewing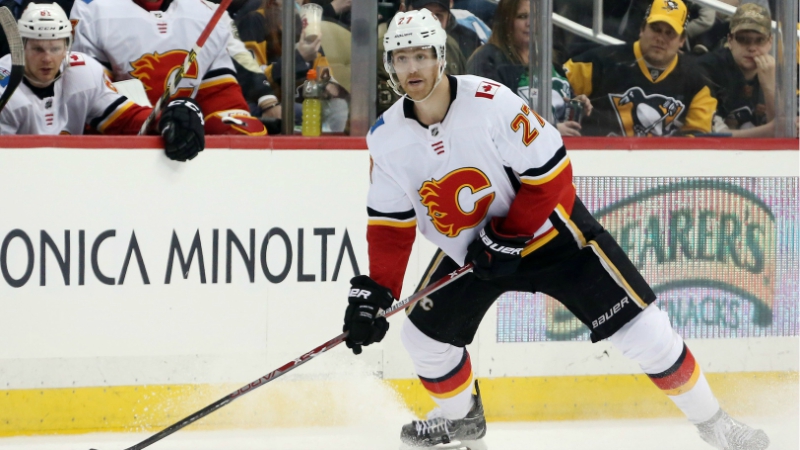 Putting the 'D' in DFS: The Flames lead the slate in offensive Corsi For by a mile over the past month — unsurprisingly leading all teams today in Corsi Expectation — and defensemen Dougie Hamilton and Mark Giordano have both seen significant spikes in their peripheral stats. Priced at just $5,400 and $5,300, respectively, Hamilton (99th percentile in shots over the past month) and Giordano (96th) project favorably in our models and could be viable assets in the midrange. — Joe Holka
Punters Are People, Too: If you're searching for a viable punt play in this game, Calgary's Travis Hamonic, who is priced at $3,700 on DraftKings, stands out. No player in this tilt is in a higher blocks percentile over the past month (95th), and he provides leverage off of the midranged defensemen who could garner a ton of ownership on the first power-play unit facing the league's fourth-best penalty kill. Historically, power-play skaters with comparable peripheral stats and low price tags have performed above their salary-based expectation (+0.80 DraftKings Plus/Minus) with a 48.8% Consistency Rating. — Joe Holka
Rested Duck: Over the last five seasons, the Ducks are 67-39 (63.2%) on the moneyline playing on extended rest (three or more days), including 13-6 on the moneyline playing in March or later. — Evan Abrams
Down In Flames: Calgary goaltender Mike Smith has lost his last three starts. Since 2006, Smith is 30-48 (38.5%) on the moneyline coming off at least three consecutive losses, the third-least profitable goaltender in the NHL in that situation over that span. — Evan Abrams
---
Photo: Antoine Vermette (L) battles with Mark Giordano in front of the net.
Credit: Sergei Belski, USA Today Sports
Stats in betting analysis are at 5-on-5 unless otherwise noted. Stats in DFS analysis consider all skating situations unless otherwise noted.