Ultimate Guide to Betting Monday's Maple Leafs-Lightning Showdown
By the time the puck drops in Tampa Bay on Monday evening, the NHL trade deadline will have come and gone. Players will be able to exhale for a minute, but that's about it.
The run to Stanley Cup will then be on.
All season long, it looked like a foregone conclusion that Tampa Bay would win the Atlantic Division, with Boston and Toronto destined for a tough first-round matchup. Not so fast.
The Maple Leafs have surged up the standings, winning nine of their last 10, and could put themselves within two points of first-place Tampa Bay with a win at Amalie Arena on Monday night.
Let's dive in and explore key betting and DFS angles in advance of the Eastern Conference clash. — Michael Leboff
Information is current as of Sunday evening. Check back during the day and keep an eye on our Twitter handle for any updates.
For live spreads and bet percentages, check out this page. To get access to our premium betting tools, subscribe here.
---
Toronto Maple Leafs (+151) @ Tampa Bay Lightning (-175)
7:30 p.m. ET
Chances Galore: If this game stays on script, we should have a see-saw battle with excitement at both ends of the ice. Toronto and Tampa Bay rank second and third in scoring chances per 60 minutes, respectively. — Michael Leboff
Vezina Frontrunners: Tonight's matchup features two of the league's most prolific offenses, so the over may appear to be a logical bet. However, Toronto's Frederik Andersen and Tampa's Andrei Vasilevskiy are two of the league's best goaltenders and are contenders to win the Vezina Trophy. Andersen ranks fifth in the NHL with 10.65 goals saved above average (GSAA), and Vasilevskiy is sixth with 10.57. Andersen and Vasilevskiy rank first and second, respectively, in goalie point shares (the amount of points in the standings a goalie is credited for earning his team). — Michael Leboff
Dynamic Duo:  Nikita Kucherov and Victor Hedman are the only skaters in this game who rank in the 97th percentile or higher in shots+blocks over the past month, and when paired together in stacks, they carry an insane 0.40 correlation coefficient (per our models). Hedman leads the slate with 10 DraftKings Pro Trends and has reached his salary-based expectation in nine of his past 11 games. — Joe Holka
Auston Is Out: The Leafs will be without Auston Matthews for the next week and a half with a shoulder injury. Matthews is leading Toronto with 1.13 expected goals (xG) per 60 minutes this season. — Michael Leboff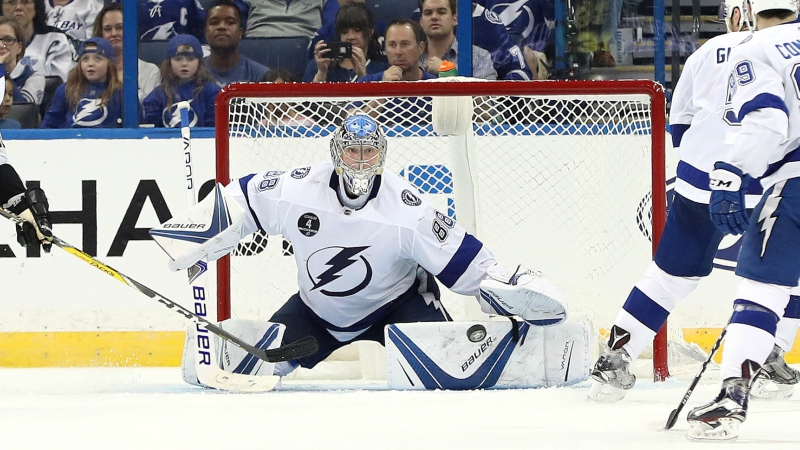 When Good Teams Meet: Tampa Bay and Toronto have each won at least 60% of their games this season. How rare is it to have a matchup like this? Over the last decade, there have been only 50 games played between two teams with a winning percentage of 60% or higher. The over in those games is 28-16-6 (63.6%), including 15-5-2 (75%) over the last four seasons. — Evan Abrams
Trust in Andersen: On today's five-game main slate, the Lightning own the second-highest Corsi For expectation and Matchup Rating. The Maple Leafs' 53.62 Corsi Allowed is by far the highest of any team today, but their 2.46 goals against average over that time period is the lowest. If Andersen stays this hot, he could provide a ton of leverage at under five-percent ownership in large guaranteed prize pools. If he happens to steal the win, the upside is certainly there, as he owns the third-highest Save Prediction on the slate at 31.92. — Joe Holka
Babs' Best Spot: Since taking over as Detroit's head coach in 2005, current Maple Leafs coach Mike Babcock has faced only eight teams averaging 3.5 goals per game or better in February or later. Babcock's teams have fared well in these spots, going 7-1 on the moneyline and winning by 1.9 goals per game. Babcock's teams are 46-27 (63%) on the moneyline since 2005 when facing a team averaging 3.5 goals per game or higher at any time during the regular season. — Evan Abrams
New Faces: The Maple Leafs acquired longtime Montreal Canadien Tomas Plekanec (and his turtleneck) on Sunday. He may not be the 20-goal scorer he once was, but the 35-year-old is still a positive Corsi player and will help strengthen an already terrific Toronto penalty kill. — Michael Leboff
Sharps Are Circling: Although 84 percent of the tickets are on the over for this tilt, 63 percent of the dollars on the under. It looks like we've got a clear sharps vs. squares spot on the total. – Michael Leboff

---
Unless otherwise noted, all stats are for 5-on-5 play. 
Top Photo: William Nylander (L), Steven Stamkos (R) via Dan Hamilton-USA TODAY Sports